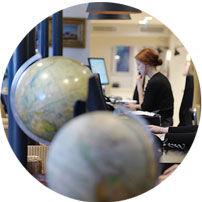 For such a small country, Costa Rica packs a seriously scenic punch. With national parks, volcanoes and a bounty of beautiful beaches dotted along the Pacific and Caribbean coastlines, the hardest part of Costa Rica road trips is choosing what to do. We'll plan your perfect self-drive holiday, with highlights sure to include watching nesting sea turtles in Tortuguero National Park, soaring through the rainforest canopy on a zip line and cooking an egg on the red-hot lava rocks of Arenal Volcano. Trek along scenic trails in the Monteverde Cloud Forest and take your pick from the many eco-lodges and hotels dotted across the country.
The best thing about Costa Rica road trips is the freedom to choose where you go; our travel experts will take into account your own personal interests and craft a tailor-made itinerary to match. Whether you're a wildlife-fanatic, an avid wave rider or an adept diver, the roads can take you to a suitable corner of the country. And as the (albeit cheesy) saying goes, 'it's as much about the journey, as the destination' – something which certainly rings true for road trips in Costa Rica, where every landscape is as resplendent as the last. Costa Rica will get under your skin and leave you wanting more. You have been warned.
Costa Rica Iconic Road Trips Ideas
A few suggestions to get the holiday planning process started
Other Costa Rica collections
A few of the benefits of travelling with us
What our clients say about us
Costa Rica customer reviews (3 reviews)
4.7/5
All agreed best holiday we have ever been on!!! Can't thank you enough.
Costa Rica Guide
Practical advice, client testimonials and inspiration to help you prepare for your holiday
Contact one of our Costa Rica specialists