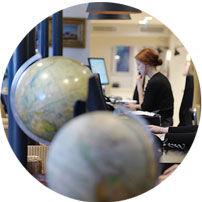 Few people have even heard of Anguilla, let alone considered it as a honeymoon destination, but trust us, you should. This tiny island is just sixteen miles long, three miles wide and shaped like an eel - or anguilla in Spanish. Right choice to go with the Spanish, because we don't think telling your beloved they're off to Eel Island on honeymoon would go down very well. Anguilla honeymoons have long been a firm favourite recommendation of ours because of the seductive sense of relaxation that pervades this laid-back and sleepy backwater with some of the finest beaches and hotels in the Caribbean.
We've also recently revisited, so can talk you through which we think of the excellent hotels will suit newly-weds best. The island's claim to fame is the outstanding food on offer at the various hotels, restaurants and even beach shacks that dot the island. In addition to gourmet grub, and if you can tear yourself away from the beach, we can arrange the usual Caribbean classics like fishing, snorkelling and diving, but for the ultimate romantic Anguilla honeymoon experience, we can arrange a yacht charter for the day so you can moor up off beautiful desert islands for snorkelling and lunch, and a glass of bubbly as the sun sets.
Other Anguilla collections
A few of the benefits of travelling with us
What our clients say about us
Anguilla customer reviews (1 reviews)
4.5/5
We had a dream stay in Anguilla that perfectly met our request for a holiday somewhere relaxing and beautiful. Our consultant arranged high quality services throughout, and the smartphone app was a great help in discovering great local restaurants and bars. We highly recommend it.
Anguilla Guide
Practical advice, client testimonials and inspiration to help you prepare for your holiday
Contact one of our Anguilla specialists