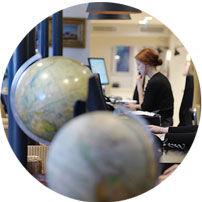 We travel for lots of different reasons: to relax, to learn, to take on a challenge, to eat well; the list goes on, but there's now another fast-growing reason to roam - Heritage Travel. If you were to drill down to the essence of why foreign travel is so important, it's because seeing other places, and other ways of life, helps you broaden your horizons and gain an understanding of how others think and feel. With the emergence of family history studies and DNA tests we are ever more able to find out who we are and where we're from. Visiting somewhere your heritage investigations say you hail from
is the perfect way to put yourself into context in the wider world. Done properly (which of course it would be with us) this sort of tailor-made trip can be a profoundly moving experience.
Heritage Travel Ideas
A few suggestions to get the holiday planning process started
Heritage Travel by country
A few of the benefits of travelling with us
Review
What our clients say about us
This is the first time we went on a trip with Original Travel, a specialist advisor who listens to our expectations, and really the feeling of being pampered from departure to arrival. The concierge service is so efficient that we quickly become addicted.
Heritage Travel Guide
Practical advice, client testimonials and inspiration to help you prepare for your holiday
Contact one of our specialists