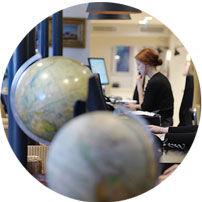 Relaxation features prominently within the itinerary during Grenada family holidays and the Caribbean island's smattering of sandy beaches are tailor-made for regrouping and rejuvenating with your brood. Nicknamed the 'Spice Island' for its role as a former spice trading hub, this legacy is discernible from the occasional whiff of nutmeg or cinnamon in the air and the remaining cooperatives which dot the interior. Beyond the pristine strips of sand, there are plenty of pursuits which will keep even the most energetic of children entertained; hike to hidden waterfalls, learn to sail in the shallows or tour a historic cocoa plantation.
Beneath the turquoise waves, you'll find a fascinating underwater gallery in the form of British artist Jason de Caires Taylor's life-size sculpture park, one of Grenada's diving highlights.
Grenada Family Holiday Ideas
A few suggestions to get the holiday planning process started
Family Holidays by country
Other Grenada collections
What our clients say about us
Grenada customer reviews (1 reviews)
4.5/5
We had a very nice trip to Grenada. A big thank you to Original Travel for the quality of your advice and the services throughout. Grenada is a special place, and you made it even more so. We will call on you for our next trip for sure.
Grenada Guide
Practical advice, client testimonials and inspiration to help you prepare for your holiday
Contact one of our Grenada specialists