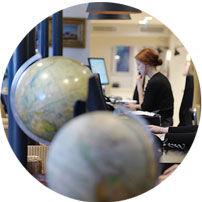 You could make an Olympic sport out of picking the best beaches in the world, and Thailand would always be a gold medal winner. Thailand hot holidays whisk you into a world where every beach brings its own special character and choosing your favorite corner can leave you dizzy. To save you hours of indecision, here's the answer – be sure to pick Koh Chang in the Gulf of Thailand with its jungle peaks, rugged nature, and party-centric shores. Afterwards, over in the Andaman Sea, make a date at Koh Phi Phi, whose limestone cliffs and flour-white sands were made famous by the movie 'The Beach'.
Thailand Escape to the Sun Holiday Ideas
A few suggestions to get the holiday planning process started
Escape to the Sun by country
Other Thailand collections
A few of the benefits of travelling with us
What our clients say about us
Thailand customer reviews (2 reviews)
4.5/5
We had a great time. Everything went well and according to the plan. The hotels were all outstanding and in Samui we got a free upgrade to one of their residences with a private pool - what an experience.
Thailand Guide
Practical advice, client testimonials and inspiration to help you prepare for your holiday
Contact one of our Thailand specialists