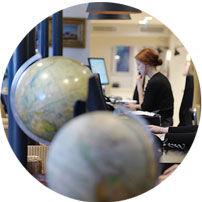 From the Sahara Desert to the Atlantic Ocean, and from Mediterranean beaches to the Atlas Mountains, Morocco brings together nature's extremes. But if you want to experience the heart of Morocco, head to its cities: the teeming markets of Marrakech; the coastal walls of Rabat; the windswept, old city streets of Essaouira; and the spices in Fez that are as vibrant as its famous hats are all gateways to discovering the rich Moroccan culture. Soak up the ornate Islamic-inspired architecture, and take the time to marvel at the intricate mosaics and distinctive arches adorning many of the buildings.
History fanatics will love the cities' myriad medinas and the archaeological site of Volubilis while, at the other end of the scale, film buffs can visit James Bond's Hotel L'Americain in Tangiers (actually the Palace of Abdeslam Akkaboune), or walk the white streets of Casablanca – it'll feel like a movie set, even if the classic was actually filmed in Hollywood. With both ancient treasures and modern dynamism, Morocco city breaks are nothing short of an adventure.
Morocco City Breaks Ideas
A few suggestions to get the holiday planning process started
Contact a specialist directly at + 44 (0) 20 3958 6120
Other Morocco collections
A few of the benefits of travelling with us
What our clients say about us
Morocco customer reviews (3 reviews)
4.7/5
Overall, I'd give the trip a 5+ out of 5. Very well planned and executed, even with last minute changes to my husband's travel. Thanks so much for one of our favorite trips thus far! We look forward to working with you again.
Morocco Guide
Practical advice, client testimonials and inspiration to help you prepare for your holiday
Contact one of our Morocco specialists