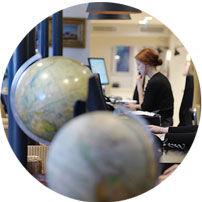 If you've been the same age for the last seven or so years, celebration holidays might not be for you, but for anyone who sees significant birthdays and anniversaries as a barely disguised excuse for a party, then read on…. There are few forays abroad as fun as taking out a beautiful property in its entirety and packing it full of friends (and sometimes even relatives), all of whom are there to pay homage to how wonderful you look for 21 or 30 or 50 or 100, or how well your marriage/civil partnership/cohabitation has stood the test of time. Our choice of exclusive hire options ranges from romantic
riads in the Marrakech medina to Andalusian haciendas and others further afield, and all of which we have visited personally and recommend highly.
Celebrate Holidays by country
A few of the benefits of travelling with us
Review
What our clients say about us
This is the first time we went on a trip with Original Travel, a specialist advisor who listens to our expectations, and really the feeling of being pampered from departure to arrival. The concierge service is so efficient that we quickly become addicted.
Celebrate Holidays Guide
Practical advice, client testimonials and inspiration to help you prepare for your holiday
Contact one of our specialists