Itinerary Highlights
Let your imagination run wild in the weird and wonderful Museum of Old and New Art (MONA)
Forage for your own oysters and then enjoy the fruits of your labours with chilled champagne at a stand-up table in the water
Dine around a campfire and then after dark head out to spot some of Tasmania's unique wildlife
Contact one of our Australia specialists + 44 (0) 20 3958 6120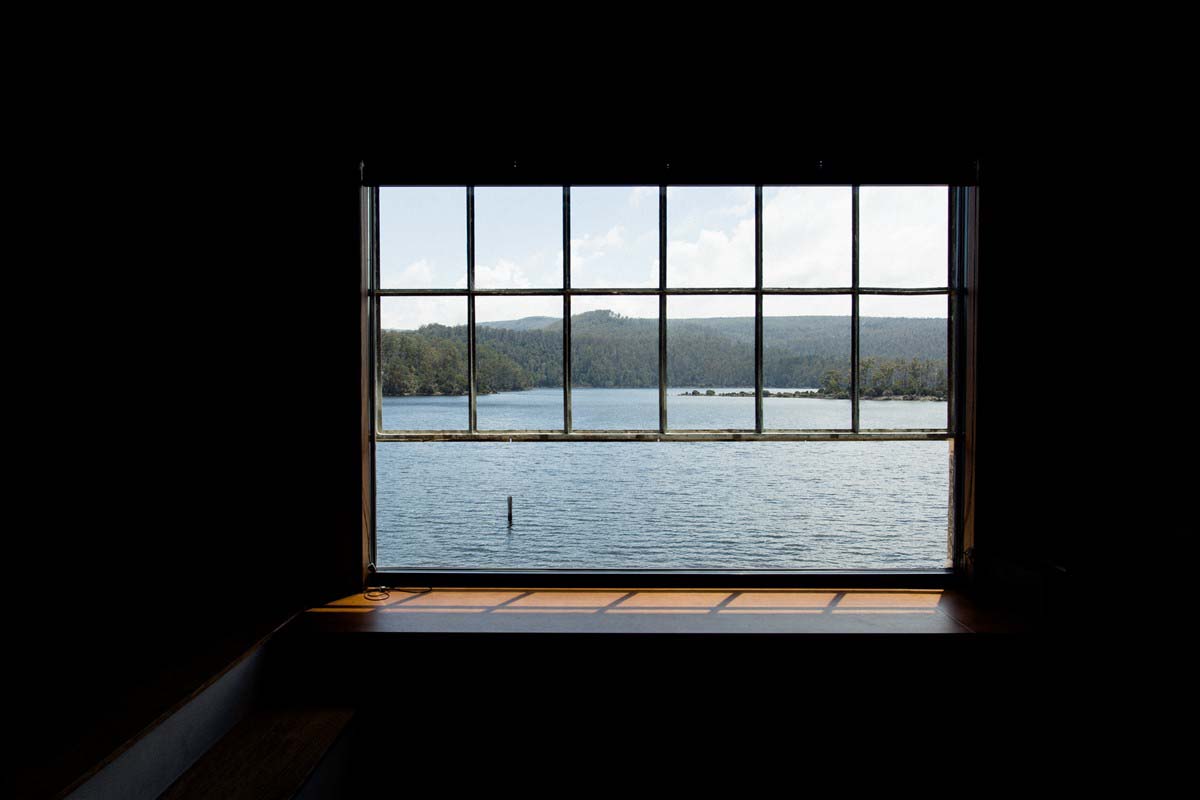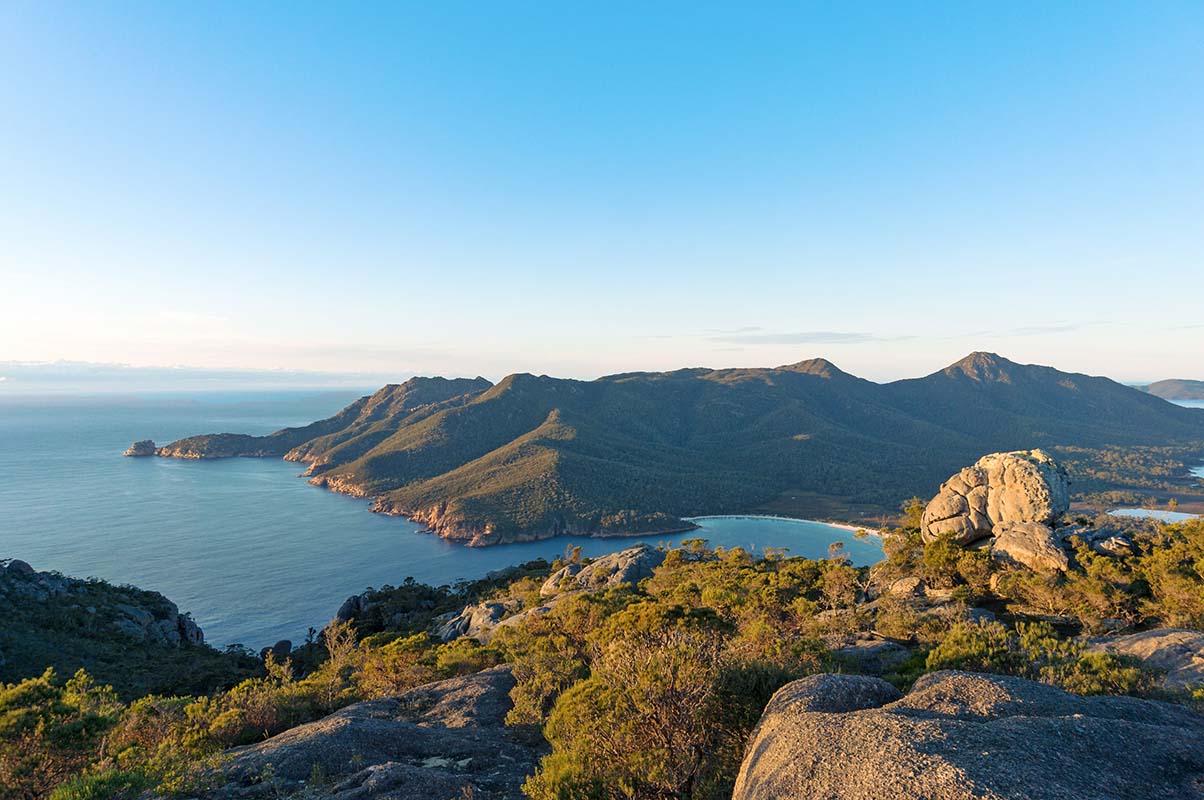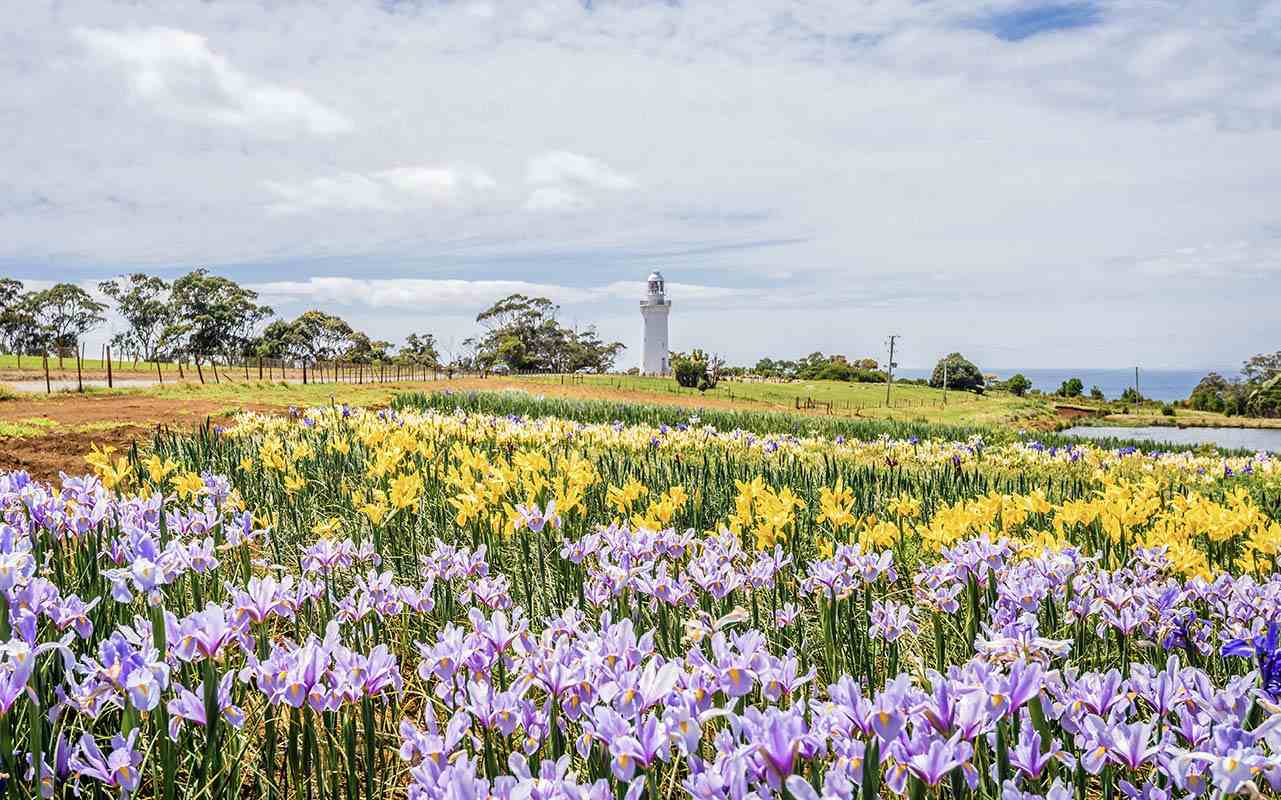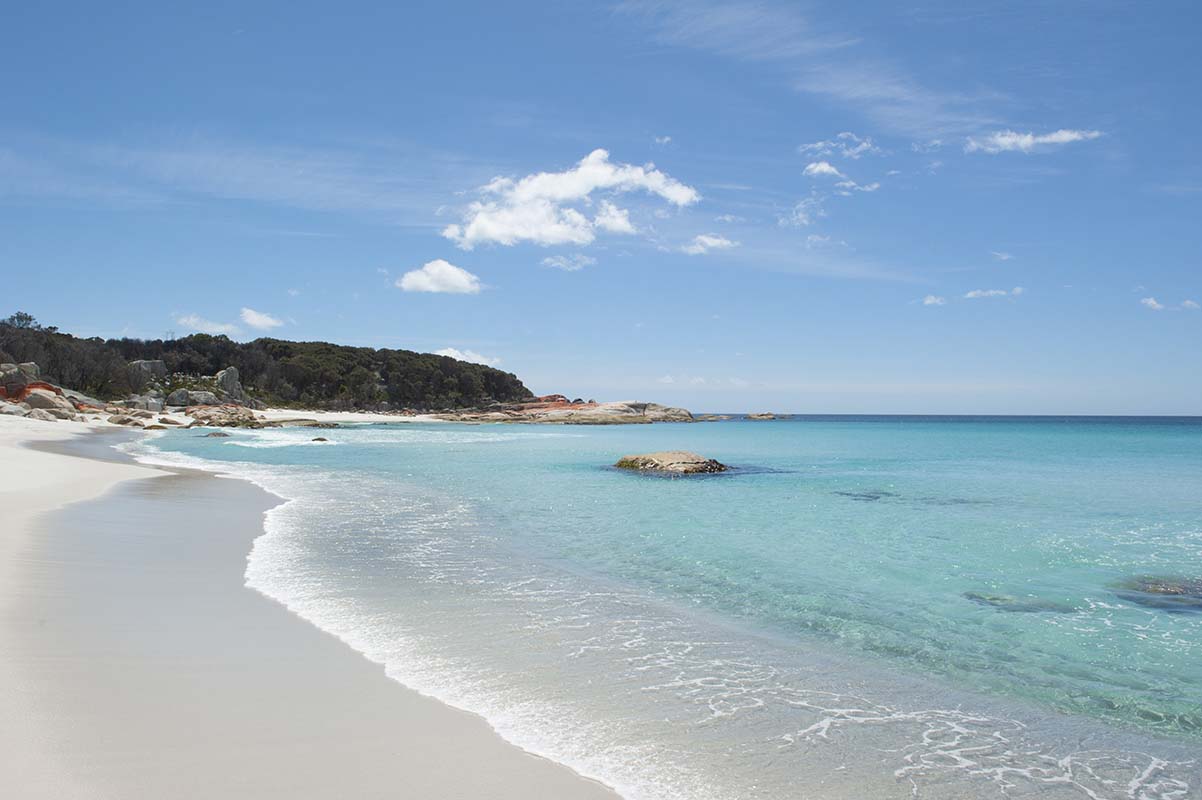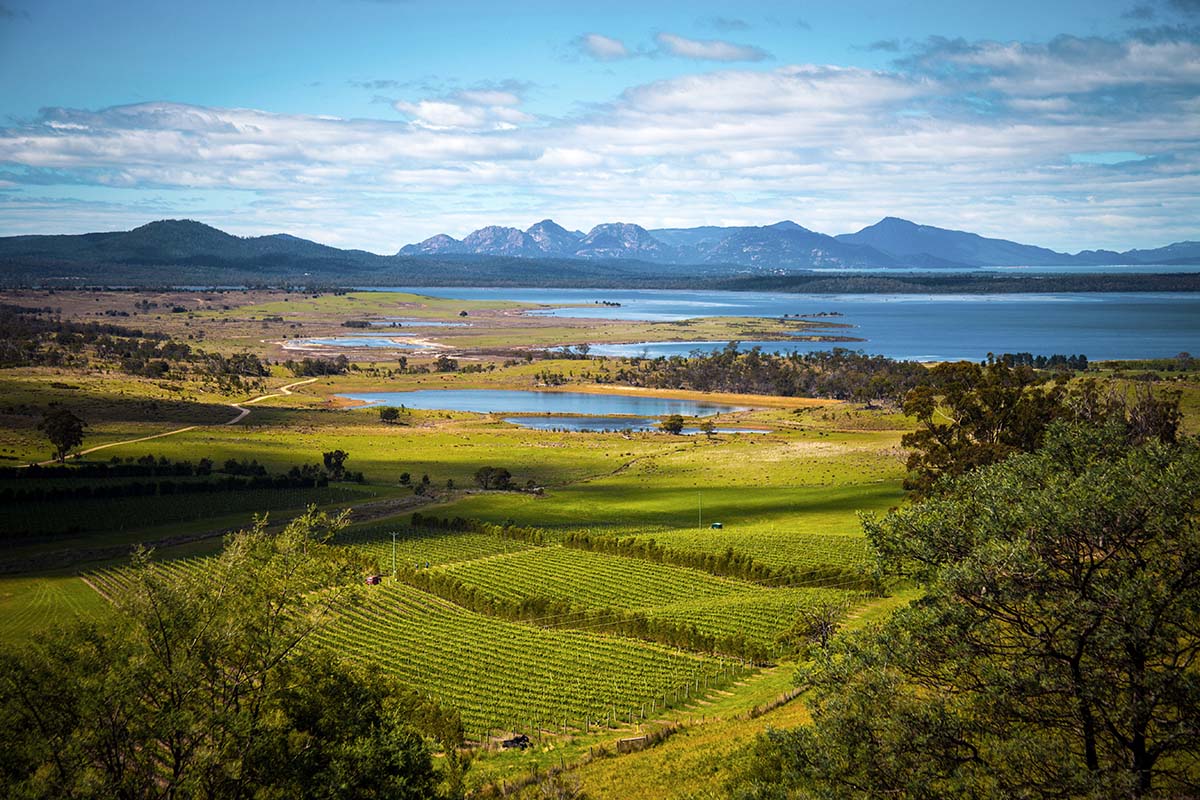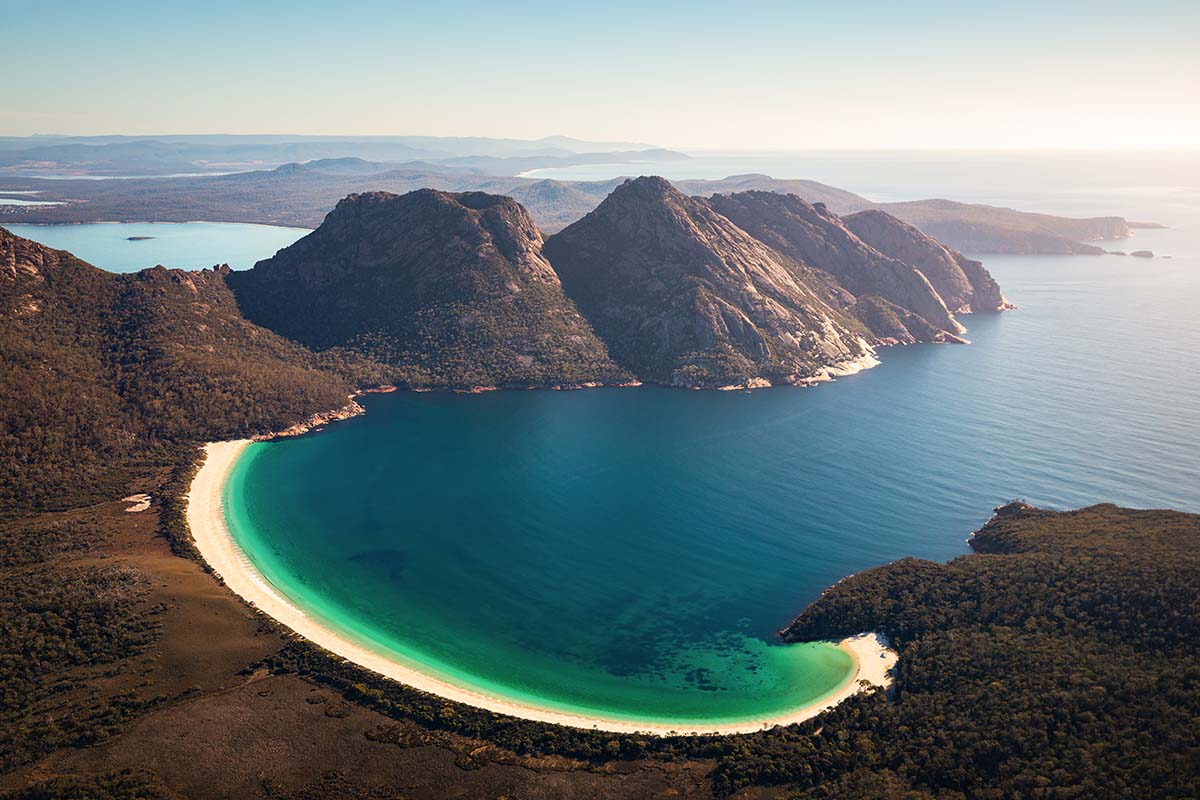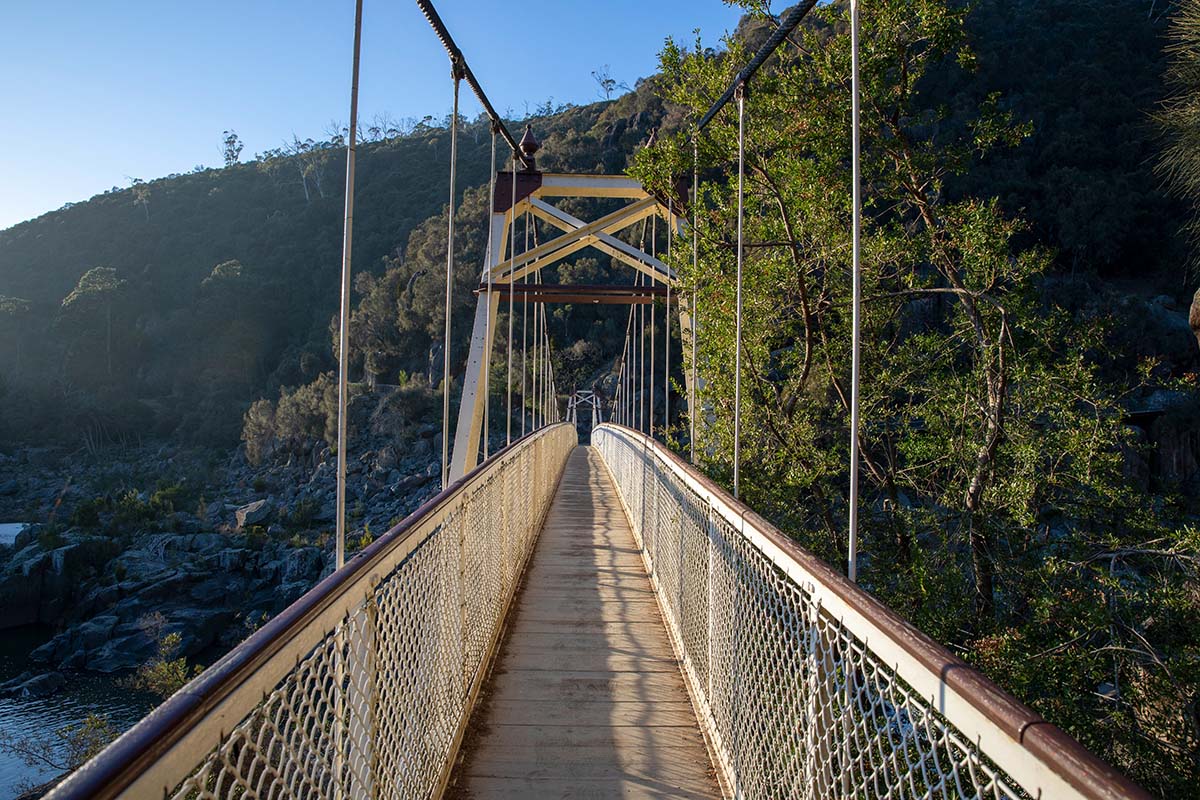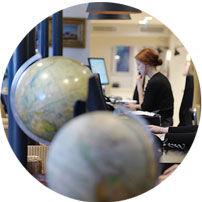 Tasmania (or 'the land under down under', as the locals like to call it) is a destination on the up. We at Original Travel couldn't be bigger advocates of the seventh state and this 14-day itinerary includes the best scenic, active, wildlife and gourmet experiences that Tasmania has to offer.
Route
Everything is 100% tailored to you
DAYS 1 & 2
International Flight
Start your Australian adventure as you head to the airport this evening to check in for your flight to Melbourne. You'll have to stop en route somewhere so let us know your preferences with stopovers/airlines and we'll suggest the best flights for you. Whichever route you choose, you're looking at around a 23-hour flight, arriving into Melbourne in the early morning two days hence.
DAY 3
Arrive in Melbourne
Touch down downunder early this morning. When you land in Melbourne you'll be met at the airport by one of our friendly Aussie team and whisked into a waiting transfer car to be taken to your city centre hotel. As you'd imagine, today is yours to spend acclimatising and stretching your legs with some exploring. We suggest strolling along the south bank in the sun and then heading over to Fitzroy for a look at the quirky graffiti that lines the laneway walls here. There are lots of locally owned cafes and trinket shops around here too so it won't be hard to while away an afternoon.
When evening hunger strikes, head back to the centre and join a fantastic foodie tour through the city. With a local guide to show you the secret spots that usually go undiscovered by tourists you'll try the best dumplings, coffee and sweet treats Melbourne has on offer, and will then top off the evening with a glass of champagne at one of the city's famous rooftop bars.
Hopefully you're now fully on Australian time, so wake up early today to start your Tasmanian adventure. You'll be collected from your hotel and taken to the airport to catch your domestic flight to Hobart, which takes just over an hour. Once landed you can pick up your hire car (which we have pre-booked for you) and head to your new hotel base in Hobart. By this point we imagine you'll be getting pretty hungry so head out for a wander and get some lunch before you make your way over to the Museum of Old and New Art, otherwise known as MONA.
As MONA is a little out of town we'll pre-book your tickets and ferry for you so that you just have to meet at the pier. When you arrive, spend a few hours exploring the multiple exhibitions and taking in the quirky architecture and atmosphere. This is a Hobart highlight that you really don't want to miss. If you're in Hobart on a Saturday or Sunday, head to the Salamanca & Farm Gate Markets for some delicious local produce and artisanal treats.
Start today as you mean to go on, with a breakfast whisky as you arrive at the meeting point for your full-day tour of some of Tasmania's best distilleries. Over the course of the day you'll visit three distilleries and can enjoy detailed tastings at each, with the experts on hand to explain the ins and outs of the distilling process. Where possible you'll even be able to try whiskies straight from the still and casks.
There will also be a stop for a full lunch to help soak up the whisky and provide time to try some of the local produce while sipping on your favourite tipple of the morning. Come late afternoon, find yourself back in Hobart for dinner and perhaps another whisky or two.
Get out of the city today on a full day trip to explore nearby Bruny Island, which is just south of Hobart. Famed for its stunning, unspoilt landscapes and delicious local produce Bruny Island is a favourite getaway destination for local Tassie's and offers plenty in the way of activity. Your expert local guide will lead you to hidden coves, white sandy beaches and along 'the neck' beach, where you'll see the ocean lap the shores on either side of you. While exploring there will also be plenty of stops to try the local dishes, which include freshly shucked oysters, a selection of cheeses, fudge, berries and premium wine - a delicious side order to your main day of exploring the scenery.
Head back to the city for dinner and one last night in the state capital.
Pack the bags and pile them into your hire car this morning as the road trip fun begins. Start your journey around Tasmania with a two-and-a-half-hour coastal drive north to Coles Bay Conservation Area and neighbouring Freycinet National Park. With stunning views as you drive along the coast you might want to extend the journey with a few stops along the way. When you do arrive you'll find your accommodation, nestled in the heart of the beautiful, lush landscape. Check in and then prepare for a truly immersive foodie experience this afternoon.
With a guide by your side you'll be taken down to Freycinet Marine Oyster Farm where you'll be suited and booted in overalls and waders, ready to go oyster foraging. This is an internationally recognised wetland and ornithological site, and the farm is one of the best places in Australia to find prized Pacific oysters. Once you've gathered enough, this is also a beautiful setting in which to enjoy eating them too. Sit at a table placed in the water, complete with a bottle of iced champagne, and tuck into a bowl of oysters made all the more pleasurable knowing they are the fruits of your labours. You will have the rest of the afternoon at leisure, and to digest after your bivalve blow out.
After an early start and drive yesterday, enjoy a lie in this morning and then spend the day enjoying the great outdoors with a series of activities available around your hotel. We suggest starting by walking off your breakfast with a guided two-hour walk to Wineglass Bay, where you'll learn about the rich history of the area, as well as the native flora and fauna. If you prefer watersports to walking, try canoeing on Moulting Lagoon where you can spot pelicans and many other birds species. After a pit stop and perhaps a bite to eat back at your hotel, head to the local Freycinet Winery for an afternoon of winemaking - and wine tasting, of course!
The evening is then yours to enjoy the tranquil scenery and the sunset before dinner and another glass (or two) of wine.
Rise early this morning and say goodbye to the eastern shores of Tasmania as you head north west in your hire car to Launceston. The drive should take just over two hours and will have you at your new hotel in time for a little wander and lunch. After lunch, head back to the hotel where you'll be met for the rest of the day's activity. Head out of the city with your guide in a 4x4 to a remote location in the lush bush where you'll begin exploring and then settle down to an authentic and delicious campfire dinner. After your meal and as dusk falls the real fun then begins as you are taken on a guided wildlife spotting tour. Expect to see forester kangaroos, brush-tail possums, eastern quolls, wallabies and Tasmanian pademelons all at close range. This is a really special opportunity to get up close and personal with the unique wildlife in the region and, alongside the campfire dinner, should have you feeling like a real Aussie explorer.
If wildlife was the agenda of yesterday, wine is the order of today. Line your stomach with a large breakfast before your driver/guide collects you for a morning spent learning about the winemaking process, right through from grape to glass. With the experts on hand you'll be guided through the various processes that go on in a vineyard and can experiment tasting the wines in their unfinished state. When you've had enough of learning and want to start sampling the end product, make your way to the winery restaurant for a two-course lunch of Tasmanian specialities, paired with the perfect wines.
As the late afternoon blooms, head back to your hotel or the city centre to continue the indulgence with a lazy afternoon nap or some more food and, in all likelihood, another bottle of delicious local wine.
DAY 11
To Cradle Mountain
After yesterday's exertions you might want to treat yourselves to a lie in. Then, when you are up and have had breakfast, pack your things into the car and prepare to make the drive to the Cradle Mountain area. Most of the hotels we work with are around two hours west from Launceston so you shouldn't be on the road too long. Either way, the scenery in this part of the country is epic. On arrival in the Cradle Mountain region we suggest dumping your bags and heading out to explore. There are some great walking tracks in this area, all with big views of the unspoilt environment, and after being in the car for a few hours a leisurely walk will help stretch your legs and build up an appetite for tonight's delicious dinner.
This morning is yours to enjoy at leisure in the wild wilderness surrounding your hotel. There are various activities you might like to try and endless well-marked trails to walk. Go riding across the open moorlands and highlands; splash out on a helicopter tour to really appreciate the scale and beauty of this alpine environment, or try your hand at fly fishing with the help of an expert fishing guide. If you're feeling a little less active, the peace and quiet and stunning views here are the ideal backdrop for a morning of sunbathing and reading - the choice is yours. Come late afternoon, drive to the nearby Tasmanian Devil sanctuary, which is widely recognised as the best on the island, where you have a rare opportunity to spot these endemic marsupials. In a small group, wander through the sanctuary enjoying an exclusive tour, complete with local nibbles and drinks. As night falls you'll even have the chance to roast marshmallows around a campfire in the rainforest as the devils make their iconic screaming calls from the dusky shadows.
Sadly your adventure in the land under down under comes to an end today. Get up nice and early to make the four-hour drive back to Hobart Airport, where you can drop off your hire car and board your short flight back to Melbourne on the mainland. Here you'll pick up the first leg of your international journey and begin the journey back to the UK. You're looking at a total journey time of around 28 hours, arriving back tomorrow morning, so stock up on magazines at the airport and try to get some sleep on the flights.
Your connecting flight arrives back in London in the early morning.
A Rough Idea of Price
Dependent on season, accommodation and activities
The estimated cost for this trip is £4,145 to £5,855 per person. The final cost of the trip depends on the way we tailor it especially for you. The final cost varies according to several factors, which include the level of service, length of trip and advance booking time. The exact price will be provided on your personalised quote. The average price for this trip is £4,880 per person.
A few of the benefits of travelling with us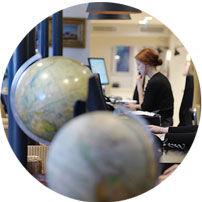 Get in touch
Our experts have the inside track on the destinations they sell and will tailor-make a holiday to your unique requirements.
Contact one of our Australia specialists