Itinerary Highlights
Special moments spent together in two of Southern Africa's most magical countries
Wellness programme in Jo'burg, guided safaris in Botswana, tour of Cape Town with a local: all on the itinerary
An encounter with semi-tame elephants in Botswana, tasting lunch at a Winelands estate: personalise your trip
Our local Concierge service, local mobile phone, places to visit: all reasons to travel with us
Contact one of our South Africa specialists + 44 (0) 20 3958 6120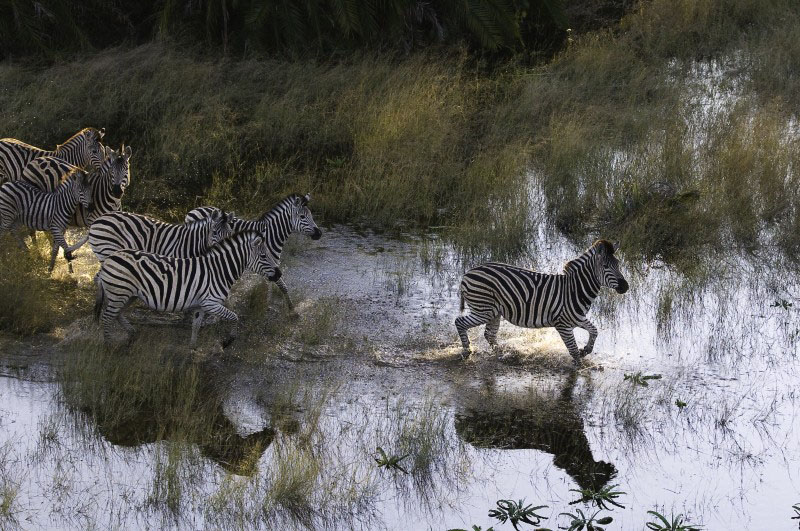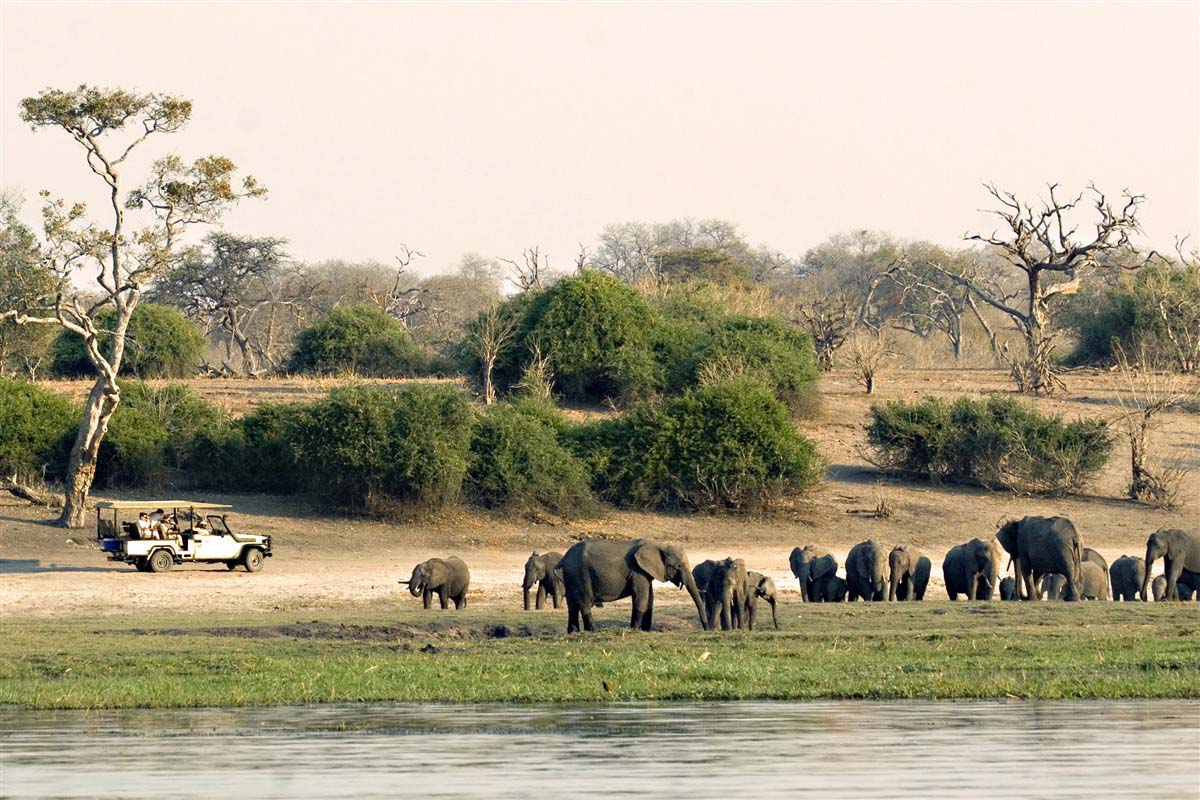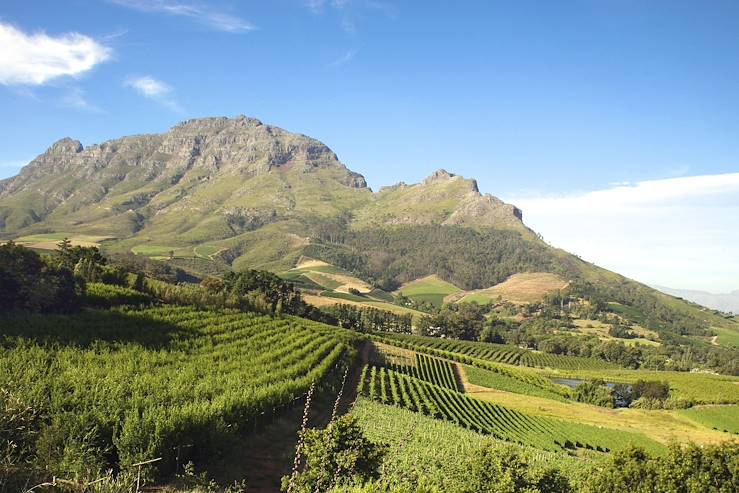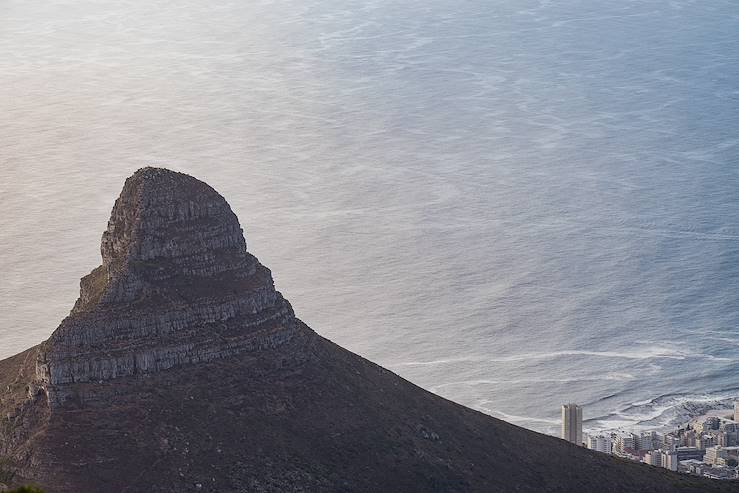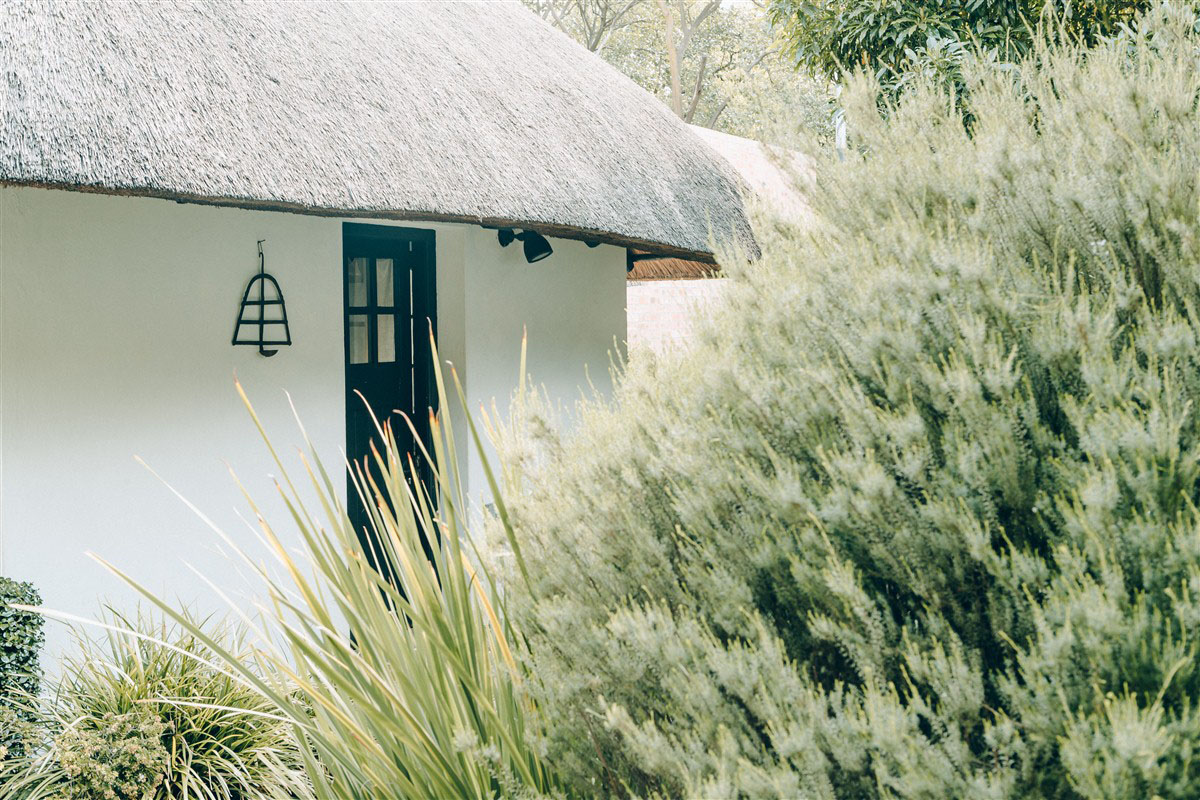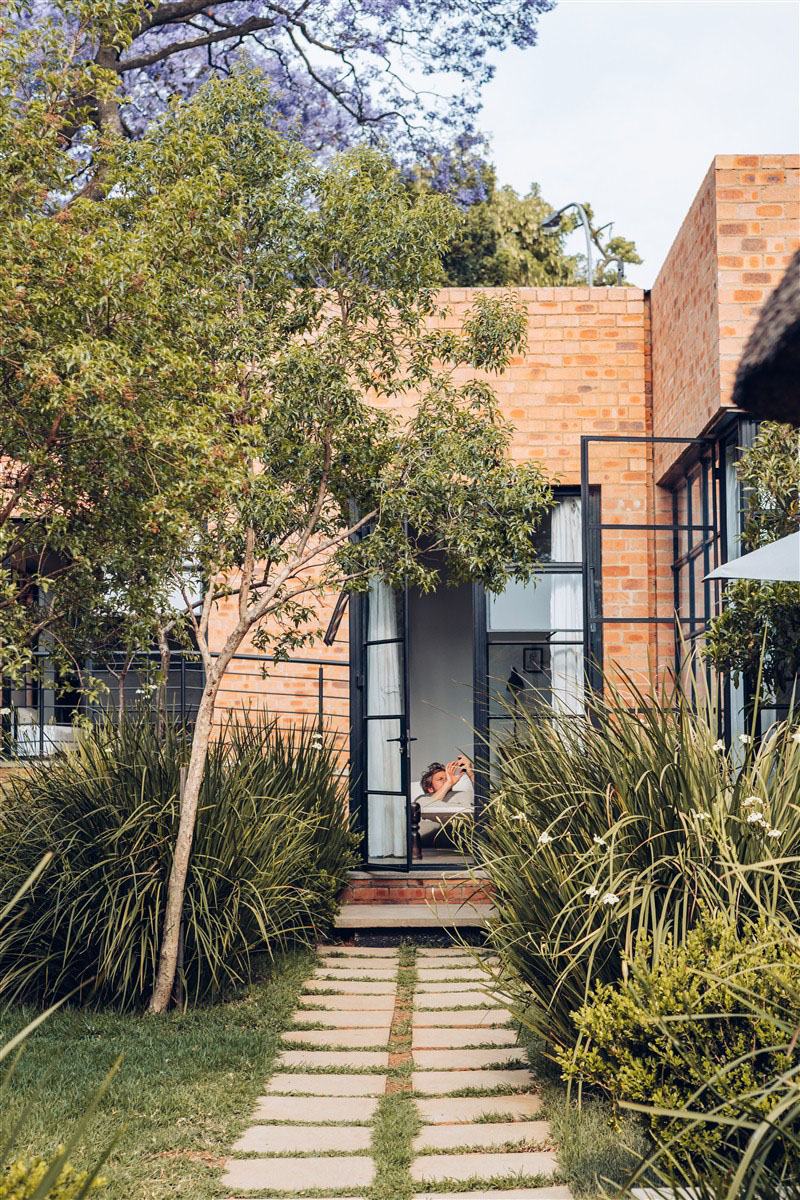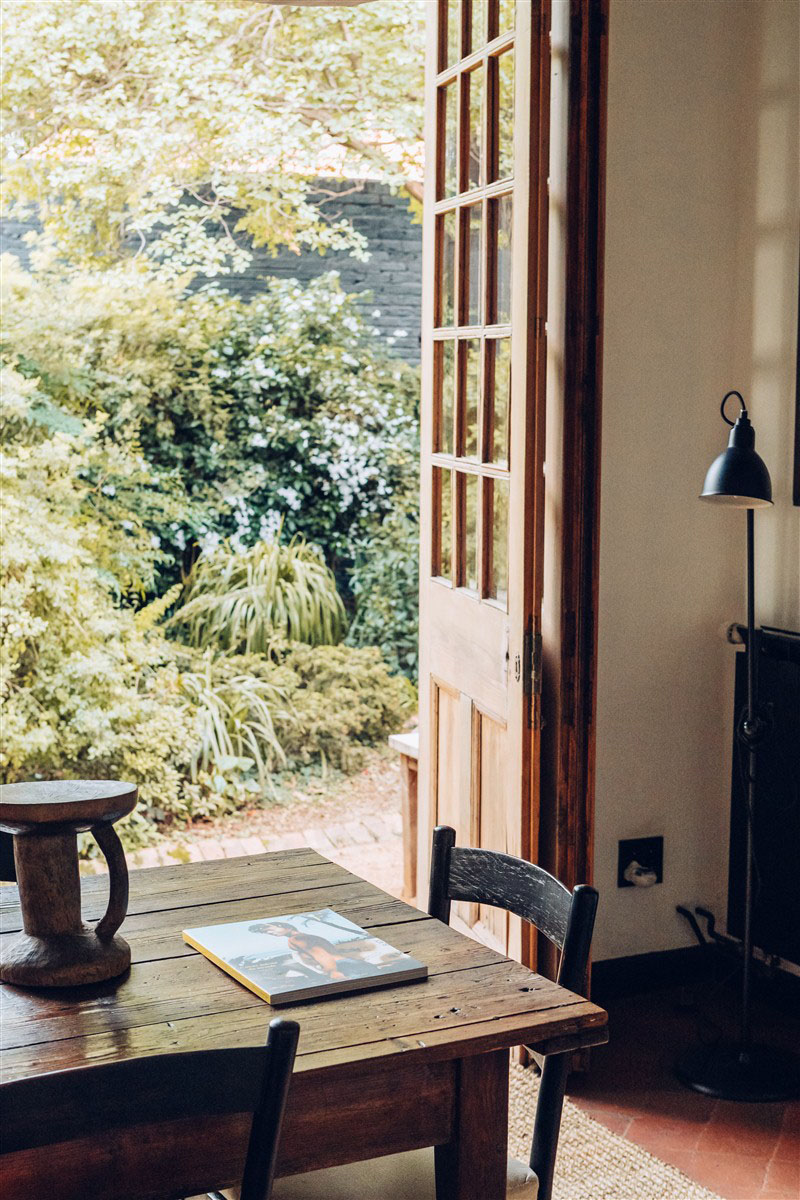 Southern Love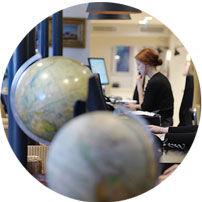 Straddling two great African countries, this trip has been designed for those with a romantic spirit, newlyweds and old lovers alike. Picture the scene: Sipping a glass of champagne in the
lounge at the airport before you flight
; Blissfully relaxed on the
massage table at Satyagraha House
in Johannesburg, after a long night flight; Enjoying a
gourmet picnic in a secret location near Cape Town
; Watching the wild landscape come to life as you take an
outdoor shower in Botswana
; In the back of a 4x4, a glass of gin and tonic in your hand, moved by the gentle spectacle of a giraffe at sunset; Immersed in a deep copper bathtub in the heart of the bush,
lit with candles; Sleeping beneath the starry heavens under a mosquito net of a large rolled-up bed on your terrace, in an intimate camp Easy living, solitude and African romance, but great thrills too, a taste for adventure and the bustle of urban life; there are so many emotions and experiences to share together in these distant lands.


Botswana: wilderness escape
Few places on Earth provide such an intensely touching experience as Sub-Saharan Africa. Suddenly finding themselves at the bottom of the food chain, man defers to the ancestral power of nature in its most raw, pristine and wildest state. It's a touching experience. That's why a safari is the perfect choice for a honeymoon with a difference. One country sets the bar when it comes to safaris. The extremely exclusive and protected natural wilderness of Botswana's vast expanses of bushland, especially the unforgettable Okavango Delta, make it a stunning part of the world to visit. It's home to a rare ecosystem: a river that rises in Angola and ends in Botswana in a huge delta, colliding with the ultra-arid expanses of the Kalahari Desert that make up most of the country. In contrast, the floodlands it creates, made up of countless islands, islets and inlets, is extremely fertile. Protected by a responsible and committed government, the region's wildlife has suffered very little from the impact of human activities. Here, they live in their full natural splendour. During this trip, explore the two different corners of the delta, including the Khwai Reserve, keenly guarded by the small community living there, and a private concession on the edge of the famous Moremi Game Reserve. The small taxi plane that takes you from one camp to the next will touch down close to intimate camps, all exuding the romantic spirit of British colonial rule. Experience the wildlife on land, in a 4x4 or on foot, and also by taking to the delta's waterways, by motorboat or by local traditional canoe. In the evening, tired but happy after a thrilling day, sit around a crackling fire in the darkness of the African night.


South Africa: back to reality
On the outward journey, touch down in South Africa before flying to Botswana. It's definitely worth it after such a long journey. The two-day relaxing stopover in Johannesburg is perfect. Spend the night in Gandhi's former home, where he developed his philosophy of non-violent resistance, which gave its name to this former farm: Satyagraha House. Satyagraha House still holds important meaning and memories for the city's Indian minorities. It continues to serve vegetarian meals and prohibits alcohol; its bright rooms are stripped, beautiful, and yet simple. An adjoining small museum tells the story of Gandhi's journey through South Africa. This stopover offers a small insight into the country before exploring further. On the afternoon of arrival, enjoy a wellness program to recover from the long flight: a delicious vegetarian lunch followed by a 90-minute couple's massage. Upon returning from Botswana, to smoothly transition from bush to big city, explore the incredible Cape Town area. Stop in one of Cape Town's charming little guesthouses. This magnificent city seems to be truly blessed, nestled between sea, mountains and vineyards. Then, you are free to explore on your own, and cruise along the cliff-side road to the Cape of Good Hope at the wheel of a hire car. We still make every effort to provide a unique experience of this African city, with a knowledgeable local as a guide. We will also provide a list of our favourite places to visit in and around Cape Town. The last night in South Africa calls for a foray into the vineyards. In the countryside of the Cape Winelands, staying in a romantic hotel, a little gem of interior decor and traditional Cape Dutch architecture, savour the gentle wonder of this region and its fine vintages, and raise a toast to a wonderful trip.
Route
Everything is 100% tailored to you
DAY 1
INTERNATIONAL FLIGHT TO JOHANNESBURG
Overnight international flight to Johannesburg. Arrive the next morning.
Welcome upon landing, assistance and fast track through customs, personal welcome in the arrivals hall, luggage assistance and private transfer to your hotel around a 35-minute drive away. Stay overnight at a very special address: between 1908 and 1911, Gandhi lived in a thatched house in bushland near the emerging city of Johannesburg. Today, this heritage-listed house encompasses a museum and unique guesthouse in the suburb of Orchards, a middle-class residential area close to Johannesburg's main attractions. Featuring bright and simple rooms (two of which face directly into the museum area) and tasty and fortifying vegetarian cuisine, Satyagraha House pays tribute to the spirit of openness and peace that inspired one of the great political and humanitarian minds of the 20th century. Immerse yourself in the city, stay in a museum, get an insight into the lives of one of world's greatest minds and the country's history: a stay at Satyagraha House is more than just a hotel stay, or a stop along the way; it's an encounter with history, and offers an insight into an evolving country that's learnt from its past struggles.
In the itinerary - Satyagraha Wellness Programme. Upon arrival, feel instantly at home and enjoy a delicious vegetarian lunch, followed by a relaxing one-and-a-half-hour massage to release any tension from the flight.
In the itinerary - A Special Dinner There is no restaurant at Satyagraha House, with guests invited to dine table d'hôte-style instead. The manager, who attended the Ritz Escoffier Institute for a year, has trained the guesthouse's three chefs to prepare original vegetarian dishes, made with the best produce in the region. Each dish is paired and served with a matching tea, contributing to this unique experience while remaining faithful to Gandhi's Hinduism by replacing wine with tea. Upon arrival, the guesthouse's staff will ask you when and where you'd like to enjoy this unique meal.
Optional - Dinner at Urbanologi
DAY 3
JOHANNESBURG - MAUN - KHWAI RESERVE
This morning, your driver will take you back to Jo'burg Airport, where you'll begin your journey to legendary Botswana. Land at Maun's international airport, gateway to the Okavango Delta. Upon arrival, our representative will assist you with your entry into the country, before escorting you to the small air taxi that will take you into the heart of the bush. It takes about an hour and a half to fly to Maun, followed by a 20-45 minute journey by air taxi, depending on the stops en route. This light aircraft will fly at a low altitude over the meandering delta to your camp, occasionally landing on the way to drop off other passengers at different lodges before taking off again. It's a fun and unusual experience, especially when flying low over herds of giraffes or elephants. So much more than a simple transfer, flying over the delta is the best way to appreciate the topography of vast area of water. Stay for two nights in 1950s safari style at the Khwai Reserve, in a tiny tented camp featuring one main tent and four smaller ones surrounding it. During the heat of the day while the animals laze in the shade, cool off in the beautiful swimming pool or relax on your private veranda. The atmosphere here recreates the vibe of explorers' camps during the golden age of safari. In the morning, have an open-air shower surrounded by nature, already full of life. In the evening, enjoy a charmingly authentic meal under the stars, eating by the light of kerosene lamps and listening to the soundtrack of the wilderness.
In the northern part of the delta in far-northern Botswana, the small village of Khwai lies at the entrance to the Moremi Reserve, which has been focussing its efforts on ecotourism for several years now. While in Khwai, you'll meet the BaBukakhwe, River Bushmen who have lived in the region for thousands of years. The reserve is also home to some of the richest wildlife in Africa, including elephants, giraffes, leopards, buffaloes and wildebeest. Between the Okavango Delta and the mouth of the Khwai River and its floodplains, a trip to Khwai offers exceptional bird-watching opportunities, especially to see waterfowl and birds of prey.
In the itinerary - Guided safaris on the Khwai Reserve Your camp is what's known as a land and water camp. This means that at dawn and sundown when the animals are still most active, you'll have the choice of viewing wildlife either from a 4x4 or on foot, or by boat or mokoro, a type of traditional long Botswanan canoe, all accompanied by rangers. Two totally different, yet equally memorable experiences.
DAY 6
KHWAI RESERVE - OKAVANGO DELTA
Take the air taxi right into the heart of Botswana to explore one of the rarest ecosystems on the planet, the amazing Okavango Delta. The plane practically skims the tree tops and palms adding a splash of green to the flooded land below. Stay for two nights in a camp in a private spot among the trees in the delta, bordering a seemingly endless lagoon in the Boro River. Wooden suspension bridges connect five small thatched stone bungalows on stilts, while a swimming pool invites you to relax between safaris. Romantic African moments: in the evening, unwind by candlelight in a deep copper bath under the stars. You can even ask the camp staff to pull your canopy bed onto your bungalow's veranda to spend the night under the stars, too. Cocooned in your duvet and protected by a mosquito net, be lulled to sleep by the enchanting sounds of the bush.
This area is one of the best preserved in Africa and is a UNESCO World Heritage-listed natural site. The labyrinth of canals and lagoons is a world in itself, with gentle light, carried sounds and brightly coloured flowers blooming. Water sustains the area's abundant and diverse wildlife, with an array of birds, reptiles and different-sized mammals.
In the itinerary - Two safaris each day. In the early morning and at again at dusk, head out with the rangers for safaris on both land and water. Hold your breath as you approach the amazing wildlife in a 4x4 or canoe. Staying in the heart of a private property means that you can head out after dinner to explore the bush in a 4x4 at night, which is a great way to see leopards.
Optional - Encounter with the camp's semi-tame elephants.
DAY 8
THE OKAVANGO DELTA - MAUN - CAPE TOWN
The next morning, bid farewell to the wilds of Botswana from the window of your air taxi and fly to Maun, before easing yourself back into civilisation on a short two-and-a-half-hour flight to Cape Town. Upon arrival at the airport, our representative will assist you with entry formalities, luggage and collection of your compact hire car, a comfortable four-seater. Stay for three nights in a charming guesthouse run by a young French couple, and take in the warm welcome and stunning surroundings. This beautiful guesthouse overlooks a stunning garden, where you can enjoy a drink in the shade of the pomegranate trees. Completely renovated by local designers, this former 19th-century farm has retained all its character and charm. Borrow a book from the library, listen to your favourite jazz record or enjoy a cup of tea in an Alfred Meakin porcelain cup. Vibrant and creative Kloof Street is nearby, home to restaurants, cafés, young designers, art galleries and museums. The area is also known for its events, including tango evenings, brunches, exhibitions, outdoor cinema screenings and cookery lessons.
870 miles south-west of Johannesburg, South Africa reveals a different face. Cape Town is arguably the most beautiful city in Africa. It's a sparkling jewel, nestled between the ocean and mountains on the edge of the continent. Dominated by the spectacular Table Mountain, it opens out onto the waters of the Atlantic Ocean, and extends to the east into harmonious countryside carpeted with lakes and vineyards. The city prides itself on its cultural heritage, with some of its more modernist designs softened by the Cape Dutch style of its many historic buildings. With an emphasis on the ocean and leisure time, this relaxed city offers a host of outdoor activities as well as an interesting food scene and vibrant nightlife.
In the itinerary - A tour of Cape Town with a local. Take a walk through Cape Town with a local guide. An impromptu walk through the city with the chance to share a slice of local life, discuss everyday living in South Africa and gather a wealth of tips for the rest of your trip.
Included in the itinerary - A romantic gourmet picnic. To add to your day of sightseeing, we'll provide you with a gourmet picnic of fresh produce including salads, fish, chicken or kebabs, cheese, fruit and sparkling wines to enjoy in the perfect romantic location. We'll take care of everything, and keep the location a surprise until the day before.
DAY 11
CAPE TOWN - WINE REGION
This morning, take a one-hour drive to South Africa's wine cellar. Established by the Dutch at the end of the 17th century, the area's wine industry was also heavily influenced by the Huguenots who fled from France to South Africa. The wineries at Franschhoek, Stellenbosch and Paarl therefore combine typical Dutch architecture with high-quality European grape varieties, such as Sauvignon, Merlot and Cabernet. The region, commonly described as Cape Town's hinterland, is also a cultural landmark, and has its own unique South African identity with influences ranging from the area's first occupants (Huguenots and the Dutch) to rugby, practically a religion in these parts, as well as wine and agriculture. A visit to this area isn't only about discovering South Africa's agricultural heartland, it's about discovering the country's roots. Stay for one night surrounded by vineyards and mountains in a beautiful farm, whose Cape Dutch architecture dates from 1712. The natural setting is truly beautiful, and only adds to the charm of the farm's manicured gardens and bright white character-filled mansion. The interior decor features a series of sophisticated variations on 18th-century style (regarded as a contemporary influence). It has a European vibe, with an air of far-flung travel. In the rooms, original elements blend to give the creative decor some substance. The chef serves up a variety of tasty seafood and game dishes in either the dining room or on the spacious veranda. Snuggle up around the fireplace in the tea room, Time for a few laps in the swimming pool, head to the spa and indulge in a treatment or take a trip to the tasting area to try out the valley's wines.
Optional - Dinner and wine tasting at the Vergelegen Estate.
We'll make sure your room is available until you leave the hotel. Drive to Cape Town Airport in the late afternoon and return your hire car. Fly back overnight, arriving the next morning.
A la carte
DINNER AT URBANOLOGI
If you're in the mood for dinner in the city on the day you arrive, head to Urbanologi, a unique restaurant located in one of Johannesburg's trendy neighbourhoods, close to an indoor market and housed in a former warehouse that's now used as a craft brewery. Experience the creativity of modern South African cooking with a selection of tapas-style fusion dishes with Asian and European influences in a friendly and original atmosphere. This five-dish tapas dinner includes private transfers from Satyagraha House.
Optional


ENCOUNTER WITH THE CAMP'S SEMI-TAME ELEPHANTS
Meet the semi-tame elephants living within the camp's perimeter; they were taken in while still young and have gotten used to being around humans. Being able to approach these African elephants and watch them as they go about their business is an amazing experience.
Optional


LUNCH AND TASTING AT THE VERGELEGEN ESTATE
The Vergelegen estate, built in 1700 by Simon Van der Stel's son Willem, is an architectural gem that has become internationally renowned for its beautiful summer rose garden and high-quality wines. The entrance is bordered by 300-year-old camphor trees, giving the estate an instantly charming air. This five-hour tour is conducted by one of the estate's expert guides, and includes lunch at the Camphors restaurant (three-course menu), wine tasting and gratuities.
Optional - Five hours
A Rough Idea of Price
Dependent on season, accommodation and activities
The estimated cost for this trip is £11,200 to £14,000 per person. The final cost of the trip depends on the way we tailor it especially for you. The final cost will vary according to several factors, including the level of service, length of trip and advance booking time. The exact price will be provided on your personalised quote. The average price for this trip is £12100 per person.
International flights with a scheduled airline
Airline taxes and fuel surcharge
Access to the airline's lounge at your departure airport
Welcome, fast track through customs and luggage assistance at Johannesburg Airport
Welcome and assistance with customs formalities at Maun Airport
Private transfers
Air taxi connections mentioned in the itinerary
Overnight stay at Satyagraha House in Johannesburg in a double room with breakfast
Three-night stay at the Khwai Reserve in a double tent, full board, with two activities included per day
Two-night stay in the Okavango Delta in a double tent, full board, with two activities included per day
Three-night stay in Cape Town in a double room with breakfast included
Overnight stay in the wine region in a double room with breakfast
The wellness programme at Satyagraha House, including a massage and private lunch
Private dinner at Satyagraha House
Private guided tour of Cape Town with a local
Gourmet picnic in a secret Cape Town location
Your room at your hotel in the Winelands available until your departure
Our local Concierge service
A few of the benefits of travelling with us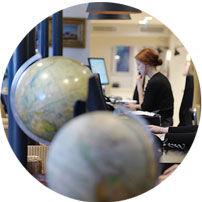 Get in touch
Our experts have the inside track on the destinations they sell and will tailor-make a holiday to your unique requirements.
Contact one of our South Africa specialists