For the next three days this wilderness is there for the family to embrace. Endless outdoor experiences are waiting for you, from kayaking and paddleboarding on the glistening lake to walking the well-marked trails.
The signature experience here, however, is the award-winning riding programme which offers intuitively designed riding experiences. Whether the family are complete novices or love nothing more than galloping at full pace, the best way to explore the splendour of British Columbia's wide open spaces is on horseback. Let the expert guides pick the perfect horses to take you and the children on a memorable journey through forests, across rolling fields and along lakeside trails.
As night falls the family can regale tales of the day while enjoying a private al fresco supper overlooking the lake.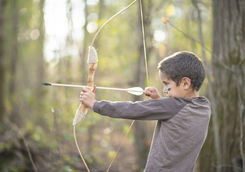 Additional Activities
Archery
Nature and wildlife tours
Kayaking
Hiking
Mountain biking
Yoga