Ultimate Antarctic Cruise
Who: Couples and Solo Travellers
From £19,350pp
The Ultimate Antarctic Cruise
Explore the coast of Antarctica, the Falkland Islands and South Georgia on this epic 23-day Antarctic expedition cruise, seeing iconic wildlife such as albatrosses and penguins and some truly breathtaking scenery en route.
Itinerary at a Glance:
Enjoy cinematic scenery on an evening sail through the Beagle Channel
Learn about the wildlife, history and geology of the Falkland Islands and Southern Ocean from experts
Take part in sea bird sighting surveys and help collect water samples and weather data
Explore Stanley, the capital of the Falkland islands, and spot wildlife from its sheltered harbour
Enjoy wildlife and spectacular scenery in the Antarctic Peninsula
Why Book with Original Travel?
Just a few of the extra touches that come as standard on an Original Travel holiday...
See More
All of the holidays we create are completely tailor-made to you
This sample itinerary is intended to give you a flavour of what we can do
Your Antarctic adventure begins with an evening, 14-hour flight from London to Buenos Aires. You will fly through the night, arriving early morning Argentinian time.
As you've arrived early this morning, it's time for a spot of brunch before you transfer to the domestic airport in Buenos Aires (Jorge Newbery International Airport).
From here you'll fly to Ushuaia Airport in the south of Argentina, which takes around three-and-a-half hours, and arrive in the evening. You'll be staying in Ushuaia tonight, so take the rest of the day to relax - enjoy the spa, wander the trails, or unwind and soak up your beautiful surroundings before your Antarctic expedition begins tomorrow.
You'll be embarking on the ship today - your home for the next 17 nights - but not until the afternoon, so take the morning to relax and enjoy Ushuaia.
Once on board, you'll be greeted by the ship's officers and expedition experts and receive a safety briefing and orientation. With formalities over, refresh and get ready for the Captain's welcome dinner.
After dinner, with the Antarctic adventure firmly under way, head out on deck to take in the scenery on an early evening sail through the Beagle Channel and see if you can spot black-browed albatrosses, cute Magellanic penguins and orange-eyed rock cormorants.
Day 4:

Wildlife Spotting in the Southern Ocean
Today you'll most likely want to spend your time out on deck spotting the resident wildlife as you sail south; keep an eye out for the albatrosses, prions and petrels that frequently follow the ship.
The friendly and knowledgeable team onboard will also be looking for dolphins and whales that are often seen in the area, and will let you know if any decide to swim alongside the boat, all the while providing you with plenty of interesting information on the wildlife, history and geology of The Falkland Islands and Southern Ocean.
Guests who are interested in helping hands-on can take part in sea bird sighting surveys and collecting water samples and weather data.
Throughout this amazing journey you'll be able to attend entertaining and informative talks and discussions about wildlife, the environment and your surroundings from the expert team looking after you.
Day 5:

Wild West Falklands
Today you'll visit some of the remote, family-owned farms on the westernmost settled point of the Falklands.
Home to grazing sheep, albatross colonies and a number of penguin species - including rockhopper, king and Magellanic - you'll get an insight into the wonderfully wild life of families and their animal neighbours on the Falkland Islands. Look to the skies and you may spot some upland geese or striated caracaras patrol overhead before you head inside for cakes and a cup of tea - just the thing to warm you up on your Antarctic expedition.
Today you'll head to East Falkland to visit the Falklands Island capital - Stanley.
This sheltered harbour city is best explored on foot to take your time wandering around the port and its multiple cafes, lively pubs and shops where you'll be able to buy locally-made wool items.
Head to the waterfront to spot sea lions and dolphins play in the harbour, or to nearby Gypsy Cove where you'll find abundant bird life.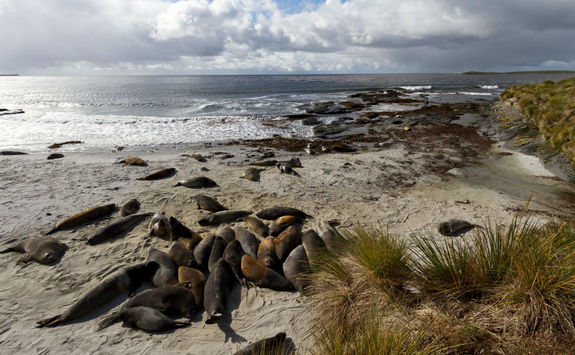 Anyone with an interest in British military history can also learn about how the islands were recaptured after an invasion by the ruling Argentinian junta in the 1982 Falklands War.

Days 7-8:

Into the Antarctic
Over the next two days you'll officially enter Antarctic waters as your ship makes its way east across the Antarctic Convergence, the constantly moving point where cold waters from Antarctica meet - relatively - warmer waters circulating southwards. The convergence is a prime spot for marine life.
As a result, there should be plenty of wildlife spotting opportunities as you sail, and onboard talks and presentations discussions will feature the exciting history and wildlife of your next destination - South Georgia.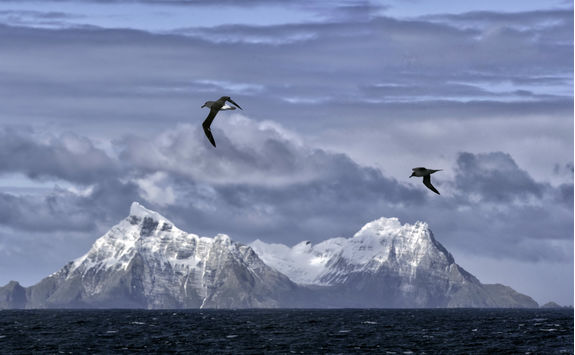 Days 9-12:

Welcome to South Georgia
South Georgia's abundant wildlife and dramatic scenery are yours to enjoy for the next three days. This is the landscape of your bucket list, Antarctic expedition dreams so take in all that this unique destination has to offer.
You'll visit various landing sites on this remote island and have the opportunity to see elephant seals, fur seals, gentoo penguins, albatrosses, petrels, skuas, and gulls. South Georgia is particularly well-known for its huge number of king penguins and your friendly experts on board the ship can help point you in the direction to see these beautiful creatures, from fuzzy brown chicks to fully grown adults.
While you're on the island you'll also visit the historic Grytviken whaling station and museum, the Norwegian seaman's church, the active British Antarctic Survey station and finally the graveyard where the great Antarctic explorer Sir Ernest Shackleton is buried.
Days 13-14:

Further South to the Scotia Sea
Your journey continues south as you sail through the Scotia Sea.
Continue to watch out for wildlife - your constant companions on your Antarctic adventure - and witness the breathtaking beauty of icebergs which become more and more plentiful as you go.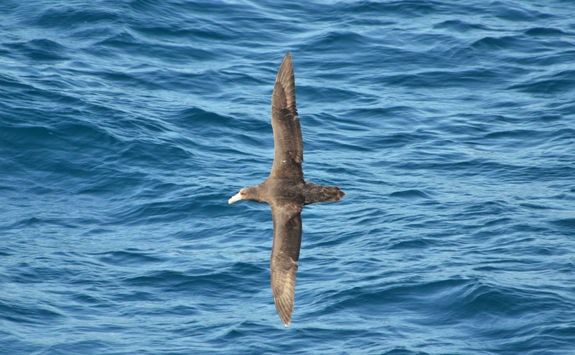 Days 15-18:

Antarctic Peninsula and South Shetland Islands
Over the next three days you'll explore the waterways of the Antarctic Peninsula by inflatable Zodiac boats and have the chance to experience icebergs up close.
Your expedition leader and Captain will be able to adapt the itinerary based on the elements so that you have the best chance to enjoy Mother Nature. They'll aim for the most scenic bays and channels of the peninsula with stops at penguin rookeries, seal wallows, bird colonies and whale feeding areas, as well as sites of historic and scientific interest.
Wildlife wonder continues as you spot Adelie, chinstrap and gentoo penguins, as well as Weddell, crabeater and elephant seals who can be found hanging out with their cousins, the leopard seal and fur seal.
Depending on the season, you may also have the opportunity to see humpback whales and orcas as they migrate through the area. Just another bucket list item to tick off on this epic expedition to Antarctica.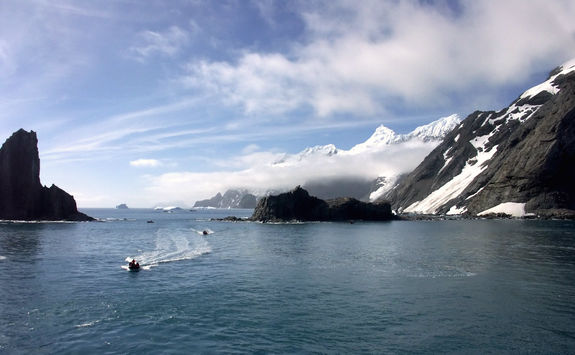 Days 19-20:

Antarctic Peninsula and Drake Passage
It's time to leave the Antarctic Peninsula behind as you head north again to the Antarctic Convergence and the Drake Passage.
Along the way, continue to spot wildlife and make the most of the spectacular scenery as your Antarctic adventure comes to an end.
As you traverse the Beagle Channel to Ushuaia, enjoy the last of the presentations and discussions, and celebrate the incredible expedition you've been on with a special slideshow from the crew.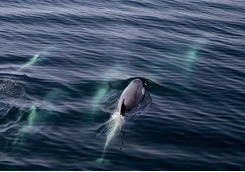 Day 21:

Back to Buenos Aires
After your last night on the water, you'll disembark in Ushuaia this morning in time to catch a flight to Buenos Aires' Jorge Newbery International Airport.
You'll stay in Buenos Aires tonight and acclimatise slowly to being back on solid ground with a lovely dinner at one of the city's top restaurants. Our clued-up Concierge can recommend and book the best.
Day 22:

Goodbye Argentina
Enjoy a leisurely breakfast before your driver transfers you to Ezeiza airport for your early afternoon flight back to UK, travelling through the night and arriving early in the UK next day.
After a 14-hour flight, you'll arrive into the UK early in the morning with a camera full of incredible photos and plenty of envy-inducing stories to tell you friends.
All of the holidays we create are completely tailor-made to you
This sample itinerary is intended to give you a flavour of what we can do
A Rough Idea of Price
While all of our holidays are completely tailor-made and prices will vary based on things like time of year and level of accommodation, we want to give you as good an idea of how much this itinerary will cost. The below prices are based on two people sharing.
This Itinerary
If you would like to book the itinerary mentioned above, with economy flights, during mid-season and staying in our preferred room category at our preferred hotels.
Ollie is our expert for this itinerary and, as a seasoned traveller, has the inside track on the most memorable adventures.