Temples in Cambodia and Trekking in Vietnam
Who: Couples and Solo Travellers
From £3,850pp
Temples and Trekking in Cambodia and Vietnam
Active culture vultures rejoice, we've come up with the perfect 17-day itinerary that allows you to stretch those legs and get out exploring the hills and rural areas of Cambodia and Vietnam, while still fitting in plenty of time to temple tour, meet the locals and indulge in culinary classics.
Itinerary at a Glance:
Explore the temples of the Angkor complex with an expert guide
Trek through the stunning hills around Sapa, meeting villagers as you go
Sample the best street food in Hanoi as you eat alongside the locals
Visit UNESCO protected My Son and learn about the Hindu mythology surrounding the site
Why Book with Original Travel?
Just a few of the extra touches that come as standard on an Original Travel holiday...
See More
All of the holidays we create are completely tailor-made to you
This sample itinerary is intended to give you a flavour of what we can do
Day 1:

International Flight
Take an international connecting flight to Siem Reap from London. There are several airlines to choose from so we can find something to suit a range of budgets and preferences, but all options will involve an overnight connection.
Day 2:

Arrive and Angkor Thom
With the flights behind you, this morning things really get going as you land on Cambodian soil and are met at the airport by a driver and taken to your hotel. Spend this morning unpacking and acclimatising to your new time zone.
This afternoon you'll be collected and taken to explore the Angkor Thom complex which was the world's largest city in the 12th century. There are various temples within the gated complex of Angkor Thom and your guide will fill you in on the history and religious background of each as you go. Starting at the Victory Gate you'll walk the path along the 26ft high laterite city wall to the Death Gate and then to several lesser known temples.
As you walk to different areas of the complex you'll pass through the shaded parkland and see several beautiful lakes. The final stop of your tour is at The Bayon temple, at the centre of the complex. This important temple is best known for the giant stone faces adorning it and makes a great stop to end your first day of exploring.
Get up before the sunrise today to visit the world-famous Angkor Wat temple in the very best light (and before the hordes descend). Watching from a nearby viewpoint you'll have the chance to get plenty of photographs of the sun rising behind the turrets before then heading away to Ta Prohm temple.
Explore the grounds here before moving on through the forest to the rarely visited temple of Ta Nei, where you'll enjoy a light breakfast. Afterwards, carry on to Ta Keo temple and then end the morning back at Angkor Wat. You'll enter by the lesser visited eastern entrance and by this time it should be quiet enough to admire this architectural wonder without the crowds.
With some time to relax and enjoy lunch first, this afternoon you'll be taken on a guided tour into the countryside to get to grips with the local contemporary Khmer culture. Your guide will lead you between rice paddies, through woodland and across back gardens, traveling on foot, by ox-cart and even by boat, to see the very best of the countryside. Meeting families and seeking a blessing from some monks, you'll also get a first-hand insight into the life of the locals.
The tour finishes with a traditional dinner in a villa surrounded by rice paddies and overlooking the Western Baray reservoir. As you watch the sunset with a cocktail enjoy the tranquillity and traditional live music.
Day 4:

Hidden Temple Trek
Get active today on a half day hike (around three to four miles) to some of our favourite secret and secluded temples in the countryside around Siem Reap.
The walk begins along an ancient irrigation channel to the moat of Angkor Thom. Follow the walls in the shade of tall dipterocarp trees and pass through Angkor Krau village to reach Prasat Prei temple. This consists of a single tower plus a fire shrine, all enclosed by a laterite wall with gates to east and west and a moat which is filled in the rainy season. Then, continue for a mile through bush and small paddy fields to the forest surrounding Prasat Banteay Thom temple. Since there are no paved roads to Banteay Thom you may have the atmospheric temple ruins to yourself.
Back at the hotel in time for lunch, this afternoon is all yours to relax after the morning exertion, either at the pool or in the spa.
This evening we have arranged for you to visit the internationally acclaimed Phare Circus. Tightrope walkers, contortionists and acrobats take the stage here for a dynamic artistic spectacle blending visual arts, traditional music, modern dance and classic circus skills. We will book you front row seats to ensure you don't miss a moment of the action!
You'll be collected this morning to journey out into rural Cambodia, to a small fishing village on the edge of the great Tonle Sap Lake. Here you will board a traditional boat and head across the water to Preak Toal, a floating village complete with church, schools and village shops.
A hive of activity, Preak Toal is the lake's largest floating village and also offers great birdwatching potential. After exploring, circle out to the edge of the vast lake and enjoy a picnic lunch before you head back to the car and your hotel in the late afternoon. After a busy few days, the rest of the day is yours to relax.
After a leisurely morning by the pool, or some last minute gift shopping (our Siem Reap Dossier offers plenty of shopping suggestions) it's time to say goodbye to Siem Reap; today marks the start of part two of your adventure as you head to Vietnam.
The flight to Hanoi is less than two hours long and you'll be transferred to and from the airport in a private car so the journey to your new hotel should be nice and smooth. As you'll arrive in the evening, we'll make a restaurant reservation in advance.
Day 7:

Introduction to Hanoi
After a leisurely morning - and a bowl of delicious steaming pho (the delicious national dish noodle broth) to start the day - your private guide will meet you early afternoon, to explore the city and get to grips with the history of Vietnam.
Highlights include exploring the vibrant Old Quarter, admiring the iconic One Pillar Pagoda and getting a taste of history at the Temple of Literature. We'll be sure to include this tour on a weekday, so that you can pay a visit to Uncle Ho himself in the Ho Chi Minh Mausoleum, and observe the locals pass by to pay their respects.
This morning head north to Sapa, with a private transfer of around five hours. Along the way you'll pass through hundreds of lush green paddy fields and lots of small rural villages.
Since the town of Sapa can be rather busy, we suggest staying in the countryside outside of town. We would always recommend Topas EcoLodge for its fabulous mountain top views and spectacular infinity pool - in fact, ideally you'll want to drop your things on arrival and then dive straight in. You'll dine with a view tonight, looking out from a beautiful stilt house restaurant.
Day 9:

Markets and Villages
This morning travel to Lao Cai to visit a local market where the Flower Hmong, Phu La, Black Dao, Tay and Nung hill tribe groups gather. The market offers a variety of local produce and including an interesting animal market where pot-bellied pigs, cows and buffalos can be seen.
After exploring the stalls and soaking up the rural buzz, continue with a short walk to a hill-tribe village. Visit some local homes and meet the friendly residents to learn about the daily life of these tribes as well as their fascinating culture and traditions.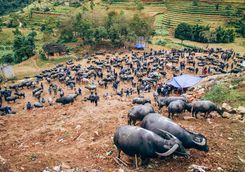 After breakfast at the lodge this morning, spend the day trekking in the largely unexplored valleys and mountains around Sapa - this is what visiting this area is really all about, and though you'll be on your feet all morning, the views will be more than worth it.
Start by transferring deep into Hoang Lien National Park, where the trail starts and soon leads you to the Red Dao village of Nam Nhiu. Here you will meet the villagers and enjoy a cup of green tea with them. Leaving the village behind, you will soon be rewarded by panoramic views of the rice valley below. Passing the rice terraces and a pretty river your trek continues on to Nam Cang village and the Riverside Lodge, where you'll stop for lunch. Connected to the village by its own suspension bridge the lodge is a spectacular and remote spot to sit and reflect on the morning's hike.
After lunch your guide will take you to explore the village and learn how the locals make rice paper, jewellery and embroidery. The Red Dao women who live here wear some of the most colourful and diverse dress of all Vietnam's ethnic groups and they are fascinating and friendly people to spend time with. Come late afternoon, with just enough time for a swim in the river first, you'll be transferred back to Topas Ecolodge for the evening.
Wake up to the mountain top views from Topas Ecolodge for one last time today, as you prepare to hit the road back to Hanoi.
When you arrive there will be a few hours to spend exploring independently before tonight's fun dining experience. You'll be collected from your hotel in the early evening and along with a passionate food guide, head out to walk through the Old Quarter's small lanes, winding backstreets, and hidden alleys, where a multitude of vendors set up their stalls along the roadside. Enjoy the sights and sounds of the city at night and then pull up a stool at one of Hanoi's best pho stalls. Slurp up a bowl of the steaming noodle soup, then having tantalised the taste buds continue on the food trail to sample other local favourites. Try banh cuon, steamed rice paper stuffed with pork and mushrooms, and nem chua ran, fried spring rolls, among many other dishes.
You'll then end the night with a barbeque dinner and a cold beer at a traditional bia hoi (small shop selling draft beer) as you watch the vibrant night time street scenes unfold.
Leave the bustling capital behind today as you are transferred to the airport for a short domestic flight to Hue. Once landed here you'll then be picked up from the airport and transferred to your hotel for a two-night stay.
The old imperial capital is set on the banks of the Perfume River and the city and its surrounding area are dotted with dozens of pagodas and temples dating back to the Nguyen Dynasty of the 1800's. It's a tranquil city, perfect for wandering around and taking in your beautiful surroundings before watching the sun set over the river.
This evening, we've planned another exciting foodie tour, this time travelling between Banh Beot and beer joints by Vespa scooter. You're riding pillion, of course.
Explore the ancient imperial city of Hue with an expert local guide today, starting with a visit to the UNESCO-listed Citadel. Roam the expansive grounds, admiring buildings and hearing stories of the former emperors. Then, continue by cyclo (bicycle rickshaw) to get a closer look at the tranquil gardens and traditional buildings of the city, stopping notably at the beautiful lotus flower filled Tinh Tam Lake.
You'll then leave the city centre and travel to Khai Dinh's tomb. One of the Nguyen Dynasty's former emperors, this remarkable complex blends traditional Vietnamese in design with European influences, making it unique from the other tombs in Hue. Before heading back to your hotel, take time to browse the stalls at Dong Ba Market which is always teeming with colour and makes a great place to catch a glimpse of everyday life in modern Hue.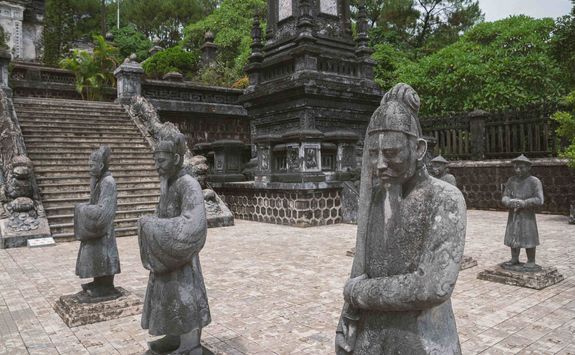 It's back on the road this morning as you are driven three hours south to Hoi An. On route you will travel over the scenic Hai Van mountain pass, with time to spot for a coffee and enjoy the view from the peak, 1600 ft up. Hoi An is an enchanting, sleepy riverside town that really does offers a glimpse of a bygone era.
Once you're all checked in and the bags are dropped, head out for a scenic river cruise along the Thu Bon River. Cast off from the town centre and watch the UNESCO World Heritage protected ancient trading houses fade from view. The boat will then make its way north, through the leafy areas outside of the centre where you'll see local farmers returning from the fields, their boats laden with vegetables, and local fishermen gracefully casting their massive nets for the evening's fresh catch. For a closer look, climb into a small bamboo vessel known as a thung chai and paddle along the calm waters with the locals.
The cruise comes to a close in the last light of day, so watch the sky turn brilliant shades of pink and orange as the sun sets over the river, and then return to shore for the evening.
Today's tour starts with a journey to My Son, a UNESCO World Heritage Site in the heart of the tranquil countryside west of Hoi An. Built during the era of the Champa Kingdom from the 4th to 13th centuries, many of the dozens of ancient brick structures are dedicated to Hindu gods or reflect Hindu mythology. As you explore these atmospheric relics that have stood the test of time, your guide will entertain you with tales and facts.
After this glimpse into central Vietnam's ancient history, return to Hoi An and take a lunch break at a popular local restaurant. Feeling re-energised you will then spend the afternoon exploring Hoi An's old town with a guided walking tour. Despite the passing of 200 years and the ravages of weather and war, the centre of Hoi An remains much the same as it was in its heyday. This walking tour is the best way to see the wooden-fronted houses (that once belonged to the town's prosperous merchants), the Japanese Covered Bridge, the wonderful markets, and the silk, handicraft and antique shops.
Your last day in Vietnam calls for something special and so we have arranged an interactive foodie cooking experience for you. This way you can take home a lasting souvenir of your time in Vietnam, in the form of a delicious recipe.
The morning starts as you join a local chef at the town's market for a one-hour tour. Explore the stalls, browsing for fresh herbs and learning about the ingredients for sale while getting a closer look at the local market culture.
After this, head to 'Vy's Market', a one-of-a-kind interactive dining venue. Though set up like a typical market, each stall also offers the opportunity to help prepare the tasty treats. Browse the various stalls, watch live demonstrations and then jump right in and help the chefs create truly authentic Hoi An delights. And don't worry, you'll also have plenty of chance to sample the dishes you and the other chefs produce.
With your stomachs now full, head back to your hotel or wander around the city centre, enjoying your last day on holiday time as you please.
With temples and treks aplenty under your belt, today it's time to make the metaphorical trek home. You'll be transferred back to Da Nang airport where you'll board your flight, connecting via a hub city in Southeast Asia en route back to the UK.
All of the holidays we create are completely tailor-made to you
This sample itinerary is intended to give you a flavour of what we can do
A Rough Idea of Price
While all of our holidays are completely tailor-made and prices will vary based on things like time of year and level of accommodation, we want to give you as good an idea of how much this itinerary will cost. The below prices are based on two people sharing.
This Itinerary
If you would like to book the itinerary mentioned above, with economy flights, during mid-season and staying in our preferred room category at our preferred hotels.
Bare Necessities
If you would like to pare back the above itinerary by travelling at non-peak times, staying in a standard room and removing some or all of the guided activities.
Bells & Whistles
If you are looking for something extra special, we can discuss with you upgrading your accommodation, flights or activities.
Frances and Holly are our experts for this itinerary and as seasoned travellers they have the inside track on the most memorable adventures.