Santorini Minimoon
Who: Couples and Honeymoons
From £1,790pp
It's a well-known fact that planning a wedding can be tough - seating charts, flower arrangements, will the families get on, etc. - which is why we have put together a three-day luxury minimoon to allow newlyweds to decompress post-nuptials, or kick off a longer European honeymoon, which also works remarkably well as a pre-wedding break.
Itinerary at a Glance:
Relax on one of Europe's most beautiful islands
Sample some of the best - and least known - wines
Enjoy sunset from a private catamaran on the caldera
Why Book with Original Travel?
Just a few of the extra touches that come as standard on an Original Travel holiday...
See More
All of the holidays we create are completely tailor-made to you
This sample itinerary is intended to give you a flavour of what we can do
Day 1:

International Flight
There are several flights a day to Santorini from London, but as you only have a few days we've booked you on an early morning flight, which will land around lunchtime. After you have cleared customs and collected your bags, you will be met for a twenty-five-minute transfer to your hotel.
After your early start, we recommend a late lunch in the hotel's restaurant, before a deeply soothing massage. In our (considerable) experience, wedding planning can be rather full on, so once you're fully relaxed we recommend spending the rest of the day lazing by what must be the most picturesque infinity pool in Europe.
Be sure to rouse yourself before sunset, to ensure that you have a drink (maybe a 'rakini' - a caiprinha with raki, the Turkish take on ouzo, in place of cachaça?) in hand for your first of Santorini's famous sunsets. Next, our expert local Concierge has reserved you the most romantic table in the most romantic restaurant in Oia, the (you guessed it) most romantic town on the island.
With views out over the island and sea below, and dining on delicious contemporary Greek cuisine, if you hadn't already got married you'd find the urge to do so pretty irresistible. Finish off the evening in one of the fun bars or clubs in Oia recommended in our detailed destination Dossier.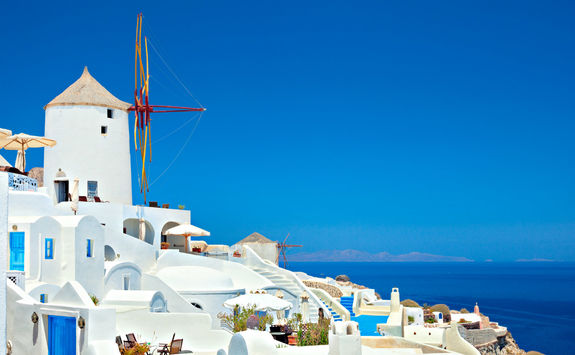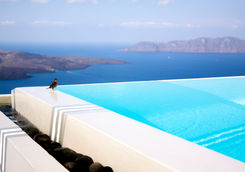 This morning you will take a short private transfer to one of our favourite vineyards on Santorini. Criminally underappreciated across the rest of the world, Greek wine is some of the best in Europe. Following a tour around the vineyards and the cellars where wine is matured and bottled, you will get down to business.
As you taste the various vintages on offer, your sommelier will explain how the volcanic soil on the island creates a unique terroir, which in turn creates wines which are unlike any other. Then it's time for a long, lazy lunch in one of our recommended restaurants, ideally serving lobster washed down with a bottle of the local white. With your new-found knowledge you'll know to choose a wine made from the local Assyrtiko grape.
After a leisurely afternoon back at the hotel, we have arranged a private catamaran tour of the caldera, which will finish as the sun dips below the horizon. The product of a volcanic eruption over 3000 years ago, the huge circular caldera (rim) that forms much of the island is one of the most iconic sights in Europe, and we can't think of a better way to end your luxury minimoon than floating across it as the sun sets over the blue domes of Oia.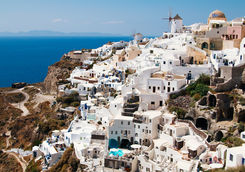 If you find a wine that tickles your fancy, just let your hosts know and they will arrange a case (or two) to be sent to you at home, circumventing the 'will my wine have exploded all over my suitcase' worries on the journey home.

Day 3:

International Flight
To maximise your time on your Santorini minimoon, we've booked you on an evening flight home.
After a lazy morning, it's time to see the island from a different perspective on a two-hour (plus inevitable Insta-time) private guided hike from Oia to Imerovigli along a well-marked trail. It's a great way to explore the island's rural side and walk off any ouzo overdose. After the hike, head back to the hotel for one last long, late lunch. Then you will be privately transferred to the airport to catch your four-hour flight back to London, which arrives in the evening.
All of the holidays we create are completely tailor-made to you
This sample itinerary is intended to give you a flavour of what we can do
A Rough Idea of Price
While all of our holidays are completely tailor-made and prices will vary based on things like time of year and level of accommodation, we want to give you as good an idea of how much this itinerary will cost. The below prices are based on two people sharing.
This Itinerary
If you would like to book the itinerary mentioned above, with economy flights, during mid-season and staying in our preferred room category at our preferred hotels.
Bare Necessities
If you would like to pare back the above itinerary by travelling at non-peak times, staying in a standard room and removing some or all of the guided activities.
Bells & Whistles
If you are looking for something extra special, we can discuss with you upgrading your accommodation, flights or activities.
Kate L is our expert for this itinerary and, as a seasoned traveller, has the inside track on the most memorable adventures.