Fly Drive Canada
Who: Couples, Families and Road Trippers
From £3,520pp
Enjoy one of North America's best road trips (which is saying something) on this epic journey, taking in the dramatic scenery of the Canadian Rockies in Alberta before heading into beautiful British Columbia, down to the coast and Vancouver.
Itinerary at a Glance:
Road trip through the Rocky Mountains
Take a helicopter tour over mountains, waterfalls and glaciers
Spot whales off Vancouver Island
Why Book with Original Travel?
Just a few of the extra touches that come as standard on an Original Travel holiday...
See More
All of the holidays we create are completely tailor-made to you
This sample itinerary is intended to give you a flavour of what we can do
Day 1:

International Flight
Your nine-hour flight to Calgary leaves London mid-afternoon and, thanks to the seven-hour time difference lands late afternoon. After you have cleared customs and collected your luggage, you will pick up your hire car, or - more specifically - your SUV (as our Canadian cousins call them), which will come in handy on the mountainous driving coming later in the trip.
Then it's time to head off on your first drive - the one-and-a-half-hour journey to Banff where you are spending your first night.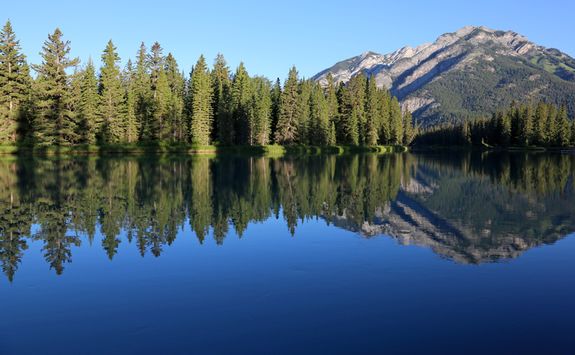 Jet lag (and we hope a little bit of excitement) mean that you'll probably be up with the dawn chorus today. So, after an early breakfast you will picked up for your private transfer to Mount Norquay for half a day on the vie ferrate (literally 'iron roads' in Italian). The system of cables, ladders and suspension bridges takes you across the mountains to some spectacular vistas.
This afternoon is yours to spend at leisure, and we recommend taking a self-guided hike through the mountains. We can recommend the best of the many well-marked hiking trails, before dinner and drinks in Banff - check your handy Dossier for our favourite restaurants.
After a late and leisurely start this morning, you'll check out of your hotel and hit the road for the extremely picturesque 45-minute drive to Moraine Lake, along the Bow River.
Unsurprisingly, given its undeniably staggering beauty, Lake Louise - Moraine Lake's more popular sister - is a tourist hot spot and during the day is often reminiscent of Piccadilly Circus, with coaches instead of the tube station and enormous mountains rather than flashing signs. Worry not, though, because just down the road is the equally beautiful, and vastly less visited, Moraine Lake. After you've checked in at your hotel, it's time to soak in the surroundings on a kayak trip across the lake. We've arranged a picnic lunch for you to take with you, so pick a spot to eat and then carry on for as long as your arms can take it. Post-kayaking, we recommend a sun downer on the shores of the lake, before dinner at your hotel.
Day 4:

Heli Tours and Ice Fields
Before dawn (in reality before mid-morning) Lake Louise is almost deserted. So this morning we have arranged a deeply romantic sunrise breakfast on the shore of the lake. Once you have finished your breakfast, and taken your fill of Instagram snaps, you will set off for the one-and-a-half-hour drive to the Rockies Heli Tours Ice Field Base. Take off and then soar over the 9,000ft Cline Pass before flying over Cline, Lion & Lioness glaciers. You'll have the chance to view a spectacular 900ft waterfall flowing from two aqua green lakes as well.
Back on terra firma, hop back in the car for the drive back to your hotel. This afternoon, we recommend following one of the well-marked trails - there are different levels for all abilities - through the mountains, where you will find some truly spectacular views.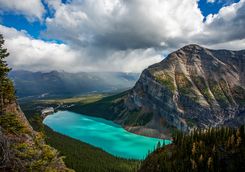 Day 5:

Driving the Icefield Parkway
This morning you'll set off on the first big chunk driving on your road trip, starting with an hour and a half on the world famous Icefield Parkway, which passes over 100 glaciers and through two National Parks.
Keep your eyes peeled for wildlife such as bears, coyotes, lynx, cougars (if you are very lucky) and wolverines on the journey to Columbia Icefields, where we have pre-booked your stop. One of the largest accumulations of ice and snow south of the Arctic Circle - over 200 square miles, in fact - it is home to eight glaciers. You will embark on a tour onto the icy slopes of the Athabasca Glacier, in a specially designed Brewster Snocoach (basically a pimped-up bus with massive tyres) to the middle of the glacier, and will have the chance to walk on ice formed as long as 400 years ago.
After the tour it's another hour and a half drive to your hotel in Jasper.
Day 6:

White Water Rafting
This morning you will met at your hotel for a private transfer to the 'put in' site in the Athabasca Valley for a five-mile white water rafting expedition. After being kitted out with wet suits, life jackets and neoprene booties you will raft down the rapids, taking in extraordinary views of the valley as well as wildlife and flora of the region. At the end of the rapids, you will be met by your private transfer and a dry change of clothes for the journey back to your hotel.
This afternoon, we've arranged for you to enjoy a classic experience - canoeing on Pyramid Lake -before stargazing on Pyramid Island. Jasper National Park is an official Dark Sky Preserve, meaning that you can have a picnic supper and watch the stars in the almost total absence of light pollution. We can't think of a better way to end your time in Jasper.
Today is the start of another big chunk of driving. After breakfast you'll start on the three-and-a-half-hour drive to Clearwater, crossing from Alberta into British Columbia and across the heart of the Rockies.
We imagine you'll want to make frequent photo stops, so we'd recommend factoring in another hour or so to your drive time. After you've arrived in Clearwater early afternoon, you will check into your hotel before heading to Wells Gray Country Park for an afternoon spent exploring the park on horse-back. The park boasts amazing waterfalls such as Helmcken (twice the height of Niagara), and sandstone canyons, grasslands and evergreen timberlands, so don't forget to bring your camera!
Today is another long drive - some five-and-a-half-hours all told - to the wonderful resort town of Whistler, but with a well-earned break for lunch and possibly a wine tasting (having played spoof to choose the post-lunch driver) at Fort Berens Estate Winery - one of the best in Canada.
There are countless places where you'll want to stop and take photos along the way, so we recommend that you factor in extra time to make as many stops as possible. When you arrive in Whistler, you will check into your hotel, by which point it should be time for drinks and dinner, so consult your handy Dossier for our favourite places.
After a later start today, you will head into the mountains to the Peak 2 Peak Gondola, which spans the two and three quarter miles between Whistler and the Blackcomb Mountains. The incredible 360 views take in Whistler, mountain peaks, lakes, forests and glaciers. The glass bottomed gondola - definitely not for sufferers of vertigo - gives a bald eagle's eye view of the forest.
This afternoon, we recommend taking to the trails around Whistler for a few hours hiking through the mountains. There are numerous well signed trails for walkers of all abilities, taking in rivers, valleys and lakes. This evening we recommend drinks and dinner in Whistler before the last leg of your road trip tomorrow.
After checking out of your hotel this morning, it's an easy hour and a half drive along the Sea to Sky Highway (although you're actually heading from sky to sea) to Vancouver, regularly voted one of the best cities in the world to live in. Arriving around lunch time, it's time to say a fond farewell to your trusty motor, which by this point will have clocked up almost a thousand miles, and step into city life.
To stretch your legs after your drive, we've arranged a three-hour walking and food tour of the city - where you will sample gourmet food from some of Vancouver's best chefs, including mouth-watering meatballs and the city's best dim sum (thanks to a thriving Asian population), as well as learning about Vancouver's food trends, culture and architecture. Post tour, you'll check into your hotel for the next two nights and, if you can find the room, we'd recommend choosing a restaurant for dinner from your handy Dossier.
This morning you will be met at your hotel by an expert guide for a three-hour private art tour of Vancouver. Your walking tour will take you through Canadian art in the 20th century, including work by First Nation artists.
You will see how many artists, both First Nation and of European descent, were inspired by the nature surrounding Vancouver, including one of British Columbia's best loved artists, Emily Carr. One per cent of all public building funds in Vancouver is spent on public art, so the city centre is home to murals, sculptures, and other art - many of which were created during the run up to the 2010 Winter Olympics - and which your expert guide will talk you through. After your tour, it will be time to consult your Dossier for a lunch venue, or perhaps head back to one of your favourites from yesterday's food tour, and then spend the afternoon exploring Vancouver's many parks or the nature that inspired the art you saw this morning.
Ok, OK, we know this was supposed to be a road trip, but we insist that you spend a couple of days at one of the luxury lodges on Vancouver Island, arriving in style via a seaplane trip from the city harbour for three days of back-to-nature bliss.
After checking into your hotel and having lunch, this afternoon is all about exploring the island on one of the many self-guided hikes available.
This morning you will be met at your hotel by an expert guide for a private wine tour of the Cowichan Valley wine region. You will visit four different producers and be treated to some of Canada's finest wines, from sparkling to bold reds and crisp, classic whites, along with brandies, ports, and ciders.
After a day of exploring the beautiful Cowichan Valley, not to mention its wonderful wines, you will be privately transferred back to your lodge in time for what we imagine will be a rather slow dinner.
Today is your last full day in Canada, so we've arranged a three hour whale watching trip from the Campbell River. You will be taken out onto the river - home to the world's largest concentration of orcas.
Using the onboard hydrophone to listen to their calls, you will travel along the shoreline and inlets to find a plethora of wildlife, marine and otherwise, including black bears, pacific white-sided dolphins, porpoises, seals and eagles. After a picnic lunch, you will be privately transferred back to your lodge where you can spend the rest of the afternoon exploring your wild surroundings.
Day 15:

International Flight
Today is sadly your last day in Canada, so after lunch it's time to wave goodbye to Vancouver Island and take a quick seaplane transfer back to the mainland before a private transfer to the airport. Your eight-and-a-half-hour overnight flight home will leave in the evening.
Day 16:

International Flight
You will land back in London in the early afternoon.
All of the holidays we create are completely tailor-made to you
This sample itinerary is intended to give you a flavour of what we can do
A Rough Idea of Price
While all of our holidays are completely tailor-made and prices will vary based on things like time of year and level of accommodation, we want to give you as good an idea of how much this itinerary will cost. The below prices are based on two people sharing.
This Itinerary
If you would like to book the itinerary mentioned above, with economy flights, during mid-season and staying in our preferred room category at our preferred hotels.
Bare Necessities
If you would like to pare back the above itinerary by travelling at non-peak times, staying in a standard room and removing some or all of the guided activities.
Bells & Whistles
If you are looking for something extra special, we can discuss with you upgrading your accommodation, flights or activities.
Abigail and Ollie are our experts for this itinerary and as seasoned travellers they have the inside track on the most memorable adventures.