Spend a day exploring the city in more detail today. Whether you're particularly interested in buying carpets, spices or ceramics, we will arrange for a guided tour of the souq this morning.
A private guide will show you the best routes through the maze like alleys where you'll experience a full-on sensory sensation. This is not just a guided shopping trip, your guide will also be able to help you communicate with the vendors, get you to sample the best produce and tell you fascinating stories ranging from historic tales to fantastical folklore.
After lunch, take a historical tour of the city with your guide, including highlights such as the Koutoubia Mosque. By far the tallest point in the medina, the Koutoubia's minaret is a useful reference point and just one example of the beautiful architecture in Marrakech - other examples you'll visit include the 19th century Bahia Palace and the Lezama synagogue.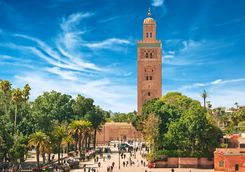 This evening, head to the Djemaa el-Fna, Marrakech's main square, which transforms at dusk into a huge street food market. We recommend eating at one of the many stalls for a true Moroccan experience, and we have a personal favourite that we only tell our clients about.