Fjords by Train
Who: Couples, Solo Travellers and Eco Travellers
From £3,435pp
Exploring Pristine Nature: London to the Fjords by Train
Travel through the gorgeous countryside of Germany, Sweden and Norway on this 12-day train trip to the iconic Norwegian Fjords. Enjoy the perfect balance of nature and culture as you hike past fjords and delve into handsome historic cities for guided tours and delicious dinners.
Itinerary at a Glance:
Explore Oslo on two wheels on a guided biking tour
Travel along the beautiful Flam Railway, considered one of the most beautiful train journeys in the world
Gaze over mighty mountains and glittering fjords from the 2,100ft-high Stegastein viewpoint
Take a tour of a historic farm in Skaldegard and taste its creamy goats' cheese - the area is famous for it
Boat across the magnificent Naeroyfjord
Hike along the old postal route towards the village of Styvi
Take the legendary ferry from Aurland to Bergen along Sognefjord, Norway's longest and deepest fjords
Enjoy a guided walking tour of Bergen and ride its famous furnicular railway up Mount Floyen
This itinerary can be done entirely by train
Why Book with Original Travel?
Just a few of the extra touches that come as standard on an Original Travel holiday...
See More
All of the holidays we create are completely tailor-made to you
This sample itinerary is intended to give you a flavour of what we can do
Set off bright and early today to catch your morning Eurostar train departing from London St. Pancras and arriving into Bruxelles Midi Station two hours later. It's a long day travelling on the first day of your London to the Fjords by train trip but with lovely views to distract you along the way, the time will fly by.
From Bruxelles Midi, hop on the Intercity-Express travelling in the direction of Frankfurt and arriving just under two hours later in Cologne Hbf (Hauptbahnhof - main station). Then, for the final part of your journey board an Intercity train to the German city of Hamburg in the country's north, a journey that takes just over four hours.
Upon arrival into Hamburg this evening, check into your stylish hotel where you will be staying for the night and then tuck into a well-earned dinner - either at the hotel (a culinary hot spot) or in the city where our Concierge can recommend the best spots in a city famed for its legendary nightlife.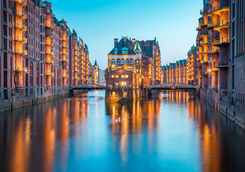 Day 2:

Gothenburg via Copenhagen
After breakfast at the hotel this morning, set off nice and early again to catch a train to Gothenburg in Sweden via Denmark's cosy capital, Copenhagen.
Your first train takes roughly four-and-a-half hours then it's a quick one-hour stop in Copenhagen - just enough time perhaps for a dash across the street to the famous Tivoli Food Hall for a bite on the go - then it's another four-hour train journey to Gothenburg Central Station.
After checking into your hotel, see a snapshot of this slick Swedish city as you head out for an evening meal followed by a leisurely potter around the canal-lined centre to stretch your legs after the long journey.
Day 3:

Gothenburg to Oslo by Train
Day three of your London to the Fjords by train trip sees you hopping aboard a train to Oslo. It's a slightly later start this morning so you've got time for a leisurely breakfast at the hotel before your late morning train - steaming coffee in hand - from Gothenburg Central station to Oslo.
The journey takes roughly three-and-a-half hours which is plenty of time to enjoy the views and get stuck into a good book before you arrive into the Norwegian capital in the early afternoon.
After checking into your hotel, the rest of the day is yours to spend as you wish. You'll be exploring the city tomorrow on a biking tour so you can enjoy some guilt-free relaxing at the hotel with a dip in the pool and an indulgent treatment at the spa. Then it's time for dinner in the city where we can book you a table at the best place in town.
Day 4:

Two Wheel Tour of Oslo
After all the travelling on your trip so far, we've left this morning free for you to enjoy a slower start to the day before you set off on an afternoon bike tour of Oslo.
Accompanied by a guide, enjoy a relaxed tour on two wheels which sees you biking along (mostly) flat car-free paths and quiet backstreets, through picturesque parks and along the shore of the city's fjord, with plenty of stops for pictures along the way.
As you ride - six miles in total - your guide will not only reveal the history behind the monuments and buildings you pass, but cover topics relating to Norwegian culture and politics as well as modern life in Oslo - the perfect insider's insight into this vibrant hub.
Day 5:

The Most Beautiful Train Journey in the World
It's back on the train today as you travel from Oslo to Flam, a village in southwestern Norway famed for its fjords. The second part of the journey, from Myrdal to Flam, is considered one of the most beautiful train journeys in the world.
The route takes you across the gorgeous green hinterlands of Norway, so on the first four-and-a-half-hour leg of your journey from Oslo to Myrdal you may spend time doing nothing but gazing out the window - a wonderful luxury you rarely get outside of holidays.
Things get even better from Myrdal, because here you connect on to the legendary Flam Railway, regarded as one of the most beautiful railway lines in the world. Continue by train to Flam enjoying the seriously scenic surroundings along the way as you wind through the beautiful Flamsdalen valley and pass through a whopping 20 tunnels in just under an hour. On arrival you will be met at the station and transferred 15 minutes by car to your hotel where you will be staying for the next three nights.
Day 6:

Views Glorious Views
Lace up your walking boots this morning because you're heading out on a hike to a nearby waterfall accompanied by a knowledgeable local guide.
Once you've had your fill of Mother Nature's beauty, continue on to the small village of Aurland where your guide will be able to tell you about the landscapes, nature and history of the area as you go. In town, don't miss the chance to grab a packed lunch and sugary sweet fika (coffee and cinnamon bun) to get a feel for the Norwegian way of life and win back some of those lost calories from the hike.
You will then continue by car up to the Stegastein viewpoint, which stands a whopping 2,100ft above Aurlandsfjord and offers stunning panoramas over the fjords and mountains. The drive up to the viewpoint is one of Norway's most famous roads so the journey is guarantees to be one of the high points (literally) of your London to the Fjords by train trip.
From the viewpoint, you will continue along a narrow windy road up to one of the local pasture farms, Skaldegard, which sits clinging to the mountainside, and enjoys more fantastic views over the fjords. Here you will learn more about the local area's natural environment and history as well as Norwegian folklore, before a tour of the historic farm buildings, complete with tastings of local produce including creamy goats cheese the area is famous for.
The Fjords are the focus today as you climb aboard a private boat and travel across the Naeroyfjord for front row views of the stunning surroundings. This UNESCO World Heritage Site is the wildest and most beautiful branch of the impressive Sognefjord and at its narrowest point is only 800ft wide.
Once you're back on dry land, you will do a gentle hike along the old postal route (around three-and-a-half miles) which immerses you in magnificent natural surroundings as you pass picturesque farms and beautiful beaches with few other people around to disturb the peace and quiet.
Once you reach the village of Styvi - home to Norway's smallest post office - have a wander around the farm museum before giving your feet a rest at the cute cafe. Then it's back on the water to catch the electric ferry from Styvi back to Flam.
After a leisurely start to the day, pack your bags ready for your afternoon transfer to the ferry terminal in Aurland, where you will board the ferry to Bergen.
The journey takes around five-and-a-half-hours, journeying west along Sognefjord, Norway's longest and deepest fjord, before heading south along the coast. It's a pretty awe-inspiring voyage, so make sure your camera/phone is charged. You will arrive in Bergen in the evening, so we have included packed dinners provided by your hotel hosts to enjoy onboard (far better than the food on the ferry)!
On arrival into the charming coastal city of Bergen, make your way to your hotel where you will be staying for the next two nights.
Day 9:

Bergen Tour and Floibanen Mountain Train
This morning, fill up on a hearty breakfast at your hotel ready for the busy day ahead, beginning with a two-hour tour of the city.
Accompanied by a local guide, set off on foot to visit the city's top spots, starting at the bustling fish and flower market. From here, get a hit of culture on a visit to Saint Mary's church, The Hanseatic Museum and Schotstuene -where you can gain an insight into how the Hanseatic merchants lived, worked and made their mark on Bergen over 400 years - and the historic Hanseatic quarter of Bergen.
After the tour, we have included a trip up Mount Floyen on the popular funicular railway which is one of the city's most iconic attractions. From the summit, approximately 1,050ft above sea level, you can enjoy sky-high views over the cityscape and the surrounding coast and fjords. We recommend going for a short hike along one of the many beautiful trails, followed by a warming cup of coffee and fresh baked goods in the quaint mountaintop café.
Back down at sea level, return to your hotel for a hot shower before heading out for a bite to eat in one of the many wonderful restaurants in town.
Day 10:

Back to Gothenburg
It's back on the train today to begin your winding journey back home, following the same route as on your outbound journey and seeing you crossing borders through Sweden and Germany.
The three-part journey today begins with an early morning train from Bergen to Oslo and then on to the town of Halden before eventually arriving into Gothenburg Central station some 12 hours later.
It's a long day but the beautiful views out of the window, plenty of snacks to nibble along the way and a few steaming cups of coffee will ensure that the journey is another enjoyable part of your London to the Fjords by train trip.
On arrival into Gothenburg enjoy a tasty dinner at your hotel before retiring to your bed for a well-earned early night ready for another travelling day tomorrow.
Day 11:

Gothenburg to Hamburg Train
On the penultimate day of your London to the Fjords by train trip, you will be journeying by train from Gothenburg to Hamburg, leaving in the morning and arriving ten-and-a-half-hours later.
Once you arrive back home you'll likely miss the peace and quiet you get while on a train where you have nothing to do but enjoy the passing scenery, nap and read a good book so soak it up today because you'll be back to normal life in no time.
In Hamburg, check into your hotel and enjoy dinner in the city or in the comfort of your hotel - we'll leave it up to you to decide, but remember this is arguably the nightlife capital of Europe, so if you wanted one final swansong before returning home tomorrow, this is the place to perform it.
Today is the final day of your London to the Fjords by train itinerary. You'll be departing from Hamburg in the morning, arriving into Frankfurt in the early afternoon before travelling on to Bruxelles Midi to catch your Eurostar train back to London St. Pancras.
The journey today takes ten hours in total, arriving into London in the evening in time for dinner back home and a glass of bubbly to celebrate the success of your eco-trip away.
All of the holidays we create are completely tailor-made to you
This sample itinerary is intended to give you a flavour of what we can do
A Rough Idea of Price
While all of our holidays are completely tailor-made and prices will vary based on things like time of year and level of accommodation, we want to give you as good an idea of how much this itinerary will cost. The below prices are based on two people sharing.
This Itinerary
If you would like to book the itinerary mentioned above, with economy flights, during mid-season and staying in our preferred room category at our preferred hotels.
Bare Necessities
If you would like to pare back the above itinerary by travelling at non-peak times, staying in a standard room and removing some or all of the guided activities.
Bells & Whistles
If you are looking for something extra special, we can discuss with you upgrading your accommodation, flights or activities.
Harriet and Charlotte H are our experts for this itinerary and as seasoned travellers they have the inside track on the most memorable adventures.