Discovering Bergen and Solstrand
Who: Couples
From £1,330pp
Discovering Bergen and Solstrand
Norway's rugged West Coast has so much to offer, from stunning fjords as far as the eye can see, to buzzing cities with small-town charm. On this five-day trip you'll get to explore both Bergen and Solstrand, with beautiful city architecture and rich history followed by sensational natural beauty.
Itinerary at a Glance:
Row around the picturesque Bjørnefjorden in your own rowing boat
Catch the funicular up to the top of Mount Fløyen for knockout views
Enjoy a sip of fresh mountain water straight from a waterfall, during a fjord cruise
Why Book with Original Travel?
Just a few of the extra touches that come as standard on an Original Travel holiday...
See More
All of the holidays we create are completely tailor-made to you
This sample itinerary is intended to give you a flavour of what we can do
Day 1:

Arriving in Bergen
Catch a direct morning flight to Bergen from the UK, taking just under two hours. Once you land, you'll be met by a member of our team who will transfer you to your city centre hotel.
Once you've settled in, you'll be met at the hotel by one of our local guides to take you on a three-hour walking tour of the city. Bergen may be a large city (for Norway), but it's packed with small-town charm and a fascinating history. You will visit the famous Fish Market (an outdoor market that's been going since the 1200s - and, despite its name, also sells fruit, veg and flowers) and discover all about Bergen's Hanseatic heritage, with a stroll around the UNESCO World Heritage site of Bryggen Hanseatic Wharf. There's also the option to check out one of the city's museums -­ the KODE Art Museums and the Hanseatic Museum both come highly recommended.
After all that walking, you'll no doubt want to put your feet up, so head back to your hotel for a long soak and an early night - you've got a busy day planned for tomorrow.
Day 2:

Fantastic Fjords and Magnificent Mountains
Start your morning in style, with a relaxing fjord cruise to Mostraumen. There's no better way to take in the stunning Norwegian landscape than from the water, so all you have to do is sit back, relax and enjoy. As you set sail, leaving Bergen behind, you'll be treated with a stunning view of Bryggen, the city's old wharf, before sailing under Nordhordalandsbrua (an impressive cable-stayed bridge).
As you approach Mostraumen and the fjord gets narrow, you'll be surrounded by steep mountains - a dramatically beautiful sight. You will cruise past several waterfalls and, if you're lucky, the crew will try and collect a sample of the fresh mountain water for you to taste. Next, you'll make a stop at Heskjedalsfossen, a mesmerising twin waterfall that provides an unmissable photo opportunity (and a great selfie backdrop). As you continue back to your starting point, keep an eye out for some of the native wildlife - seals and eagles are often spotted in the area, so keep your camera handy.
Back on dry land, there's time to continue exploring Bergen with tickets to one of the city's most iconic attractions. Hop aboard Fløibanen, a funicular railway that takes you to the top of Mount Fløyen, one of the 'city mountains' approximately 320 metres above sea level. From here, you'll be spoilt with incredible views across the city, seaside and fjords. Grab a snack at the mountain-top cafe, stretch your legs with a hike or hire a mountain bike to take in the sights, before making the six-minute ride back down to the city centre.
The evening is yours. We'll be able to suggest some fantastic local restaurants and make a reservation to make the most of your last night in Bergen.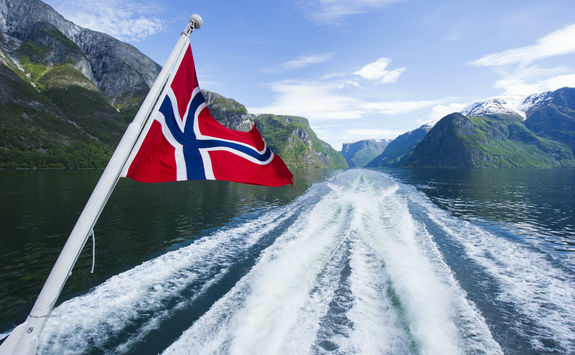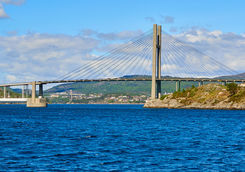 Day 3:

Relaxing in Solstrand
After breakfast and check-out, one of our team will meet you to help you catch your transfer from Bergen to Solstrand, just a 45-minute drive south of the city.
Nestled on the shore of Bjørnefjorden, your hotel for the next two nights is a luxurious hideaway with knockout views across fjords and mountains. The perfect place for a change of pace. Spend your afternoon recharging in the spa or borrow one of the hotel's rowing boats to explore the fjord right on your doorstep. And relax…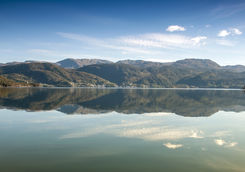 Day 4:

Exploring Lysøen Island
You've got the whole day to explore your surroundings as you start the second half of your Bergen and Solstrand holiday. Walk along the Coastal Path, breathing in the fresh fjord air, take a hike up into the mountains (the hotel can provide you with maps), head out onto the fjord in one of the hotel's kayaks or book a round of golf at the nearby golf club.
If you fancy going further afield, Lysøen is well worth a visit. Just a 15-minute drive from Solstrand, then a five-minute shuttle boat, arriving on Lysøen Island feels like stepping into a story book. Lysøen was the summer residence of Ole Bull, the renowned Norwegian violin virtuoso. In 1873, he transformed the 175-acre island into the fairytale kingdom that it is today. Spend a morning pottering around the beautiful concert hall, exploring the museum and walking along the coastal trails covered in crushed seashells, before heading back to your hotel for some more R&R.
Sadly, the time has come to head home this morning as your Bergen and Solstrand adventure ends. One of our team will be on hand to help you catch you transfer back to the airport and your two-hour flight back home.
All of the holidays we create are completely tailor-made to you
This sample itinerary is intended to give you a flavour of what we can do
A Rough Idea of Price
While all of our holidays are completely tailor-made and prices will vary based on things like time of year and level of accommodation, we want to give you as good an idea of how much this itinerary will cost. The below prices are based on two people sharing.
This Itinerary
If you would like to book the itinerary mentioned above, with economy flights, during mid-season and staying in our preferred room category at our preferred hotels.
Bare Necessities
If you would like to pare back the above itinerary by travelling at non-peak times, staying in a standard room and removing some or all of the guided activities.
Bells & Whistles
If you are looking for something extra special, we can discuss with you upgrading your accommodation, flights or activities.
Kate L and Charlotte H are our experts for this itinerary and as seasoned travellers they have the inside track on the most memorable adventures.