Ancient Belize
Who: Couples
From £3,635pp
There's more to Belize than white sand and turquoise seas (although there's another itinerary for that). Venture inland where caving adventures take you to Mayan ceremonial sites and lost cities. Stay for a week in a rainforest lodge with a night in Miami for a dash of additional hedonism.
Itinerary at a Glance:
Soak up Miami's iconic nightlife with our little black book destination Dossier
Discover extensive cave systems used in Mayan ceremonies
Enjoy a chocolate-making workshop with a Mayan family
Explore the towering pyramids of ancient Tikal over the border in Guatemala
Why Book with Original Travel?
Just a few of the extra touches that come as standard on an Original Travel holiday...
See More
All of the holidays we create are completely tailor-made to you
This sample itinerary is intended to give you a flavour of what we can do
Your nine-and-a-half-hour flight leaves London at around lunchtime and arrives in Miami in the evening.
On arrival, a private transfer will take you to your hotel on glam South Beach. Tonight, there's every excuse to experience the city's hedonistic nightlife - we know the hottest restaurants and places to party, which are recommended in our detailed destination Dossier.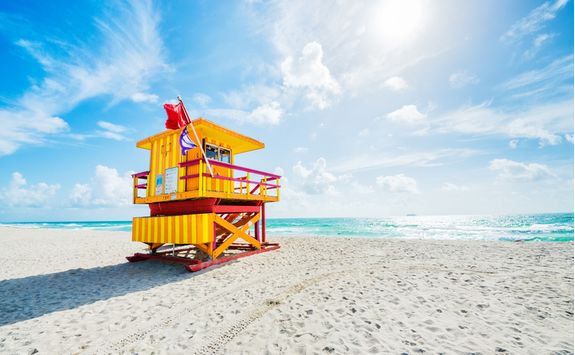 Miami is the gateway to many of our Latin American destinations. Not only does it break up the journey (avoiding transit mayhem), but it offers a dose of cosmopolitan lifestyle like no other. We can reserve tables at the best restaurants and bars in town so that you make the most of your time here.

Order a detoxifying green juice after your night on the tiles and after breakfast, a chauffeur transfer will take you back to the airport for your two-hour flight to Belize City.
On arrival, a private guide will drive you through the carpeted rainforest of the Mayan mountains to where your riverside lodge awaits. You have the rest of the afternoon to relax, so why not wash away the jet lag with a swim in the mountain-fed river, or if you're feeling energetic you can embark on a jaunt into the jungle.
This morning, saddle up for a horse ride with your local guide, passing through the small rural village of El Progresso and farms worked by the small Mennonite community who migrated to Belize from North America in the 60s, and who still speak Pennsylvania German and drive horse-drawn buggies.
You'll soon arrive at Barton Creek, where you can glide down the flowing emerald waters in a canoe to the mouth of a vine-encrusted cave. Paddle inside to find hanging stalactites and old Mayan ceremonial sites where you may find shards of ancient pottery.
Day 4:

Culture in San Ignacio
A private car will take you into the charming town of San Ignacio.
Meet a Mayan family who will accompany you on a chocolate-making workshop where you can peel and roast the cacao beans to make an indulgent chocolate drink. After stocking up on sweet treats, visit a local women's cooperative with the chance to make tortillas from scratch. Lunch is served home-style before you make your way back to your lodge for an afternoon of R&R.
Day 5:

A Mayan Underworld
It's a short hike with your private guide through tropical rainforest until you reach the edge of the Caves Branch River for your tubing adventure.
Settle into your tube (essentially a huge inflatable doughnut) and float on the glistening water through a network of limestone caves. As you move through cathedral-like chambers and rocky archways, you can explore a Mayan underworld of wall carvings, ancient ceramics and even the odd skeletal remain.
Additional Activities
Birding
Ziplining adventures
Trips to the ruins of Caracol and El Pilar
Visits to the inland Blue Hole
Day 6:

Actun Tunichil Muknal
It's an early start to experience one of the most impressive Mayan caves in Belize.
The mouth of the cave affords the best views of the surrounding natural landscape, framing the verdant forest and sky. Then it's off to navigate the twisting passageways with your guide as you walk, swim, climb and wade through the cave's turquoise pools past limestone carvings. Inside you'll discover crystal formations, teething stalagmites and sacrificial remains as your guide regales tales of Mayan ceremonies.
It's time to cross the border into Guatemala to visit one of the most impressive of all Mayan sites.
The lost Mayan City of Tikal emerges out of thick jungle with towering pyramids (some rising up 200ft) that pierce through the canopy. It would be easy to get lost in this citadel with overwhelming temples and palaces, but your knowledgeable guide will take you on the best route, offering great insight into the ancient world of pre-Colombian society.
After an early breakfast, a private transfer will take you to Belize City airport in good time for your late morning two-hour-15-minute flight to Miami.
Connect across to the overnight flight to London, which takes a further eight-hours-45-minutes.
Your flight touches down into London Heathrow at around breakfast time.
All of the holidays we create are completely tailor-made to you
This sample itinerary is intended to give you a flavour of what we can do
A Rough Idea of Price
While all of our holidays are completely tailor-made and prices will vary based on things like time of year and level of accommodation, we want to give you as good an idea of how much this itinerary will cost. The below prices are based on two people sharing.
This Itinerary
If you would like to book the itinerary mentioned above, with economy flights, during mid-season and staying in our preferred room category at our preferred hotels.
Bare Necessities
If you would like to pare back the above itinerary by travelling at non-peak times, staying in a standard room and removing some or all of the guided activities.
Bells & Whistles
If you are looking for something extra special, we can discuss with you upgrading your accommodation, flights or activities.
Abigail is our expert for this itinerary and, as a seasoned traveller, has the inside track on the most memorable adventures.