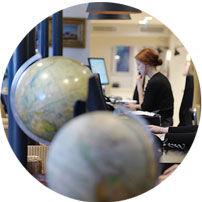 If Laos is the least explored corner of Indochina, then Southern Laos is the least explored corner of the least explored corner. The status quo probably won't last, but at present the situation is nigh on perfect - a crowd free and authentic experience in beautiful surroundings but with a couple of lovely boutique hotels in which to rest weary limbs. Pakse, sitting on the banks of the by now vast Mekong River, is the gateway city into a region characterised by lush green mountain ranges, vividly green paddy fields and literally thousands of riverine islands. Particular highlights include the dramatic Khon Pha Pheng waterfalls,
the largest in Indochina, and exploring the 4,000 or so islands in the mighty Mekong. A long tail boat trip along the river is the perfect way to see remote villages and paddy fields. The beautiful ruins of Wat Phu Temple, which pre-dates Angkor Wat, are also a fascinating day trip, and an ideal warm up to Angkor itself. Finally, there's always the option of lounging by the hotel pool or exploring the surroundings by bicycle.
Laos Regions
Discover more 100% tailor-made holiday ideas
A few of the benefits of travelling with us
What our clients say about us
Laos customer reviews (1 reviews)
5/5
We were delighted with the service offered by Original Travel during our trip to Laos. I know we can be quite fussy, but all our requirements were taken into account, and every request was positively dealt with by our advisor. As the date of the trip approached, we received a dossier with details on our entire trip, etc.

During the trip, we made contact with the local Original Travel concierge who was very helpful. In short, we had great support before, during and after the trip. My advice - make things easier for yourself with Original Travel and get the most out of your experience in Laos!
Laos Guide
Practical advice, client testimonials and inspiration to help you prepare for your holiday
Contact one of our Laos specialists