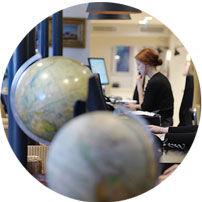 Few cities have as frenetic a sense of change as Hong Kong, and we fervently hope that change is not going to be for the worse as China's 'one country, two systems' principle is slowly eroded. That said, it might make Hong Kong holidays all the more relevant if we're witnessing the end of an era when new restaurants, bars and buildings emerged at breakneck pace, soon to be eclipsed in the hip hangout stakes or demolished to make way for ever bigger, shinier skyscrapers. That's not to say there hasn't always been some deep-seated reverence for the traditional ways, particularly visible in the teashops
and temples of Kowloon and the low rise districts of Hong Kong Island as well. A big and thriving expat community adds to the mix with some shamelessly colonial era antics, partying like it's 1996, pre China handover. This is the ultimate work hard, play hard town, and when the debauchery gets a bit too much (trust me - it eventually will) there are 260-odd other islands, beautiful beaches and all, in the wider Hong Kong archipelago to explore by boat.
Hong Kong Holiday Ideas
A few suggestions to get the holiday planning process started
Contact a specialist directly at + 44 (0) 20 3958 6120
A few of the benefits of travelling with us
What our clients say about us
China customer reviews (1 reviews)
4.5/5
Original Travel organised our trip to China, from Beijing to Shanghai via Sichuan and Yunnan. It was an exceptional experience in a fascinating country. The quality of the advice, personalisation and experiences were second to none. The organisation, punctuality and friendliness of all our guides in China were excellent.

Seamless professionalism. I 100% recommend Original Travel for anyone's trip to China.
China Guide
Practical advice, client testimonials and inspiration to help you prepare for your holiday
Contact one of our China specialists