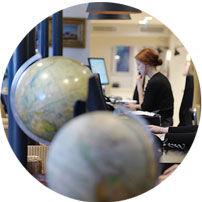 We suspect that 'Italian' would most likely come out top in any 'If I wasn't [add applicable nationality], I would most like to be...' polls. There's something particularly alluring about the Italian way of life. As far as we're concerned, it really doesn't get much sweeter than la dolce vita, and staying in a luxury villa in Italy - be it in the hills near Florence or by the beach in Sardinia - it's the consummate way to spend a summer soggiorno. Parade around the narrow streets of a Tuscan hilltop town on a sunset passeggiata or sample fresh Sardinian white wines at a seafront restaurant as oligarch-laden
megayachts glide by - it's all part and parcel of an Italian luxury villa holiday, and Original Travel knows the finest luxury villas around.
Villa Holiday Ideas
A few suggestions to get the holiday planning process started
Contact a specialist directly at + 44 (0) 20 3958 6120
Villa Holidays by country
A few of the benefits of travelling with us
What our clients say about us
Italy customer reviews (4 reviews)
4.8/5
We had a lovely time - the hotel was gorgeous - very comfy and in the perfect spot and they were very helpful and nice. Our two guides were excellent - very knowledgeable and interesting. It was great - all round! We were lucky and had beautiful weather too (blue sky and sun - but freezing, which was great).

Thank you so much for everything - it was all perfect (transfer was great too).
Italy Guide
Practical advice, client testimonials and inspiration to help you prepare for your holiday
Contact one of our Italy specialists