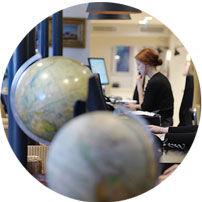 Let's face it - November and December are hardly the months in which the British Isles cover themselves in climatic glory. You'd think that would be the perfect stimulus for people to get away for a cheeky city break or a dose of winter sun. And yet us Brits are some of the worst in the world at taking our full holiday allowance. Of the 28 days annual leave (29 in Scotland, lucky blighters) we're entitled to, the average Brit fails to take a whopping four days every year. You don't have to be a maniacal Marxist to think it's appalling that across the working population that equates to a serious number of free days we work for businesses.
Use it or Lose it Holiday Ideas
A few suggestions to get the holiday planning process started
Use it or Lose it Holidays by country
A few of the benefits of travelling with us
Review
What our clients say about us
This is the first time we went on a trip with Original Travel, a specialist advisor who listens to our expectations, and really the feeling of being pampered from departure to arrival. The concierge service is so efficient that we quickly become addicted.
Contact one of our specialists