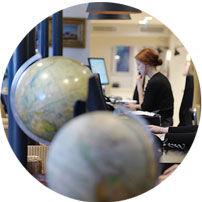 Laos often misses out because when people want to visit Indochina they have a limited amount of time, and an almost unlimited number of highlights they want to include in any trip. We think this is a shame on many levels, because Laos is a diamond in the rough, and luxury Laos holidays are the most brilliant way to explore this gem. Luang Prabang is the obvious highlight, but our know-how of the charming town means that aside from staying in the finest property here we can get you away from the tourists to enjoy the spirituality of this soulful place on your own. We only work with the best guides in Luang Prabang,
who can create a perfect tour of the sites, tailor-made to your exact specifications, whether that means by bike, or on foot, or behind the scenes, but all with invaluable insight into Laotian living. Next, enjoy luxury of a different type - the luxury of space – on a stay in the Mekong Delta. Laos has one of the lowest population densities in Asia, and taking some time to truly slowdown in truly beautiful surroundings is a luxury in itself.
Ideas
A few suggestions to get the holiday planning process started
Luxury Holidays by country
A few of the benefits of travelling with us
What our clients say about us
Laos customer reviews (1 reviews)
5/5
We were delighted with the service offered by Original Travel during our trip to Laos. I know we can be quite fussy, but all our requirements were taken into account, and every request was positively dealt with by our advisor. As the date of the trip approached, we received a dossier with details on our entire trip, etc.

During the trip, we made contact with the local Original Travel concierge who was very helpful. In short, we had great support before, during and after the trip. My advice - make things easier for yourself with Original Travel and get the most out of your experience in Laos!
Laos Guide
Practical advice, client testimonials and inspiration to help you prepare for your holiday
Contact one of our Laos specialists