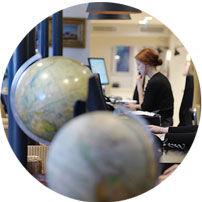 Parents have it so easy these days. Family holidays used to be tricky, but now there are places that have got it down to a fine art. Cyprus is one such a place: with a great climate (more than 300 days of sunshine a year) and tons to do on land and water, it is ideal for a Cyprus family holiday. Cyprus is home to some of Europe's best hotels, a couple of which even seem to have cracked that most difficult of conundrums - how to create a properly family-friendly hotel that is also sophisticated enough to remind parents of a time before toddlers. Indeed, the family angle is one that works particularly well on Cyprus,
with its relatively short flight times and good weather, even in Spring and Autumn when the UK is, at best, a bit chilly.
Family Holidays by country
A few of the benefits of travelling with us
What our clients say about us
Cyprus customer reviews (1 reviews)
4.5/5
Thank you for your kind card and for your help in organising a brilliant week's holiday in Cyprus. Everything went like clockwork - praise you! We had a wonderful time and the weather was fantastic. We were very impressed with the hotel and thought the staff were incredibly kind and helpful and friendly.

It was a great bonus that our half term happened to be out of sync with everyone else as it was relatively uncrowded and we had no problems booking restaurants and children's club. I wouldn't hesitate to go back there especially if we could avoid the peak times. Many thanks again - we are missing the sun already!
Cyprus Guide
Practical advice, client testimonials and inspiration to help you prepare for your holiday
Contact one of our Cyprus specialists