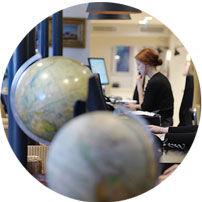 The Maldives is the poster child for the world's most beautiful beaches. Made up of hundreds of islands all grouped into atolls, the waters are mirror clear and the sugar-white sands are punctuated with soaring coconut trees. Maldives hot holidays invite you to take your pick from hundreds of island resorts; all boasting a bounty of benefits. Whichever you pick, you can be sure of those heavenly beaches for splashing and snorkeling all day long. So, what will it be - luxury spa hotel, romantic overwater villa, or a taste of it all as you go cruising across this string of amazing atolls?
Escape to the Sun by country
Other Maldives collections
A few of the benefits of travelling with us
What our clients say about us
Maldives customer reviews (4 reviews)
4.5/5
We were lucky enough to meet Amy whilst in Belize and so were able to describe what we were looking for in a Maldives holiday. She matched it perfectly. Every aspect of the resort was exactly what we were looking for.
Maldives Guide
Practical advice, client testimonials and inspiration to help you prepare for your holiday
Contact one of our Maldives specialists