Musandam Peninsula Holidays: an Overview
The remote exclave of Musandam (reached from Dubai rather than Muscat), features some of the most dramatic scenery in Arabia, with soaring mountains, secluded beaches and some of the world's best diving - all within easy(ish) reach of the UK.
Discover More
What to do
When to go
Where to stay
Gallery
Paragliding
Only available at the Six Senses Hideaway Zighy Bay, and quite some way to arrive into the hotel.
Showing 1 - 1 of 1 activities in Musandam Peninsula
| | Jan | Feb | Mar | Apr | May | Jun | Jul | Aug | Sep | Oct | Nov | Dec |
| --- | --- | --- | --- | --- | --- | --- | --- | --- | --- | --- | --- | --- |
| Musandam Peninsula | | | | | | | | | | | | |
Six Senses Dhahab Dhow
Built in the style of a traditional Omani dhow, Dhahab is the Six Senses Zighy Bay's latest accommodation and experience venture. A few days...
Six Senses Zighy Bay
Zighy Bay has a dramatic setting on the Musandam Peninsula, an exclave of the Sultanate of Oman, separated from the rest of Oman by the United...
Showing 1 - 2 of 2 hotels in Musandam Peninsula
Map of Musandam Peninsula
A Note on Price
All of our holidays are completely tailor-made and prices will vary based on things like when in the year you will be travelling, how far in advance you book, the class of flights included and the level of accommodation you choose. The guide prices shown across this website are designed to provide you with a broad indication of how much to budget for your trip.
Itinerary Suggestions
Romantic Arabian Nights Adventure in Oman
Zighy was great, the food was really amazing and we loved our house right in front of the sea.

Overall we loved it, the service was incredible and the spa totally amazing, I had some of the best treatments i have ever had!!!

Thanks so much for making this such a great trip for us!
Monica
The trip was absolutely first rate in every respect - everything was excellent, whether the transport/transfers and Zighy Bay itself. It was a perfect recommendation for what we were looking for and made even more enjoyable as a result of your organisation and attention to detail. In fact, we are already mulling over the possibility of a return for the same week next year!

Thanks again and no doubt be in touch when we get around to organising our next holiday.
George
Zighy heaven - Looking to book again with you…

We really enjoyed the dive, the very good material at our disposal, the very comfortable boat, the incredible spot "Wonderworld" and, last but not least, the very professional & nicely attitude of the dive master Sofie.

The hotel spot & the altitude restaurant are amazing. The service too.

To book most of the activities through you helped us to avoid spending considerable time to do it there instead of relaxing… So, we really appreciated your support ;-) and looking to book again with you...
Laurent, Laurence, Vincent & Anne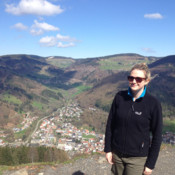 Original Travel Expert:
Charlotte Cox
My highlight:
The Musandam Peninsula is home to some of the best diving anywhere - and we recommend the Six Senses Hideaway Zighy Bay in this region. It's got the widest biodiversity of marine creatures measured anywhere in the world.
Original Travel Expert:
Isabel de Galleani
Issy heads up our Africa, Middle East and Caribbean departments.
Original Travel Expert:
Matt Shock
Our resident (ex) safari guide and African game geek