Itinerary Highlights
From Hanoi to Ho Chi Minh City, enjoy an epic journey to discover the best Vietnam has to offer
Sail on a junk boat through Halong Bay, a fishing boat near Hoi An and a wooden, flat-bottomed Chinese sampan boat in the Mekong Delta
The itinerary includes touring Hanoi with a private guide and Ho Chi Minh City on a scooter at night
To make your trip as seamless as possible, we include private transfers, a local Concierge service and a whole host of other additional services
Contact one of our Vietnam specialists + 44 (0) 20 3958 6120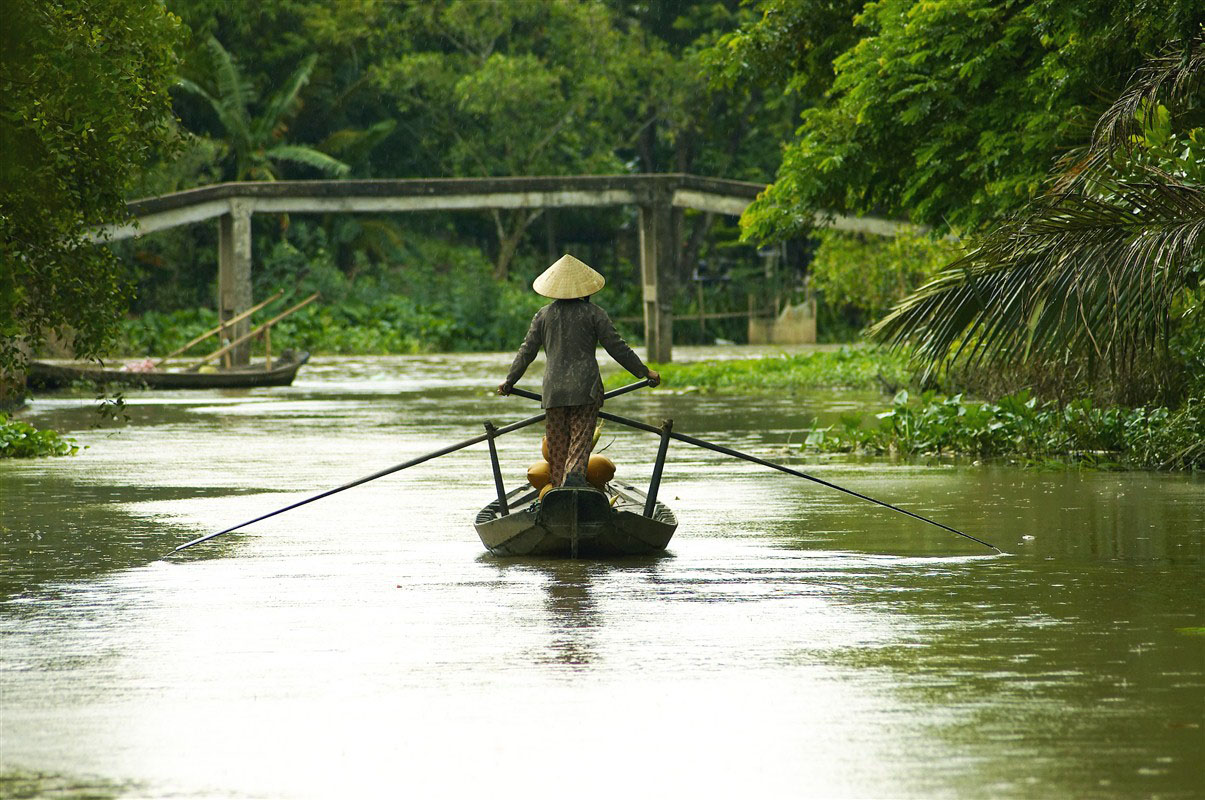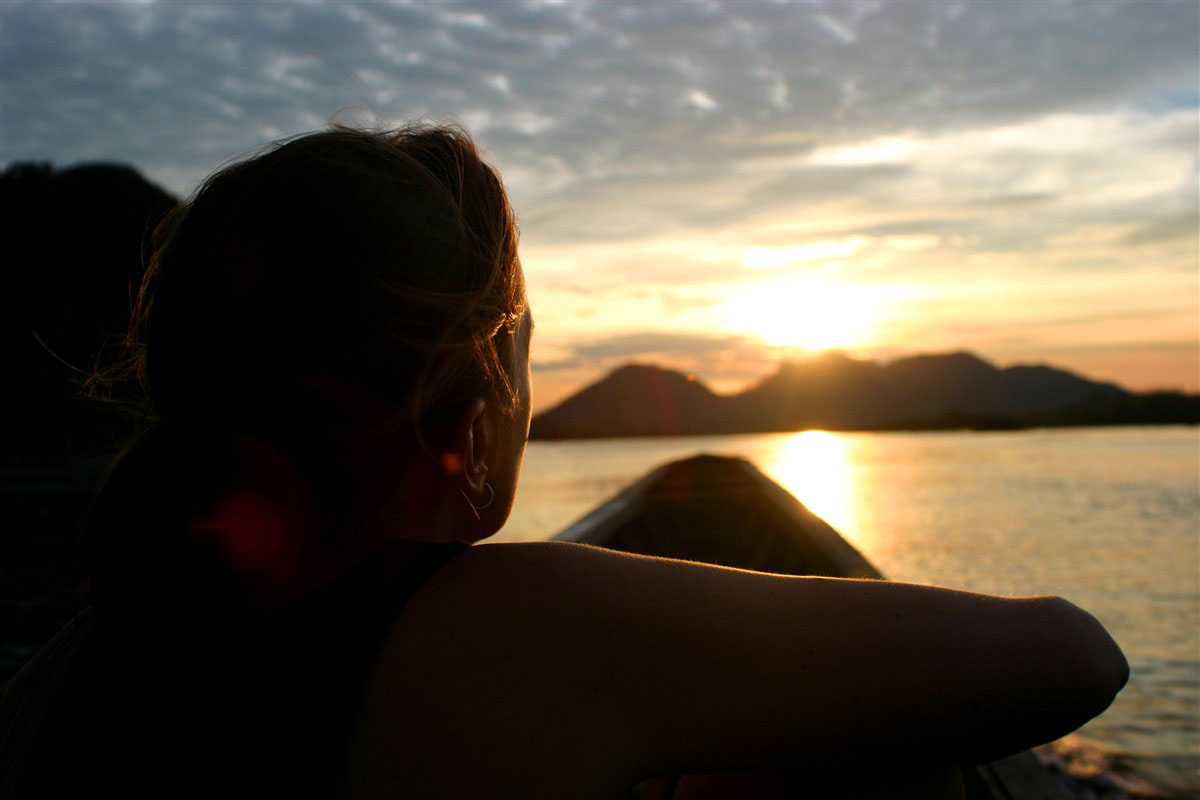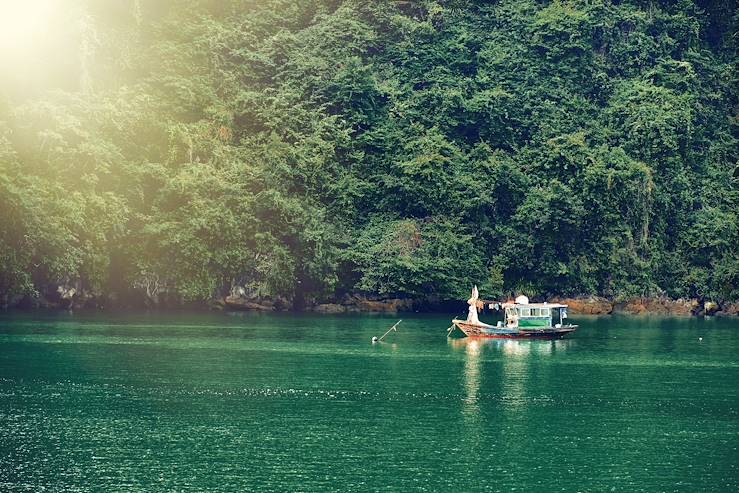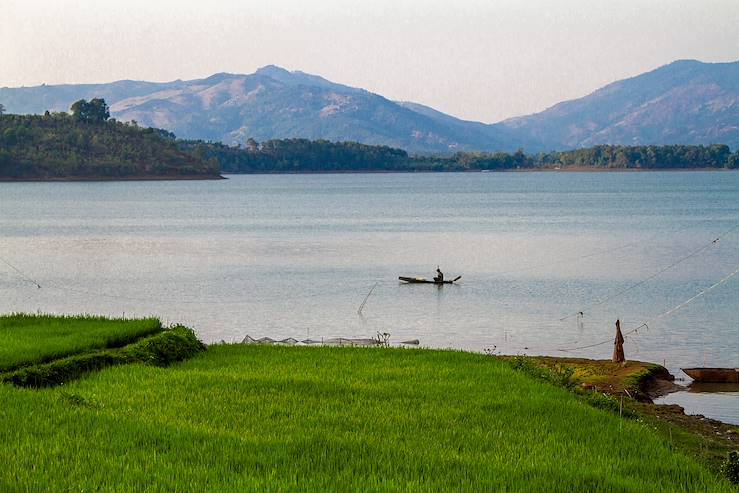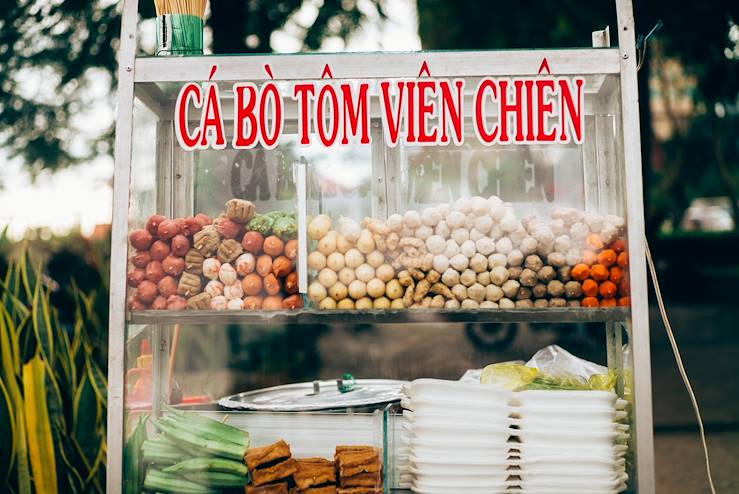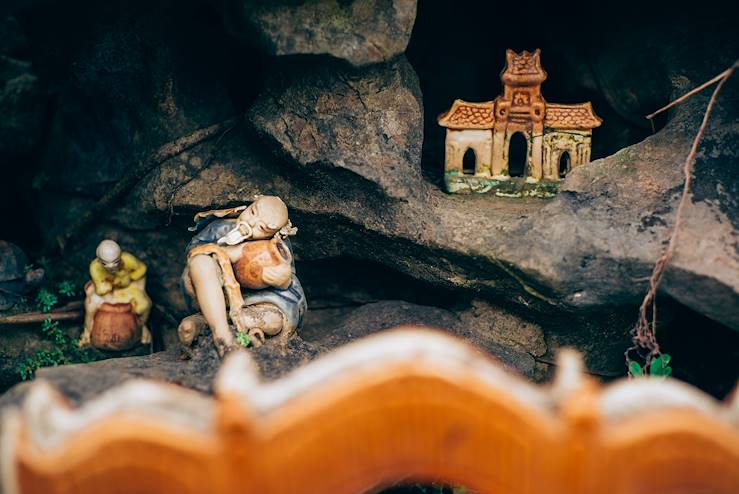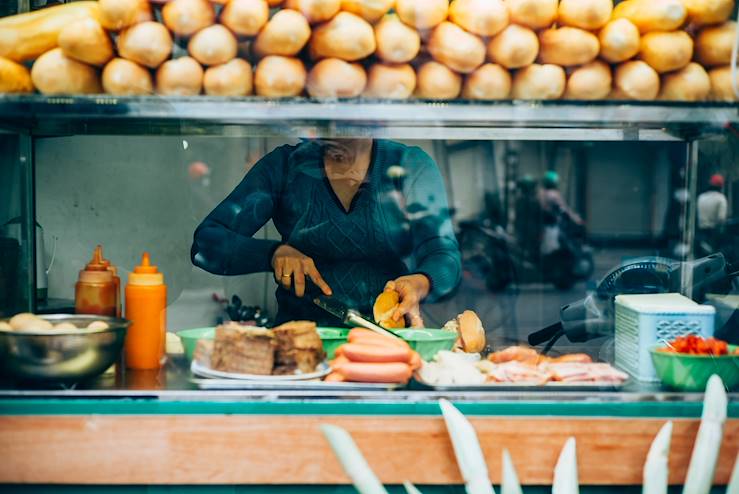 Your trip - Vietnam must-sees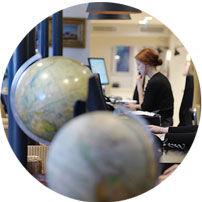 Journey through Vietnam from north to south, tracing its fascinating history as you go. It's a great way to get to know the country. From
Hanoi to Ho Chi Minh City
and
Halong Bay to the Mekong Delta
, the Imperial City of
Hue
to
Hoi An
, a lovely trading port on the Thu Bon River, the country is jam-packed with amazing cities and towns. At each stop, alternate between periods of free time and private tours so that you cover all the must-sees while experiencing Vietnam at your own pace. Different modes of transport will be used to ensure that you don't waste valuable time travelling between various locations. From one hotel to the next, you'll find that the service is impeccable.
Vietnamese food is renowned the world over, and you will get to sample some delectable local delicacies and dishes.


Your itinerary
includes a tour of the Vietnam Museum of Ethnology and a rickshaw ride in Hanoi, as well as a street food-themed night trip on a scooter in Ho Chi Minh City. Take the culinary delights up a notch at a top-class Franco-Vietnamese restaurant in Hanoi and dinner with a Vietnamese family in the countryside near Hoi An. And then there's the cruises: sail on a traditional junk boat in Halong Bay (stay overnight on board and wake up in the most magical of settings), take a fishing boat around Hoi An and enjoy a sampan in the Mekong Delta. And for any last-minute advice or requests, just call our local Concierge.


Sailing on a junk boat and sampan
Sail on a junk boat around Halong Bay, one of the world's most famous rock formations. Karst peaks emerge from the sea, seemingly defying the laws of physics. The junk boat gently floats through this otherworldly landscape to where fishermen cast their nets. In the Mekong Delta, on the other hand, surf the waves of one of the many branches of the great river. The sampan is a more local boat and suitable for shorter crossings. It's used to transport all manner of goods... and people! Sampans are also the boats used at floating markets, themselves one of the main attractions in this region. After travelling Vietnam from north to south, it's time to go cross-country... and they're two very different worlds.
Route
Everything is 100% tailored to you
Overnight flight, arriving the next day.
Private transfer and a two-night stay in the heart of Hanoi's Old Quarter. Your hotel is a quiet oasis located in an area that is both buzzing and peaceful, due to its famous 'Lake of the Returned Sword' (Ho Hoan Kiem), which offers a great escape from the stresses of modern life. The lake is also home to one of the last remaining known Yangtze giant softshell turtle (Rafetus swinhoei).
In your itinerary - Afternoon with a local guide, including a trip to the Vietnam Museum Of Ethnology, which documents the history and culture of the 54 ethnic groups of Vietnam, followed by a scooter ride through the colonial district. With the city's tree-lined avenues and small streets, it feels like a little provincial France on Hanoi's Red River. On the way, stop off at the Ngoc Son Taoist Temple (15th century) in the middle of Hoan Kiem lake.
Get up early and sit by the lake, watching the locals perform tai chi, a martial art practised in the morning. This is followed up by arguably the most popular Vietnamese dish there is: pho (broth of beef, noodles and coriander). Then, start to tick off the top sights, including the Ho Chi Minh Mausoleum and the communist leader's stilt house, the One Pillar Pagoda (Mot Cot - 13th and 20th centuries), the Temple of Literature and the Quan Thanh Taoist Temple (both founded in the 11th century).
Your itinerary includes - a dinner reservation in a former Jesuit residence recently renovated by a French chef, which serves Vietnamese cuisine with a French twist.
Take a private transfer to the bay and immediately embark on a traditional wooden junk boat for the Halong Bay cruise to the less-crowded area of Bai Tu Long Bay. Nearly 2,000 karst islands topped with thick jungle vegetation make up a stunning landscape that UNESCO has added to its list of World Heritage Sites. Explore the caves and take a dip. Overnight stay and meals on board: all courtesy of the bay!
In the morning, practise a few tai chi exercises on the upper deck. Explore the Sung Sot cave, where fascinating rock formations are lit up with bright colours.
Return to the port, private transfer to Hanoi airport through the rice paddies of the Red River Delta. On the way, stop at the splendid But Thap Temple (17th century), which may just be Vietnam's most beautiful religious building.
Domestic flight to Hue, private transfer and two-night stay in a small rural village nearby. The village is lined with beautiful traditional buildings and is surrounded by forest. Your hotel's restaurant serves magnificent local cuisine which is spicy, mostly vegetarian and beautifully presented. If you really want to treat yourself, head for a pampering session in the spa.
The former capital of the Nguyen Dynasty is a wonder to behold, as well as a UNESCO World Heritage Site. The impressive citadel, located on the banks of the Perfume River, was home to the Purple Forbidden City, which was the Emperor's legendary residence. Although it was severely damaged during the Tet offensive during the Vietnam War (1968), it has nevertheless retained a lot of its original features. On a different note entirely is the Quoc H?c – Hue High School for the Gifted, which was built in 1915 by the French. Just two miles from the citadel is the Pagoda of the Celestial Lady (17th century), which is one of the city's iconic sites. Enjoy a free day where you can discover all this (and more) at your own leisure.
Optional - Explore the unspoiled beauty of Tam Giang Lagoon, just a short distance from Hue.
DAY 7
Hue - Da Nang - Hoi An
Private transfer to Hoi An via the Hai Van Pass. This famous road is called the 'Ocean Cloud Pass' for a reason; it offers impressive views of luscious mountains and beyond. Stop off at two great locations on the way: Lang Co beach and the Museum of Cham Sculpture in Da Nang. The Chams were a civilisation that flourished along the coasts of what is now central and southern Vietnam, and whose ancient culture was strongly influenced by India, as illustrated by a magnificent collection of religious statues (8th-13th centuries). In Hoi An, spend two nights just one mile from the city centre, in the rice paddies of an eco-village on the banks of the De Vong River. The hotel is a fantastic example of a family-run business, combining simplicity and warmth.
Included in the itinerary - A morning cruise around Hoi An, split in two parts; first, embark on a fishing boat, which is a great way to watch the locals fish with lift nets and cast nets. Then, board a basket boat, which is a round, bamboo-woven boat tied to a fishing boat, sailing peacefully through landscapes of mangroves, lagoons, and palm trees.
You'll then have time to stroll through the ancient trading port (famous for its silk and spices) of Hoi An, which has been exceptionally well preserved. Chinese, Japanese, Dutch and French traders have all left architectural footprints here. In the evening, the yellow facades of houses on the dock line the river with copper reflections.
Your evening itinerary includes a dinner at the house of a local in the small agricultural village of Tra Que, just one mile from Hoi An. A family welcomes you into their home for a meal, where you'll sample Vietnamese cuisine and immerse yourself in local life.
DAY 9
Hoi An - Ho Chi Minh City
Private transfer to Da Nang airport and flight to Ho Chi Minh City. Two-night stay in a central hotel with all the modern comforts... this is definitely needed in the high-octane city of Ho Chi Minh City, also widely known by its former name of Saigon.
The city's iconic sites: Giac Lam Pagoda (18th century), Ho Chi Minh City Hall (1902-1908), the Central Post Office (1886-1891 - designed by Gustave Eiffel), Notre Dame Cathedral (1880 - built of bricks from Toulouse), and the large Ben Thanh marketplace (1912). However, you're not a real Saigonese if you haven't travelled around the city on a scooter.
So, in your itinerary, we have included the opportunity to become Saigonese for the night with an expert guide. Climb on behind the driver and head to Cholon and districts Four, Three and One. Stop off for a 'banh xeo' (Vietnamese tortilla) and a drink (don't worry, the driver will stay as sober as a judge). The permanent buzz of Vietnam's largest city is not a myth: it's as bustling at night as it is during the day.
Some iconic sites on the tour include Giac Lam Pagoda - City Hall (with a bell tower, which isn't that common for this part of the world) - Notre-Dame Cathedral - Central Post Office designed by Eiffel - Central Market - Cholon Chinatown - Indian Mosque.
Optional - The art of tea in Vietnam: an introduction to tea by a specialist in the Le Thanh Son art gallery, tea and calligraphy house.
DAYS 11 & 12
Ho Chi Minh City - Mekong Delta - Return flight
Included in the itinerary - A private cruise aboard the Mekong Queen sampan. Morning private transfer to the Mekong Delta, about 62 miles south-west of Ho Chi Minh City. This is an area of rice paddies and orchards, the Cai Be floating market, artisanal family businesses specialising in the production of rice cakes, popped corn biscuits, coconut milk treats and the shelling and drying of longans, a fruit from the Mekong Delta. On Dong Hoa Hiep island, disembark for a stroll through the village and orchards, visit a longan drying farm and then explore the ancient 19th century Mandarin house and stop for lunch. Return to the Mekong Queen: through the waterways of Dong Phu, Binh Hoa Phuoc and An Binh, the cruise also includes a trip to a nursery, sampling tropical fruit and snake wine, and crossing the impressive Co Chien River, a branch of the Mekong, before disembarking at Vinh Long.
Return to Ho Chi Minh City at the end of the day and catch your flight home. Overnight flight, arriving the next day.
A la carte
ASSISTANCE AT HANOI AIRPORT
Since customs and administrative formalities are not the most enjoyable part of any trip, especially in a foreign language, we'll provide you with an expert assistant to help you: they will collect you when the plan lands, be your interpreter and take you to your driver. It's a quick and efficient experience.
Optional


TAM GIANG LAGOON - HUE
Located 15 miles from Hue, Tam Giang Lagoon is an unspoiled natural wonder where you can sail on a small boat to immerse yourself in the daily life of the residents and the work of fishermen. You'll also see many fishing techniques used on the Hoi An river including cast nets, meshes and traps. In recent years, shrimp cultivation has begun to take off here. You'll also get the chance to cycle around the village.
Optional


HO CHI MINH CITY - DISCOVERING VIETNAMESE TEA
Tea is a true institution in Vietnam and an integral part of traditional culture. Fragranced with lotus, jasmine, chrysanthemum and other types of flower, it can be drunk at any time of day: early in the morning, at work, during meals and with family and friends. In the beautiful Le Thanh Son art gallery, tea and calligraphy house, a specialist reveals all the secrets of Vietnamese tea, from its history to its tasting.
Optional -With a private guide
A Rough Idea of Price
Dependent on season, accommodation and activities
The estimated cost for this trip is £3,500 to £4,400 per person. This trip is tailor-made to your exact specifications so prices will fluctuate. The final cost varies according to several factors, which include the level of service, length of trip and advance booking time. The exact price will be provided on your personalised quote. The average price for this trip is £3700 per person.
International and domestic flights with a scheduled airline
Airline taxes and fuel surcharge
Private transfers included in the itinerary
Two-night stay in Hanoi in a double room with breakfast included (early check-in on arrival)
Overnight stay in Halong Bay on a traditional junk boat in a deluxe cabin with full board
Two-night stay in Hue in a deluxe room with breakfast included
Two-night stay in Hoi An in a room with a garden view and breakfast included
Two-night stay in Ho Chi Minh City in a double room with a river view and breakfast included
A half-day tour of Hanoi with a private guide
Halong Bay cruise on a traditional junk boat (two days/one night)
Private cruise aboard a fishing boat in the countryside around Hoi An
Dinner with a Vietnamese family in a charming village near Hoi An
An evening around Ho Chi Minh City on a scooter, based on the theme of street food
Private cruise on the Mekong Delta
A host of additional services are included when travelling with us, including our local Concierge service
A few of the benefits of travelling with us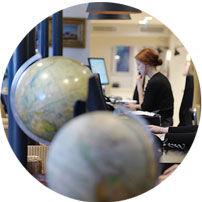 Get in touch
Our experts have the inside track on the destinations they sell and will tailor-make a holiday to your unique requirements.
Contact one of our Vietnam specialists