Itinerary Highlights
Spot marine life and enjoy adventuring in lively Swakopmund
Go deep into the Hoanib Valley and search for desert-adapted wildlife
Spend a full day visiting the shipwrecks dotted along the Skeleton Coast
Climb granite boulders in Spitzkoppe
Contact one of our Namibia specialists + 44 (0) 20 3958 6120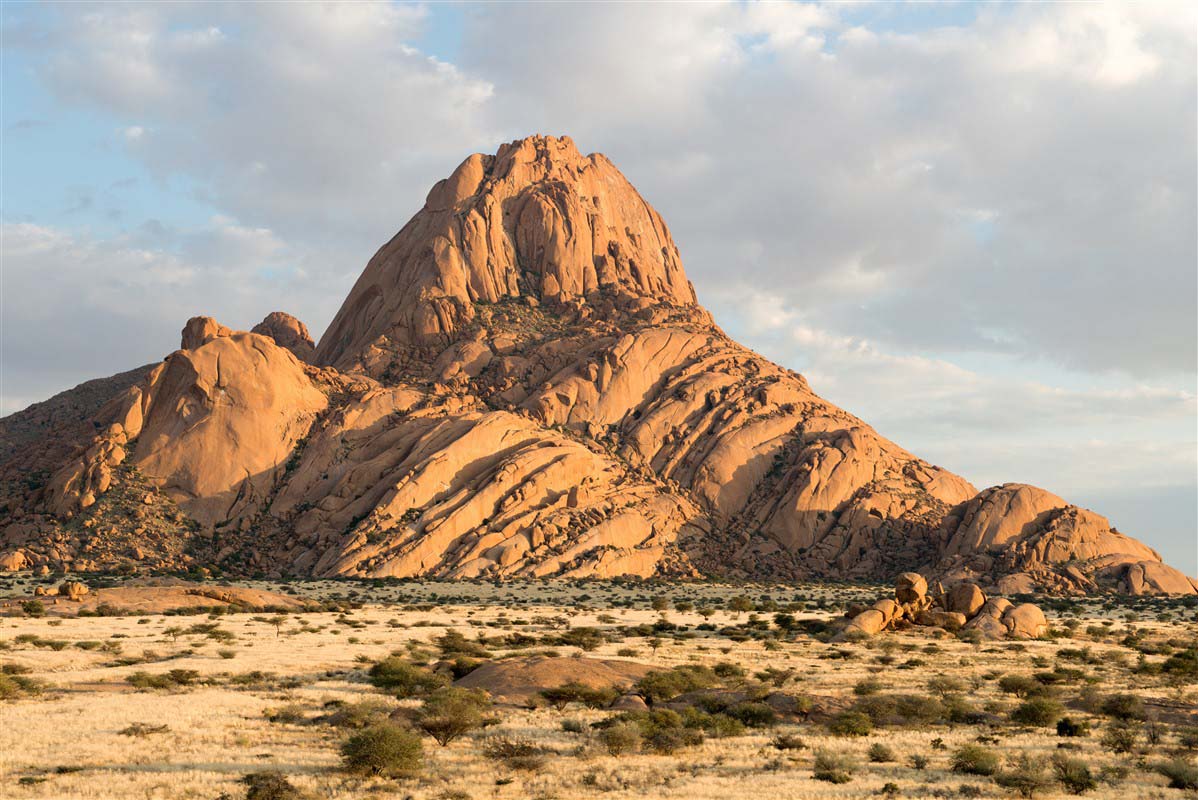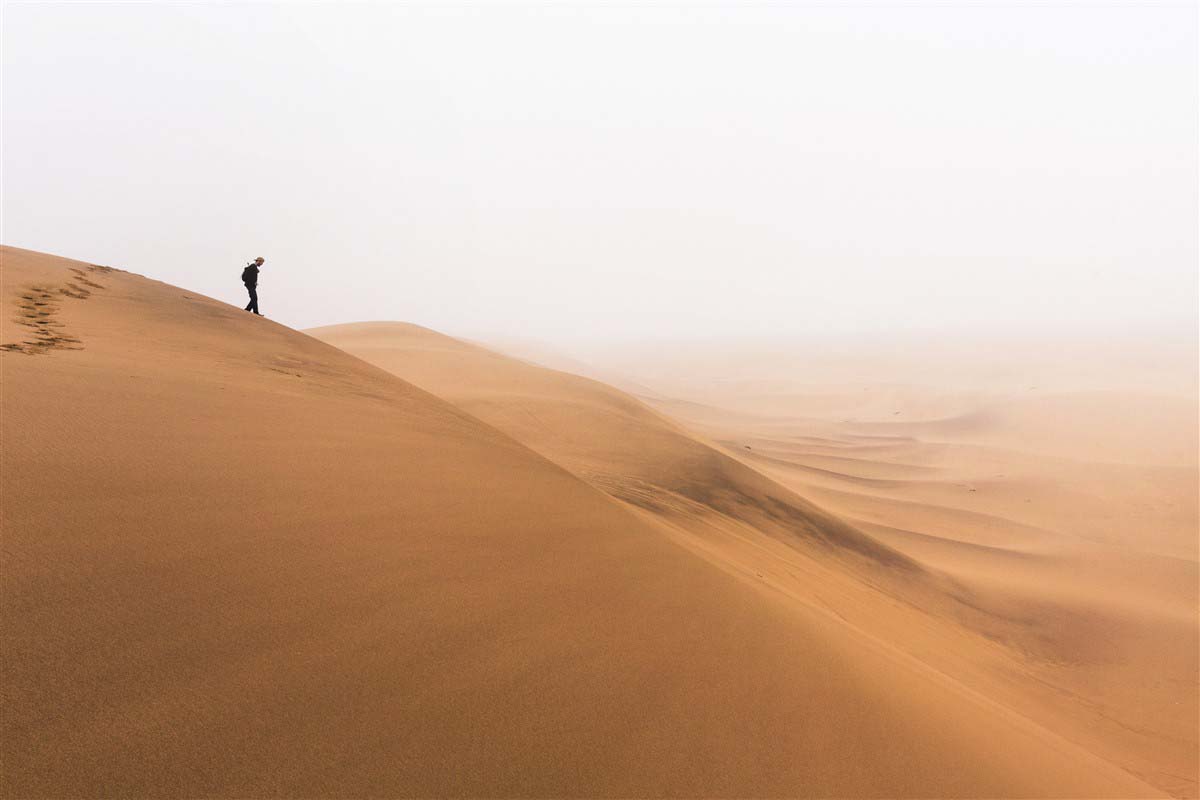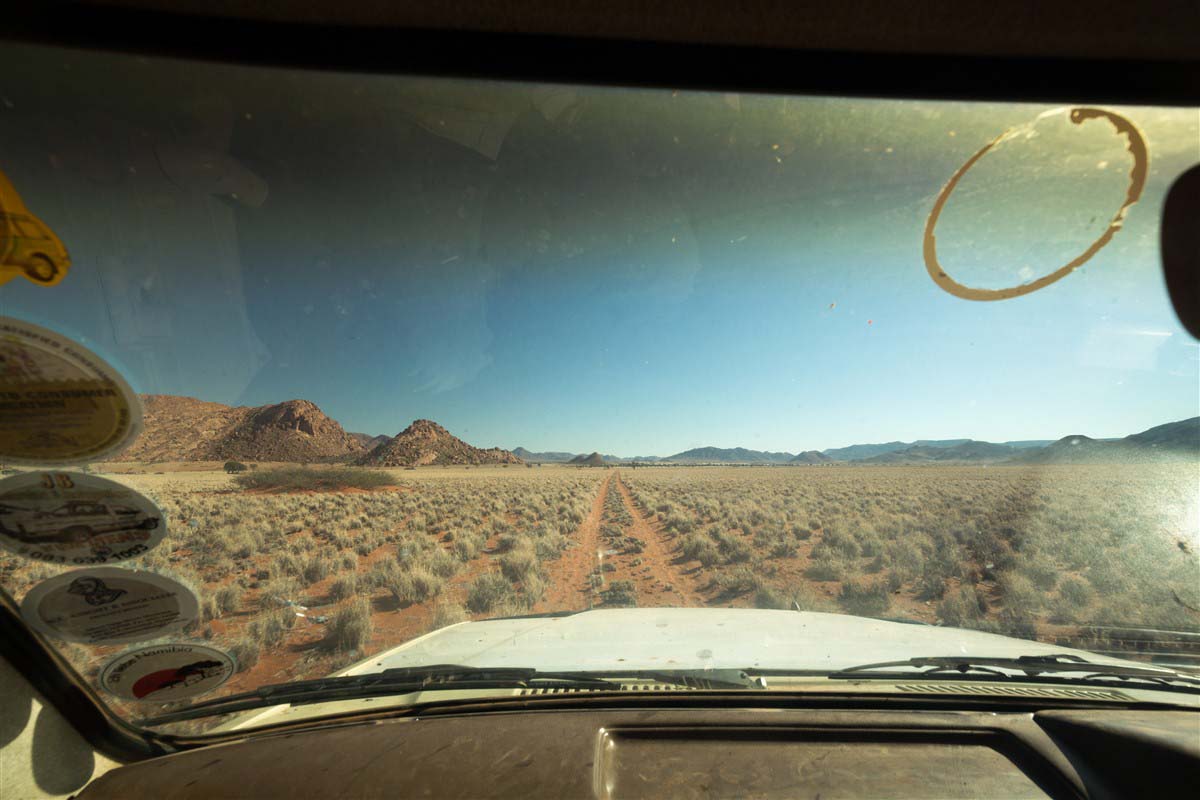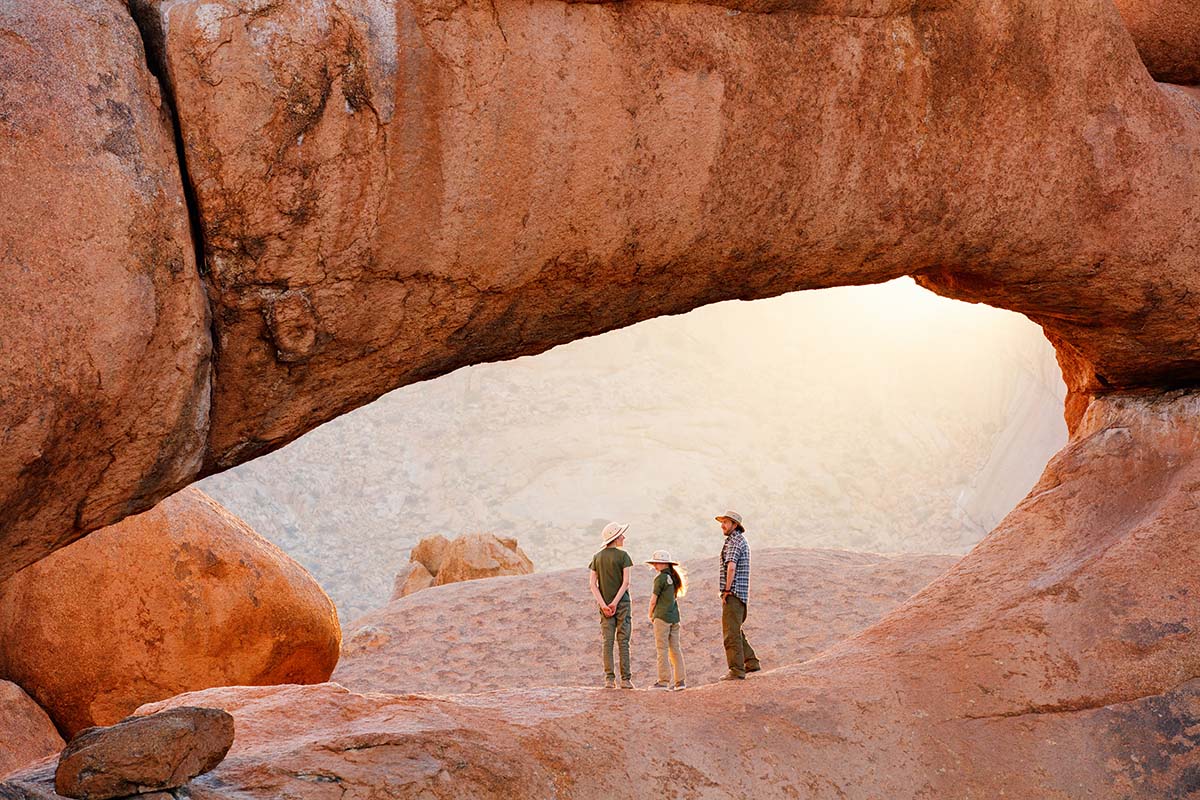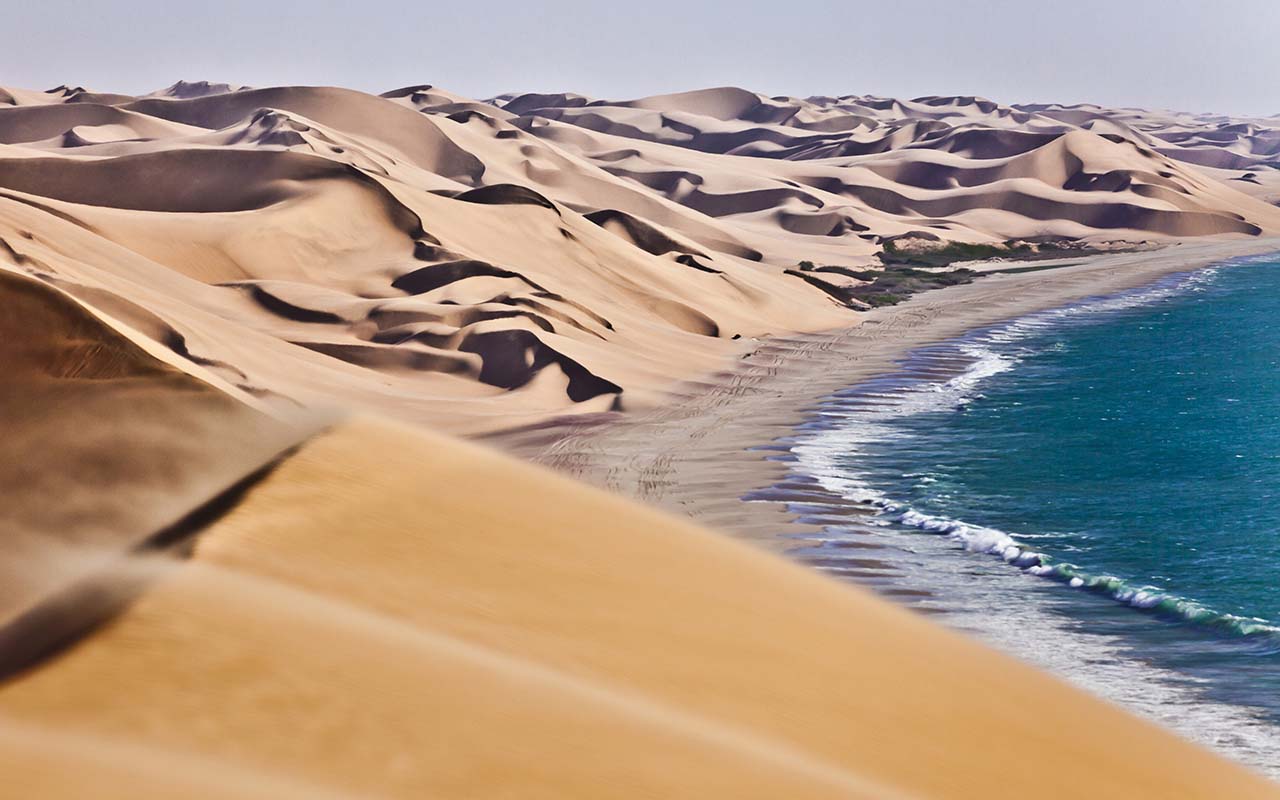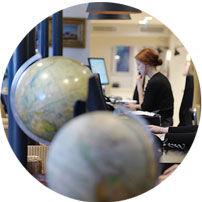 Spend 15 days exploring Namibia's wild Skeleton Coast on a self-driving adventure that will see you spotting desert-adapted wildlife, ancient rock art, abandoned shipwrecks and more.
Route
Everything is 100% tailored to you
DAY 1
International Flight
Head to the airport in London this evening and check in for your connecting overnight flights to Windhoek in Namibia. There are no direct flights available (yet) but several airlines fly via South Africa and we can recommend the flight that suits you best. Overall you are looking at around a 15-hour journey.
After spending the night in the air you will connect in Johannesburg and land into Windhoek at around lunchtime today after an onward flight of two hours. Pass through immigration and you'll be met by one of our on the ground team who will drive you to your hotel in town. Once you get to your hotel your guide will stay with you as you check in and your hire car is delivered. They will be on hand to make sure everything with the car is as it should be, and will provide you with a local mobile phone for emergencies as well as detailed directions and information about driving. All of this should put your mind at ease and have you excited to get going.
But first, the rest of the afternoon and evening is yours to spend acclimatising, catching up on sleep and relaxing. You might also like to see some of the city's highlights such as Alte Feste (old fort), Christuskirche and Tintenpalast (the parliament buildings), St Mary's Cathedral and the Turnhalle Building. Our Concierge can then recommend and book somewhere for dinner.
Get up early to begin your self-drive adventure today. Your first stop is in Swakopmund, which is around a four-hour drive west of Windhoek, on the coast. Though there aren't many places you'll want to stop at en route, but once you arrive in Swakopmund there is plenty to do. There's a real seaside vibe here and Swakopmund has become the adrenaline sports capital of Southern Africa - quite impressive for a town that feels like it's on the edge of the world and surrounded by sand and very little else for miles and miles in all directions. You might like to try out some of the adventure activities on offer, such as sandboarding; quad biking; dune carting; parachuting and fishing, or just wander between the town's cafes, art galleries and museums.
You have a full day to enjoy in Swakopmund today. As with yesterday you might like to get involved with some of the adventure based activities, or simply wander around the town itself. For wildlife lovers, the marine life along the coast and offshore is also great, and dolphin watching excursions in particular are very popular. Some time spent strolling along the sandy beaches looking for seals, jackals, flamingos and pelicans is also highly recommended. To see all this from a different perspective, take a scenic flight down the south of the Skeleton Coast.
This evening our Concierge can book a restaurant for you to enjoy a fresh seafood dinner.
It's back on the road this morning as you set off after breakfast to make your way seven hours up the coast to Mowe Bay, which is inside the Skeleton Coast National Park. At Mowe Bay you will be met by one of the team from your lodge for tonight and can leave your car safely parked here before making the final hour of the journey in the 4x4 transfer vehicle. Your guide will drive you through the extraordinary coastal landscape, highlighting areas of interest as you head towards the Hoarusib River Delta and your lodge.
After dropping your bags, join your guide for a sundowner drive to a nearby oasis for sunset drinks and then an exhilarating drive across the smoothly sculptured 'roaring dunes' - so-called because of the deep rumbling sound emitted by the sand when air trapped between the grains is forced out by footsteps or tyre tracks. Finally, head back to the lodge for dinner.
Today you have a full day to enjoy the wild Skeleton Coast surrounding Mowe Bay. After breakfast with a view, join your guide for a full day excursion of your choice. You might like to head to the Hoarusib River area to see the Clay Castles geographical formation and hopefully spot desert-adapted lions and elephants. Alternatively, head to the Hoanib River Delta and see giraffe and oryx (also desert-adapted) as well as the desert campsites of the San People who used to live here. Your final option is to drive into Mowe Bay and spot the large seal and flamingo colonies, and look around the remnants of some of the shipwrecks that helped to give the Skeleton Coast its name. Whichever you choose your expert guide will bring the sites to life and be on hand to offer a wealth of interesting information about the area.
DAY 7
To the Hoanib Valley
Leave the coast behind today and head inland to the Hoanib Valley. The terrainin this part of Namibia makes driving difficult, so we have arranged for you to be transferred in a 4x4 for this stretch of the trip, leaving your hire car at Mowe Bay for a few more days. During the journey you'll stop for a picnic lunch to stretch your legs and enjoy the scenery. When you arrive at your camp in the heart of the valley there will be time for some afternoon exploring. The Hoanib Valley is a well-known oasis of vegetation running through one of the most spectacularly beautiful deserts in Africa. Large game such as desert-adapted elephants, giraffes, zebras, lions and rhinos move freely through this vast, mountainous and wild landscape and we suggest you spend your afternoon in search of them on a game drive.
After the drive the evening is then yours to enjoy the tranquillity of the area and do a spot of stargazing.
DAY 8
Exploring the Valley
Wake up and enjoy the peaceful surroundings of your lodge, before breakfast and a full day of adventuring. This region is home to the largest population of free-ranging black rhino and we suggest you start the day by heading out with your guide to track these beautiful beasts. There should then be time for lunch and an afternoon siesta before the afternoon activity which will see you visit one of the temporary Himba tribe settlements nearby. Meet the residents, who are the indigenous people of the area, and learn more about their fascinating nomadic lifestyle.
This evening deepen your knowledge of the stars and enjoy another delicious desert dinner.
DAY 9
Exploring the Skeleton Coast
After your day in the desert yesterday, today is all about the coast, specifically the Skeleton Coast, which can only be accessed on a guided driving excursion or by flight. With your guide, drive across the desolate landscape which is steeped in eerie history. Many ships have run aground on this coast over the years, and the 'skeletons' of these ships can still be seen lying forlorn and rusting along the seemingly never-ending beaches. As you explore your guide will bring the shipwrecks to life with fantastical stories and haunting tales.
After a full-day on the coast you'll then head back to your lodge for the night.
Leave your lodge behind today as you transfer back to Mowe Bay and collect your hire car. From there, make the five-and-a-half-hour drive south east to Palmwag where you will be based for the next two nights. Though the day will largely be made up of driving, the journey will see you travelling through some stunning landscapes. As you approach your lodge, stop in Palmwag to meet a guide who will show you where to park and take over driving into the lodge in a specialist 4x4. When you arrive, enjoy the rugged natural beauty of the area and then settle into your new lodge.
DAY 11
Exploring Etendeka
Today you have a full day to explore The Etendeka Tourist Concession, which comprises an area of 193 square miles in the foothills of the Grootberg Mountain on the edge of the rocky Namib Desert. Head out from your lodge with your guide and spend the day searching for Hartmann's mountain zebras, oryx, springboks, giraffes or perhaps even the desert-adapted elephants or black rhinos. Many of Namibia's endemic birds such as Herero chat, Monteiro's hornbill, Rüppell's korhaan and rockrunner can also be spotted, so keen birders should have their binoculars ready. You can explore via scenic drives, nature walks or a combination of the two.
Make your way to your final stop of the trip today by driving five hours south to Spitzkoppe. Here you'll find huge granite boulders, which were created more than 150 million years ago, with breath-taking views of the Brandberg and Erongo Mountains. The highest outcrop rises about 2,300ft above ground level and the peaks stand out dramatically from the flat surrounding plains.
As you approach your lodge, take in the views of this wholly remarkable landscape.
Spend your last full day in Namibia exploring the area around your lodge with a guide today. Depending on your specific preferences you can choose from a range of different activities such as visiting archaeological sites like Bushman's Paradise, horse riding or mountain biking across the rocky plains and photography focused tours. Your guide will tailor the day to what you choose and will make sure your last day is one to remember.
Sadly the holiday has come to an end and this morning you'll need to make the four-hour drive south-east to Windhoek Airport. When you arrive, check in for your afternoon flight to Johannesburg in South Africa, connecting on to the overnight 11-hour flight back to London.
After spending the night flying, you'll land in London in the early morning today.
A Rough Idea of Price
Dependent on season, accommodation and activities
The estimated cost for this trip is £5,545 to £7,000 per person. The final cost of the trip depends on the way we tailor it especially for you. The final cost varies according to several factors, which include the level of service, length of trip and advance booking time. The exact price will be provided on your personalised quote. The average price for this trip is £5,835 per person.
A few of the benefits of travelling with us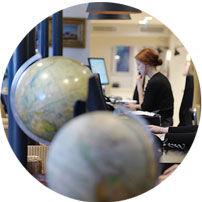 Get in touch
Our experts have the inside track on the destinations they sell and will tailor-make a holiday to your unique requirements.
Contact one of our Namibia specialists