Itinerary Highlights
Experience the beauty of Namibia from above during a series of flights
Stay at Kulala in Sossusvlei and spend a night on the Rooftop Skybed, sleeping under the desert stars
Keep your eyes peeled for black rhino in Etosha National Park
Contact one of our Namibia specialists + 44 (0) 20 3958 6120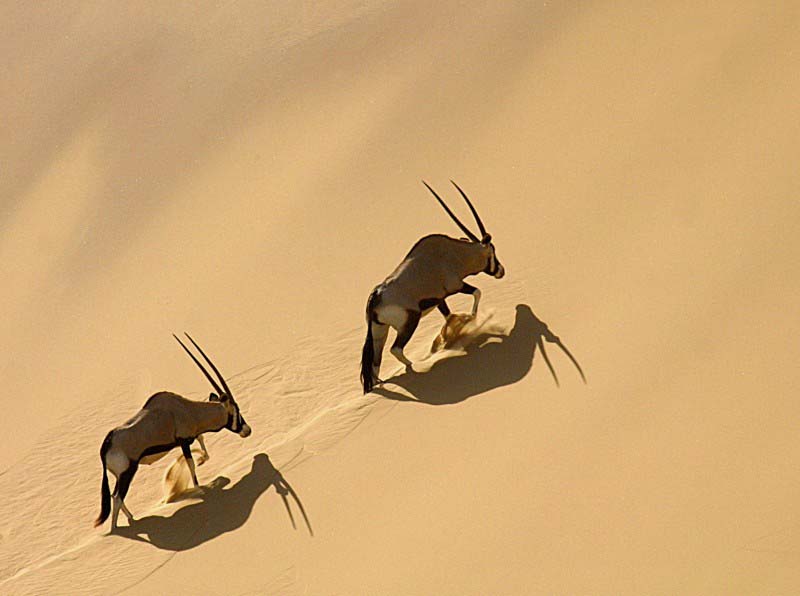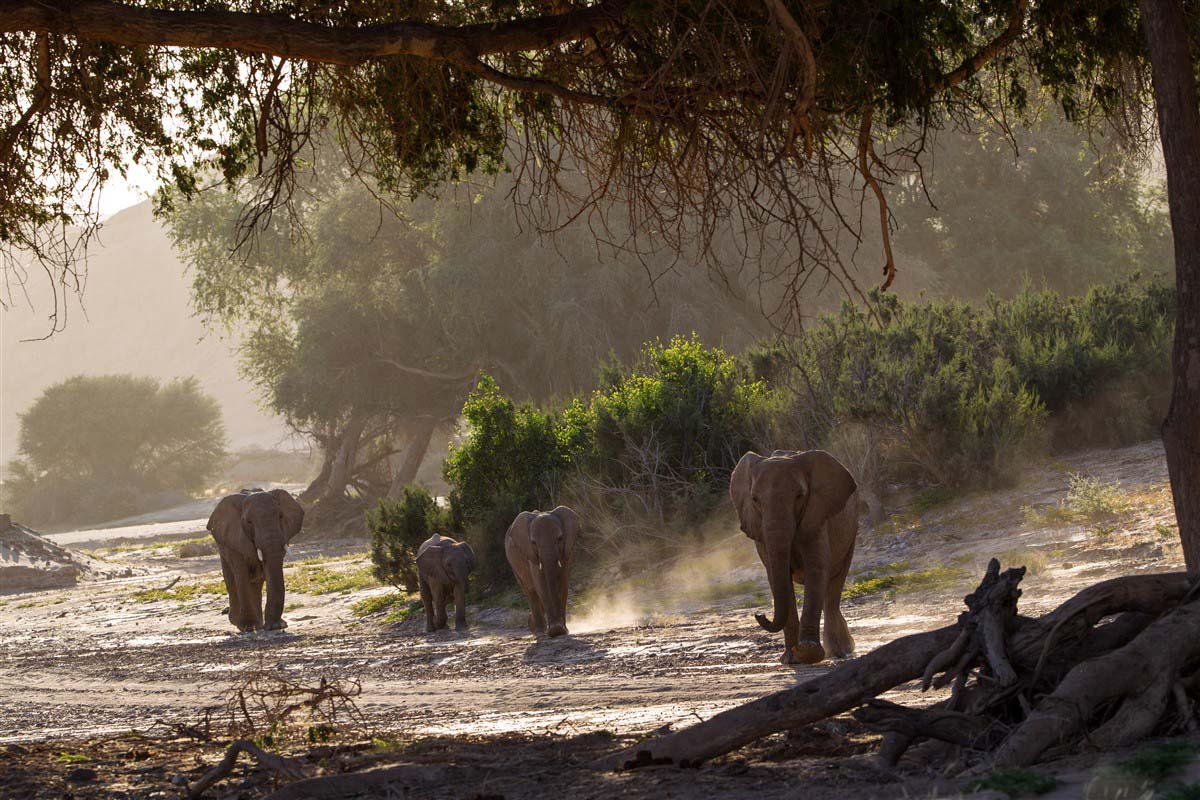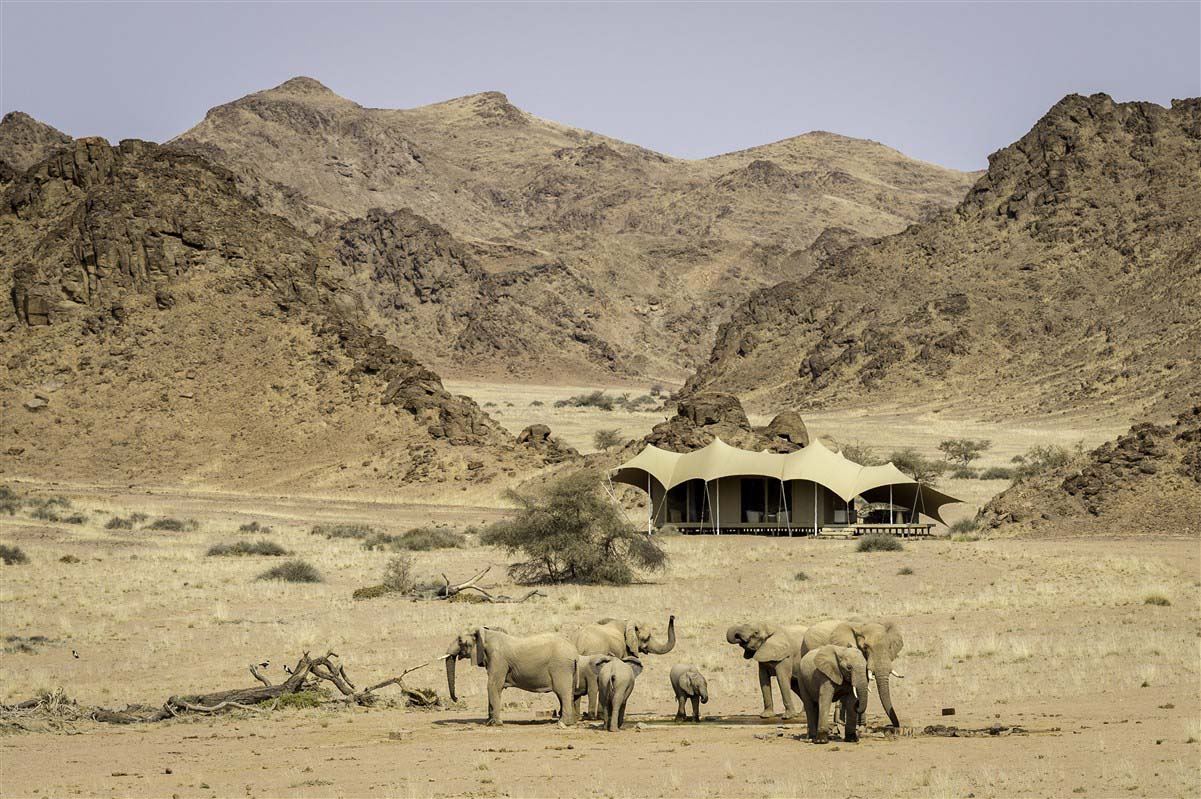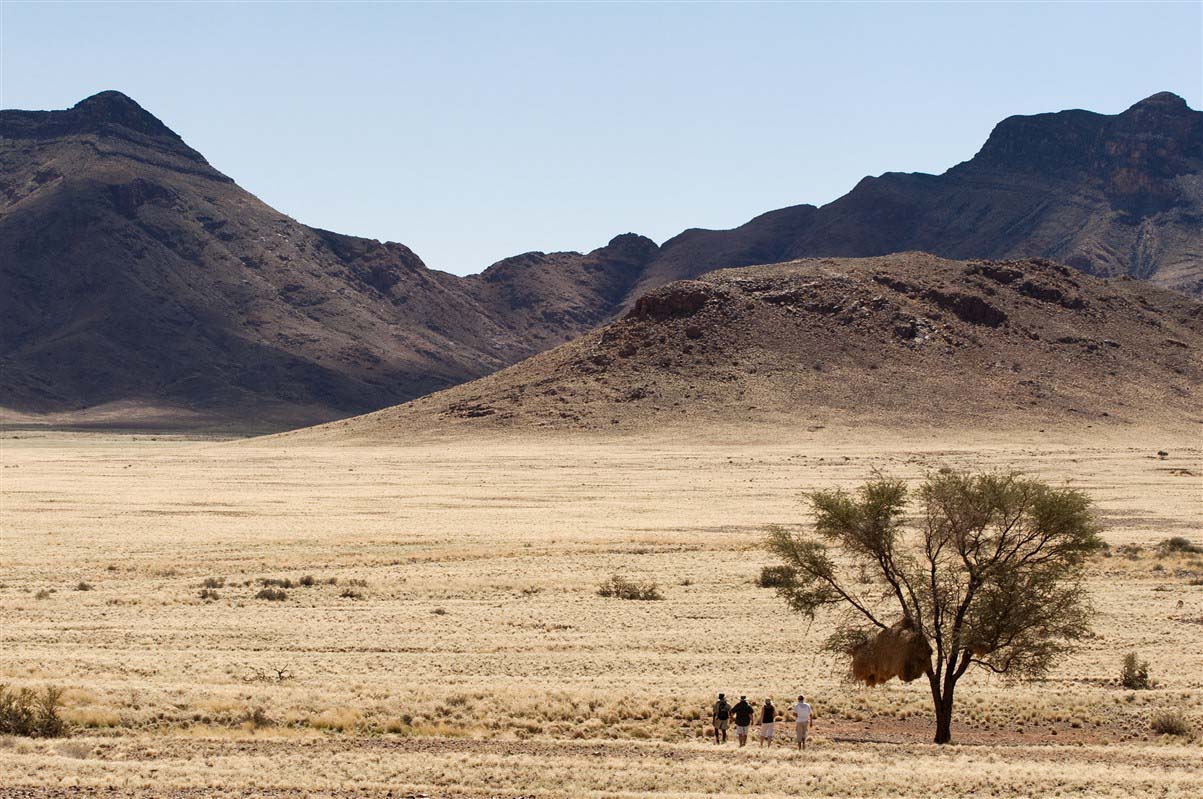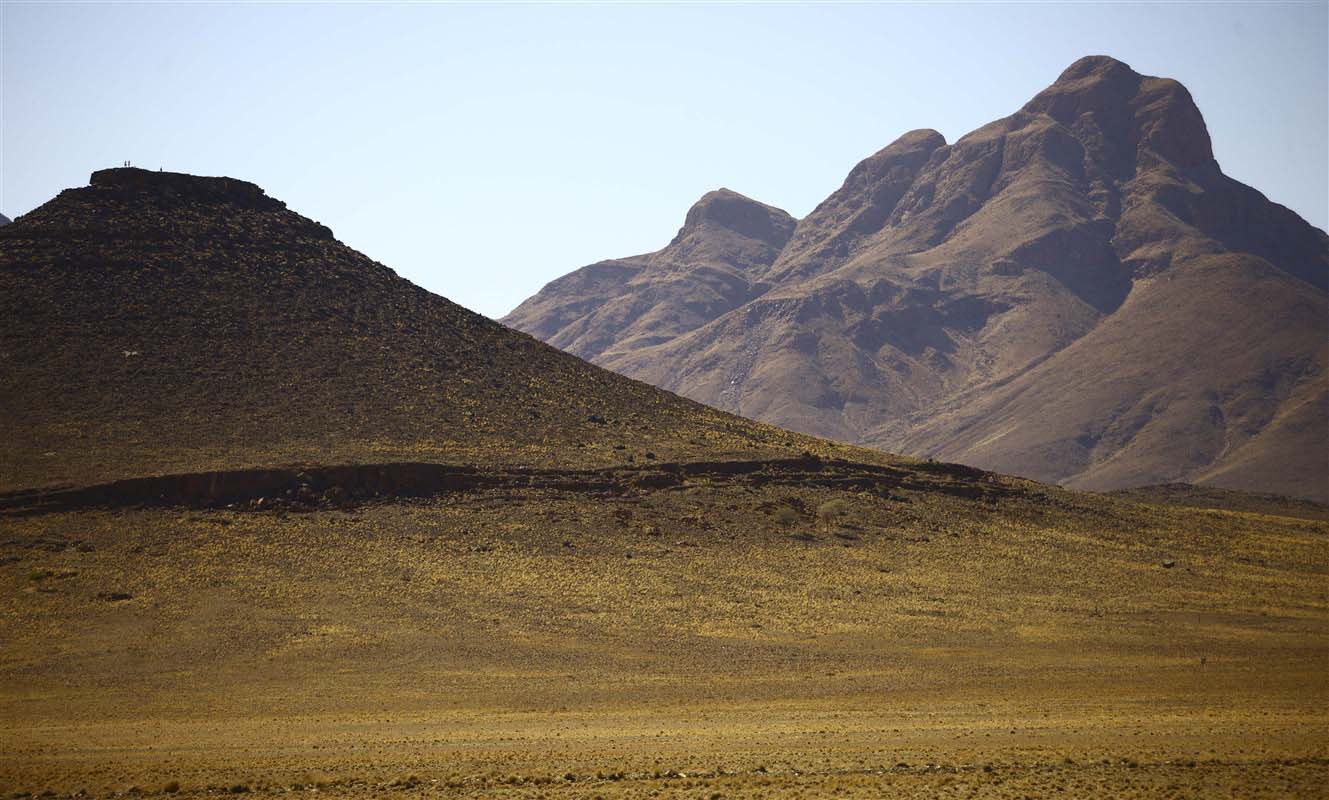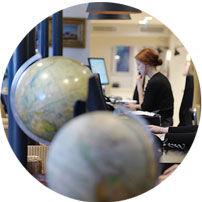 One of the perks of Namibia is that, whilst you can experience the country on foot or car like the rest of the continent, there are also great once in a lifetime opportunities to view this vast and beautiful country by air. For a completely unique safari experience, look no further than our two week Namibian fly-in safari which sees you travelling through NambiRand, Sossusvlei, Damaraland, Hoanib River Valley and Etosha National Park.
Route
Everything is 100% tailored to you
DAY 1
International flight
Depart from the UK on an international flight to Namibia, connecting through Johannesburg in South Africa.
On your arrival in the capital of Namibia, you will be met by one of our local representatives who will privately transfer you to your first hotel. The drive will take approximately 45 minutes, so sit back and enjoy the drive through the charming city.
Spend the rest of your day freshening up from your flight and resting in your extremely comfortable room - the rest of the holiday will be full steam ahead, so make the most of this!
DAY 3
Discovering NamibRand
Wake up in the heart of Namibia ready for your holiday to truly start. You will enjoy a leisurely breakfast this morning before being transferred back to the airport for a short flight to the NamibRand.
You will be welcomed at the airstrip by your guide who will be with you for the next couple of days, showing you the sights and sounds of the wilderness in this part of Namibia. Notice how the views here are so different from Windhoek, making it feel like you are in a completely different country. The contrasting greens, oranges and golden hews, along with the brilliant blue sky is something that descriptions just don't do justice to.
As you arrive into the camp be prepared to be blown away by your new home away from home. The sophisticated design of the lodges here, along with their remote desert location and gorgeous panoramic views make for a totally surreal stay.
DAY 4
Exploring your surroundings
Today is all about exploring the NamibRand. Your alarm will be an early one but the delicious breakfast you will have whilst the sun is still breaking through the sky will be absolutely worth it. You will then set off in one of the comfortable open jeeps with your guide and start to discover the area around you. Your knowledgeable guide will be able to answer any questions you have and will teach you all about the flora and fauna here in the desert. Whilst you may not expect to experience game here, 21 cheetahs and two leopards have been successfully released into the reserve, and you can also expect to see Cape Fox, African Wildcat, spotted and brown hyenas as well as giraffes, zebras, baboons, oryx and more! Not forgetting of course, the 170 bird species which have been identified in the reserve to date - essentially, make sure you pack your camera and binoculars!
In the late morning you will arrive back to the camp and will have a few hours to make the most of the serenity. Whether you take a dip in the pool, enjoy a Wellness Experience (massage in the desert anyone?) or simply retreat to your tent and get stuck into a good book, it's completely up to you.
Once the midday sun has passed, you will indulge in a quintessential afternoon tea before you head off back into the desert for more adventures. This can be back in the jeep or, for a different view of the desert, why not explore on foot with a guided walk or set your eyes to the sky and hop on a Scenic Flight to really see how endless the desert is.
You will be back at camp in time for a quick freshen up before making your way to dinner in the elegant dining room. After dinner, be sure to treat yourself with a drink and sit on the deck to observe the Namibian night sky - in our humble opinion, it's one of the best.
DAY 5
Make your way to Sossusvlei
This morning you will have time for another game drive before you board your next charter flight, this time to Sossusvlei - in the heart of the Namib Desert. On your flight you will be able to see the epic dunes of Sossusvlei from above and believe us, they are even more impressive up close. Again your guide will be waiting to meet you at the airstrip and will take you to Little Kulala lodge.
The earthy green and grey tones of Little Kulala refelct life in the middle of the desert, so from the comfort of your luxurious bed, gaze out at the sky-line with the mountains in the distance and marvel at the beauty that surrounds you.
In the afternoon you will have time for an activity. We suggest horse riding for an adrenaline packed afternoon getting to grips with the vastness of the desert landscape.
DAY 6
A Day in Sossusvlei
Today you will spend the day exploring Sossusvlei, and there is no better way to begin your day than with a visit to the fascinating Deadvlei. This is where you will find the gigantic orange dunes that Namibia is famous for. The colours of Deadvlei are contrastingly beautiful - the piercing blue sky, the rich orange dunes and pure white sand is something you won't find anywhere else, and for the budding photographer, this is a great snap to add to your album.
Afterwards you will head back to camp for a few hours to rejuvenate before heading back out into the wilderness. This time, hop back into the 4x4 and experience a game drive in Sossusvlei to see just how different the experience is compared to the NamibRand. Whilst there aren't any leopards or cheetahs here, try your hand at tracking the animals that lie beneath the sand - beetles, reptiles, spiders and even snakes. You can also find some larger mammals which include ostrich, springbok and gemsbok. Once the temperature cools down, you will have the chance to see spotted and brown hyenas as well as the aardwolf, black-backed jackal and more. Plus, it wouldn't be a game drive without a sundowner to end the day on a high.
For tonight, whilst the comfort of your tent may be calling you - we believe that a visit to Little Kulala wouldn't be complete without a night spent on the Rooftop Skybed. What's more romantic than a night under the African sky, stargazing and sleeping under a blanket of stars?
This morning you will have time for one last activity in Sossusvlei after your night under the stars. Following this, you'll be transferred to the airstrip for your flight north to Twyfelfontein, where you will be spending your next two nights at the eco-friendly Mowani. Whilst eco-friendly might draw up visions of little tents in the middle of nowhere, fear not, this camp is every bit as luxurious as you would expect from an Original Travel choice. The unique setting amongst the boulders makes this a camp you won't forget, and don't even get us started on your rooms because no matter which you choose, you are guaranteed extraordinary views steeped with the history of the Damaraland.
This afternoon, if you can tear yourself away from the view, your guide will take you on a visit to Twyfelfontein. Here you'll discover ancient rock engravings and the natural creation of the Valley of the Organ Pipes, which are both located around a two hour from camp.
Once you have arrived back to camp and freshened up, make your way to the dining room for a delicious dinner and a few hours spent in the boma with a drink in hand. This is the perfect place to relive your day and hear some fascinating stories from your guide.
DAY 8
Day at leisure in Twyfelfontein
This morning, wake up with the sun and have breakfast overlooking the mountains. Your guide will be ready and waiting with your open air jeep, to take you on a game drive in search of the rare desert elephants. You will be out in the wilderness for between four and six hours this morning, and will return back in time to take a dip in the pool or lounge on your private deck and listen to the peaceful sounds of the Namibian wilderness.
Later in the afternoon, get a little closer to that wilderness on a guided nature walk in the areas which surround the camp. Your knowledgeable guide will be able to teach you all about the history and flora and fauna here, plus be sure to keep your eyes peeled for the smaller things you would miss being in a vehicle. Once again you will return to camp in time for dinner and a relaxed evening by the fire.
DAY 9
The start of the Skeleton Coast
After a leisurely breakfast, you will be picked up from Sossusvlei airstrip and depart on a flight north west to the Skeleton Coast region of the country. You will fly to the Hoanib River Valley on the border of the Skeleton Coast National Park. This flight affords you magnificent views over the dry, rocky interior of Damaraland to start with, then of flat-topped mountains and vast gravel plains, and finally of the Hoanib River.
After a sumptuous lunch and that oh so important siesta, there are plenty of activities to choose from including game drives and nature walks. After that and a delicious dinner, turn in early tonight for tomorrow is a big day!
DAY 10
Day at leisure at Hoanib
You're off to the coast today so enjoy a hearty breakfast to fuel you for your full day out exploring. You will drive via the Hoanib River, floodplain, dunes and oases to the rocky coastline. Here you'll enjoy a picnic lunch and visit the huge Cape Fur seal colony and infamous shipwrecks before either driving or flying back to camp.
DAY 11
Day at leisure at Hoanib
The day is yours to relax in this dramatic landscape today. Stay in camp and taking a refreshing dip in the pool while admiring the views, or head out on a nature walk or game drive. If you fancy something a little different, try another day trip, this time visiting Klein Oase and Auses Spring - which offer fascinating respite from the dry surrounds of the desert.
After breakfast you will wave a fond farewell to this wild region and depart on a flight to Etosha National Park for your big game experience. You will be picked up from the airstrip and driven to your camp - the length of this transfer will depend entirely on what you see along the way - so keep your eyes peeled! Lion, kudu, impala and cheetah roam this land freely, and as of recently, black rhinos are here too, so keep a look out for these beautiful creatures.
When you arrive at the lodge, your first port of call will be a thirst-quenching drink in the sitting room, whilst your guide explains what you can expect from the next few days. An afternoon game drive will no doubt get the stay off to a great start and this is followed by dinner overlooking the reserve. Afterwards you will make your way back to your home-away-from-home tent, with a ranger carrying a torch as (a little heads up) you may bump into some animals taking a stroll to or from the watering hole in the night!
DAYS 13 & 14
Day at leisure on safari
Spend the next two days exploring your surroundings in search of game with morning and afternoon game drives. In between activities, be sure to take a dip in the pool and watch the game come to you from the comfort of a sun lounger - drink in hand optional. After dinner, head to the boma with your guide and re-live your day with the other guests around a roaring fire and beneath a blanket of stars. This is also a great time to hear some fascinating stories from your guide!
Go on - you must have one more early morning in you! Get up early and watch your last African sunrise for this trip, cuddling a hot cup of coffee and welcoming this new day. Sadly though, the end of this holiday is nigh, so enjoy a delicious breakfast before flying back to Windhoek and then onwards home.
A Rough Idea of Price
Dependent on season, accommodation and activities
The estimated cost for this trip is £8,340 to £11,770 per person. The final cost of the trip depends on the way we tailor it especially for you. The final cost varies according to several factors, which include the level of service, length of trip and advance booking time. The exact price will be provided on your personalised quote. The average price for this trip is £9,810 per person.
A few of the benefits of travelling with us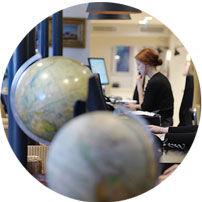 Get in touch
Our experts have the inside track on the destinations they sell and will tailor-make a holiday to your unique requirements.
Contact one of our Namibia specialists