Itinerary Highlights
Getting started in Malaysia, from skyscrapers in Kuala Lumpur to Highland tea plantations, to an idyllic beach on Langkawi
Colonial vibes in Penang, a Chinese house in Malacca, the British feel of Cameron: our selection of beautiful accommodation
Kuala Lumpur and Malacca, spotting hornbills in Belum with a private guide, Penang and the Malay Peninsula... it's all in the itinerary
Hire car, our app with your itinerary and recommended places to visit, all our usual additional services
Contact one of our Malaysia specialists + 44 (0) 20 3958 6120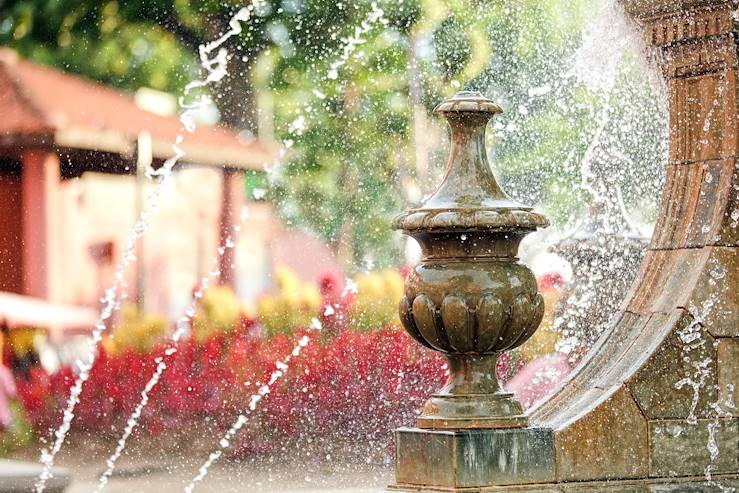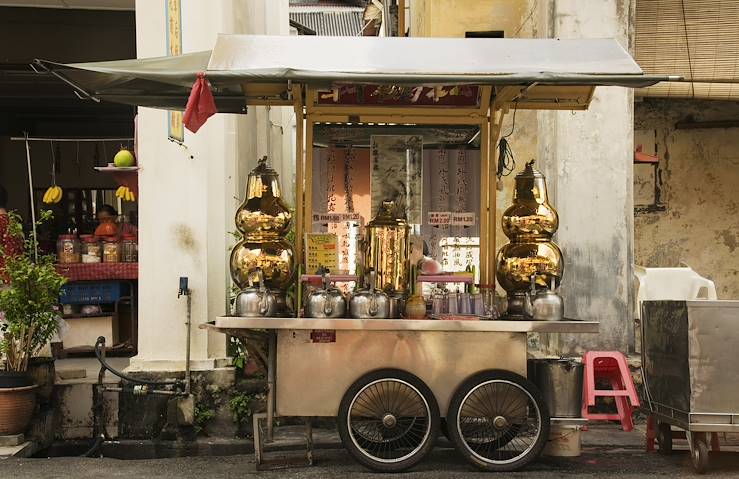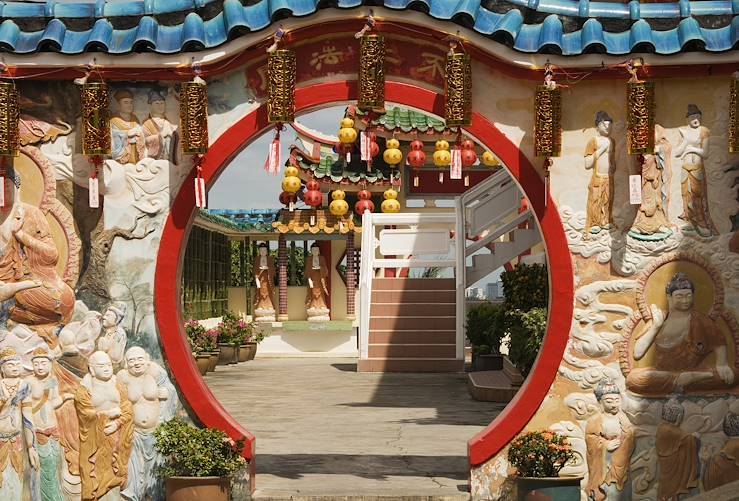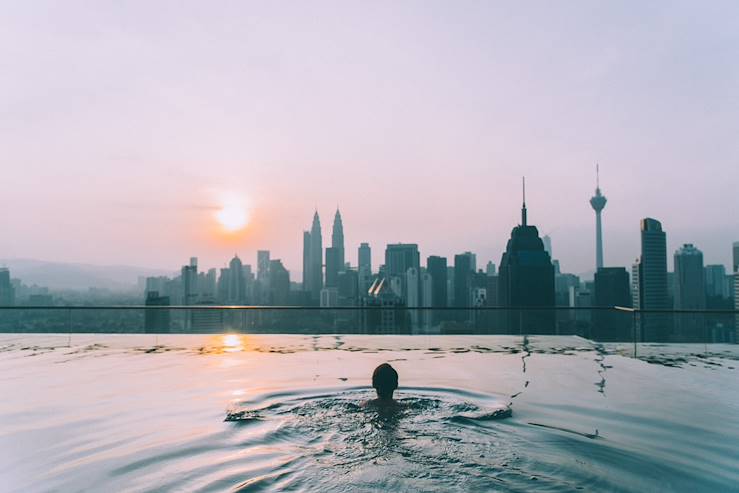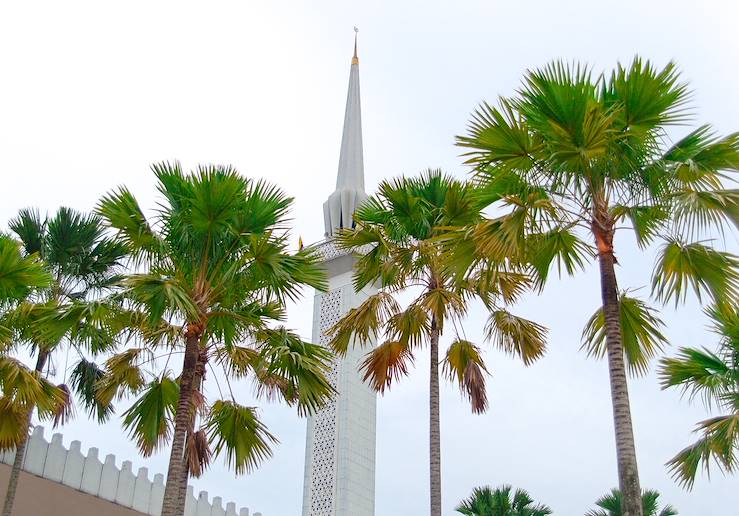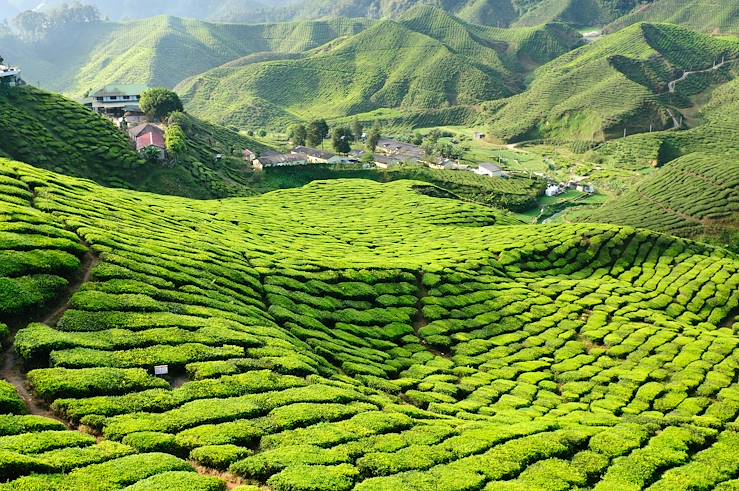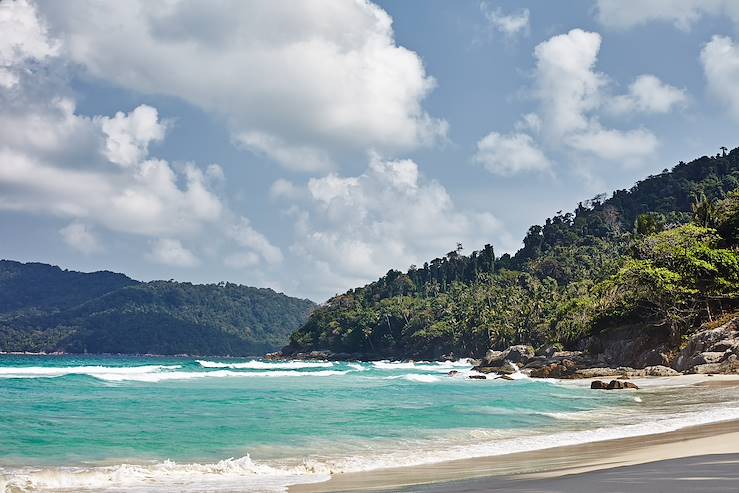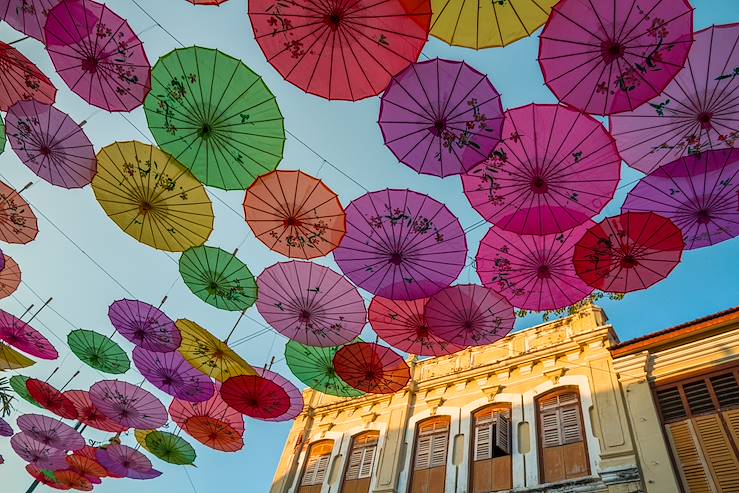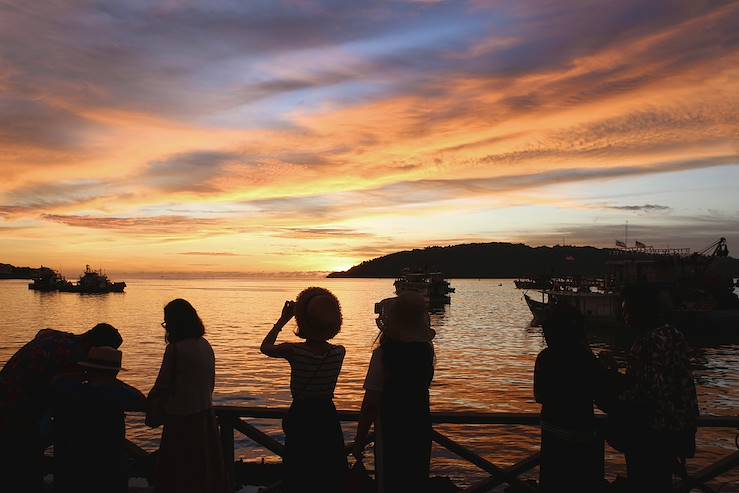 West Coast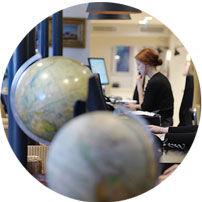 Malaysia is a place of striking contrasts. The white beaches of the Andaman Sea are complemented by futuristic cities and remarkable artistic and natural heritage. This is immediately apparent when you land in
Kuala Lumpur
, the capital that is driving the country into the future. KL is a powerful engine of globalisation, home to multiple flavours and cultures. UNESCO has listed [bMalacca and
Penang/George Town
as World Heritage Sites for their crucial history and ancient cities full of tropical romance. Trade has passed through the Straits of Malacca for many centuries. Yesterday explains today. The
Cameron Highlands
hill station provides access to the local tea growing community:
tea plantations grow alongside fruit and vegetables on highlands transformed into gardens that have long-seduced visitors. In Belum, explore the primary jungle and its fauna, including Malaysian bears on the hunt for honey, tapirs and gaurs, together with countless weird and wonderful plants. There's also Langkawi, in the archipelago of the same name. It makes an unforgettable last stop, with its beautiful, white sand beach and spectacular hinterland, which really is a geological wonder. Malaysians, Indonesians and Indians, together with the Portuguese, Dutch and British, have all contributed to the melting pot that is Malaysia.


Your trip
At the forefront of Asia's innovation and development, Malaysia does comfort extremely well, and you'll notice this at every leg of your trip. Stay in colonial-era treasures in Kuala Lumpur and Penang, a Chinese house in Malacca, a country manor in the Cameron Highlands and chic and cool waterfront accommodation in Belum and Langkawi. We have carefully chosen your hotels for their luxurious comfort and excellent ambiance. Enjoy transfers by air-conditioned car with a driver, a boat to Langkawi and a hire car between Malacca and Penang. Despite Southeast Asia being famous for its huge volume of road traffic; the roads are surprisingly quiet in Malaysia. The quality of roads is impressive and drivers generally obey the rules of the road - not something that can be said about every country in the region. As a result, self driving is rather enjoyable. The GPS navigation service provides tailored logistical support. The tours and activities included in your itinerary aim to bring you as close as possible to the lives of Malaysians. We offer tours with local guides. Enjoy private tours of preserved natural wonders in the Cameron Highlands and Belum. If you need any help along the way, just contact our local Concierge for support and advice.

Route
Everything is 100% tailored to you
DAY 1
Flight to Kuala Lumpur
Transfer and two-night stay in the historic city centre. The hotel dates back to 1932 and is a Malaysian monument. Two wings – traditional and contemporary – are connected by a glass passageway. Behind the pristine walls, the decor is Art Deco-inspired: a beautiful fusion of colonial nostalgia combined with an international layout. Opulence, balance and beautiful materials are everywhere. The rooms channel this soothing, comfortable heritage as well as flawless technology. The restaurants offer a wide variety of Asian and Western cuisines, crafted with brio. The tea room and cigar room embrace the British colonial influence. The fourth floor of the recently constructed wing – which has a striking view on top of everything else – boasts a beautiful outdoor swimming pool where you can relax. There's a gym and spa, with luxurious treatments using lavender, English rose, blackberry, papaya, and algae, perfect for looking after your body and mind.
Already included in the itinerary - Kuala Lumpur tour. Your local guide is an expat but has lived in the city long enough for KL residents to think of them as one of their own. They have a deep grasp of its geography and customs, always staying up-to-date with the latest in the city. In their company, set your watch to local time. Nothing has been planned in advance; so, meet your guide and discuss your tastes and interests, determine your expectations, wishes and questions. Then, set off on a leisurely tour that matches the gentle pace of your trip. Fans of architecture, one of Malaysia's many charms, can start with the elegant eclecticism of the old railway station (1910), then continue on to Menara Kuala Lumpur (1991-1996) and the Petronas Towers (1992-1998). Urban parks, such as Titiwangsa Lake Garden and Perdana Botanical Gardens, provide an amazing sense of peace. The cuisines of the myriad cultures reflect the complex influences in play here.
DAY 4
Kuala Lumpur - Malacca
Transfer to Malacca. Overnight stay in the old town. The restoration of the house, which is typically Peranakan-Chinese from the straits, has been lovingly carried out according to its 1876 appearance. From the multicoloured facade to the interior courtyards, it exudes a unique atmosphere. Contemporary touches also contribute to the overall effect. The rooms provide guests with all the modern comforts and more. In the laidback communal areas, sit back and settle in like family members. The spa is located in the tropical garden; treatments by qualified therapists draw on a long tradition of wellness and the use of natural plant products.
Already included in the itinerary - Malacca tour. Malacca's position explains its patchwork appearance. It was founded by an Indonesian prince in 1400. The Chinese took an early interest, which was followed by the arrival of the Portuguese, Dutch and British. Everyone left their mark, especially the Portuguese, and modern Malaysia then went on to build on this. This impromptu tour is organised on the spot, as in Kuala Lumpur. Your local guide's excellent knowledge will help you to soak up the city's influences and customs. In this era of globalisation, Malacca continues to stir things up.
DAY 5
Malacca - Cameron Highlands
Pick up your hire car and head to the Cameron Highlands. Two-night stay in a Tudor cottage, or more technically a mock Tudor cottage, since the buildings were built in the 1960s. It's like a little slice of England: wooden beams, four poster beds, striped and floral carpets, latticed windows, armchairs and fireplaces. The comfortable rooms are spacious. The food at the restaurant is not supposed to be exclusively British, yet ends up being so nonetheless, while the bar does a fine line in whiskies. Afternoon tea is served in the lounge or garden and you can even make strawberry jam in a cooking class for good measure. While this England, which couldn't look more real, might seem a little out of the ordinary, it actually fits perfectly into the pleasant and green land of the Cameron Highlands.
Already included in the itinerary - Tour of the Cameron Highlands. In a 4x4 vehicle and with a private guide, drive up 6,650ft to Gunung Brinchang, the highest peak in the area. Up here, the air is light and fresh and the surrounding mossy forests and tea plantations look like a glossy, green blanket laid out on the mountain tops. The Cameron Highlands are one of the few plant and wildlife conservatories on the Malay peninsula. A visit to a butterfly farm offers a shimmering feast for the eyes.
DAY 7
Cameron Highlands - Belum
Drive to Belum. Two-night stay on Banding Island, Lake Temenggor. The hotel's contemporary lines and materials (cement, glass, wood, and bamboo) are tactfully integrated into the lake and forest setting. Your room has lake views and a private terrace, the perfect place to contemplate its green waters. There are two restaurants on site, one Malaysian, the other Mediterranean. Malaysia's passion for cooking is nicely expressed in this remote corner of the country. The swimming pool is the perfect place to find your inner zen and you can also relax beneath the transformative hands of one of the hotel's massage therapists. Kayaks are available for adventures on the water.
Already included in the itinerary - Royal Belum State Park. Located on the Thai border, this park protects a very ancient rainforest. Climb aboard a boat with a private naturalist guide. Countless species of birds can be found along the shores, but they are often hidden in the foliage and not necessarily easy to spot. Fortunately, your guide knows where to look. Disembark for a short hike in search of Rafflesia arnoldii, commonly called the 'corpse lily' and the world's largest flower.
Drive to Penang. Return your hire car. Two-night stay in George Town, in one of the most historic hotels in Asia. Founded in 1884, it has experienced fame and setbacks, but has recently resumed its former glory. It has a wide array of pristine buildings and luxurious colonial-inspired interiors adapted to contemporary Malaysia. The rooms are polished, luxurious and shaded; while the bathrooms boast clawfoot baths. The hotel's various restaurants all strive to meet the highest standards: guests can enjoy fusion, Malaysian and British cuisines. Afternoon tea is a must in some locations more than others; here, it's truly unforgettable. The gardens and swimming pool overlook the strait; an adjoining wing offers delightful wellness treatments. The classy staff help make your stay even more pleasurable.
Already included in the itinerary - Tour of Penang. Explore the city and its people with a private guide. Dive in, cuisine by cuisine: the fish head curry is unmistakably Indian, the oyster omelette comes from the Guangdong Chinese tradition and both Indonesians and Malays lay claim to 'ikan bakar' (grilled fish). Or, alternatively, tick off the top sites, one by one: the neo-Palladian building housing the High Court dates back to the early 20th century, while the Khoo Kongsi clan house illustrates the elaborate Chinese architecture of the 19th century. Visit the Kapitan Keling mosque, which is an example of the Indo-Moorish style of the same period. Wat Chayamangkalaram has been a place for Theravada Buddhists to gather since 1845, while the neoclassical Anglican cathedral was consecrated in 1819. The city's architecture gives us a window into different people and dynamics. If a metaphor was ever needed to convey Penang, a kaleidoscope would be perfect.
Transfer to the port and ferry across to Langkawi. Three-night beachfront stay on the south-west coast of the island. The hotel has a Mediterranean feel; despite its bold colours and general appearance, the interiors feature a comfortable, neo-colonial style. The obligatory relaxed feel of the coast is punctuated by a touch of chic. Your fully-equipped studio has sea views as well as a small private garden. Between the long white beach and your doorstep, a lovely swimming pool provides some blue beneath the bright green palm trees. Additional features include a spa, incorporating Malaysian traditions and products, and a fitness centre. The restaurant offers Asian, Australian and British dishes, combined with salty sea air. Depending on the occasion, tables might be set up on the terrace, beach or indoors. The hotel's location will make you an expert in sunsets.
The beach requires little explanation. Let's just say that not only does it have the best conditions for utter relaxation, the calm waters are also perfect for swimming. Banana boat and sea kayaking fans will be over the moon, too. While you can't go diving or snorkelling in Langkawi itself, there are numerous sites in the clear waters around the archipelago and especially on the protected coral reefs of Payar Island. Exploring the mangrove areas along the Kilim River, for example, reveals surprisingly rich wildlife. With small plains separated by limestone ridges on the perimeter, and a Cambrian massif inside, the island enjoys a beautifully rolling landscape. The Langkawi Sky Bridge, which can be reached by cable car at Mount Mat Chinchang, is a unique way to walk through the heights while enjoying a fantastic view to boot. Langkawi offers a great range of outdoor activities. There are always endless opportunities for fun and surprise, from golf to canopy walks, not to mention night trips through the jungle and bird watching.
DAY 14
Langkawi - Return flight
Transfer to the airport and return flight via Kuala Lumpur.
A Rough Idea of Price
Dependent on season, accommodation and activities
From November to April. The estimated cost for this trip is £4,500 to £5,400 per person. This trip is tailor-made to your exact specifications so prices will fluctuate. The cost varies according to several factors, including level of service, duration of the trip and how far in advance you book. The final cost will vary according to several factors, including the level of service, length of trip and advance booking time. The exact price will be shown on your personalised quote. The average price for this trip is £4700 per person.
Flights with a scheduled airline
Airline taxes and fuel surcharge
Private transfers
Five-day car hire in Malacca
Our app, loaded with your itinerary, hotel details and recommended places to visit
Round-trip ferry to Langkawi
Two-night stay in Kuala Lumpur in a double room with breakfast included
Kuala Lumpur tour, with a private guide
Overnight stay in Malacca in a double room with breakfast included
Malacca tour, with a private guide
Two-night stay in the Cameron Highlands in a double room with breakfast included
A day of discovery in the Cameron Highlands, with a private guide
Two-night stay in Belum in a double room with breakfast included
Royal Belum State Park, with a private guide
Two-night stay in Penang in a double studio with breakfast included
Tour of Penang with a private guide
Three-night stay in Langkawi in a double studio with breakfast included
Our local Concierge service
A few of the benefits of travelling with us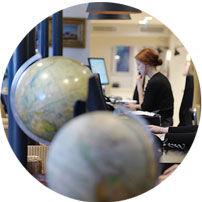 Get in touch
Our experts have the inside track on the destinations they sell and will tailor-make a holiday to your unique requirements.
Contact one of our Malaysia specialists