Itinerary Highlights
A great romantic journey across the Malaysian peninsula, with our selection of the best places to stay at each stop
The grand finale: three days on Pangkor Laut Island, a protected equatorial Eden
Singapore and Kuala unveiled, Cameron Highlands with a private guide, romantic dinners... it's all included in the itinerary.
Our app loaded with your itinerary and recommended places to visit, private transfers, all our usual additional services
Contact one of our Malaysia specialists + 44 (0) 20 3958 6120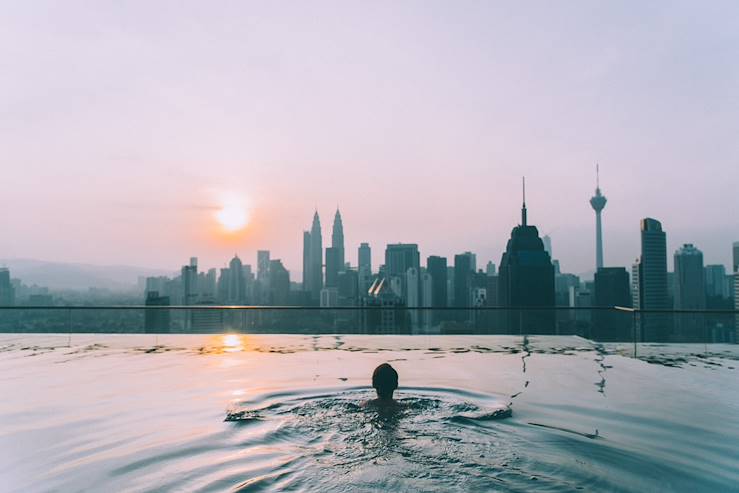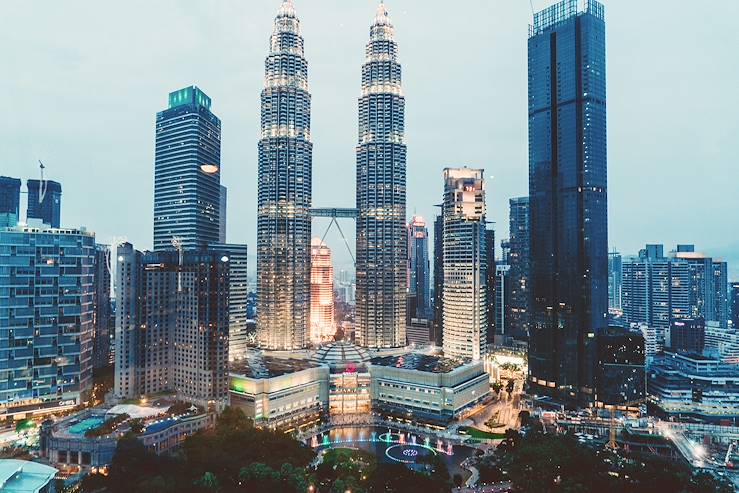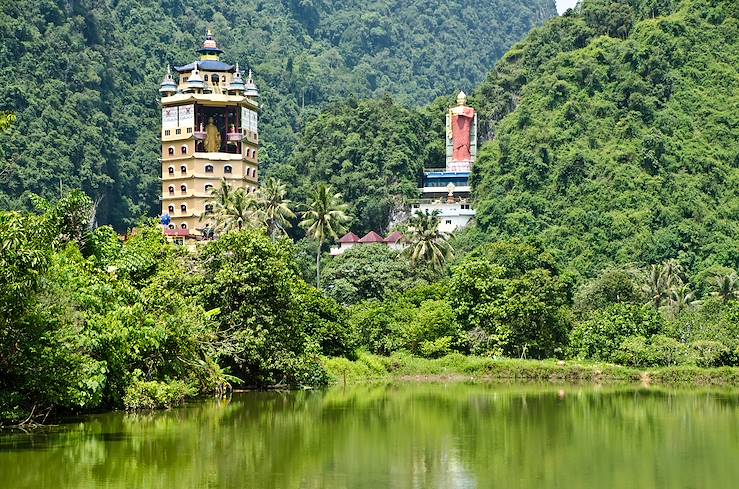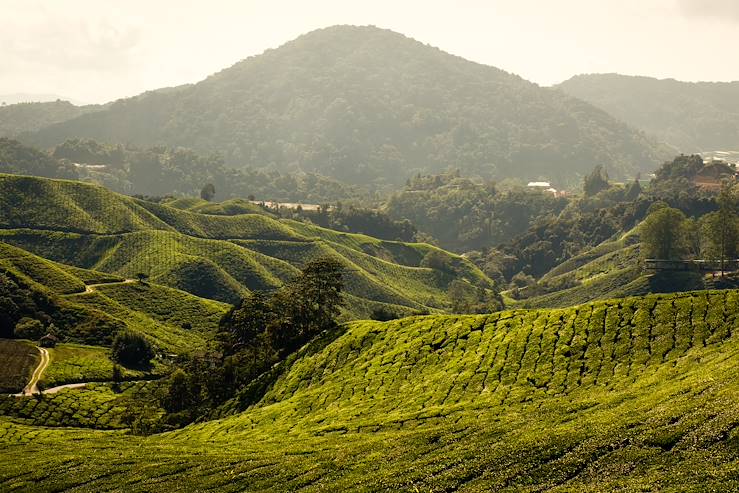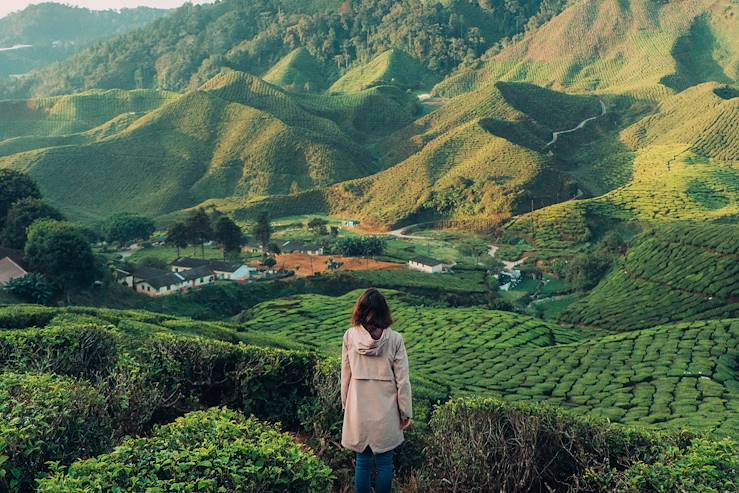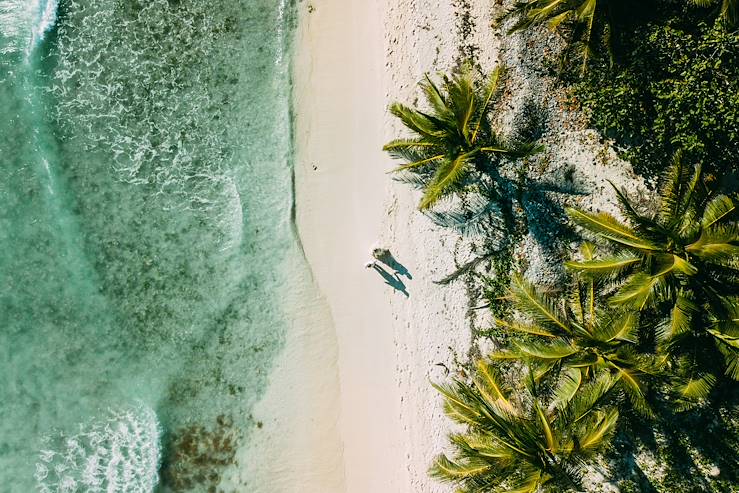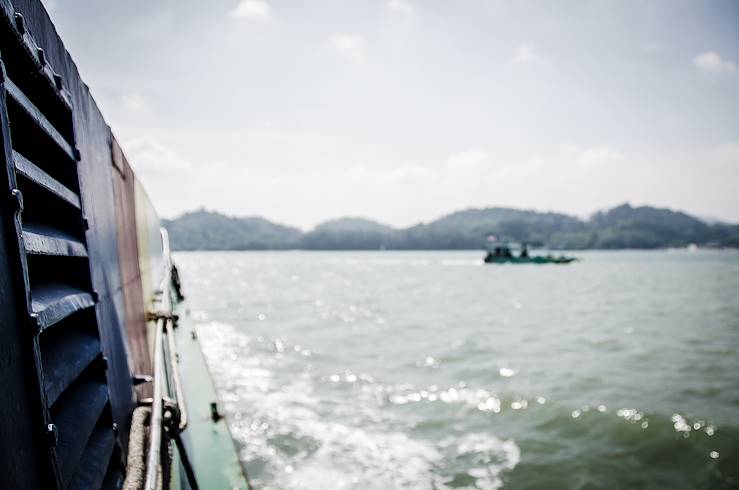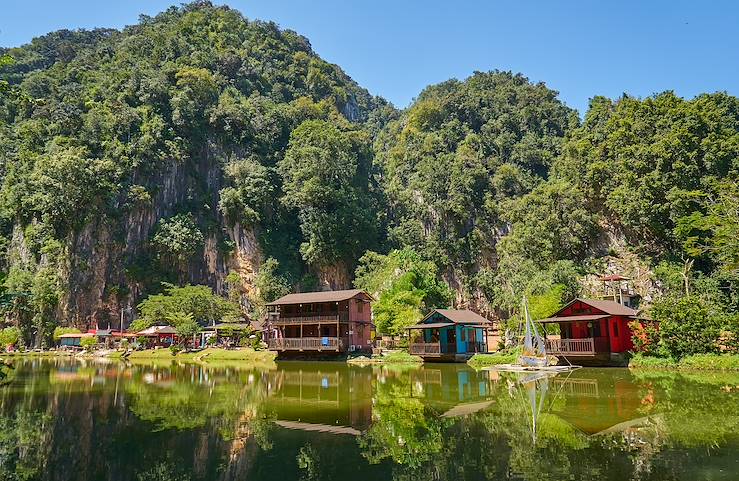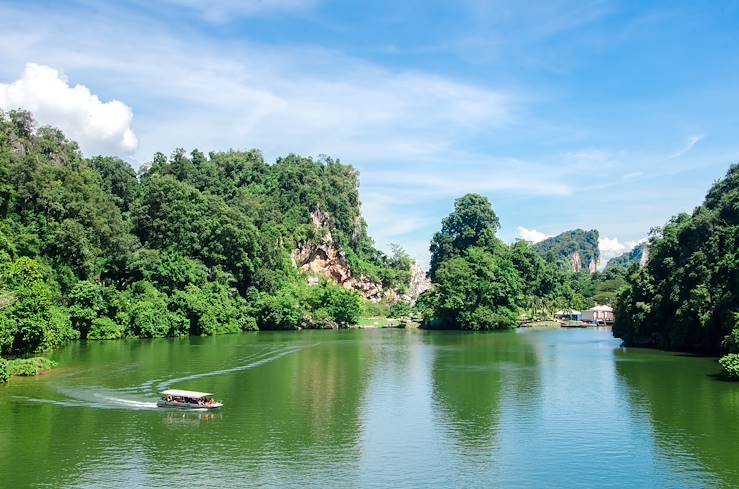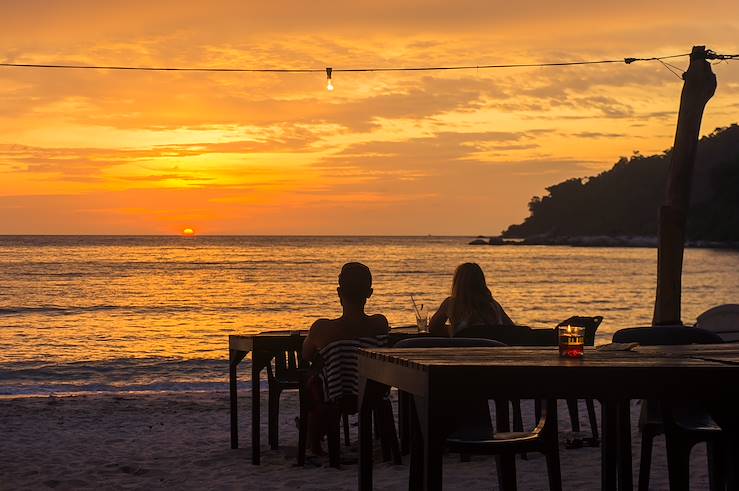 Romantic Malaysia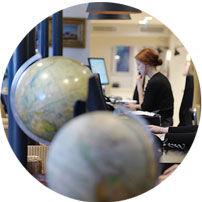 You'll soon notice that the Malay peninsula is a quintessential destination for couples, even and especially, if you hadn't realised before.
Singapore
, the Lion City, with all the weight of its modernity, gives off extremely positive vibes. And it takes two to experience it, as things are really ahead of their time here. Then there's
Malacca
, a historic melting pot brimming with colonial romanticism.
Kuala Lumpur
is just as great as Singapore in terms of futuristic exhilaration, but also has some lovely hidden gems. Soak up the peaceful places where you can reconnect with yourself, for example, enjoy a shared experience at a simple street restaurant. Beautiful establishments of all kinds also help you to get back in touch with your inner self. The
Cameron Highlands
show
you a natural Malaysia exists... And, what an incredible example of nature it is. Tea plantations alternate with virgin forest, ridges and gorges. Hundreds of bird species can be found here, all with their own unique calls. The Ipoh green spa combines wellness with geothermal energy in a spectacular setting of limestone caves. This dream location is a really once-in-a-lifetime experience. If this is your first experience of Pangkor Laut Island in the Strait of Malacca... You're lucky. We're jealous that you can discover this bewitching place for the very first time.


Your trip
Singapore and Malaysia may just have the most beautiful hotels in Southeast Asia. Whatever the style, your carefully-selected hotels offer comfort, flair and attention to detail. Let's review the many different atmospheres and amenities waiting for you: former colonial warehouses in Singapore, a Straits Chinese house in Malacca, and a neo-Malaysian property in Kuala Lumpur, an English cottage in the Cameron Highlands, a thermal spa resort in Ipoh and an overwater bungalow on stilts in Pangkor Laut. There's something new around every turn, always stunning, service-oriented and relevant, with a team of professional staff to ensure you have the ultimate experience. For reasons related to flexibility, time and the quality of the roads, transfers are by air-conditioned car with a driver. You get the best of all worlds. The tours, which are included in your itinerary in Singapore and Kuala Lumpur, allow you to say, there and then, what and how you'd like to explore, with the help of a highly-knowledgeable guide. You'll be able to explore the Cameron Highlands in a 4x4 vehicle with a guide. Prepare to be dazzled by the excellent quality and setting of the restaurants we've carefully chosen for you. On Pangkor Laut Island, you have no plans: there's no schedule on this island idyll. If you need any help along the way, just contact our local Concierge for support and advice.

Route
Everything is 100% tailored to you
DAY 1
Flight to Singapore
Transfer. Three-night stay in a former spice warehouse, built in the late 19th century. The property's style, both industrial and design-focused, subtly meets the demands of a high-end hotel. Some of the well-crafted features include a lovely set of pulleys which hold the lights in the lobby. The magnificent scale of the property is complemented by the contemporary colour scheme of the rooms, a relaxing blend of taupe, grey and olive green. Elements of the warehouse's metal structure have also been integrated into the interior design. The floors are delightfully cool under foot. The hotel works with a local ceramics workshop to produce the mugs the guests use. Bottles are glass, not plastic, and filled on request with filtered water... Singapore has gone green. The restaurant prepares excellent modern South Asian cuisine, while the swimming pool evokes a calm atoll in the hustle and bustle of the big city.
Already included in the itinerary - Singapore tour. Meet with a local guide, who has lived in the city-state for long enough to be considered a true Singaporean. You'll be able to adopt the habits, pace and rituals of the locals. And, of course, the whole tour is tailored to your particular interests. Once you've described what you want, your private guide will come up with Singaporean-made answers, delivered across the various neighbourhoods. It's the perfect way to take stock of the differences and take advantage of them, exploring what makes this such a unique city. All your interests will be covered. In addition, you'll have the opportunity to gain some first-hand tips, which will help you delve deeper into this fascinating culture.
Singapore has a special relationship with the modern world, but one of the first definite must-dos has a distinctly retro feel: a Singapore Sling at the Raffles Hotel bar. We'll then walk to Clarke Quay, where former warehouses and junk boats have been transformed into trendy boutiques, restaurants and nightclubs. Enjoy chicken rice from one of the 'hawker centres', open-air food courts which feed Singapore's army of workers each day. The National Orchid Garden in the Botanic Gardens is a magical, peaceful haven. Gardens by the Bay is a beautiful and educational space that highlights major environmental projects to raise awareness about our Earth. Parkview Square, designed by DP Architects in 2002, is an amazing example of Art Deco revival. The Dravidian-style gopura (1925) of Singapore's oldest Hindu temple, the Sri Mariamman Temple, is a sight to behold with its array of multicoloured statues. In Chinatown, the Taoist temples have beautifully ornate rooftops that curl towards the skies.
DAY 5
Singapore - Malacca
Transfer to Malacca. Overnight stay on the banks of the Malacca River. The house dates back to 1929, when it was owned by a Peranakan businessman, who brought in earthenware, stained glass and furniture from England. A recent renovation has restored its original lustre. The decor is faithful to its original spirit, while still adding some contemporary features. The rooms are spacious, with a few statement pieces of teak furniture and very sophisticated amenities. It's a lovely, equatorial atmosphere. Chef Melba Nunis talentedly recreates Kristang cuisine; her brilliant efforts to keep this legacy alive make guests extremely happy. Kristang? These people are the creole descendants of Portuguese families living in Malacca, whose cuisine features pork and seafood.Guests also have access to an outdoor swimming pool and professional spa treatments.
Malacca's contrasts are rooted in its key geographic location. Sources do not agree on who founded the city in the early 15th century, but the Chinese arrived shortly afterwards, followed by the Portuguese, and later the Dutch and the British. Everyone contributed to this fascinating melting pot; the Portuguese were especially prolific. And the Malaysian Federation went on to build on it.
Optional - Malacca tour.

DAY 6
Malacca - Kuala Lumpur
Transfer to Kuala Lumpur. Two-night stay in the city centre. First, a moment of quiet, in contrast with the busy atmosphere of the capital. The style of the buildings is reminiscent of Rumah Bumbung Panjang, the traditional Selangor house. Roofs made of straw, bamboo, and wood provide an authentic touch to the entire area, where a century has left its mark. In the garden, a swimming pool meanders from room to room. Inside, elegant and contemporary clean lines beautifully balance the rustic feel. Rooms are spacious and boast excellent amenities, yours even has a private Jacuzzi. The well-balanced rooms help guests relax without even realising, but you can head to the luxurious spa for even more relaxation. The round restaurant prepares national and international dishes to perfection.
Already included in the itinerary - Kuala Lumpur tour. KL residents consider your local guide to be one of their own. They have a deep grasp of its geography and customs. always staying up-to-date with the latest in the city. In their company, set your watch to local time. Nothing has been planned in advance; so, meet your guide and discuss your tastes and interests, determine your expectations, wishes and questions. Then, set off at a leisurely pace. Fans of architecture, one of Malaysia's many charms, can start with the elegant eclecticism of the old railway station (1910), then continue on to Menara Kuala Lumpur (1991-1996) and the Petronas Towers (1992-1998). Urban parks, such as Titiwangsa Lake Garden and Perdana Botanical Gardens, provide an amazing sense of peace. The cuisines of the myriad cultures reflect the complex influences in play here. In the evening, dine at renowned Malaysian restaurant, Bijan.
DAY 8
Kuala Lumpur - Cameron Highlands
Transfer to the Cameron Highlands. Two-night stay in a Tudor cottage, or more technically a mock Tudor cottage, since the buildings were built in the 1960s. It's like a little slice of England: wooden beams, four poster beds, striped and floral carpets, latticed windows, armchairs and fireplaces. Curl up in front of the fireplace in your luxurious room. The food at the restaurant is not supposed to be exclusively British, yet ends up being so nonetheless, while the bar does a fine line in whiskies. Afternoon tea is served in the lounge or garden and you can even make strawberry jam in a cooking class for good measure. While this little slice of England, which couldn't look more real, might seem a little out of the ordinary, it actually fits perfectly into the pleasant and green land of the Cameron Highlands.
Already included in the itinerary - Tour of the Cameron Highlands. In a 4x4 vehicle and with a private guide, drive up 6,650ft to Gunung Brinchang, the highest peak in the area. Up here, the air is light and fresh and the surrounding mossy forests and tea plantations look like a glossy, green blanket laid out on the mountain tops. The Cameron Highlands are one of the few plant and wildlife conservatories on the Malay peninsula. Visit a fruit and vegetable market, a local speciality, enjoy a spot of lunch in a village and then visit a butterfly farm.
DAY 10
Cameron Highlands - Ipoh
Transfer to Ipoh. Overnight stay in a fantastic setting of limestone pebbles, lakes, streams and forests. With its waterfront, caves and platforms, the hotel morphs into the landscape. You have a private lakeside villa; a natural swimming pool just for you lies at your doorstep. Inside: large, flowing, airy spaces provide excellent comfort. It's modern Malaysian design. Nature and wellbeing are the order of the day, including thermal baths, Ayurvedic treatments and traditional Malaysian massages. There's also a hot cave, cold plunge pool, meditation and crystal caves. The restaurant, sensitive to wellness requirements, has adapted its menus without sacrificing hearty, tasty cuisine.
Already included in the itinerary - Dinner at Jeff's Cellar. Set in a cave lined with stalagmites and stalactites that evoke a baroque church of angels and saints, this wine bar/restaurant is not only a unique place, but also an opportunity to discover how Asian flavours can pair well with wine. A couples massage at the hotel spa provides a prelude of complete relaxation for a peaceful night:

DAY 11
Ipoh - Pangkor Laut
Transfer to Pangkor Laut Island by car and boat. Three-night stay in a villa on stilts, above water and with a wooden walkway. The entire hotel boasts stylised Malaysian motifs and a beautiful balance. In addition to the bedroom and terrace, there's a large bathroom, with a roomy bathtub and a shower with a view. The hotel's location between sea and forest is idyllic. Two long swimming pools stretch along the property's soft sand beach, where you can take a dip between a hammock break and a cocktail at the bar. The restaurant offers Pan-Asian and international cuisine, with flawless ingredients and execution. However, the spa is probably the highlight of the stay. The country's population gives it a rich and diverse culture of mind-body harmony and this is reflected in your private retreat. Treatments are inspired by age-old traditions combined with cutting-edge techniques.
DAYS 12 & 13
Pangkor Laut
A dot of green in the Straits of Malacca, Pangkor Laut is an island idyll. Start the day with a session of yoga or tai chi. Then, take a dip and enjoy some refreshing watersports. You can also play squash and tennis. Who knows, you might even want to cruise to other islands in the area or kayak along the coast. Under the dense canopy of the rainforest, go hiking with a naturalist guide. After sunset, be further lulled by the buzz of the jungle. Then, return to your villa to wander along the shore.
DAY 14
Pangkor Laut - Kuala Lumpur - Return flight
Transfer to Kuala Lumpur Airport and return flight.
A la carte
Malacca tour
Malacca's location explains its patchwork appearance. It was founded by an Indonesian prince in 1400. The Chinese took an early interest, which was followed by the arrival of the Portuguese, Dutch and British. Everyone left t
A Rough Idea of Price
Dependent on season, accommodation and activities
From November to April. The estimated cost for this trip is £5,500 to £6,700 per person. and the final cost of the trip depends on the way we tailor it especially for you. The final cost will vary according to several factors, including the level of service, length of trip and advance booking time. The exact price will be provided on your personalised quote. The average price for this trip is £5800 per person.
Flight to Singapore and return from Kuala Lumpur, with a scheduled airline
Airline taxes and fuel surcharge
Private transfers
Our app, loaded with your itinerary, hotel details and recommended places to visit
Three-night stay in Singapore in a double room with breakfast included
Singapore tour, with a private guide
Overnight stay in Malacca in a double room with breakfast included
Two-night stay in Kuala Lumpur in a luxurious double room with breakfast included
Kuala Lumpur tour, with a private guide; dinner at the Bijan restaurant
Two-night stay in the Cameron Highlands in a double suite with breakfast included
A day of discovery in the Cameron Highlands, with a private guide
Overnight stay in Ipoh in a double villa with breakfast included
Couples massage at the hotel spa; dinner at Jeff's Cellar Restaurant
Three-night stay in Pangkor Laut in a double villa with breakfast included
Our local Concierge service
A few of the benefits of travelling with us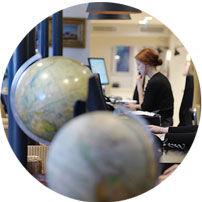 Get in touch
Our experts have the inside track on the destinations they sell and will tailor-make a holiday to your unique requirements.
Contact one of our Malaysia specialists