Itinerary Highlights
Beyond Toronto, nature stretches to the horizon - cedar forests, granite cliffs and beaches
Morning on the lakes where time stands still, life in a wooden chalet, evenings by the fire: an inspired lifestyle
Cycle tour, cruise, helicopter ride, Niagara Falls: personalise your trip
Our Concierge service and all our usual additional services
Contact one of our Canada specialists + 44 (0) 20 3958 6120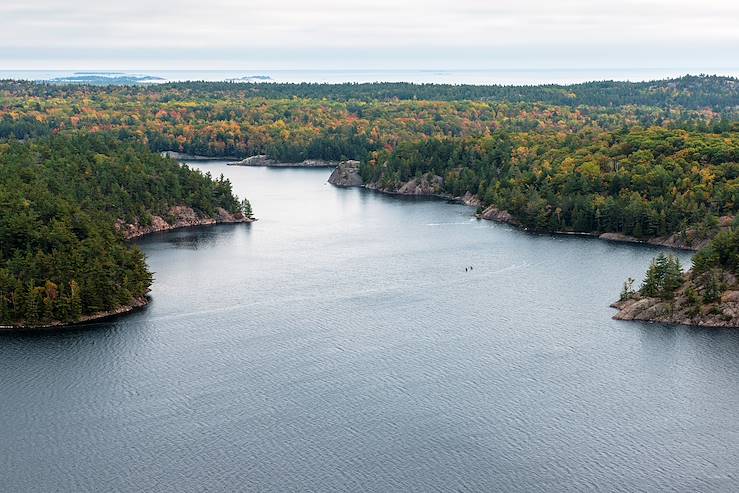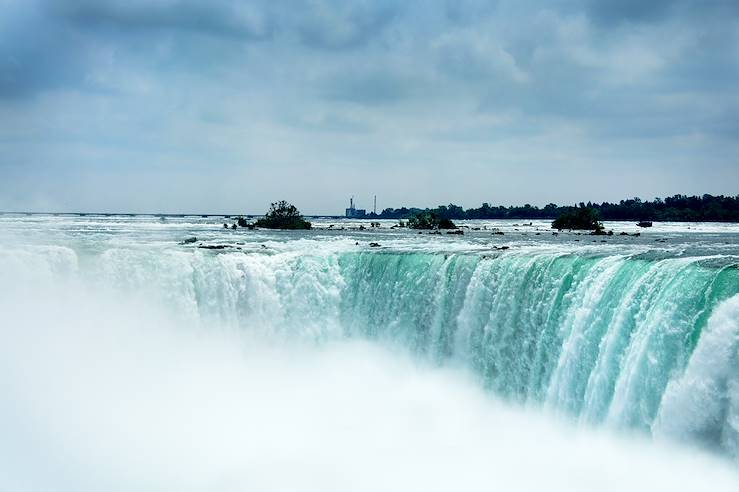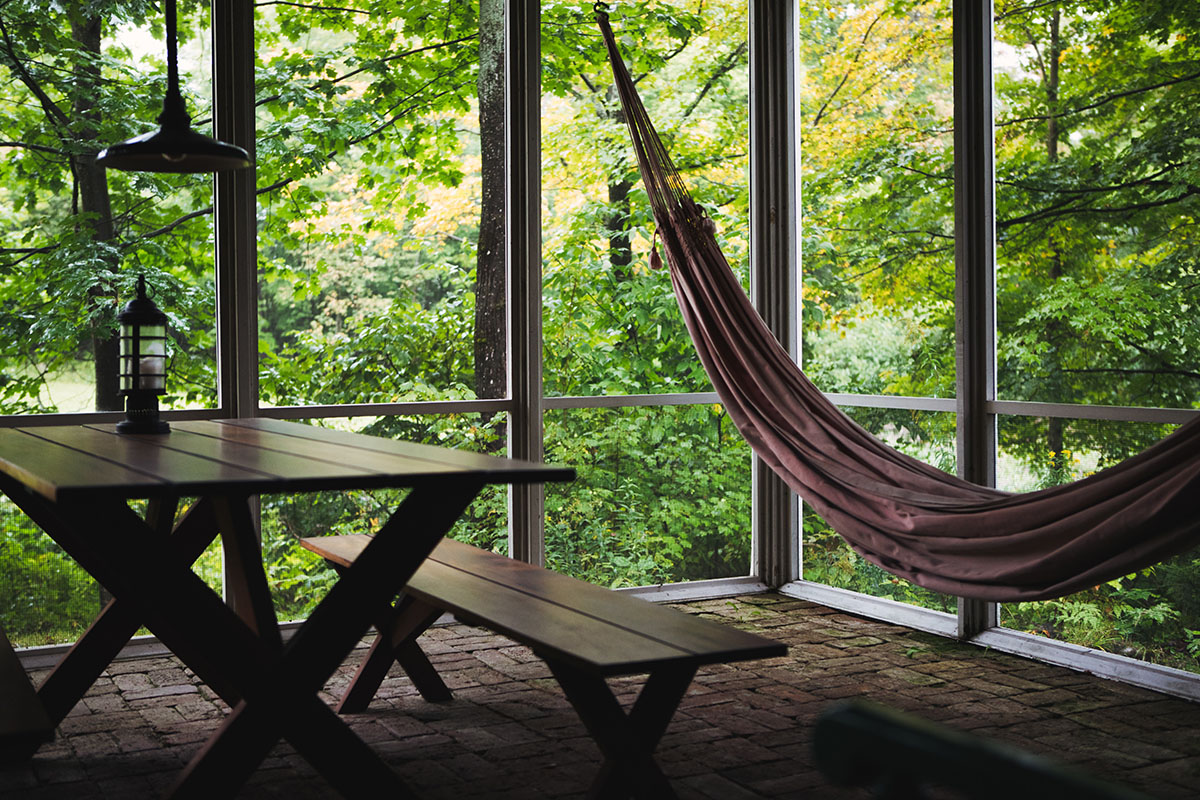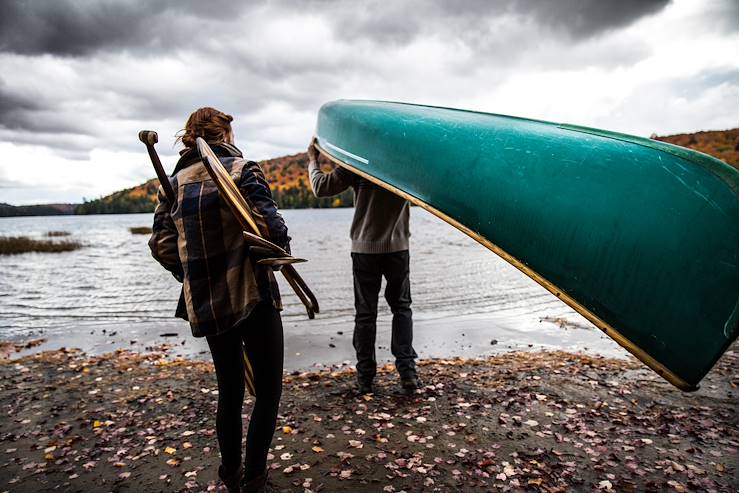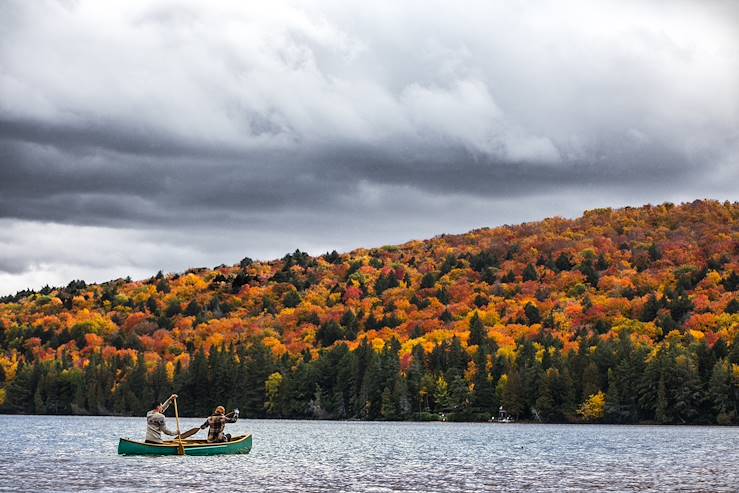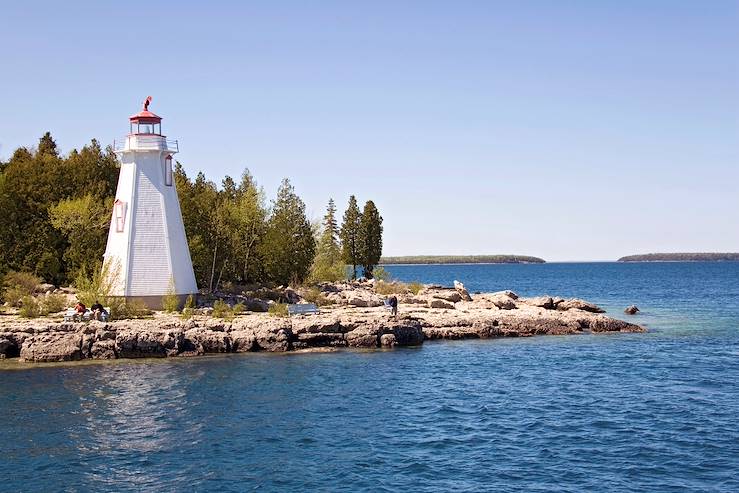 GRAND NATURE IN ONTARIO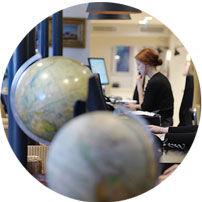 A canoe glides silently over the clear waters of the lake, whose banks are coated in dense forest shrouded in evanescent fog This is natural Canada at its most serene. But, as Ontario is also characterised by its urban settings, your journey begins in
Toronto
, one of North America's greatest cities. You'll be based in an area full of great restaurants. Then drive to Lake Huron:
Tobermory
and
Manitoulin Island
. There's a Canadian art to living by the beach or lakes,or in the forests and mountains. It's a simple, sturdy, practical way of life, but also cosy, pleasant and relaxed. You'll find such an atmosphere in
Noelville
, on the French River, and in
Algonquin Park
, a National Historic Site.
Hiking, paddling, riding horses. Have yourself a barbecue, in the hope you won't have to share it with a black bear. Outdoor activities are well organised, trails are marked, and the spirit of adventure is well adapted to such considerations. In Algonquin Park, you'll even have a private canoe in front of your rustic cabin. Finally, Grafton offers beautiful countryside bordered by the beautiful sandy beaches of Lake Ontario. Get acquainted with the glamping experience. It's been quite a journey, from the CN Tower to the red pine trees and copper waters.


YOUR JOURNEY
From your hotel in tune with Toronto's hustle, bustle and artistic energy to bucolic cottages on the banks of crystal-clear lakes, your hotels suit their settings. They will allow you to make the most of every part of your journey. And, everywhere, you can expect comfort and atmosphere that befit their setting. One thought on the driving: be a bit cautious away from the motorway network: the Canadian climate is not gentle on asphalt, so there can be potholes. Either way, given the distances involved, a hire car provides you with both transportation and independence. That's why we've booked one for you. A private tour of Toronto is designed to get you on board and give you some tips for the big city. You can then follow your own inspiration. Numerous options are available to enhance your trip as you see fit: visit the Royal Ontario Museum; cycling the Toronto Islands; cruise to Flowerpot Island in Lake Huron's Georgian Bay, take a helicopter ride over the Thousand Islands of the St. Lawrence River. There's more than enough to do in Canada's most populous province. And if something unexpected pops up along the way, you'll have the contact details of our local Concierge.
Route
Everything is 100% tailored to you
Private transfer and three nights' stay in a beautiful hotel in the centre. The architecture and the decor are beautiful examples of contemporary classicism. Wood, glass, metal, and muted tones of black, taupe, grey and purple. With more or less light depending on the place and time. The rooms are attractive, with fine bedding. The restaurant is a modern take on a typical brasserie. On the rooftop, a terrace and bar overlooking the CN tower, and a putting green for high-altitude golfers.
Ontario's capital and Canada's largest city lies on the shores of Lake Ontario, halfway between the St. Lawrence River and the Great Lakes. Toronto has an exceptional concentration of skyscrapers as well as the largest collection of Victorian buildings in North America. 'Diversity Our Strength' is the city's motto, and it's true that cosmopolitanism is one of its charms. Besides, nothing characterises Toronto better than its diversity.
Included in the itinerary - Private tour of Toronto. Accompanied by a private guide, you'll explore iconic neighbourhoods and buildings such as the CN Tower and the Distillery District. A 1,750ft arrow in typical 70's style, the CN tower long held the world height record; the observation deck is about 1,150ft above street level. It's from the grand old Gooderham and Worts distillery, killed off by the war and the Ontario Temperance Act of 1916, that the Distillery District got its name. It's now been converted into entertainment venues, trendy restaurants, and art businesses.
Don't miss- The Royal Ontario Museum, a monument to natural sciences - a trip to the Saint Lawrence Market and the Kensington Market - the Distillery District - taking in a game at the Rogers Centre, also known as SkyDome - the Hockey Hall of Fame, the spiritual home of Canada's national sport - the modernist architecture of City Hall, designed by Viljo Revell - Mount Pleasant Cemetery, for the rendition of the Goldberg Variations on Glenn Gould's Tomb - the Enoch Turner School, a beautiful neo-Gothic school founded in 1848 for the education of poor children, and today turned into a museum.
Optional - Cycle the Toronto Islands.
DAY 4
Toronto - Tobermory
Pick up your hire car and drive to Tobermory, on the northern tip of the Bruce Peninsula , a long strip of land stretching between Georgian Bay and Lake Huron. Two-night stay on Little Tub Harbour and Georgian Bay. With handcrafted cedar furniture and printed fabrics, comfort reigns in the guestrooms and common areas of your hotel. The simple, harmonious atmosphere makes this hotel a charming stopover.
This spectacular area is surrounded by many parks, including Bruce Peninsula National Park and Fathom Five National Marine Park. The outdoor activities are obvious: cedar forests nearly tumble over the cliffs; abundant wildlife occupies the diverse protected areas. You may encounter flying squirrels, raccoons, porcupines, skunks, white-tailed deer, and snowshoe hares. The striped owls prey on the local chipmunks, as do the red-shouldered hawks. The red plumage of the scarlet tanager is striking Botanists can spot orchids, rare irises, ferns...
Optional - Cruise to Flowerpot Island.
DAY 6
Tobermory - Manitoulin Island
Ferry ride to South Baymouth, on Manitoulin Island in Lake Huron. Two-night stay in Providence Bay, a stone's throw away from the sandy beach. The house, with its terrace, veranda, flowery garden and Adirondack chairs, is quintessential Canada. The cottage-style decor, the friendliness of its owners, the tasty breakfast and beautiful location all contribute to a a feeling of intense well-being.
Manitoulin Island is the world's largest fresh water island in terms of land area and combines woods, lakes, meadows, fields and villages. Hawthorn is common and provides fruit for the local cuisine, to the point where locals are called hawthorn eaters. Your first destination is Providence Bay Beach. Then you can walk the spectacular Cup and Saucer Trail, which runs along 230-foot cliffs; the M'Chigeeng Trail, the North Chanel Trail; and Misery Bay Nature Reserve. Or admire Bridal Veil Falls, where the Kagawong River harmoniously drops thirty feet. Dating back to 1913, the Little Current Swing Bridge is a masterpiece of mechanical design. Golfers who have practised in Toronto can play in the outdoors here.
DAY 8
Manitoulin Island - Noelville
Drive to the small village of Noelville, on the French River. Two-night stay in a comfortable cottage to get as close to nature as you like and experience the trapper life - with all the modern conveniences. The property features wooden cottages arranged around a main lodge, which houses the restaurant (including an elongated terrace), bar and lounge. It's a place to socialise, talk about your day, and get some good hiking and fly-fishing tips.
At the entrance to the lodge are old pine trees, pink granite cliffs, peaceful beaches on the waters of the French River. And a little further west, Killarney Provincial Park is one of the most beautiful places in Ontario - old white mountains emerge from densely green forests, which in the autumn change to red, orange and yellow. From horizon to horizon, the lake is a shining expanse of blue. In the crystal clear water of this canoeing paradise, you can see trout, whitefish, and pike swimming by. The well-marked trails invite you to put on your hiking boots. Whatever the chosen activity, the park brings you into contact with the exceptional, pristine nature emblematic of Central Canada.
DAY 10
Noelville - Algonquin Provincial Park
Head to Algonquin Park and stay two nights within the park border. The hotel started as a lodge in the 1930s. Pine cottages look out over the lake, with cosy bedding and a most suitable bathroom. In front of each cottage, a canoe is available to guests. The rooms are decorated in rustic Canadian style. A nice log fire heats up the dining room, where they serve hearty cuisine. A reading room welcomes anyone who wants to go back to the world of The Last of the Mohicans. And anyone who wants to attract squirrels or chipmunks can buy a few packets of seeds on site...

DAY 11
Algonquin Provincial Park
The natural beauty of this area, at the edge of the coniferous and deciduous forests, was recognised early on, and the park was established by Ontario authorities in the late 19th century to curtail the effects of logging and agricultural development. Since then, a balance has been struck between conservation and economic activity. Hiking, walking and cycling are the primary attractions here. There's also trout and black perch fishing. For animal watchers, there are moose, beavers, and white-tailed deer. Loons and ducks are numerous; if you're lucky, you might see a great grey owl. A logging museum recalls the heroic times when alligator boats, amphibious tugs, sailed on the lakes and crawled on the land.
DAY 12
Algonquin Provincial Park - Grafton
Road to Grafton, on the north shore of Lake Ontario . Two night stay in a trendy tent camp nestled in the hills of the Shelter Valley, a few miles from the lake. It's an opportunity to get acquainted with the concept of glamping. It's a kind of digital detox treatment. Safari tents are set up in the wilderness - but never far from the lounge, with its cosy hearth and warm fire. The tents are furnished in rustic style, with large bed and beautiful bedding, a bathroom, a private barbecue and dining area on a wooden deck. Breakfast is brought to the tent every morning; for the rest, you're encouraged to use the available equipment and to eat outdoors in accordance with Canadian tradition.
Your daily activities are dictated by your environment: the forest, lake and Adirondack chairs. You can also take yoga lessons or hand yourself over to the very professional masseurs. A little further west: Prince Edward County. Prince Edward County is home to beautiful beaches, numerous vineyards (some of which are world-renowned), farms and markets with quality fresh produce, artists' workshops and antique dealers, and excellent restaurants.
Optional - A helicopter tour of the Thousand Islands Archipelago, a natural border between Canada and the United States made up of nearly two thousand tiny islands on the St. Lawrence River.

DAYS 14 & 15
Grafton - Toronto - Return flight
Drive to Toronto Airport, return your hire car and catch your flight home. Overnight flight, arriving the next day.
A la carte
Cycle the Toronto Islands
This small archipelago in Lake Ontario shelters Toronto Harbour. In the late afternoon, take the ferry to the Islands to be enchanted by the colourful sunset over the city. Ride through Toronto Island Park, along the beaches, to the historic lighthouse at Gibraltar Point. Stop in a coffee shop for a pastry on-the-go. Accompanied by a guide, the ride lasts about three and a half hours, with no technical areas or demanding elevated bits. The cycle and safety equipment are provided.
Optional


Tobermory - Cruise to Flowerpot Island
Flowerpot Island in Fathom Five National Marine Park is named after two pinnacles of rock shaped like flowerpots. This Georgian Bay island can only be reached by boat. Once disembarked, take in the famous stacks, of course, and visit the caves, hike, picnic, and climb up to the old lighthouse. The waters around you are emerald green, and a few steps away, crystal blue. When the sun is shining, you could almost think you were in the Pacific.
Optional - Full-day


Prince Edward County - Helicopter tour over the Thousand Islands
The Thousand Islands are an archipelago in the St. Lawrence River, on the border between Ontario, Canada and New York State. A helicopter makes it possible to fly over this extraordinary landscape of nearly two thousand islands of all shapes and sizes from just the right height. From above, Gananoque is always picturesque. The Thousand Islands Bridge, which crosses Georgina Island and Constance Island, Ontario, reaches the United States on Hill Island; its eight miles are rarely seen from above. An aerial tour gives you the impression of grandeur.
Optional - Departing from Wellington


With a few extra days - Niagara Falls
Since you're almost there, why not take a trip to Niagara Falls? It's just on the other side of Lake Ontario. Niagara Falls is both a kitschy tourist destination and the majestic natural site around with the former revolves. The falls are accessible by car from Toronto and can be toured by helicopter. You can also opt for a bit of classic holiday style and spend a night with a view of the Horseshoe, American, and Bridal Veil Falls.
Optional
A Rough Idea of Price
Dependent on season, accommodation and activities
The estimated cost for this trip is £5,000 to £6,200 per person. The final cost of the trip depends on the way we tailor it especially for you. The final cost varies according to several factors, which include the level of service, length of trip and advance booking time. The exact price will be shown on your personalised quote. The average price for this trip is £5300 per person. Recommended season for this trip: June to September.
Direct international flight on a scheduled airline
Airline taxes and fuel surcharge
Access to the Air France business lounge at Roissy 2E (for departures from Paris)
Private hotel transfer on arrival
Car hire for 11 days
Access to our app, loaded with your itinerary, hotel details and useful addresses
Ferry crossing from Tobermory to South Baymouth
Three-night stay in Toronto in a double room, breakfast included
Two-night stay in Tobermory in a double room, breakfast included
Two-night stay in Providence Bay in a double room, breakfast included
Two-night stay in Noelville in a double cottage (room only)
Two night stay in Algonquin Park in a double chalet with full board included
Two-night stay in Grafton in a double tent, breakfast included
Tour of Toronto with a private guide
Our local Concierge service
A host of additional services are included when travelling with us, including our local Concierge service
A few of the benefits of travelling with us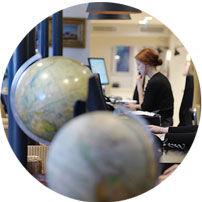 Get in touch
Our experts have the inside track on the destinations they sell and will tailor-make a holiday to your unique requirements.
Contact one of our Canada specialists