Itinerary Highlights
Start off in trendy San Francisco with a guided tour and a trip to the famous Alcatraz
Plunge into the Muir Redwood Forest where you'll find towering and ancient trees
Explore Yosemite National Park with an ex-park ranger who can teach you survival skills before a night camping under the stars
Learn to pan for gold and learn about the American West's Gold Rush history
Mountain bike in Mammoth
Enjoy the vast wilderness and stargazing in Death Valley
Take in the bright lights of 'Sin City' itself with a stop in Las Vegas
Head to Zion National park for scenic hikes with dramatic scenery
Watch the sun set behind the buttes of Monument Valley
Finish off in Phoenix for food and culture
Contact one of our USA specialists + 44 (0) 20 3958 6120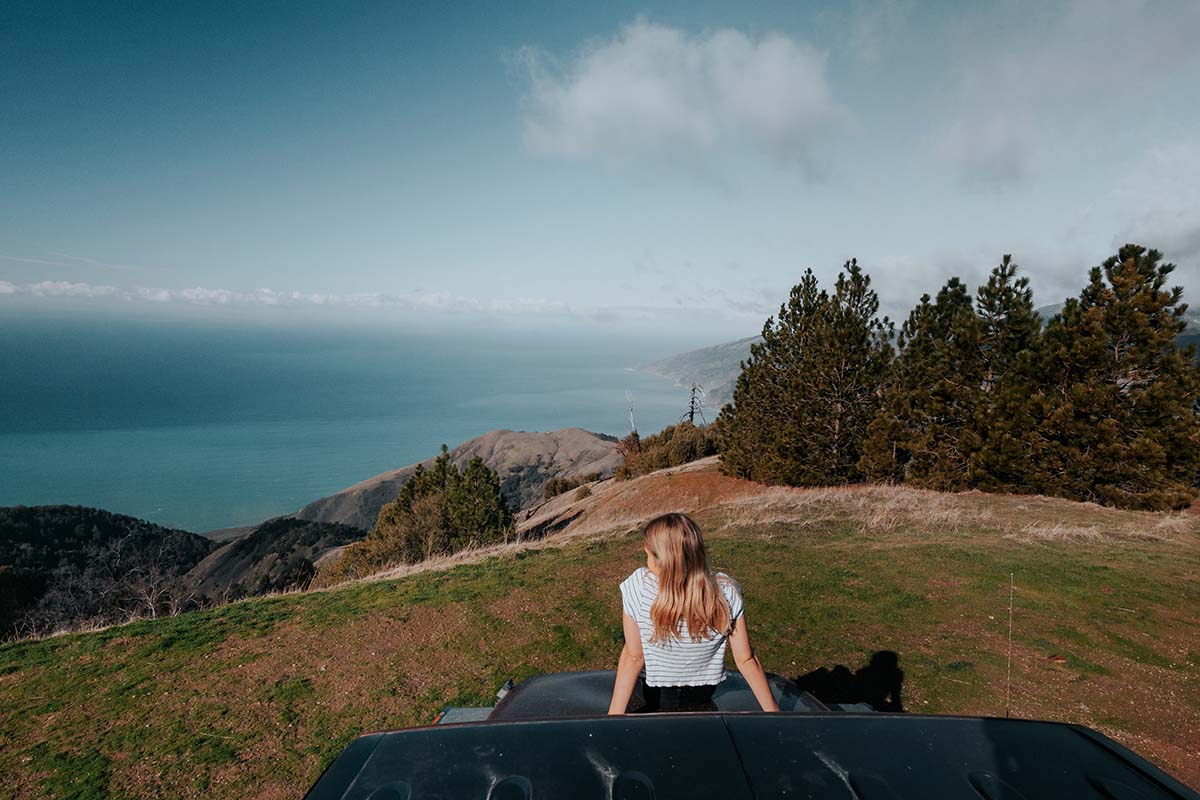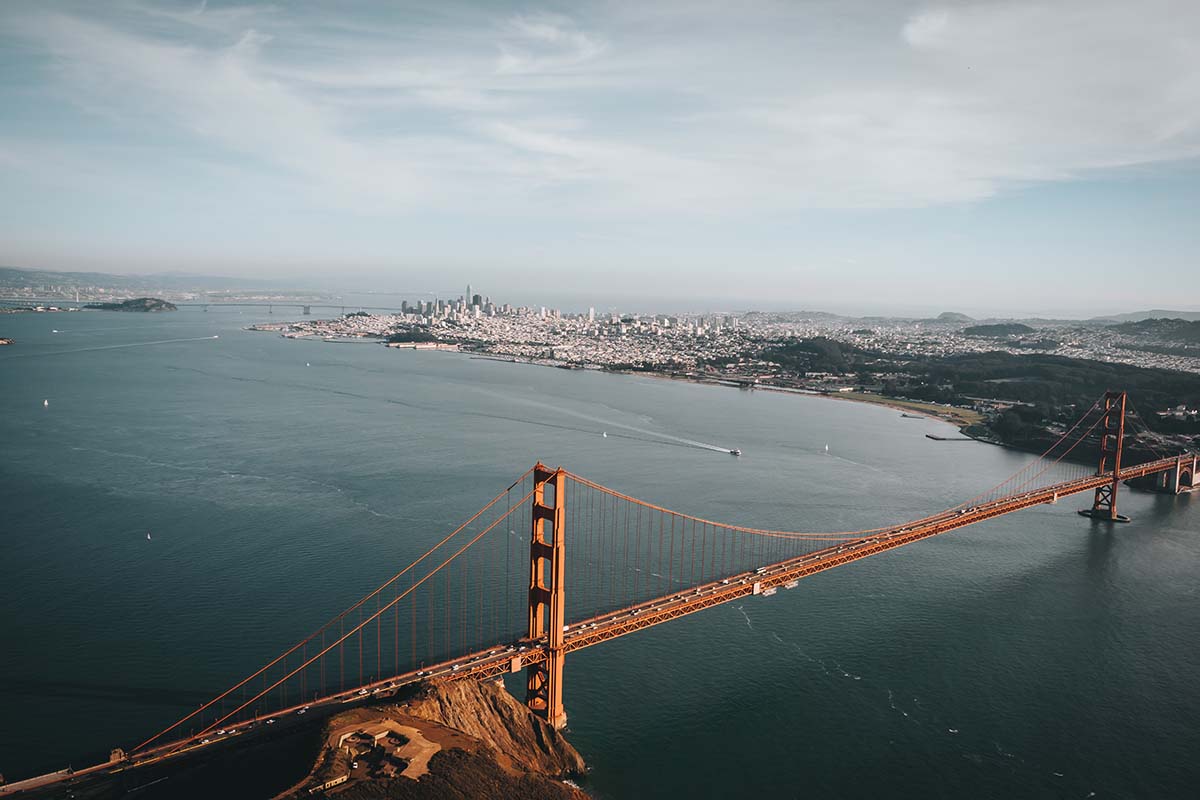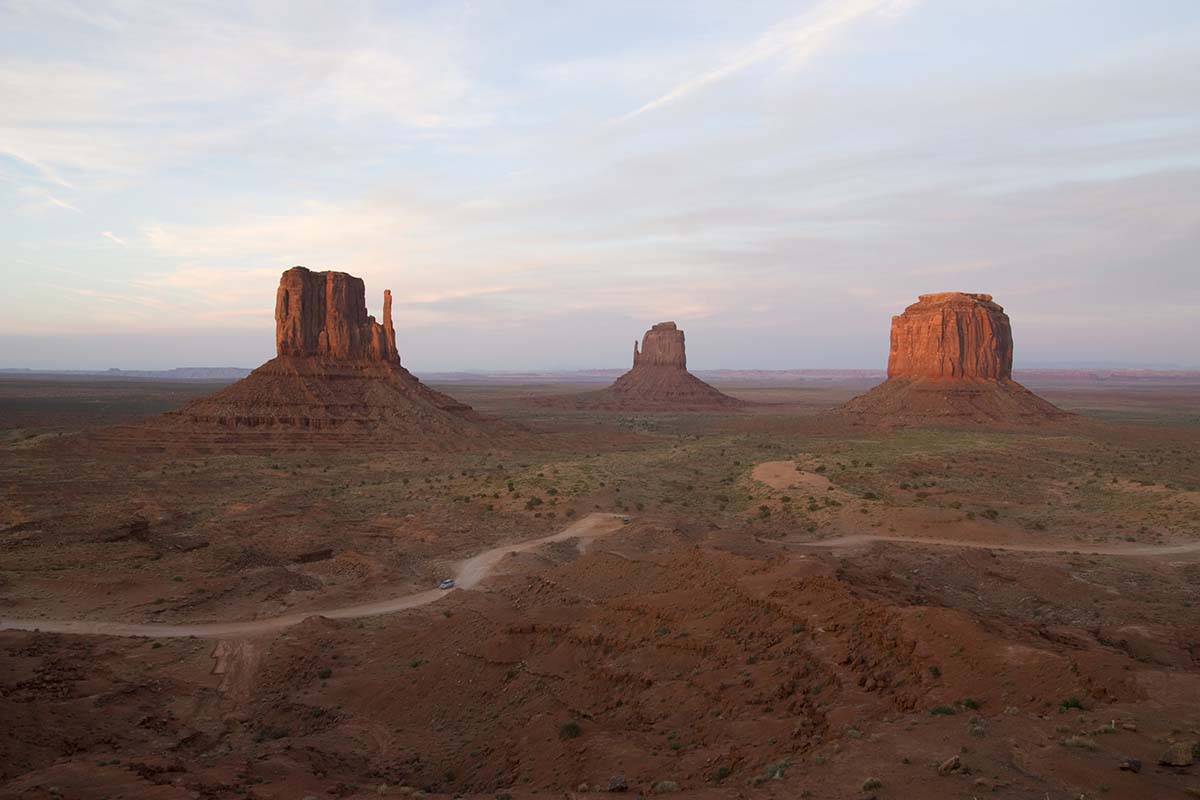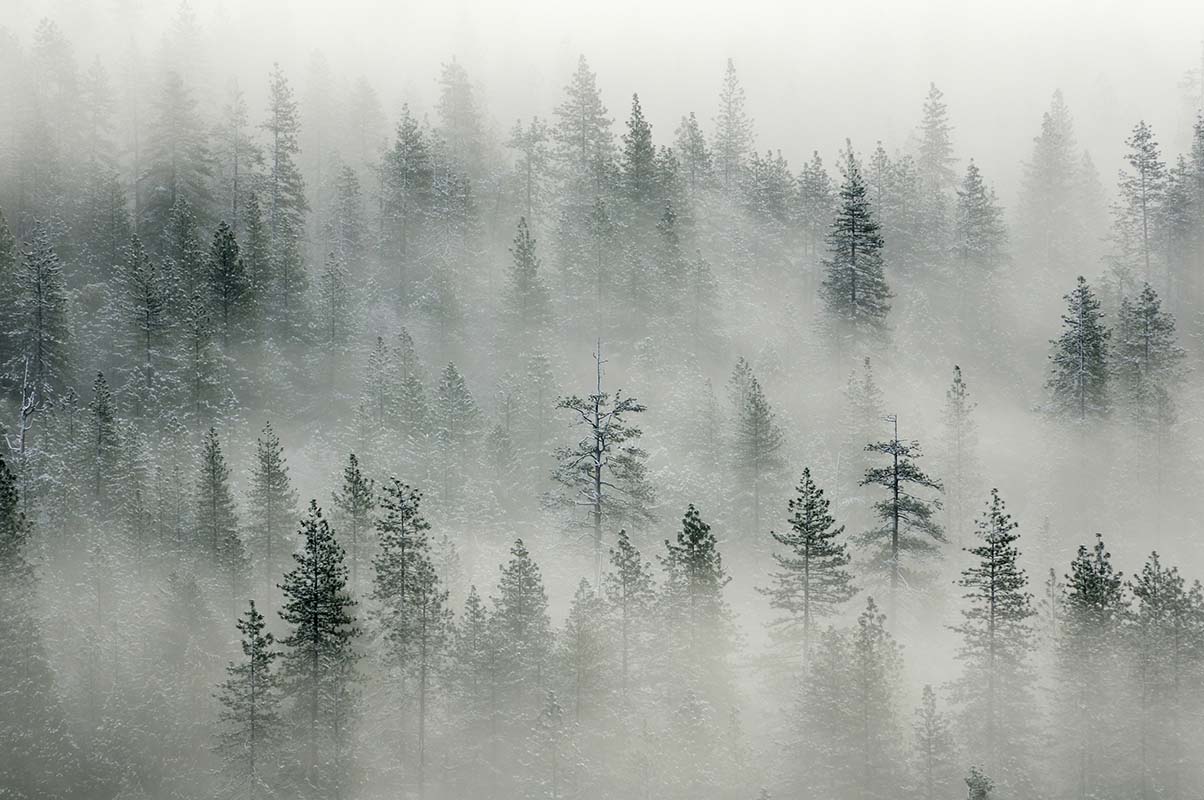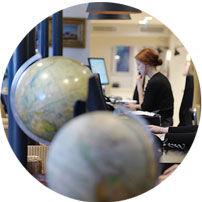 Combine outdoor activities, learning traditional skills and exploring epic scenery in the USA's national parks on this 16-day adventure. Add on a couple of cultural city breaks and some of the most scenic driving routes in the world and your Reconnect in the USA trip has it all.
Route
Everything is 100% tailored to you
DAY 1
You're Going to San Francisco
Your Reconnect in the USA holiday begins today with a direct afternoon flight from London to San Francisco which takes around 11 hours. Due to the time difference, you'll arrive mid-evening local time so you have time to drop your bags at your hotel for the next three nights, and then head out for dinner - our local Concierge can recommend the best places to dine depending on what you fancy after your transatlantic flight.
It's an early start today (which will probably suit any jet lag quite nicely) to take a guided tour of this vibrant city. The privately guided tour will be tailored to your interests, but you can expect to see and learn about both the highlights and hidden secrets of San Francisco. Take a trip to bustling Union Square and the shopping district Downtown before taking the cable car up Nob Hill through Chinatown and Russian Hill, finally clanging its way down Hyde Street to Fisherman's Wharf. Fisherman's Wharf itself is a bustling strip of waterfront with street vendors and museums - a great place to pick up some lunch, and you'll also see the hundreds of California sea lions that hang out at the end of Pier 39. San Francisco has one of the largest Chinese communities in the United States, and more than 80,000 Americans of Chinese descent live in the blocks surrounding Grant Avenue and Stockton Street - San Fran's Chinatown. This area is well worth a visit for both the food and the dozens of knickknack shops for souvenirs. Alternatively, visit the North Beach area, known as Little Italy, which has dozens of Italian restaurants and coffeehouses and a wonderful bohemian atmosphere.
After a full morning and afternoon of exploring, you'll head out this evening to the legendary island of Alcatraz. Having served as a Civil War fort, a military prison and one of the most notorious federal penitentiaries in US history, this historic site is a must-visit on your Reconnect in the USA holiday. Learn about the lives and crimes of the island's inhabitants during its time as a prison, visiting the cells of its most famous residents.
Come evening, head into the city for another taste of the San Francisco foodie scene with a recommendation from our clued-up local Concierge.
DAY 3
Over the Golden Gate Bridge to the Redwood Forest
After breakfast this morning, you'll collect your rental car for an adventure out of the city into the Muir Woods Redwood Forest. Sitting just 30-minutes' drive north out of the city - via the iconic Golden Gate Bridge, no less - this huge park is part of the larger redwood range that spans from the Oregon state border down to Big Sur on the Californian coast. The dominating redwood trees tower high above, impressive in their size and age, but the forest floor is also home to myriad other flora, as well as many insects, mammals and birds, including black-tailed deer, northern spotted owls and winter wrens. There are a limited number of visitors allowed to enter the park each day, so you'll be able to truly reconnect with nature and feel in awe of the sheer scale of the giant redwoods all around you. After exploring this magnificent natural jewel, head back into the city in the afternoon. You'll have the rest of the afternoon to spend as you wish, either exploring some of your favourite parts of San Francisco that you discovered yesterday, or heading out to become acquainted with some new neighbourhoods - our local Concierge can help you with recommendations.
DAY 4
Swap San Francisco for Yosemite National Park
It's a long day of driving today, but the next destination on your Reconnect in the USA holiday is well worth the journey. Leaving San Francisco in the morning, make the five-hour drive to the iconic Yosemite National Park, one of the USA's most famous parks due to its ancient redwood and sequoia treed and rugged landscapes that's dotted with granite cliffs and tumbling waterfalls. Head towards the edge of the park to start a new Reconnect element of your trip - leaning to pan for gold. Starting with a geology lesson (far more fun than it sounds), you'll acquire a knowledge of how and why gold travels downstream, about the Gold Rush era that dominated the region, and how to pan for gold yourself (although we can't guarantee you'll head home as rich as Croesus).
After (hopefully) striking gold, head to a lovely nearby lodge where you can settle in and relax for the rest of the evening.
DAY 5
Roam with a Ranger in Yosemite
Although you got a flavour for Yosemite yesterday, today is your chance to really get to know it. You'll be collected from your lodge in the morning to meet your expert guide - an ex-park ranger, no less. Depending on how far you want to hike and how challenging you'd like it to be, your guide will tailor your trail to suit you, but you can expect amazing views and plenty of learning about the flora and fauna as you go. Your ranger will be able to teach you and help you reconnect with the nature that surrounds you, even sharing some wilderness survival tips and tricks along the way. After a few hours hiking (and potentially a quick dip in the river, depending on which route you chose and how brave you're feeling), you'll arrive at your camp where you'll be staying tonight, surrounded by nature. Everything will have been set up for you ahead of time so that you can quickly settle into camp life, and you'll be able to enjoy dinner beneath the towering trees and stars this evening. If you didn't already feel connected enough to nature after your full day with a ranger in the park, your wild camping experience tonight will certainly seal the deal (and you can even try out some of those wilderness survival tips that you picked up during your hike).
DAY 6
Yosemite is Yours to Explore
After being transferred back to your lodge after a night in the park, you have the rest of the today to yourself to spend as you wish. Given walking is a great way to reconnect, you might want to leave the car behind and take the Yosemite shuttle around the park (better for the environment and saves you waiting in queues of traffic). Then choose from a range of trails to hike, ranging from easy strolls through valleys rich with plant life to challenging treks climbing to lofty elevations.
DAY 7
Mountain Biking in Mammoth
It's time for the next destination on your Reconnect in the USA holiday today as you leave early this morning for the three-hour drive to Mammoth, via the Tioga Pass which traverses the park. The Tioga Pass is only open for a few months of the year and the opening is weather-dependent, but it tends to open around April or May and stay open until November. This three-hour journey is incredibly scenic and gives you a brand-new perspective on Yosemite. Arrive in time for lunch and to stretch your legs before you hop on a mountain bike for a gentle, mile-and-a-half downhill ride through a scenic section of the park.
After a day of outdoor adventures, head towards your home for the night to rest, relax and refuel.
DAY 8
Drive to Death Valley National Park
It's time for a new national park today as you make the four-hour drive to Death Valley. Spring and Autumn are the best times to visit Death Valley to avoid the high temperatures of July and August (when the temperatures reach over 50 degrees Celsius), but it's still manageable even in the height of summer! Made up of over three million acres of wilderness and hundred of miles of backcountry roads, this is a playground for those who want to really get away from the hustle and bustle of city life and immerse themselves in nature. There are lots of trails to explore and amazing scenery to enjoy both on foot and by road and mountain bike, and we can help you plan your day if you'd like. After a full day of reconnecting with nature in the valley, you'll be spending the night here tonight to make the most of the incredible stargazing opportunities. Each year there is a Dark Sky Festival, but you can almost guarantee exceptional views of the night sky year-round, so after a delicious supper, we'll arrange for another reconnect experience - the chance to look up at the vast blanket of stars above you with an astronomy expert for a stargazing session where you learn the basics of navigating by the stars.
DAY 9
Swap the Stars for The Strip
Today offers up quite the change of pace on your Reconnect in the USA holiday as you drive from Death Valley across the California/Nevada state border to Las Vegas. During the two-hour drive, swap mountains and lofty trees turn for skyscrapers and neon signs as you slide into Sin City. You'll be spending two nights here, so you'll have plenty of time to see the sights and make the most of this buzzing city in the middle of the desert. We can recommend an array of activities to do while you're here, but some of the highlights include the Titanic artefacts exhibit at the Luxor, the fine art gallery at the Bellagio, plus the Neon Museum. There are innumerable places to enjoy dinner, depending on what you fancy, and, as this is Vegas we can also book you tickets for one of the many shows such as the world-famous Cirque du Soleil.
DAY 10
Let Loose in Las Vegas
Today is yours to spend as you wish, whether that's lazing at your hotel and indulging in some downtime or heading out to the streets of Vegas to see the bright lights again. Seeing as you're so close to the Grand Canyon, we can organise an optional helicopter trip to see this bucket list destination today. Although the drive takes four hours one way, a quick 45-minute flight means that you can have more time to see and appreciate the sheer scale of the canyon.
DAY 11
Drive to Zion National Park, Utah
Today you'll want to rise early and grab the quickest of breakfast to enjoy as much time as possible in your next destination - Zion National Park. A three-hour from Las Vegas sees you to Springdale, the gateway to the park and the town you'll be staying in tonight. After lunch at the hotel, you have the rest of the day to hike in Zion, one of the most beautiful national parks in the USA. There are various trails depending on how challenging you'd like the day to be, but whichever way you go, you'll find epic scenery of dramatic red cliffs cascading into valleys of lush green. Given that this is a Reconnect in the USA trip, we will recommend the trails to take to see some of Zion's famous petroglyphs (rock art), created over the centuries by various indigenous peoples such as the Anasazis, and representing geometric patterns and animals.
Come evening, enjoy a well-earned dinner and rest in Springdale, and have an early night ahead of tomorrow's drive and adventure.
DAY 12
Make Your Way to Monument Valley
Today is yet another bucket list-ticking day on your Reconnect in the USA holiday. Leaving Springdale behind after a hearty breakfast, make the four-hour drive through some of the best scenery in Utah and Arizona, passing through Zion National Park as well as Vermilion Cliffs National Monument and Grand Staircase National Monument. You have almost the entire day to enjoy this scenic drive but be sure to arrive at your lodge in the heart of Monument Valley in time for your sunset tour. The striking landscape here will likely be a familiar site as it's so distinctive it has been used as the backdrop to numerous Western films. Watching as the sunset casts light and colour around the vast flat valley with its protruding buttes (flat-topped and steep-sided hills), in particular the famous Mittens, is something that has to be seen to be believed.
DAY 13
Off the Beaten Path in Monument Valley
You'll have the privilege of exploring Monument Valley today with an expert local Navajo guide who will tailor-make your tour to suit you. Going beyond the tourist-trodden path, your experienced guide will be able to open up the secrets of the region, learning about the land and the Navajo people who call it home. After a full day of exploring, getting back to basics and being at one with the land, head back to your lodge for supper and a rest ahead of your last full day tomorrow.
DAY 14
Depart the Valley for Phoenix
It's another day of scenic drives today, the last day on your Reconnect in the USA holiday. The drive from Monument Valley to the Arizonian city of Phoenix takes around five hours, but you'll want to give yourself ample time to make numerous stops along the way. Coconino National Forest makes an excellent stop to stretch your legs on the journey, with some amazing hiking trails such as the route to Fossil Creek, where 20,000 gallons a minute emerge from a series of springs at the bottom of a 1,600ft canyon. Be sure to arrive with plenty of time to drop off your bags at your hotel and drive the 50 minutes out to Saguaro Lake in Tonto National Forest. The sunsets here are sensational and witnessing the spectacle for yourself will make a find ending for your Reconnect adventure. Either drive to a lookout point (our Concierge can recommend the best spots) or book yourself a seat on the historic Desert Bell boat to watch the day turn to night and paint the sky with colours. Be sure to keep an eye out to spot the silhouettes of local wildlife enjoying the scenery, too, as coyotes, bobcats and bighorn sheep live on the slopes of the surrounding hills.
Suitably wowed, head back to your city hotel for your last night in the USA.
DAY 15
Free Time in Phoenix
Your flight home doesn't leave until later this evening, so you have a good portion of the day to spend as you wish. You might want to simply stroll the streets of Phoenix itself, or head out to the Wild West town of Tombstone, just under a three-hour drive away. As one of the last remaining Wild West towns - with the tagline that the the town is 'too tough to die' - this characterful destination is a must for culture and history lovers, and pairs perfectly with a visit to the Mission at San Xavier del Bac, a historic Catholic mission near the city of Tucson - an easy stop off between Phoenix and Tombstone. However you decide to spend your day, head towards Phoenix airport in plenty of time to drop off your car before you board your overnight ten-and-a-half-hour flight back home.
Your flight arrives back in London at breakfast time this morning.
A Rough Idea of Price
Dependent on season, accommodation and activities
The cost for this trip is from £4,400 per person. The final cost of the trip depends on the way we tailor it especially for you. The final cost varies according to several factors, which include the level of service, length of trip and advance booking time. The exact price will be provided on your personalised quote.
A few of the benefits of travelling with us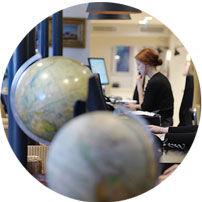 Get in touch
Our experts have the inside track on the destinations they sell and will tailor-make a holiday to your unique requirements.
Contact one of our USA specialists