Thailand Highlights
Who: Couples and Solo Travellers
From £2,840pp
Thailand is one of our favourite destinations, offering a great variety of experiences and some of the most diverse landscapes in the world. From the bustling streets of Bangkok to the rural culture capital of Chiang Mai and finally to the soft sandy stretches on the Koh Samui coast, this two-week itinerary gives you a taste of the very best highlights.
Itinerary at a Glance:
Experience the beauty of Bangkok after dark with a private guided temple tour and dinner overlooking the river
Wash and interact with elephants in a rescue sanctuary
Cruise around the turquoise waters of Angthong National Marine Park on a private speed boat cruise
Why Book with Original Travel?
Just a few of the extra touches that come as standard on an Original Travel holiday...
See More
All of the holidays we create are completely tailor-made to you
This sample itinerary is intended to give you a flavour of what we can do
Day 1:

International Flight
Your adventure begins with an overnight international flight to Bangkok, which takes just over 11 hours.
Day 2:

Arrive and Explore
Arriving into Bangkok in the early morning, the trip begins in style as you are greeted at the gate by your driver. From there you'll be escorted to your hotel and can relax for the day.
Bangkok really comes to life at night and so we have arranged a private dining and touring experience which lets you see some of the highlights. Starting at the Chao Phraya riverside you'll enjoy cocktails overlooking the water and can then make the short walk to your dinner spot, which has the illuminated Wat Arun as its backdrop, and tuck into a delicious first Thai dinner.
Afterwards you'll be able to take a tour of the illuminated Wat Pho grounds while they are unusually quiet, and then contrast that with the noise and hustle and bustle of the Khao San Road area - a famous haunt filled with lively street entertainment and bars.
For your first full day in Bangkok we have planned a fun-packed day enjoying some of the city's most iconic sites and experiences, utilising an array of transport methods to get under the skin of what makes the city tick.
A guide will meet you at your hotel and take you on an early morning walk through Lumpini Park. The day's adventure then really begins with a ride on the elevated Skytrain to the Chao Phraya River, where you'll board a public boat, to cruise along the river and enjoy views of the city's skyline and the stilted riverside houses as they pass by. The boat will stop near the iconic Wat Pho and Grand Palace and you will then spend the remainder of the morning exploring these two remarkable sites, learning about the country's regal history and deep-rooted spiritual traditions.
After visiting the palace, hop aboard a tuk tuk (motorised rickshaw) and zip through quieter city streets to visit a family-run workshop that produces monks' alms bowls. See the artisans at work and learn about the monks' daily alms collections. The last leg of your tour then takes you on a 'bus boat' through the city's quiet canals to the Jim Thompson House, and then back to your hotel via the Skytrain.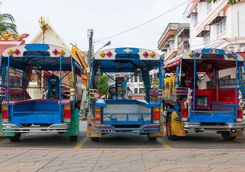 Famous for offering fresh, flavourful and downright delicious cuisine, Thailand is a great destination for foodies. This morning learn to make some of the classic dishes yourself with a guided market visit and cooking lesson.
With a guide to help you navigate the bustling market you'll purchase the ingredients needed for your lunch, all the while taking in the vibrant colours and sensational smells coming from every stall. Then, head to our recommended cooking school where you'll be given a brief introduction to Thai cooking and a demonstration of what you'll be making. With recipes and the experts at hand you're then free to get stuck in and see what you can do. Once everything is finished and piping hot, take your dishes into the restaurant and enjoy, and don't worry if yours didn't turn out quite as well as hoped, the chefs will have plenty of theirs to share around.
Feeling full and suitably skilled, the rest of the afternoon is yours to do as you please. Whether temple wandering, bar hopping or eating even more.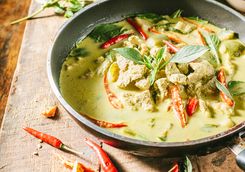 This morning you'll be heading north to Chiang Mai. Make the journey to the airport with your driver, and then take your short flight. When you arrive you'll be taken to drop your bags off at the new hotel and can then head out to explore the highlands with a guide.
Enjoy the serenity of the mountains and take in the lush views; you might even spot some locals wandering around with traditional colourful Lanna umbrellas.
When your legs start to tire, stop for a specially prepared English style afternoon tea. Breathe in the fresh air of the highlands while indulging in tea-time favourites such as sandwiches, canapés, cookies and cakes. Then, walk off the treats with the stroll back to your hotel in time for a freshen up and dinner.
Day 6:

Chiang Mai Elephants
Over recent years elephants have become somewhat synonymous with Thailand, and getting to see them up close in a Thai rescue centre is something we often get asked to organise.
Though we are always very careful to make sure we recommend genuine rescue centres where the elephants are being treated well, we can vouch that spending a day visiting one is a really amazing experience. Today you'll visit Elephant Nature Park in the Mae Taeng Valley, which was established over 20 years ago and is one of our favourites.
After meeting the park staff and learning about what brought the elephants here, you will have time to wander through the park and meet the elephants themselves. They are allowed to roam completely free in the park but have become accustomed to the daily feeding routines so are likely to be around. Join the staff to feed and bathe these playful gentle giants, taking plenty of photographs of them squirting water all over you as you do.
Day 7:

Chiang Mai Temples
This morning you will be met by a guide after breakfast for a half day tour of the many beautiful temples around Chiang Mai.
Start with a visit to the town centre, admiring Tapae Gate and the crumbling city walls as your guide gives you the lowdown on the city's past. Then hop on a pedal-powered trishaw to explore the old town where you'll stop at the Three Kings Monument on the way to Wat Phra Singh, one of the city's most revered temples. See the various buildings in the compound, admire its ancient Buddha image and hear about its 700-year history. Then continue foot to Wat Chedi Luang, another impressive monument that once housed the country's famed Emerald Buddha. Finally, pass through Chiang Mai's silver district and see the skilled silversmiths at work before visiting Wat Sri Suphan, a unique temple made from ornate silver.
With your fill of temple touring, head back to your hotel for an afternoon spent relaxing by the pool.
After bustling Bangkok and cultural Chiang Mai, this highlights itinerary is only lacking one essential element, some beach time. Step up coastal Koh Samui. Get there via a short direct flight to Koh Samui airport, and then a private transfer to your hotel.
This evening, soak up the beauty of Thailand's tropical south with a sunset cruise aboard The Red Baron, a traditional wooden junk boat.
Set off from the sandy shores and watch the palms swaying on the beach from afar as you cruise out into the turquoise ocean. Cruise toward Koh Som, a small island marked by white sands and dramatic limestone formations, while relaxing on deck. Then as the evening progresses, watch the sky change colours as the sun begins to dip low into the sky.
While you admire the uninterrupted views a buffet dinner will be served on deck, so that you can top off a fantastic evening with some great food and a drink or two before you sail back to Koh Samui.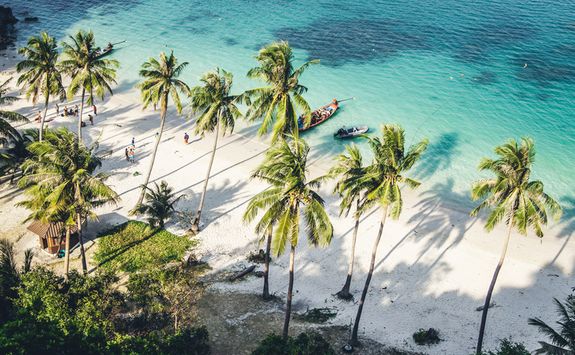 After a busy trip so far we thought it was about time you had a good few days to simply stop and relax and of course enjoy your tropical beach surroundings.
Sunbathe, swim or hit the spa for a rejuvenating treatment with the sound of the crashing waves in the background. Then, feast on as much fresh seafood and tangy Thai cuisine as you can manage, with a cocktail or three thrown in for good measure.
All of the hotels we work with have a great range of sport and watersport facilities to enjoy too, so for those wanting to stay a little more active there is plenty to do.
Day 12:

Angthong Marine Park
For your last day head away from the mainland to explore the fairy tale landscapes of Angthong National Marine Park. You'll be traveling by private speedboat to cover more ground and find the hidden corners of the park.
During the day you'll pass several uninhabited islands, stopping at Koh Tao first. Jump overboard with a snorkel to discover an incredible underwater world teeming with exotic fish and corals, and then go ashore for a hike up one of the island's limestone hills. Your hard work will be rewarded with spectacular views of the marine parks emerald lakes and outlying islands, so sit, soak up the beautiful scenery, and snap some photos before you head back to the boat.
Lunch is served at the next island, Koh Pha Luay, and consists of a buffet of Thai dishes which can be enjoyed in the tropical paradise surroundings. With your fill of food you can then spend the rest of the afternoon as you please. Sunbathe, swim and grab a kayak for a short paddle, or else simply enjoy the tranquillity of life away from anyone else. Back on the boat you'll return to Koh Samui just in time to watch the sun set.
Alas the time has finally come, home time. Meet your driver at the hotel and begin the journey with the short drive to the airport, from where you can catch an hour-long flight to Bangkok and connect to the 12-hour lunchtime flight to London, which arrives in the evening.
All of the holidays we create are completely tailor-made to you
This sample itinerary is intended to give you a flavour of what we can do
A Rough Idea of Price
While all of our holidays are completely tailor-made and prices will vary based on things like time of year and level of accommodation, we want to give you as good an idea of how much this itinerary will cost. The below prices are based on two people sharing.
This Itinerary
If you would like to book the itinerary mentioned above, with economy flights, during mid-season and staying in our preferred room category at our preferred hotels.
Bare Necessities
If you would like to pare back the above itinerary by travelling at non-peak times, staying in a standard room and removing some or all of the guided activities.
Bells & Whistles
If you are looking for something extra special, we can discuss with you upgrading your accommodation, flights or activities.
Frances is our expert for this itinerary and, as a seasoned traveller, has the inside track on the most memorable adventures.