The Northern Fjords
Who: Couples and Families
From £3,050pp
Ålesund and the Northern Fjords Road Trip
Fall in love with the wild beauty of Norway on this week-long Northern Fjord road trip. Get back to nature and soak up the majestic landscape with a guided hike through the mountains, an adrenaline-fuelled RIB-boat adventure, a cruise across the fjords and a day cycling around beautiful Art Nouveau Ålesund.
Itinerary at a Glance:
Explore the beauty of the Sunmøre Alps on a guided hike
Get close to nature on an exhilarating Wildlife RIB safari to Runde Bird Sanctuary
Sail across the crystal waters of Hjørundfjord on a magical private cruise
Why Book with Original Travel?
Just a few of the extra touches that come as standard on an Original Travel holiday...
See More
All of the holidays we create are completely tailor-made to you
This sample itinerary is intended to give you a flavour of what we can do
Day 1:

Arriving in Norway
It's time to start your northern fjords road trip. Catch a flight from the UK to Oslo in the morning - this usually takes just over two hours.
Once you land, you need to make your connecting domestic flight to Ålesund, which takes another hour. After collecting your bags, it's time to pick up your hire car, which will be ready and waiting for you.
Drive to your hotel - your base for two nights - check in and freshen up before dinner.
You'll be dining at the hotel's restaurant, Apotekergata No. 5, which offers an excellent four-course tasting menu using the very best local ingredients. An experience in itself and the very best introduction to Norwegian cuisine.
Day 2:

Exploring Adventurous Ålesund
You've got the whole morning to explore Ålesund. Known as the 'Adventure Capital of the Fjords', it's really one of the best places to visit in Norway. There's plenty to discover on foot or, if you prefer, you can borrow one of the hotel's bikes.
The town is built across several islands, stretching out into the sea and the setting is as picturesque as it sounds. What makes Ålesund so distinctive is its unique Art Nouveau architecture - it was rebuilt in this style after a fire destroyed the town in 1904. Find out more about the town's history in the Ålesund Art Nouveau centre, where the 'time machine' takes you back to the time of the fire, through clever audio and visual effects.
If you're feeling energetic, walk up the 418 steps (or cheat and drive) to the Aksla viewpoint that sits above the town centre. You'll be rewarded with incredible panoramic views across the town and surrounding landscape. There's a café at the top, where you can enjoy a well-deserved coffee.
If shopping is your thing, there's plenty of beautiful boutique shops to browse in, or you can hop on the express boat to the Devold Factory, which is home to several outdoorsy shops.
Head back to the hotel in the afternoon, where you'll be met by a guide to take you on an exhilarating Wildlife RIB Safari (available from June 16th to August 18th). First, you'll be kitted out in waterproofs and life jackets before you strap in to the high-speed Rigid-hulled Inflatable Boat (RIB) for an hour-long, action-packed sea safari to Runde Bird Sanctuary, where you'll visit a seal colony and hopefully spot eagles and puffins along the way. Your guide will share their expert knowledge about the history of the area and the local wildlife along the way. Great fun.
After that, it's time to return to your hotel, warm up and relax for the evening.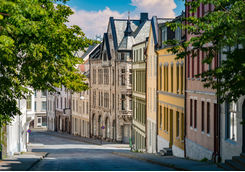 Day 3:

Back to Nature in Hjørundfjord
After breakfast at your hotel, it's time to hit the road in your hire car to properly start your northern fjords road trip. Make your way over from Ålesund, through the Sunmøre Alps - with to-die-for views across the alpine mountain and fjord landscape - to Hotel Union Øye. It's a beautiful two-hour drive that takes you through the heart of the Sunmøre Alps, along Hjørundfjordand the Queen's Route through the Norangsdalen Valley - one of the narrowest valleys in Norway, boasting some spectacular scenery (think crystal clear lakes, snow-topped mountains and winding roads). It's definitely one of the best ways to see the Norwegian fjords.
In the afternoon, once you've arrived at your hotel for the night, there's the chance to explore Hjørundfjord in all its untouched glory. We've organised a two-hour kayak rental, so you can take to the tranquil water with an experienced guide, to really appreciate the dramatic, rugged landscape. If you're lucky, you might even see some of the local wildlife, including eagles, porpoise and otters.
After your kayak adventure, there's time for you to freshen up before you enjoy a three-course dinner at the hotel's restaurant. Round off your evening in style, with a nightcap by the roaring open fire and a few stories about the hotel's fascinating history and its famous former guests, Sir Arthur Conan Doyle and Kaiser Wilhelm.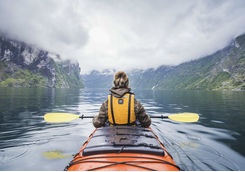 Day 4:

Scenic Self-drive to Storfjord
Start your day with a gentle hike to soak up the hotel's glorious surroundings (you can do this independently or the hotel is happy to offer guided trekking tours with a local guide), before saying goodbye to Hjørundfjord.
Today you'll be driving to Storfjord - a four-hour drive, with plenty to see along the way.
Buckle up and continue your Norway road trip journey back through Norangsdalen Valley. After 30 minutes you'll come to Hellesylt, where you can take the ferry over to Geiranger. This tourist ferry is hands down the most scenic way to arrive in Geiranger, and we'll book in advance as it can get full at busy times. If you can, try and grab seats on the top level and on the right-hand side of the ferry - this is the prime spot for the most incredible views of the waterfalls. The hour-long ferry ride will take you along the narrowest point of the fjord, past magnificent waterfalls that cascade down the sheer, mountain cliffs and scatterings of tiny villages along the shoreline.
Once you've disembarked, it's time for lunch. Westeraas Farm Restaurant is perfect for a casual lunch on the terrace, while you take in the breath-taking views of the fjord and mountains - just make sure you pop into the chocolate shop afterwards, you won't be disappointed. Make your way up to the view point above the village for spectacular views across Geirangerfjord, before heading off on a beautiful hike up a mountain, along sheep tracks, to a hidden waterfall. For those brave - and agile - enough, you can even climb down the cliff and stand behind the waterfall but be aware it can be very slippery and you should be extra careful.
Then, it's back in the car for a two-hour drive to Storfjord. However, if you really love being behind the wheel and fancy making a full day of it (when will you be on a northern fjords road trip again, after all…) you can drive via the famous Trollstigen (The Trolls Road) - a twisty road, carved into the mountain with heart-stopping views. This will add a couple of hours onto your drive, so the choice is entirely yours.
After your long drive, you can check into your luxury boutique hotel - your base for the next three nights - and relax for the evening.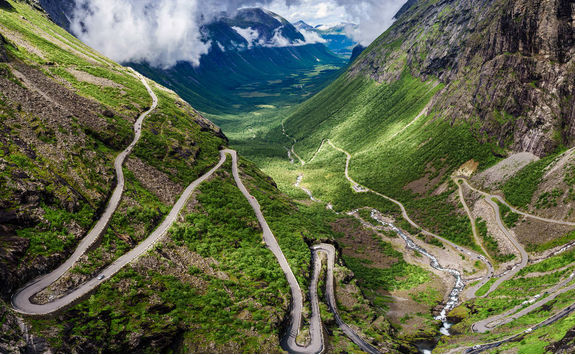 Day 5:

Cruising Across the Fjords
Wake up in this tranquil, Scandinavian wilderness, for an unforgettable day on the fjords.
You will need to make your own way to the bay - it's a 15-minute walk from the hotel, or a five-minute drive, and your concierge will be able to let you know the best route, however you decide to get there. Don't forget to request a packed lunch from the hotel in advance, to enjoy on the boat.
Our captain will greet you at the bay and get you all set for a day on the fjord. You'll head off the beaten track and really get close to nature, on your journey through Hjørundfjord, one of the most beautiful and secluded fjords in Norway. On your private cruise you'll be immersed in the wild beauty of Norway, surrounded by majestic mountain peaks rising from the narrow fjord, picturesque waterfalls and untouched nature. As you sail, our captain will entertain you with stories about the landscape and wildlife, as well as giving you time to simply sit back and soak up the tranquillity and awe-inspiring beauty of your surroundings.
Once you've disembarked, it's back to the hotel for your evening meal.
Day 6:

Hiking in the Glorious Sunmøre Alps
Fill up with a hearty breakfast at the hotel this morning, before putting on your walking boots for a day of hiking.
Our guide will meet you in the hotel reception and together you'll decide what the best hiking route for the day will be, depending on the weather and your preferences. Luckily, the area around the hotel is full of beautiful medium and long hiking trails around the Sunmøre Alps, so you're spoilt for choice. Our guide will be with you every step of the way, making sure you get up and down safely, as well as sharing their expert local knowledge of the area. After making a bonfire, it's time to settle down with your packed lunch - provided by the hotel - for a picnic in the most amazing of natural settings. The best kind of meal, if you ask a local Norwegian.
Once you arrive back at the hotel, you've got the rest of the afternoon to kick back, relax and enjoy your last evening in Norway.
And just like that, your Norway road trip has come to an end. Take in the sights one last time as you make the 30-minute drive back to Ålesund airport in time to drop off your hire car and catch your domestic flight back to Oslo. Here, you'll transfer onto your international flight home to the UK - a flight that usually takes just under two and a half hours.
All of the holidays we create are completely tailor-made to you
This sample itinerary is intended to give you a flavour of what we can do
A Rough Idea of Price
While all of our holidays are completely tailor-made and prices will vary based on things like time of year and level of accommodation, we want to give you as good an idea of how much this itinerary will cost. The below prices are based on two people sharing.
This Itinerary
If you would like to book the itinerary mentioned above, with economy flights, during mid-season and staying in our preferred room category at our preferred hotels.
Bare Necessities
If you would like to pare back the above itinerary by travelling at non-peak times, staying in a standard room and removing some or all of the guided activities.
Bells & Whistles
If you are looking for something extra special, we can discuss with you upgrading your accommodation, flights or activities.
Kate L and Charlotte H are our experts for this itinerary and as seasoned travellers they have the inside track on the most memorable adventures.