This morning you will discover why Jodhpur is known as the 'Blue City' on a private heritage walking tour of the beautiful blue painted part of the city.
Start your guided exploration from the famous Clock Tower Bazaar, before delving deeper into the sky blue painted alleyways of the Blue City to see exquisitely carved havelis (merchant's mansions) and hidden markets. This part of the city was once home to the Brahmin caste, the highest echelon of traditional Hindu society, who painted their houses a distinctive blue. You will wander through residential and commercial areas with your guide, who can introduce you to traditional swordsmiths, perfume makers and tailors making the city's sartorial signature - jodhpurs. You will also visit the Kishanji Temple, dedicated to Lord Krishna, where you will find many garland makers and sweet shops.
After lunch, your guide will take you to the imposing Mehrangarh Fort, which dominates the city skyline. Learn about the fort's fascinating past, hear about the impressive restoration project that is underway and visit one of the finest museums in Rajasthan, within the fort's mighty walls. From this wonderful vantage point you can also see the wider effect of the Brahmin exterior design aesthetic, with a large swathe of the city a vivid blue colour in an otherwise dusty brown landscape. It's a beautiful spectacle, particularly as the sun sets.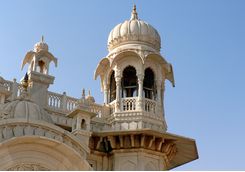 This evening, after a rest and change, why not venture out and try one of the fabulous restaurants, such as Riahala, that we recommend in our detailed Rajasthan Dossier? (If you do try Riahala, and have the constitution for a hot curry, go for the delicious local speciality lal maas and daal!)