Itinerary Highlights
Old trading posts, temple towns, palaces: the cultural richness of Tamil Nadu
Your stylish refuge on a private island in the Andaman Sea, for a luxurious Robinson Crusoe experience
Pondicherry accompanied by a local guide, puja ceremony in Madurai, yoga session at the temple in Tanjore: all planned
All our usual additional services are included, such as our local Concierge and fast-track airport services
Contact one of our India specialists + 44 (0) 20 3958 6120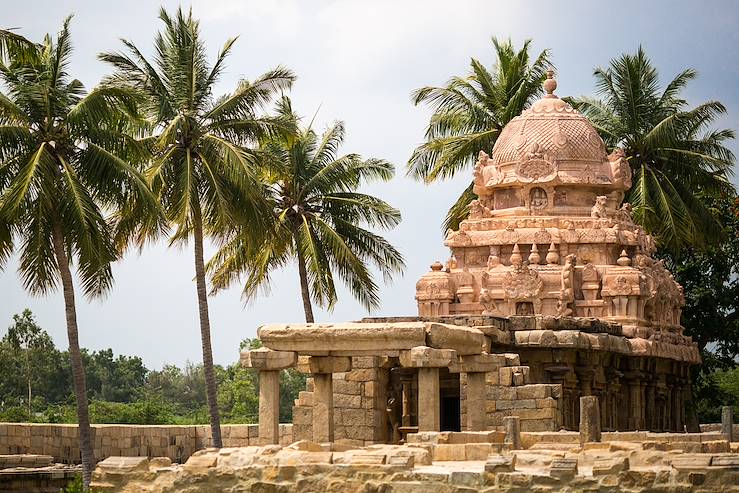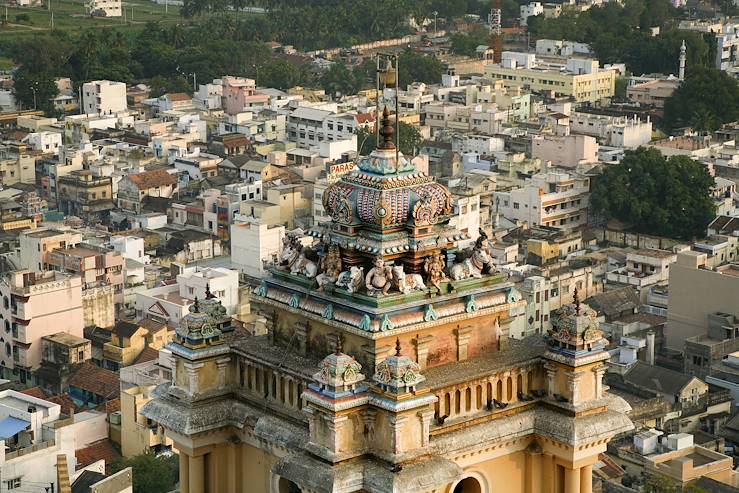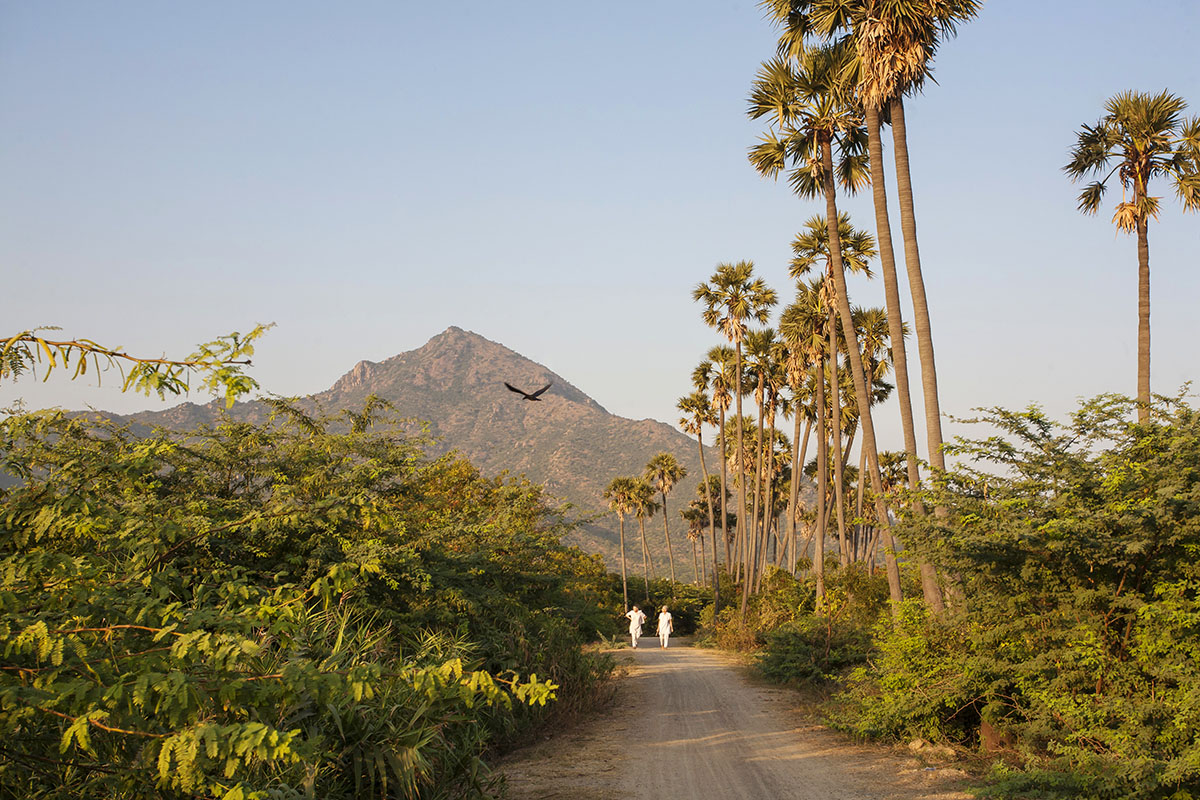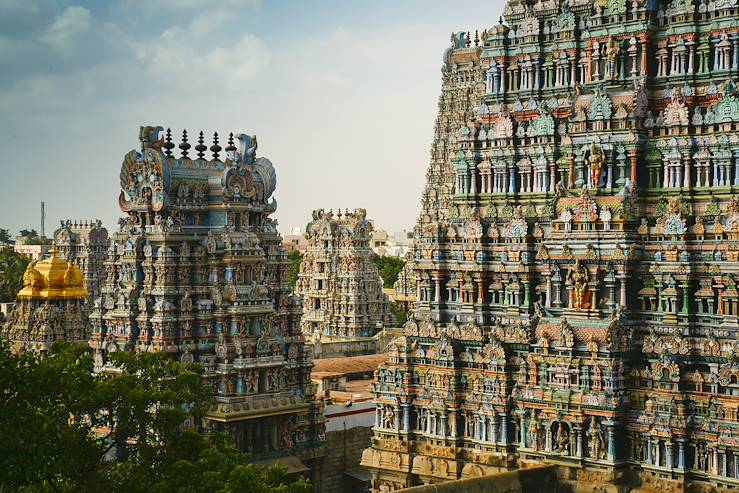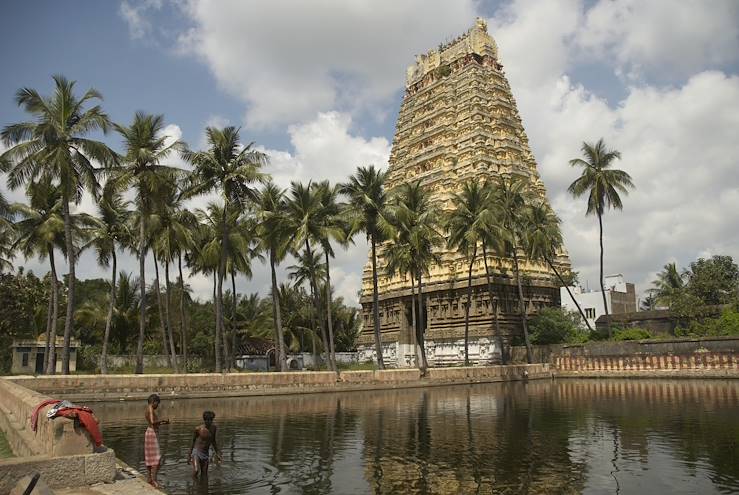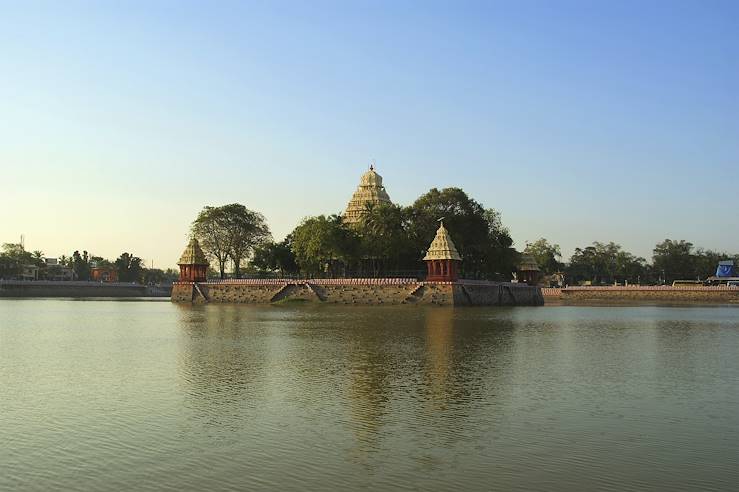 Tamil Nadu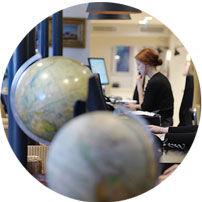 Upon arrival to the village of
Mahabalipuram
you'll find that it's a supremely relaxing place; a laidback village with a sandy beach, and two temples standing on the beach like two big sandcastles. Next stop,
Pondicherry
. As an old French trading post, Pondicherry still has a distinctly French vibe evident most in its architecture. 'Pondi' is now a trendy setting for smart cafes and galleries; a city whose past and present you'll explore on a tour with a local guide. Later Included in the itinerary you'll visit
Auroville
, founded in 1968 as a utopia - 'a universal city where men and women from all countries could live in peace'. You'll also be visiting the temple cities of
Trichy
,
Tanjore
,
and Madurai where you can see the iconic gopurams - temple entrance towers adorned with colourful engravings and statuettes. Life enters the temples from all sides: men take a nap, others chat, smoking beedis. Further on, you might come across a balloon seller and women offering jasmine and coconut. Children play in the shade of the columns. Settle into the pulse of temple life with a yoga session or a puja ceremony. Then it's on to the Chettinad region, with its rice paddies and lush fields, which was shaped by the caste of bankers called the chettiars. Here you'll find long lost splendour in palatial dwellings, comprising materials like teak from Myanmar, marble from Italy, ceramics from Japan and crystal from Belgium.


The Andaman Islands, the new Eden

Leaving inland India behind, head for the Andaman Sea. A flight from Madras to Port Blair and a catamaran crossing to Havelock: the end of the world. Havelock island is everything you imagine a lush tropical island in the middle of nowhere to be; white sand beaches fringed by swaying palms and large rocks, and lapped by soft waves from the big blue. Spend a few days just relaxing on the beach and paddling in the sea. If you get itchy feet, there are reefs and mangroves to be explored. Or head inland and do some walking in the forest.
Your accommodation is a true tropical refuge, designed by a couple of Londoners - one a chef, the other a designer. Going against the trend, they chose to move away from the beach and to create a cocoon in the forest, on the slope of a banana grove. A hotel built using the traditional techniques of South India, dressed in smooth concrete and exotic woods, furnished with dyed furniture. Seven bedrooms, including a private villa complete with day beds and a private pool, a bathroom opening onto the jungle, and even a treehouse. The hotel also has a beautiful swimming pool with a floral canopy, and a tasty menu to complete the luxury hotel set.
Route
Everything is 100% tailored to you
Overnight flight, arriving the next day.

DAY 2
Madras - Mahabalipuram
Meet your driver and head to Mahabalipuram, where you'll spend the night in a beachfront cottage surrounded by lush vegetation.
Included in the itinerary - A visit to Kanchipuram, one of the seven holy cities of India, the former capital of the great Dravidian kingdoms (Pallava, Chola, etc.). Appropriately named as the city of 1,000 temples, it still has 125 and attracts many pilgrims. The two main currents of Hinduism – Shivaism and Vishnuism – are represented. You will visit Kailasantha, Sri Ekambaranathar and Devarajaswami temples.
DAY 3
Mahabalipuram - Pondicherry
Included in the itinerary - A private trip to Mahabalipuram, from where, in the seventh century, Indian civilisation was exported to the Far East, from Ceylon to Java. The Five Ratha - small monolithic temples - are fine examples of the religious architecture of the time. The eighth century Shoreline Temple is one of the oldest built shrines in southern India. But the most impressive monument is the large pink granite bas-relief representing the descent of the heavenly Ganges to earth.
Optional - Bicycles to see the temples on two wheels.
You'll be staying for two nights in Pondicherry in the heart of the city, in a beautifully restored 18th-century residence, one of the city's architectural gems.
Pondicherry: on entering the city and trying to get your bearings, you'll first notice the difference between the familiar order of the former colonial part of the city and the happy-go-lucky disorder of the Tamil part of the city.
Included in the itinerary - A stroll with a local Pondicherry guide You'll stroll through the former French colonial city: sleepy squares where pink laurels grow; villas with wooden louver windows; churches built by missionaries; and French street names - 'rue Saint-Louis', 'rue de la Marine'. This city has a charming old world charm. You walk through the Tamil city, its streets lined with traditional houses with colonnades and atrium; its market, stalls overflowing with crabs, lobsters and groupers, coconuts and cashews. Your guide will also take you to visit the ashram (monastery) of the Hindu philosopher Sri Aurobindo, directed until 1973 by 'la mere' or 'The Mother', a French citizen, companion of Sri Aurobindo, and founder of Auroville. Your afternoon is devoted to a private visit to Auroville with a member of the community. Architect Roger Anger (1923-2008) worked on this UNESCO-supported project and developed designs combining modernism and organicism. The city now has 1,500 Aurovilians from 30 countries.
DAY 5
Pondicherry - Tanjore & Trichy
The next stop is Tanjore where you'll spend the night in a cottage nestling in a green garden on the banks of the Vennar River, a tributary of the Cauvery River, in a landscape of jungle and rice fields. It's a quiet and cosy cottage.
Included the Itinerary - A private tour of the temples of Trichy and Tanjore. The most famous temple in Tanjore, Brihadishvara is a UNESCO-listed temple dedicated to the god Shiva, and is perhaps the most dazzling in India with its high pyramid tower. We can also organise aprivate yoga session at the temple: practising yoga in this splendid example of Dravidian architecture is a unique experience.
DAY 6
Tanjore - Chettinad
Road to the unspoilt Chettinad region, along winding roads between lush green fields and rice paddies. Stay in an old palatial house, built in 1905, restored as an eight-bedroom guesthouse by two French architects, Michel Admente and Bernard Dragon, with the aim of highlighting the region's unique heritage, a blend of Tamil and Western architecture. Interior courtyards, a monumental veranda decorated with marble columns and a spacious banquet hall topped off with intricate carving.

Drive to Madurai, where you'll stay overnight in a modern hotel, away from the hustle and bustle of downtown.
Included in the itinerary - Puja (prayer ritual) at Sri Meenakshi Temple. The temple dedicated to Meenakshi, wife of Shiva, is a masterpiece of Dravidian architecture and one of India's most important active temples. At dusk you'll attend a puja, during which every evening, the bronze statue of Shiva is taken to the chamber of his wife Meenakshi's temple accompanied by hypnotic music and a fervent crowd.
Included in the itinerary - Private visit to Madurai. From the palace of Tirumalai Nayak, designed by an Italian architect and built in 1635 for the sovereign Tirumalai, protector of the arts, there remains only the courtyard and the portico, the theatre and its statues. You return to Sri Meenakshi Temple for a visit to its inextricable maze of courtyards, galleries, and ponds, in the shadow of its large mandapa with 1,000 flamboyant pillars, painted in a thousand colours.
Flight to Madras. As you're staying overnight in a hotel in the heart of the city, enjoy the rooftop pool and the panoramic views of the capital of Tamil Nadu. Free day with car and driver available.
Optional - A wedding ceremony at the temple.
DAYS 9 to 11
Andaman Islands (Havelock)
Airport transport and flight to Port Blair. You'll get to Havelock by catamaran. Stay for three nights in an intimate boutique with only seven rooms, each enormous in size and opening out onto the surrounding jungle. It's all about minimalist luxury in the heart of the rainforest.
Experiences - White sandy beaches where you can enjoy paddling in the water, and reefs and corals among the best preserved on the planet. In terms of marine life, you can see dugongs, turtles, dolphins, and manatees.
DAY 12
Andaman Islands (Port Blair)
You'll make a gradual return to civilisation, with a stop at Port Blair, capital of the Andaman islands. The city was made famous during India's struggle for independence. You'll spend your last night on the islands here.
DAY 13
Port Blair - Madras - Return flight
Transport to the airport, flight to Madras then international flight back.
A la carte
TEMPLE WEDDING CEREMONY

We will organise a wedding ceremony for you at the temple in Madurai: a silk sari, jewellery and flowers in the hair for the bride, a dothi and kurtha for the groom. The key stage of the ceremony is the tali: the man ties the tali, blessed by the priest, around his wife's neck, in three knots, thus sealing the union.
Option
A Rough Idea of Price
Dependent on season, accommodation and activities
The estimated cost for this trip ranges from £3,900 to £4,800 per person. The final cost of the trip depends on the way we tailor it especially for you. The final cost will vary depending on several factors, including th
International and inland flights with a scheduled airline
Airline taxes and fuel surcharge
Private vehicle with driver for six days
Overnight stay in Mahabalipuram, in a superior double room with breakfast
Two-night stay in Pondicherry in a double room with breakfast
Overnight stay in Tanjore in a double room with breakfast
Overnight stay in Chettinad in a double room with breakfast
Overnight stay in Madurai in a double room with breakfast
Overnight stay in Madras in a double room with breakfast
Three-night stay in the Andaman Islands in a double room with breakfast
Overnight stay in Port Blair in a double room with breakfast
A private one-day trip to Kanchipuram, with a private guide
A half-day private trip to Mahabalipuram, with a private guide
A half-day private trip Pondicherry, with a local guide who speaks your language
A half-day private trip to Auroville, with a private guide
Yoga session at Chola Brihadesvara Temple in Tanjore
The Puja Ceremony at Sri Meenakshi Temple in Madurai, with a private guide
Tanjore and Trichy temple, a private one-day trip with a private guide
A private trip to Madurai with a private guide
Port Blair/Havelock catamaran transport
Use of a local mobile phone
Our local Concierge service
A few of the benefits of travelling with us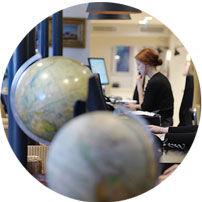 Get in touch
Our experts have the inside track on the destinations they sell and will tailor-make a holiday to your unique requirements.
Contact one of our India specialists