A family holiday in Japan
Who: Families
From £4,145pp
Trotting Around Tokyo, Castles in Kyoto & Hiking in Hakone: Japan for Families
Japan is one of the most fascinating and diverse destinations on the planet, and makes a great holiday destination for families with children with enquiring minds. On this fifteen day trip parents can introduce their children to creative culture in Tokyo and Kyoto, important history lessons from Hiroshima, island life Japanese-style on Miyajima and beautiful volcanic landscapes in Hakone.
Itinerary at a glance
Explore the weird and wonderful world of Tokyo's anime, electronic and themed cafes
The children can become real Karate Kids with training from a black belt
Teach the children the importance of history with a visit to Hiroshima
Sample the idyllic laidback life on the island of Miyajima
Upon arrival in Japan, this itinerary can be done entirely by train
Why Book with Original Travel?
Just a few of the extra touches that come as standard on an Original Travel holiday...
See More
All of the holidays we create are completely tailor-made to you
This sample itinerary is intended to give you a flavour of what we can do
Day 6:

From Sweets to Samurai
This morning you will be met at your ryokan by your guide for a day tour of the city of Kanazawa, famed as a cultural and artistic hub in the 17th century.
The tour starts at the Kenrokuen Garden, considered one of the three most beautiful in the country, and another insight into Japanese culture. The gardens - once private - are spread across some 25 acres of carp ponds, fountains and seasonal plants and trees, which make them a tranquil place to spend time all year round. Next door is Kanazawa Castle, one of the finest examples of Japanese castle architecture on Honshu. Then, after making like mini-samurais, you can all enjoy lunch in Omicho Market. If the children haven't yet been persuaded of the merits of sushi, this might be the spot to try again, as this market is home to famously good food stalls. After an umami lunch, you'll likely want something sweet, so your guide will take you to Morihachi, a four centuries old sweet shop (eat that, Sugarplum's Sweet Shop on Harry Potter's Diagon Alley). Here the children can try their hands at making traditional sweets using ancient wooden moulds. Finally, there's still time to visit the old samurai (warrior caste) district, and a perfectly-preserved house once owned by a high ranking samurai family. The children can explore the house and garden while you enjoy a delicious fresh green tea. Dinner is served back in the comfort of your ryokan.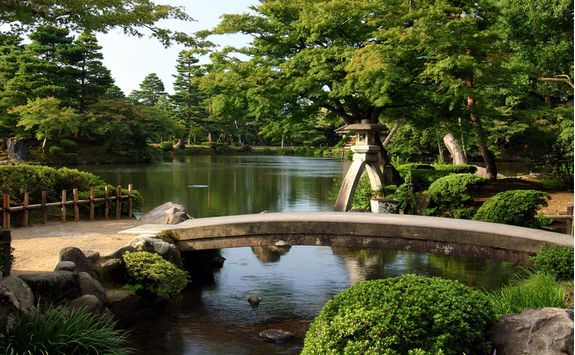 Today you will enjoy a guided tour of the best bits of one of the world's greatest cities. Your guide will meet you at the hotel and today's tour is by public transport around the city.
First stop is Nijo Castle, an ornate building originally built for a feudal lord in the early 1600s, and famed for its 'nightingale floors' which make chirping noises when people walk along the floorboards - supposedly to warn of anyone wandering around at night. Then, visit the minimalist classic rock garden at Ryoanji, where small 'islands' of rock and moss seem to float on a sea of fine gravel. A short walk away is Kinkakuji Temple, an elegant gold leaf covered temple in a beautiful lakeside setting. By now it's time for lunch, before what will likely prove the highlight of the day for the children - a visit to Fushimi Inari Shrine. Here thousands upon thousands of tori gates (ceremonial arches) have been built along pathways, creating an extraordinary effect of vivid vermillion-coloured tunnels winding their way around the woods. Suitably wowed, return to your hotel and either eat at the restaurant there or at one of our recommendations in the city.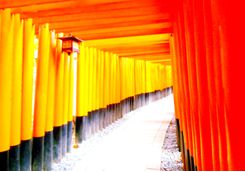 Day 12:

Miyajima to Hakone
We've tried to keep the travel times on this trip to manageable chunks, and this is the only day of real travel.
Prepare the Sharky & George packs and board the ferry and local train back to Hiroshima before catching the five plus hour bullet train back to Hakone. Since this is the region in the shadow of Mount Fuji you'll enjoy some great views as you journey, so keep an eye out of the window. You should arrive in the mid-afternoon and will be met off the train by a driver for the transfer to your hotel.
Day 14:

Hakone and your final night
You will have the morning at leisure to explore Hakone further before lunch and then your transfer to the station.
From Hakone the train to Tokyo Central Station is less than two hours, so there should be plenty of time to enjoy one last afternoon and evening in Tokyo. We suggest visiting the new(ish) Tokyo Skytree this evening, and because there can be serious queues (there were 16.6 million visitors in its first 100 days), we will pre-book fast track tickets. After dinner you can ride up the second tallest structure in the world (after Burj Khalifa in Dubai) and enjoy night views of the sprawling Tokyo from the 1000ft and 1500ft tall observation decks.
After breakfast at the hotel you will be transferred to the metro station for the train to one of Tokyo's airports (flights depart from both) and your lunchtime flight home to the UK.
The flight is a good twelve hours and 30 minutes when flying in this direction, and you will land in the early evening.
The family fun begins today with an afternoon flight to Tokyo.
The flight to Japan is a cool eleven and three quarter hours, so make sure you've got the children's Sharky & George packs to hand with their range of games to play on route. Oh, and charge up those iPads.

Your flight arrives into Tokyo in mid-morning and you will be met after baggage reclaim for your private transfer into Tokyo city centre. The journey takes around an hour and a half and the children will love seeing the space age city around them on the drive into downtown. Arrive at your hotel in time for lunch, and to enjoy even better views of the city since all the finest hotels in Tokyo occupy the upper floors of skyscrapers.
This afternoon you will be met by your guide for a private tour of the Taito and Odaiba districts of Tokyo. Start off in Ueno Park to stretch your legs, before visiting the bustling street market of Ameyoko, and then Akihabara, famous for its electronics shops, anime and manga comic shops and themed cafes. These cafes celebrate everything from princesses to cats and hedgehogs, but our personal favourite is Owl no Mori, a greenery filled café where visitors can pet a wide selection of live owls - only in Tokyo! Next, embark on a river cruise along the Sumida River to the futuristic artificial island of Odaiba, home to Tokyo's own Legoland and a 54ft tall Gundam robot statue. Grab a bite to eat before going up the giant Ferris wheel for fabulous views of the Tokyo skyline at night. We suspect the little ones might sleep well tonight.
We're firm believers that the best way to combat jet lag is to adapt to local time as quickly as possible, so best to hit the ground running with an introductory tour of Tokyo.

After breakfast, your guide will meet you at the hotel and take you to see a more traditional side to Tokyo. First stop will be Sensoji, the most famous temple in the capital and a place of serenity that's far removed from the bustle of the rest of the city. Your guide will explain the basic temple customs to you and the children, from purifying your hands to praying and paying your respect to your ancestors.
After being well behaved (hopefully!) for an hour or so, there are some small food stalls nearby where the children can try some Japanese snacks. This before you wander along to Kappabashi (or Kitchen Town) to get a fuller understanding of the central role that food and cooking has in Japanese culture.
Explore dozens of stores and stalls selling highly sought after Japanese knives (look don't touch, obviously!), tableware and something else classically quirky Japanese - replica food. Creating highly realistic plastic food to display in restaurant windows has become an art form in Japan, and the children can try their hand at making some themselves - a truly original souvenir!
After lunch, your guide will take you for a 90 minute visit to a local karate dojo where the children can hear about the history of this famous Japanese martial art, learn some warm-up exercises and have step-by-step instruction to some of the classic karate moves. This whole session is run by Iwata-sensei, a 6th dan (hardcore, basically) black-belt karate expert, who trained under Fumio Demura, the karate master who was Pat 'Mr Miyagi' Morita's stunt double in the Karate Kid movies - we sincerely hope you remember the original!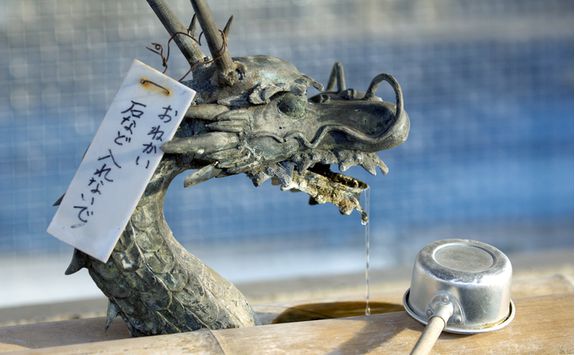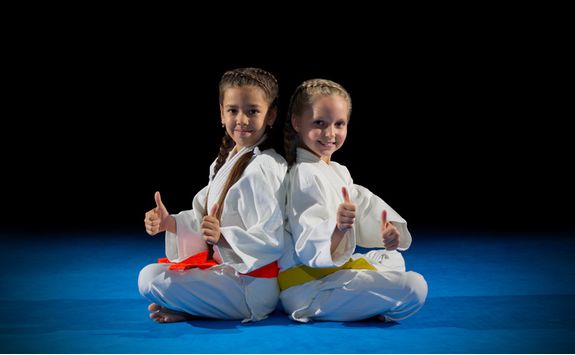 With the kids in high spirits, enjoy the rest of the afternoon to explore Tokyo more, or relax at your hotel before dinner and bed.

Day 4:

Museums, Manga and more...
On the assumption that the children are still wearing bandanas and karate chopping their way around the hotel, it's time to enjoy a morning exploring Tokyo without a guide. It can be a bit bewildering, but we've suggested a few places to try, and explained the best way to get there.
Brilliant places for children include the Ghibli Museum, showcasing the work of animation studio Ghibli - a sort of Japanese Disney - and also the Tokyo outlet of the original American version, Tokyo Disney. We can buy tickets for either of these in advance. Whichever you plump for, the children should leave feeling suitably inspired for this afternoon's activity - a private manga drawing class. The family will learn about the surprisingly ancient heritage of this style of animation and cartoon, which dates back to the 12th century when artists produced works with frogs or rabbits on separate sheets so that when you flicked through the pages the animals appeared to move. This two hour session in Nakano district will of course also involve the artist teaching your children the basics of manga drawing.
After the manga class, we can recommend a perfect family-friendly restaurant in which to enjoy your last evening in Tokyo - at least for now.

Additional Activities
Visit a Sumo wrestling stable (in season)
Samurai Sword lessons
Day 5:

Bullet train to Kanazawa
This morning you will be transferred from your hotel to Tokyo train station, for the bullet train to Kanazawa. The line travels through the beautiful Japanese Alps but until 2015 only went as far as the Winter Olympic venue of Nagano. Now, however, you and the family can speed on to the beautiful city of Kanazawa, and in less than three hours (on the Shinkansen, the fastest type of bullet train) you'll be there in time for lunch.
Thanks to its location on the northern coast of Honshu island, Kanazawa was spared the fate of other Japanese cities during the Second World War, and as a result the city maintains a charmingly traditional air. This afternoon will be yours to explore the city at your leisure, and we'd recommend wandering around the well-preserved Higashi District, still full of wooden buildings, chaya teahouses (where geishas would dance and sing for clients) and small artisanal shops. Tonight you will have your first experience of a ryokan, a traditional inn that is one of the key experiences of any holiday in Japan, as it casts a light on Japanese home life.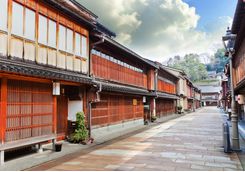 Staying in a ryokan inn is a really memorable experience, and the family will sleep in a traditional room with tatami floors and futon beds, and wear yakata dressing gowns and slippers.

After breakfast you will be transferred to the train station for the three hour train to Kyoto, where you will be met for the transfer to your hotel.
After lunch you can explore the city on your own, and we can recommend a couple of family-friendly highlights, such as the Kyoto International Manga Museum and Toei Kyoto Studio Park. The latter is a movie and TV set and theme park designed to look like an Edo-era (so 17th - 19th century) village. You and the children can dress up in period costume but the highlight is likely to be watching actors hamming it up as they film scenes for Japanese TV. It's pure kitsch but very good fun and we can pre-book tickets. Later we will of course recommend the finest family-friendly places to eat in the city.
While we love ryokans, it's best to intersperse them with stays in Japan's excellent high tech and high comfort contemporary hotels - because sleeping on a futon is only okay for a night or two at a time - so in Kyoto we will book you into a state of the art new hotel.

This morning you and the children can enjoy the sort of activity that's only really likely to exist in Japan.
You will be met by your guide at the hotel and transferred to a cooking school in a machiya wooden townhouse, to learn the art of charaben - essentially, creating a classic Japanese lunchtime bento box, but with the food designed to look like a famous character (such as Hello Kitty) or a cute animal. Spend the morning creating and crafting the bento box to the characters of your choice, before scoffing the lot for lunch. This afternoon will be yours to explore the city further. If you're here in blossom season (usually the last week of March to the middle of April, but you will need to book WAY in advance) then you can see an amazing display of cheery blossom on the trees lining the river - on what's known as the Philosophers' Walk.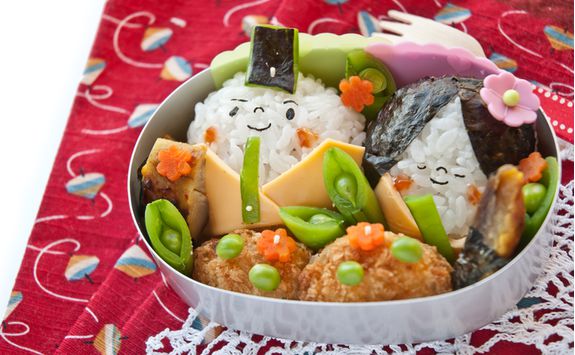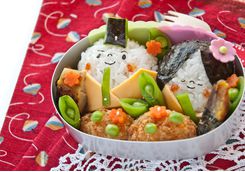 Tonight is your last night in Kyoto so we'd recommend treating the children to a delicious tempura dinner. We will, of course, recommend (and book) the best, and the children should love this Japanese take on fish fingers!

Day 10:

Hiroshima and Miyajima
This morning you will have an early breakfast at the hotel before a transfer to the station for the three hour bullet train ride to Hiroshima.
The city itself has - physically, at least - made a full recovery from the events of 6th August 1945, but the area around the epicentre of the blast has been turned in to a hugely poignant reminder of the destructive power of the bomb. We can arrange for a guide for your visit but it's not necessarily required, as the area is well signed in English. First things first, since you will arrive into Hiroshima at around midday we imagine there will be some rumbling tummies. Luckily this is somewhere to enjoy a particularly child-friendly Japanese dish - okonomiyaki, a delicious savoury pancake stuffed with cabbage, pork, ginger, nori, and a special sauce. It's a speciality of Hiroshima, and the food hall in the basement of the station is filled with stands where you can try it. Then, leave your bags in the left luggage and make your way by taxi to the A-Bomb Dome. In a city that, at the time, was made almost entirely of wooden houses which were duly incinerated, the twisted girders and blasted out dome of what was once the Industrial Promotion Hall of Hiroshima have been left exactly as they were on the fateful day. Wander past the Children's Peace Monument, with its coloured paper cranes and the Cenotaph Memorial to the victims, before visiting the Peace Memorial Museum to learn more about what happened, and the consequences of President Truman's decision. There are few history lessons as important for the children, and you will leave the city with more than enough food for thought, and in the cheerier knowledge you are about to visit one of Japan's most peaceful and charming places - the island of Miyajima. To get there you will take a local train to the ferry port and cross over the bay, before being met by a representative from the ryokan you are staying in.
The trip has been understandably light-hearted to date, but we always believe that a family holiday should contain an educational element, and so we would recommend a visit to the site of the first ever nuclear bomb blast. An extremely poignant place, but somewhere they really ought to visit.

Your trip has been fairly city-centric to date so we suspect you will enjoy the wide open spaces, water and verdant greenery on Miyajima.
This morning your guide will meet you reasonably promptly at your ryokan for a half day tour of this sacred island in the Inland Sea; famed for its temples, roaming deers and floating torii gate - which is apparently the most photographed place in Japan. First on the tour visit the marine gate and get your own photograph, while also exploring the nearby (and extremely beautiful) Itsukushima Shrine, which dates from the 6th Century and sits on piers over the water. You will then visit Daisho-in, a Buddhist temple at the foot of Mount Misen that dominates the island. On the wander along the coast to reach the temple, the children can stop to feed the extremely tame island deers, and the grown-ups can sample the sensational grilled oysters served at the local food stalls. The final stop on the tour is Mount Misen itself; take the cable car to the summit for incredible views of the islands in the Inland Sea. Back down at sea level you can enjoy a lovely local lunch (Miyajima is famous for its unagi, or eel, which we suspect might be a hard sell to youngsters) before an afternoon kayak trip to see the island from the water. Hopefully the tides will be right so you can kayak out to the floating torii gates, but if not this is just a lovely way to expend some energy and enjoy a very tranquil (and easy to learn) mode of travel.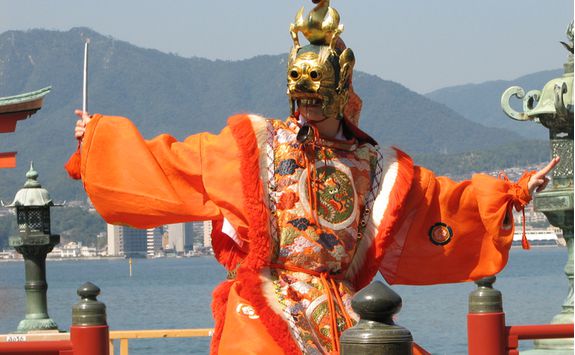 Spend the evening at your leisure – this makes a lovely time to wander around Miyajima after the day-trippers depart for the day.

Day 13:

A Pirate's Life in Hakone
Today you can explore the beautiful region of Hakone on your own, using pre-purchased tickets we will have arranged, and with detailed instructions of how to move around the area.
First stop is Togendai, on the shores of Lake Ashi, formed 3,000 years ago by a volcanic eruption. The family can take a replica pirate ship cruise to the southern shore, all the while enjoying views of Mount Fuji (if she's not shrouded in cloud). On arrival into Hakone-Machi you will disembark and can then visit traditional buildings and walk along paths through beautiful cedar woods. About an hour of light hiking will take you to the well-known Amazake Chaya, a traditional lodge serving Japanese snacks accompanied by a sweet rice wine called amazake - probably not for the kids. After resting at the Amazake Chaya, you can take the bus back to Hakone-Yumoto and the Hakone Tozan 'switchback train', a train line famous for its zigzags through the mountains, for amazing views of the surrounding valleys.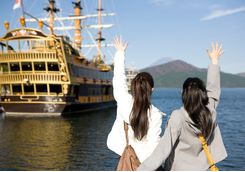 Hakone is also well known for it's marquetry boxes, so we will recommend which shops to seek out.

All of the holidays we create are completely tailor-made to you
This sample itinerary is intended to give you a flavour of what we can do
A Rough Idea of Price
While all of our holidays are completely tailor-made and prices will vary based on things like time of year and level of accommodation, we want to give you as good an idea of how much this itinerary will cost. The below prices are based on two people sharing.
This Itinerary
If you would like to book the itinerary mentioned above, with economy flights, during mid-season and staying in our preferred room category at our preferred hotels.
Bare Necessities
If you would like to pare back the above itinerary by option for standard rooms and removing some or all of the guided activities.
Bells & Whistles
If you are looking for something extra special and would like to upgrade your hotels and room types, or add more activities and guiding.
Frances and Holly are our experts for this itinerary and as seasoned travellers they have the inside track on the most memorable adventures.