Luxury Malaysia
Who: Couples and Families
From £3,295pp
Cultural Malaysia will spark your children's interest with its immense diversity. They'll love exploring the village of stilt houses surrounded by skyscrapers in Kuala Lumpur. Be thrilled at finding a Rafflesia flower in the lush rainforests of Belum State Park and love the cycle ride through the Malaysian countryside.
Itinerary at a Glance:
Enjoy a walking tour of Kuala Lumpur and visit the Petrona Towers
Explore the lush Belum Rainforest and serene Lake Banding while spotting unique flroa and fauna
Laze on the beach in Langkawi before a BBQ sunset cruise
Why Book with Original Travel?
Just a few of the extra touches that come as standard on an Original Travel holiday...
See More
All of the holidays we create are completely tailor-made to you
This sample itinerary is intended to give you a flavour of what we can do
Day 1:

London to Kuala Lumpur
Start your adventure by soaring away from London on an overnight flight to the modern metropolis of Kuala Lumpur, capital city of Malaysia. The flight duration is approximately thirteen hours so you'll have plenty of time to catch up on any TV series you've been longing to watch from start to finish - just don't forget to charge and load the iPad.
Arriving at Kuala Lumpur International Airport in the late afternoon, you'll be greeted and transferred by air-conditioned vehicle the approximately one-hour journey to your luxury accommodation in Kuala Lumpur.
Along the way, you might be able to enjoy some stunning sunset views of Kuala Lumpur's incredible skyline as the setting sun's reflection glints off the skyscrapers.
After check in at the hotel, enjoy a relaxed dinner before bed.
Day 3:

Kuala Lumpur Walking Tour
After an early breakfast, it'll be time to set off on a guided walking tour of Kuala Lumpur with your private guide. Start in Chow Kit market, where you'll find stalls overflowing with every type of meat, seafood, fruit and vegetable, and then wander to Kampung Bahru, a glimpse of what the city would once have looked like, with stilt structured houses and livestock roaming the streets, all surrounded by the high rise towers of the city. Kampung Bahru is famous for its street food culture so make sure to sample some as you go.
Next, take in Masjid Jamek, Kuala Lumpur's oldest mosque and Merdeka Square, the city's old colonial centre. There's then time to visit the Sri MahaMariamman Hindu Temple adorned with eye-catching colourful figures, and the pagoda-style Sze Ya Buddhist Temple as further evidence of the city's multi-ethnic blend.
This evening, visit the Petronas Twin Towers. These amazing feats of modern architecture are eighty-eight storeys and nearly a third of a mile high. Visit the Sky Bridge Observational Deck to watch the sunset over KL (as it's known to one and all) before seeing the incredible choreographed fountain show on KLCC Symphony Lake.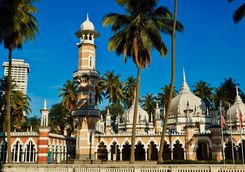 Day 4:

Gua Tempurung Caves and Ipoh Old Town
Today you'll be leaving Kuala Lumpur for Ipoh, making a detour to the natural wonder of the Gua Tempurung Caves on the way.
Take in the scenery on the two-hour drive, then get ready to explore the impressive interior of the limestone caves, wandering the wooden boardwalks between megalithic stalagmites and stalactites.
After the cave visit, there'll be a thirty minute drive to Ipoh where you'll arrive in time for lunch at a local restaurant before taking a guided heritage walk around the historic quarter of the city. You'll take in sights such as the colonial railway station, the Birch Memorial clock tower and the Town Padang mosque. There's a strong coffee culture going on in Ipoh too, and you'll have a chance to savour it at the Old Town Coffee Shop, famous for its signature blend of coffee prepared in the traditional way. After the coffee stop, enjoy a stroll around the winding cobblestone streets to take in the eclectic fusion of architectural styles until it's time to transfer on to your hotel to enjoy the rest of the afternoon and evening relaxing.
Additional Activities
Indulge in a Malay Ramuan Spa Journey
Take a Banjuran Signature Massage
Day 5:

Belum Rainforest Resort & Rainforest Tour
Spend the morning relaxing before the two-and-a-half-hour journey to the Belum Rainforest Resort, where you'll be staying for the next two nights.
After lunch you'll have the afternoon to take an exploratory tour around the herb garden or spend the afternoon in the infinity pool which looks out over Lake Banding. Save some energy for the evening as once dinner is over it'll be time to go on an exciting, two hour guided tour through the surrounding rainforest.
After an early breakfast, you'll board a cruise boat waiting at the resort jetty and navigate through the waterways of Upper Belum. Leave the boat to trek for an hour along rainforest trails where there have been certified sightings of the rare Rafflesia bloom. Hold your nose while you have your photo taken next to one. They may look beautiful, but they really don't smell quite so good.
There'll be time to take a refreshing swim in a pool under the cascade of a stunning waterfall before re-boarding the boat to venture further into the forest. As you sail along, learn about the indigenous tribes of the Orang Asli Villages who live an ancient way of life in Belum State Park.
Enjoy a picnic lunch on the shores of Lake Banding before spending the afternoon cruising the lake's tranquil waters. There's lots of wildlife to photograph in the park and you may even see hornbills high up in the trees. Back on shore again, you'll take a brief trek to another amazing waterfall before the rest of the afternoon to relax.
Additional Activities
Test your aim and try your hand at archery or blow darts.
Relax by the side of the infinity pool
Enjoy a game of billiards
Let the kids loose in the indoor playroom
Day 7:

Belum Rainforest Resort to Penang
Conclude your stay at the Belum Rainforest Resort with a leisurely breakfast after which your transport will be waiting to take you on the three-hour journey to Penang.
Enjoy some local cuisine for lunch before checking into your Penang hotel and spending the rest of the day exploring or just resting up.
You'll be up before cock crow on your first morning in Penang. A guide will meet you in the hotel reception at seven o'clock and take you out into Penang to sample a dim sum breakfast like the locals. You'll get lots of inside info on traditional Penang cuisine and learn about the fascinating etiquette involved in eating Malaysian-style. Then visit bustling Chow Rasta market where you can practice your bartering skills with the stallholders.
Next it'll be time to explore the colourful suburb of Georgetown, a UNESCO World heritage site on a walking tour when you'll learn the ancient art of joss stick making.
After a lovely lunch, it's time to hear about the Chinese influence in Malaysia. You'll pay a visit to the intricately decorated Khoo Kongsi clan house, which is over six hundred years old. Then take a fun trishaw ride from the clan house to Little India and the Street of Harmony, which is a bustling street full of shrines and temples.
The rest of the day is yours to explore Georgetown further, or relax at the hotel.
Day 9:

From Penang to Langkawi
This morning you'll be collected from your Penang hotel and taken on the five-minute journey to Penang Ferry Terminal where you'll board the ferry for the three-hour crossing to Langkawi. If you prefer, we can arrange a short thirty-five-minute flight instead.
You'll be met in Langkawi and transferred to the beautiful hotel we've chosen for this part of your stay in Malaysia. The journey from Langkawi ferry port to your hotel will take approximately five minutes. Once you're all checked in, you will have the rest of the day to explore this incredible location.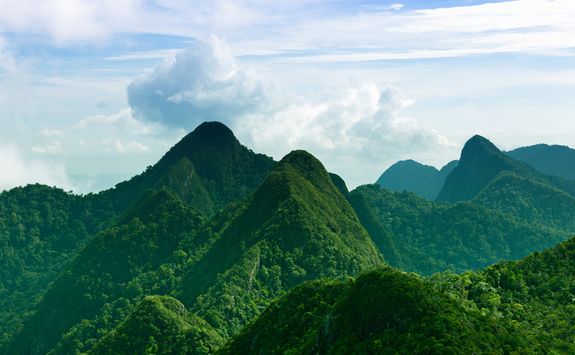 Additional Activities
Visit the stunning Eagle statue in Eagle Square
Spend the afternoon with the kids on a fun visit to Lagenda Langkawi Dalem Taman theme park
Day 10:

Kuala Teriang Cycle
Have an early breakfast to build up your stamina because today you'll be discovering the Langkawi countryside on two wheels.
You'll be collected from your hotel at around eight o'clock and then taken on a thirty-minute drive in an air-conditioned vehicle to Kuala Teriang, where your bicycles will be waiting.
The tour is a twenty-six-mile cycling jaunt through forests, rice fields and along river banks. There are frequent breaks from pedalling to have a drink, take photos and converse with the locals you meet along the way.
You'll be back at the hotel by midday and be free to spend the rest of the day resting, recovering or swimming in the pool.
Have a nice slow morning in anticipation of a wonderful afternoon to come. Relax by the pool or have a stroll around the area local to your hotel but make sure you're back in time because you won't want to miss the transport for the afternoon/evening activity.
You'll be collected from your hotel in the afternoon and be taken on a fifty-minute journey to the south of Langkawi for a wonderful sunset dinner cruise.
During the three-hour sailing, you'll be able to enjoy an invigorating salt water Jacuzzi and sip on cocktails while watching the sun disappear in a blaze of spectacular colours. A barbecue dinner will be cooked and served on-board.
Day 12:

Langkawi to Kuala Lumpur to UK
Enjoy the last day of your stay in Malaysia at your leisure, with a long lazy lunch and late check out before you are collected from your hotel to make the thirty-minute transfer to Langkawi Airport.
Here you'll board your roughly one-hour flight to Kuala Lumpur before connecting on to your overnight flight back to the UK, with your bags checked through automatically. The international flight clocks in at just under 14 hours.
Your flight lands back in London in the early morning.
All of the holidays we create are completely tailor-made to you
This sample itinerary is intended to give you a flavour of what we can do
A Rough Idea of Price
While all of our holidays are completely tailor-made and prices will vary based on things like time of year and level of accommodation, we want to give you as good an idea of how much this itinerary will cost. The below prices are based on two people sharing.
This Itinerary
If you would like to book the itinerary mentioned above, with economy flights, during mid-season and staying in our preferred room category at our preferred hotels.
Bare Necessities
If you would like to pare back the above itinerary by travelling at non-peak times, staying in a standard room and removing some or all of the guided activities.
Bells & Whistles
If you are looking for something extra special, we can discuss with you upgrading your accommodation, flights or activities.
Holly is our expert for this itinerary and, as a seasoned traveller, has the inside track on the most memorable adventures.