Pack up the car and head to Paros port, for the ferry to Naxos, the next port of call on this Cyclades Islands adventure. The ferry crossing takes around two hours, heading east. Once you have docked you can transfer from Naxos ferry port to your hotel.
The largest of the Cyclades, Naxos packs a punch - the island is home to pretty waterfront towns, Venetian mansions, mountain villages and isolated beaches - there is no shortage of things to do while staying on this jewel of the cerulean-blue Aegean.
You have the afternoon to spend as you wish, exploring the area, stepping out onto the sun-baked cobbles, the air heavy with the scent of olive trees and humming to the sound of cicadas.
As the sun sinks in the sky and casts a gold glow over the sugar-cube houses of Naxos, it's time to head out for an evening of food and history. A private food tasting and history tour awaits, as the table groans under the weight of the fresh produce of Naxos. The island's high mountains (higher than others in the Cyclades) form rain clouds and more rainfall means the island is greener and more fertile than other islands in the Cyclades. The western side of the island is where the delicious Naxian potatoes are grown, while the mountainous areas yield olive oil in the winter months. Follow your expert guide through the narrow lanes of Naxos Town (or Chora), gathering fresh produce. You'll sit down to sample local cheeses, wines and traditional dishes. You will also be taken on a short tour of a Venetian-era castle - to learn about how the three centuries of Venetian rule on the island has shaped the culture and architecture you see today.
Full up on delicious local specialties and wine its time to head back to your hotel.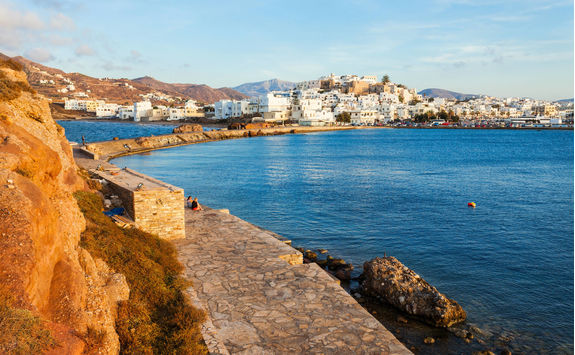 Naxos is famous for its wonderful produce. In particular its cheese and potatoes which are exported to the rest of Greece.