Classic Vietnam
Who: Couples and Solo Travellers
From £3,030pp
On this jam packed 13-day adventure experience the very best Vietnam has to offer. From villages to cities, sea to mountains and history to contemporary culture, you can pack a huge range of fantastic experiences into a Vietnam itinerary. This is our definitive guide to take you from Hanoi to Ho Chi Minh.
Itinerary at a Glance:
Cycle through rural Hanoi to visit local villages.
Cruise through Halong Bay and along the Mekong Delta on two amazing overnight boat stays.
Zip through the streets of Ho Chi Minh city on the back of a Vespa as you go in search of the city's best street food.
Why Book with Original Travel?
Just a few of the extra touches that come as standard on an Original Travel holiday...
See More
All of the holidays we create are completely tailor-made to you
This sample itinerary is intended to give you a flavour of what we can do
Day 1:

International Flight
Board your connecting flight to Hanoi. There are several airline and routes to choose from, so we will find something to suit a range of budgets and preferences. Most likely you will fly via Bangkok or Hong Kong
Day 2:

Arrive and Explore
Arriving into Hanoi this morning after your connecting overnight flights you'll be met by a driver at the airport and quickly whisked off in a private transfer to your hotel. The journey should take around 40 minutes, depending on the traffic conditions.
After long journey we have left the morning free for you to settle in to Vietnamese time, and perhaps enjoy your first local lunch.
This afternoon a guided tour of the city will help you get your bearings in Hanoi, whose famous sites include the One Pillar Pagoda, the Temple of Literature and Hanoi Citadel. Your walking tour will focus on the Ancient Quarter or the 36 Streets District; a densely populated corner of the city which was once a centre of commerce where goods were sold under the street name of a particular guild, for example Sugar Street, Tin Street and Paper Street. Since there is still a thriving community of sellers you will see various fascinating stalls interspersed with ancient homes and temples. Once you've had your fill of history and culture, enjoy a stroll around some of the city's 18 lakes which, with their surrounding gardens and trees, are the lungs of the city.
After a long journey and busy afternoon, grab a bite to eat (our detailed destination Dossier will come in handy here) and then get a much-needed early night.
This morning, enjoy a biking tour of Hanoi's spectacular surrounding countryside. After a safety briefing and bike fitting your guide will lead you away from the hustle and bustle of the city and towards Bac Bien Village. From here you'll arrive at the banks of the Duong River and board a local ferry for a short crossing, enjoying the views as the boat glides across the water.
Back on the bikes, pedal behind your guide, along the river and then in land to find a small local village. Here you'll find traditional local houses, ancient pagodas and temples and a lively market. You'll also be able to visit the villager's homes to learn about their lifestyle and share a cup of tea. If you're lucky, there may even be a chance to witness a unique Len Dong ceremony, where the locals meet at the local temple to communicate with the spirits. This unusual ritual is rarely practised in the cities but is still fairly common in the more traditional countryside.
Tonight we suggest trying another of the restaurants recommended in our Dossier. A particular favourite of ours is the non-profit Koto restaurant on Van Mieu Street, where the Vietnamese-Australian owner trains young locals to become bilingual chefs and waiters, and serves up delicious food in a stylish four-storey building.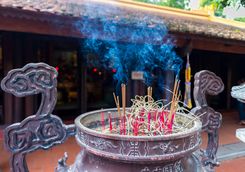 Today you say goodbye to Hanoi as you head to the nearby and world famous Halong Bay. The drive to the check in point for your boat is around a three hours so you'll be picked up from your hotel after breakfast.
Once you board your boat, lunch is served on the deck as you set sail for the bay, which you should reach within the first hour. Your first stop is then at the Tien Ong Cave, famous for its beautiful 700,000 year old stalactites and stalagmites. Your second stop is at the Cua Van fishing village, the biggest and oldest floating fishing village in Halong Bay. The village is best explored via a small boat so you will hop in and then pass through this ancient village of fishing boats and floating houses.
After returning to the boat in the late afternoon you can refine your culinary skills by observing a cooking demonstration conducted by the chef. After your freshly prepared dinner the night is yours; kick back on a comfy pillowed chair or watch the stars from the sun deck and take in their beauty whilst sipping a glass of wine.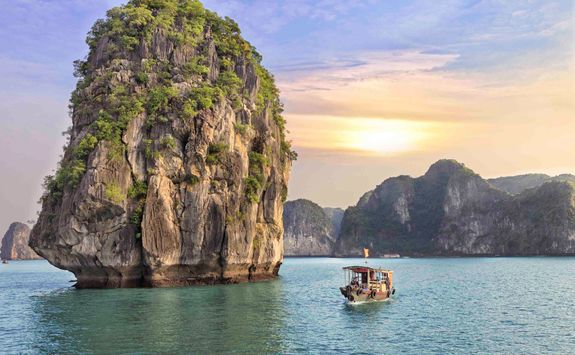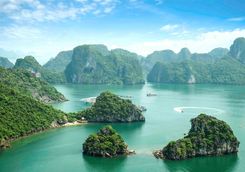 For early risers, tea, coffee and pastries are served in the boat restaurant, followed by - if you so desire - a tai chi class on the sun deck. A great morning activity in this beautiful setting.
With just enough time for a dip in the bay or a climb up to a nearby hill top to have a last view over Halong Bay, breakfast is then served as you sail back to the harbour.
Back on dry land a driver will meet you and take you back to Hanoi airport in time to check in for your short domestic flight to Hue. Once landed in Hue you will be collected and transferred to your central hotel- a drive of around 30 minutes - where you can enjoy a leisurely dinner.
Today you'll take a guided tour of Hue to see the highlights of this old imperial capital with a fully trained and passionate guide. With hundreds of years of history, it would be impossible to see everything in a half day, but this tour gives a great introduction to the city's culture and history.
Kick off the tour with a visit to the UNESCO protected Imperial Citadel where you can admire the buildings that date back to the mighty Nguyen Dynasty. Your guide will entertain you with stories and point out areas damaged by conflicts as you learn of Hue's role in Vietnam's military history. Continuing by cycle you'll also visit Tinh Tam Lake, which is covered in pretty lotus flowers; the tomb of Khai Dinh, one of the Nguyen Dynasty's former emperors, and the bustling Dong Ba Market.
After the tour you have a few hours to relax before the evening - which will be spent zipping up to Vong Canh Hill on the back of a Vespa to find the perfect sundowner spot. With a drink in hand you can admire the sun set over the beautiful Perfume River. Then, dinner is served nearby at a local family home. A typically large and traditional family your hosts will explain the customs, worship and traditions which people still follow in the area, before presenting a home cooked meal which you can all enjoy together. A great opportunity to see a different side of Vietnam this evening experience is one of our highlights of the trip.
After a busy day yesterday we thought you might like a little more of a lie in today, so enjoy a leisurely breakfast before hitting the road headed south to Hoi An. The drive is around three hours - with time to stop for a coffee at the peak of the scenic Hai Van mountain pass - so you should arrive in this coastal town by lunchtime.
Once settled into your hotel, spend the afternoon at leisure, getting to know your surroundings and relaxing after the journey. We can recommend some great restaurants for dinner and you'll find a selection of the best in our dossier.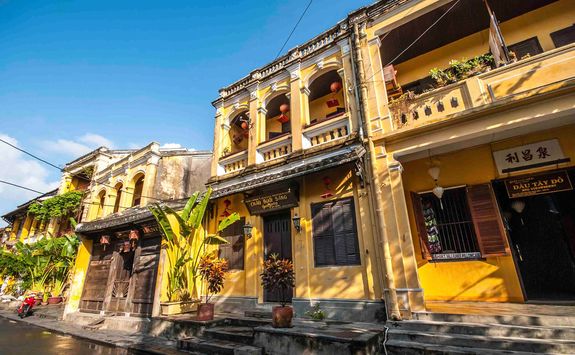 Day 8:

Jeep Tour to Bho Hoong and Co Tu Villages
Today travel into central Vietnam's countryside to discover a land of rich culture and immense natural beauty. Using an open-air, fully-renovated American war-era Jeep to speed into the hinterland, this guided journey passes through spellbinding scenery to reach the hill tribe villages and tea plantations.
As you leave the flatlands of Hoi An and climb into higher elevations the vibrant greens of the rice paddies and vivid blues of the skies make a beautiful contrast, and arriving in the Truong Son Mountain range, you'll then stop at a hillside tea plantation, where you'll be given a guided tour of the picking and processing areas.
Back in the Jeep, continue winding over rural roads and through the woods to Ba Hom Village. Home to the Co Tu people, Ba Hom is one of the few remaining hill tribe villages in central Vietnam and offers a unique opportunity to experience the lifestyles of an ancient culture. Meet the friendly residents and wander around, and then stop along the river for a picnic lunch.
Afterwards, venture deeper into the stunning landscape with either a short trek along the former Ho Chi Minh Trail to more local villages, or a soak in the nearby mountain hot springs. Then return to the road and cruise back down to Hoi An just in time for sunset.
Day 9:

Food Glorious Food
This morning we have organised for you to enjoy a genuine Vietnamese eating experience. The day starts as you join a local chef at the town's morning market for a one hour tour. Explore the stalls, browsing for fresh herbs and learning about the ingredients for sale, all the while watching the shoppers negotiate with the vendors as you get a closer look at the local market culture.
After your market shopping, return to town and enter Vy's Market, a one-of-a-kind interactive dining venue. Set up like a typical market, each stall features food to taste but also offers the opportunity to help prepare the tasty treats. Browse the various stalls, watch live demonstrations and then jump right in and help the chefs create truly authentic Hoi An delights. In addition to learning the recipes you'll also discover traditional cooking methods and use local culinary tools such as the unusual Vietnamese vegetable graters.
Having tantalised the taste buds, the culinary adventure wraps up with a delicious lunch of homemade street treats. With stomachs full and energy levels no doubt in a post lunch slump, head back to your hotel and spend the afternoon at leisure.
Say your goodbyes to Hoi An as you head for the Mekong Delta early this morning.
You'll start the journey with a transfer to Da Nang, to board a direct flight south to Ho Chi Minh City. When you arrive there you'll be met by a driver and taken a further three hours south by car to Cai Be, the pickup point for your Mekong Delta cruise.
Board the boat at about midday, where a welcome drink will be waiting for you, and then settle in for a day and night aboard the gently flowing waters of the Mekong. As the boat cruises towards Cho Lach on the Tien Giang River enjoy lunch on the upper deck. You are then invited to rest and relax on deck, or enjoy the open bar as the boat cruises into Cho Canal, through local traffic of rice barges and past wooden ship building yards.
Your first stop of the day is at a village on the banks of the river Mang Thit, where you'll experience first-hand the hospitality and laid back way of life of locals, and visit the orchards or rice fields nearby. After re-boarding the boat enjoy a complimentary drink as you return to your lounge chair on the deck to watch the beautiful sun set.
Dinner will then be served on board before the boat sets anchor in front of Phuoc Huu Pagoda in Tra On for the night.
Rise bright and early this morning for breakfast while the boat cruises past the Tra On morning floating market. As the boat continues to sail you'll reach the Cai Rang floating market where you will check out of your cabin and transfer onto a local boat to visit the market, nearby canals and gardens.
With your last few hours on the delta spent hustling with the locals and soaking up market life the boat will then drop you off at the Ninh Kieu Pier by late morning. A driver will be waiting to meet you and whisk you back north to Ho Chi Minh City, your final stop of the holiday.
Upon arrival at your hotel, check in and then head out to explore or simply opt to enjoy a leisurely dinner after a busy day.
For your last day we have arranged a morning tour of Ho Chi Minh City, still called Saigon by many locals. This dynamic city has a unique life of its own and with one of our local guides you'll really get under the skin of what makes it so special.
The tour starts with a visit to the city's bustling Chinatown (Cholon) and a stop at Thien Hau Temple. From the temple take a short drive to the lively Binh Tay Market to barter for some goodies or simply appreciate the fascinating sounds and smells.
Your guide will then take you to visit the former Presidential Palace, and from here you can walk to visit the major sights of colonial Ho Chi Minh City. These include the red-brick Catholic cathedral of Notre-Dame, the nearby 19th century Post Office, and the 'Hotel de Ville' or City Hall, all which look determinedly European. With a final stop at the Opera House there should be just enough time for a quick stop at Fanny's ice cream parlour before you are dropped off back at your hotel to freshen up.
The last day fun isn't over yet though, as we have booked you onto the amazing 'Saigon After Dark' guided Vespa street food tour. Tonight offers a chance to experience the nightlife of local Saigonese as you stop at a traditional bia hoi (food stall) for dinner and drinks, then move on to a Vietnamese-style coffee shop, for drinks and live music by candlelight, and eventually finish up in a local club, where you can opt for travel back to your hotel by Vespa, or continue on your night out alone - quite the end to a fantastic holiday!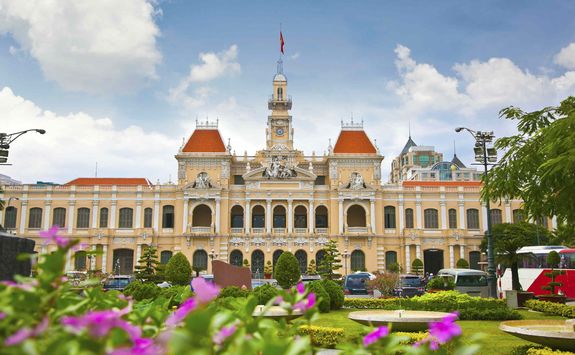 This leisurely morning you will be transferred to the airport in time for your connecting flights back to the UK, most likely via Bangkok, Hong Kong or the Gulf.
All of the holidays we create are completely tailor-made to you
This sample itinerary is intended to give you a flavour of what we can do
A Rough Idea of Price
While all of our holidays are completely tailor-made and prices will vary based on things like time of year and level of accommodation, we want to give you as good an idea of how much this itinerary will cost. The below prices are based on two people sharing.
This Itinerary
If you would like to book the itinerary mentioned above, with economy flights, during mid-season and staying in our preferred room category at our preferred hotels.
Bare Necessities
If you would like to pare back the above itinerary by travelling at non-peak times, staying in a standard room and removing some or all of the guided activities.
Bells & Whistles
If you are looking for something extra special, we can discuss with you upgrading your accommodation, flights or activities.
Frances and Holly are our experts for this itinerary and as seasoned travellers they have the inside track on the most memorable adventures.