Borneo Family Adventure
Who: Families
From £2,545pp
A Family Adventure in Borneo
There's family fun aplenty to be enjoyed in Borneo's diverse landscapes. Enjoy twelve days of wildlife watching, beach basking and rainforest roaming on this trip which takes you from the coast of Kota Kinabalu to Sepilok and the shores of the Kinabatangan River, and then finally to the sandy oasis of Gaya Island.
Itinerary at a Glance:
Go white water rafting and biking around the Kiulu area outside of Kota Kinabalu
Cruise along the Kinabatangan River, spotting pygmy elephant on the banks and proboscis monkeys hanging from the trees as you go
Stage a family Olympics at your luxurious beachfront hotel on Gaya Island
Why Book with Original Travel?
Just a few of the extra touches that come as standard on an Original Travel holiday...
See More
All of the holidays we create are completely tailor-made to you
This sample itinerary is intended to give you a flavour of what we can do
Day 1:

International Flight
Your adventure begins as you head to the airport and board late morning international flight to Kuala Lumpur, the Malaysian capital.
The overnight flight takes roughly 13 hours so make sure the children's iPads are fully charged and filled to the brim with movies!
Day 2:

Arrive and hit the Beach
You'll arrive into Kuala Lumpur in the morning and transfer across to the onward flight to Kota Kinabalu, the capital of Malaysian Borneo's Sabah State.
Your bags will be checked through and the flight takes just under three hours. Nearly there now, and we have arranged a private transfer from the airport to the Shangri-La Rasa Ria hotel, complete with beach, some 40 minutes away.
With check in over and everyone smothered in sun cream, you'll then have the afternoon to relax, run riot on the beach and host a highly competitive sandcastle building challenge. To top it all off, there are even boogie boards to borrow. Something tells us you'll be able to enjoy a nice peaceful dinner with some very worn out but happy children.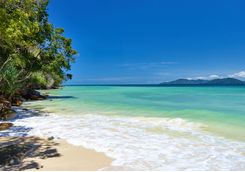 Day 3:

Rafting the Kiulu River
Fighting jetlag, get up this morning to meet a driver at reception and start a fun-filled day of family friendly rafting. When you arrive at the rafting launch point you will be kitted up and given a safety briefing before you hit the water.
Spend over an hour rafting downriver, passing bamboo thickets and tackling grade II and III rapids. The river water flows down from Mount Kinabalu, and so is really clear and refreshing on a hot day. As you reach the end of the rapids, hopefully suitably euphoric, a barbeque lunch is prepared for you on the riverbank.
Back at the hotel for the afternoon, we suggest enrolling the kids in one of the many kids' club activities while Mum and Dad soothe their bruised bodies in the spa.
Get out of the city today on a full day cycling trip through the surrounding countryside of Kiulu.
The transfer from your hotel is about an hour and a half but passes through some beautiful scenery and when you arrive the guide will be waiting to meet you with your bikes and full safety equipment. Kitted up, set off to pedal along quiet countryside lanes, passing rice paddies and crossing rivers as you go.
After a while you'll stop for a rest in a small village inhabited by the Dusan people, experiencing their traditional customs and unique ways of life as you chat over a drink and a snack. On the way back to the car, you'll also pass through a rubber plantation where you will stop for lunch before you head back to the city and your hotel - hopefully in time for the afternoon kids' pool activity.
Take a private transfer back to the airport this morning, in time for your short flight to Sandakan. Once landed here you'll be transferred to your hotel in the Sepilok Kabili Reserve and can drop your things before you head out to meet some of the area's most famous residents - the orangutans.
Visiting Sepilok's Orangutan Sanctuary you'll have your first experience of the wildlife Borneo is so famous for and we're sure your cheeky monkey will fall in love with these beautiful and intelligent apes. This is the world's largest orangutan rehabilitation centre and seeing the orange residents up close is an experience we're sure the children will treasure forever.
After lunch back at your hotel you then have the afternoon to get to know your tropical surroundings (perhaps with a game of hide and seek?) before you get to explore them a little further on a private guided night walk. With a number of nocturnal species in rainforest residence this is one of the best times to spot wildlife and the darkness makes it all the more exciting!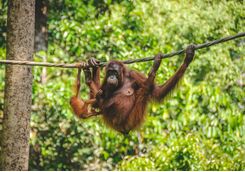 Day 6:

To Kinabatangan River
This morning visit the Bornean Sun Bear Conservation Centre to get the chance to see some rescued sun bears in close proximity. The smallest bears in the world, sun bears might look as cute as the children's favourite teddies but they are increasingly threatened by poaching, which is why centres like this one are so important.
After the sanctuary you'll be transferred to the nearby jetty to make a two-hour journey around the coast and onto the Kinabatangan River, past local villages and rainforest to your new lodge. Enjoy the views as you cruise and then settle into the lodge with lunch and some time to relax. Later this afternoon, head out on a boat cruise up the river in search of weird and wonderful wildlife like pygmy elephants, various birds and fireflies, and to watch the sun set from the water.
Get up early today - we're sure you'll be up be anyway with excited children to contend with - and head to the river for a cruise to the nearby ox-bow lake, Danau Pitas. Here you'll enjoy a picnic breakfast as you spot wildlife such as proboscis monkeys.
Now with full stomachs, continue along the river to visit a local fishing village where you'll meet the local Orang Sungai (River People) and observe the daily activities in this tiny fishing village - a great way to educate the children on different ways of life. It's then back to the lodge for lunch and some chill out time.
Come afternoon, explore the lodge grounds on a scavenger hunt of sorts, searching for interesting plants and birds before you set off for another river adventure, this time searching for wildlife along several small tributaries. Dinner will then be served at the lodge and you then have the opportunity to go out on a night cruise to look for nocturnal wildlife.
Say goodbye to the singing treetops and lush forest surroundings of Kinabatangan River this morning as you take the transfer boat back around the coast to Sepilok jetty. From here you'll be driven around 30 minutes to the airport in Sandakan, where you'll catch a short flight to Kota Kinabalu.
When you land a driver will be waiting to collect you and take you to the jetty, where the boats to Gaya Island depart. After several days in the dense rainforest, enjoy the open sea views for half an hour or so, and then dock onto the sandy shores of your beachfront hotel for the next four nights. Once you've checked in, head straight to the pool for a quick splash and a dive bombing competition before dinner.
Surrounded by a vibrant house reef and glorious sandy beaches and backed by verdant jungle, Gaya Island is a real slice of paradise, and makes the perfect spot to finish up a fantastic family holiday.
Over the next three days take advantage of all of the activities on offer, which include watersports, jungle walks, cookery classes and diving or snorkelling trips. Sending the kids off to the hotel kids' club for a few hours every day will also provide some much-needed Mum and Dad time, which can be spent in the spa, on a sunset cruise, or even just snoozing in peace on the beach.
It's time for the final of your family Olympics today; stakes are high for the winner of the sandcastle building, pool lap racing and sand sprinting competitions! Spend the morning crowning your worthy winners and then sit down for one last holiday lunch in the sun before you head to the airport.
As with the inbound journey, you'll be stopping on route, with the first two-and-a-half-hour flight to Kuala Lumpur followed by an overnight flight to London that takes just under 14 hours, arriving back in the early morning.
All of the holidays we create are completely tailor-made to you
This sample itinerary is intended to give you a flavour of what we can do
A Rough Idea of Price
While all of our holidays are completely tailor-made and prices will vary based on things like time of year and level of accommodation, we want to give you as good an idea of how much this itinerary will cost. The below prices are based on two people sharing.
This Itinerary
If you would like to book the itinerary mentioned above, with economy flights, during mid-season and staying in our preferred room category at our preferred hotels.
Bells & Whistles
If you are looking for something extra special, we can discuss with you upgrading your accommodation, flights or activities.
Holly is our expert for this itinerary and, as a seasoned traveller, has the inside track on the most memorable adventures.