Boho Australian Honeymoon
Who: Couples and Honeymoons
From £4,105pp
Culture, Surf and Sunshine: A Boho Aussie Honeymoon in Melbourne, Noosa and Byron Bay
Spend your honeymoon discovering just why Australia steals so many hearts with a good helping of sun, scenery and seriously good food.
Itinerary at a Glance:
Discover the quirky culture and vibrant social scene in Melbourne
Hideaway in a romantic retreat on the wonderfully wild Mornington Peninsula
Soak up the lush scenery on the Sunshine Coast surrounding Noosa
Fall in love with the brilliantly boho Byron
Why Book with Original Travel?
Just a few of the extra touches that come as standard on an Original Travel holiday...
See More
All of the holidays we create are completely tailor-made to you
This sample itinerary is intended to give you a flavour of what we can do
Day 1:

International Flight
Congratulations, you've officially tied the knot! And now for the fun bit (in our eyes at least). Head to the airport and enjoy hassle free check in and lounge access as you wait for your flight to Melbourne.
There are a number of different airlines available, all taking slightly different routes, but we can recommend the best for you.
All in all, you're looking at around a 23-hour journey, arriving into Melbourne late tomorrow evening.
Day 2:

The Land Down-Under
Welcome to Australia! Having spent most of your day on the plane you'll be glad to find one of our team waiting to meet you as you arrive into Melbourne airport this evening. You'll then be whisked into your waiting car for the short drive to your hotel in the city centre.
With a long journey behind you we suggest grabbing something to eat in the hotel restaurant and then heading straight to bed, although they say the best jet lag cure is to adapt to local time ASAP, so you might want to check out our definitive destination Dossier for tips on where to extend the evening. After all, you're celebrating!
Day 3:

Marvellous Melbourne
As today is your first full day we have left the majority of it free for you to enjoy a lie-in and a leisurely wander to get your bearings. Melbourne is famous for its coffee so make sure you stop for at least one, ideally in one of the hipster coffeehouses along one of the cool and quirky laneways in Fitzroy, where you'll also find numerous vintage shops and cafes.
This evening, meet a local guide to join a 'Dumpling Discovery' walk. This fun and informative tour of Melbourne's best Asian dumpling dining spots offers a real insight into the diverse culture and friendly atmosphere of the city. Then, when you've had your fill of food, wash it down with a drink or two at one of the many rooftop bars - your guide will be able to recommend one of their favourites, as will our Dossier.
Additional Activities
Take the tram out of the CBD to visit the beach at St Kilda
Day 4:

Wildlife Wanderings
Get up early this morning for a full day exploring with the weird and wonderful wild wildlife of Australia, just outside of the city.
You'll be collected from your hotel by a guide and driven 45-minutes to You Yangs Park, where you can hop out of the car and begin walking in search of wild koalas. As you walk your guide will fill you in on the life stories of individual koalas and about the traditions of the local Aboriginal people who live near here. A picnic lunch will then be served in the bush. After lunch, continue on to Serendip National Park, where mobs of beautiful and bouncing wild kangaroo can be found in huge numbers. There is usually also the opportunity to spot emus and waterbirds here, so have your cameras at the ready.
Get back to Melbourne for early evening with plenty of time to enjoy your last night in the city; dining, drinking and maybe even doing a spot of dancing.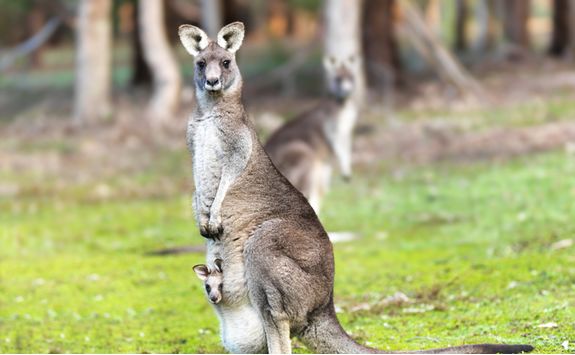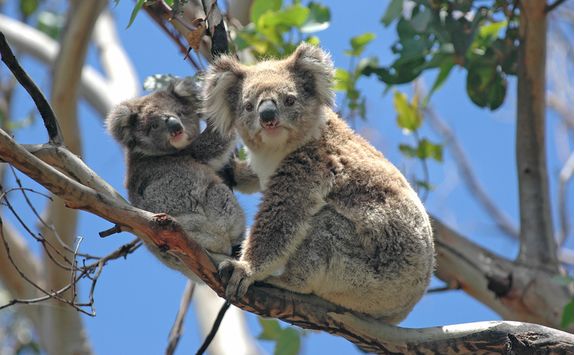 Additional Activities
Explore the Great Ocean Road on the back of a Harley Davidson
Day 5:

To Mornington Peninsula
Say goodbye to the city this morning as you pick up your hire car and hit the road south out of the city to Mornington Peninsula, which is around an hour away.
When you arrive, settle in to your hotel and then head to the beach for a long walk along the sandy shores, hopefully spotting dolphins in the bay as you take in the stunning wild coastal views in this part of Victoria.
With over 50 cellar doors in the area, Mornington Peninsula is a wine lover's dream. Spend today at Montalto Vineyard & Olive Grove, which is one of the best in the business.
During the afternoon enjoy a guided behind the scenes tour with one of the experts. Watch the team at work as you learn all about the wine making process, from grape to glass, and then finish off with a detailed tasting and long lunch - which might just lead into dinner if you do it right!
Australian wine really is some of the best in the world and there's nothing quite like a long wine filled lunch at a winery to help cement it as your new favourite tipple.

Additional Activities
If wine isn't your drink of choice, how about heading to Bass & Flinders Distillery and spending the afternoon making your own gin?
Day 7:

Walking in the Wilderness
As today is your last day in the area, spend it exploring. We suggest using your hire car to hop from beautiful beach to beautiful beach - with the occasional stop at café or restaurant to refuel for good measure.
The views from Arthur's Seat Summit offer great panoramic photo potential, and the colourful beach houses at Mother's Beach are the perfect Instagram worthy shot.
Come evening, cosy up in one of the beach side restaurants for dinner and crashing sea views before you head back to your little romantic hotel hideaway.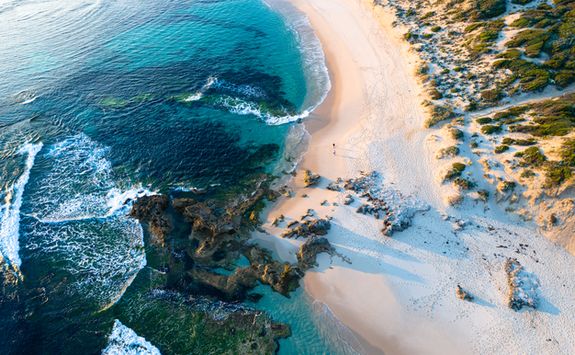 Additional Activities
Why not compliment your day of exploring with a soak in the Peninsula Hot Springs?
Leave the car behind in favour of travelling by horseback on a bush or beach ride.
After a few days exploring the southern coast of Australia, head north today, to the beautiful Sunshine Coast and Noosa. To get there you'll need to drive back to Melbourne where you can then catch a two-hour flight to Brisbane.
When you land in Brisbane, head to the car hire stand and pick up your new car for the drive to your hotel in Noosa, which is just under two hours up the coast. Settle into your new hotel and then raise a glass to arriving in your second Australian state.
Kick off your first day on the Sunshine Coast with a full day adventuring. After breakfast at your hotel your private guide for the day will collect you in a comfortable 4x4. The suggested itinerary for the day takes you north up the coast from Noosa to Rainbow Beach, using the 4x4's off-roading potential to forgo the roads and instead lick the coast and wind through the Great Sandy National Park.
Over the 50 or so miles to Rainbow Beach there are a huge number of stopping points and places to visit; 50 Mile Beach, Red Canyon and Honeymoon Bay being just a few of the most popular spots. When you arrive in Rainbow Beach a gourmet picnic lunch will be provided and you are free to explore before heading back to Noosa, with several more stops along the way.
Though your guide will have a good idea of the ideal timings and best places to stop, the day is essentially yours to spend as you like, and the guide will be happy to tailor the itinerary to any specific requests or simply play it by ear on the day.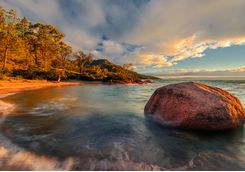 With constant stunning scenery and the novelty of bumping around in your 4x4 as you off-road, this is a really fun way to see the (quite literally) off the beaten track stops that make the Sunshine Coast so beautiful.

Day 10:

Everglades Adventuring
Spend today getting back to nature as you enjoy a canoeing adventure on the Noosa Everglades. As one of only two everglades ecosystems in the world this network of narrow waterways is a beautiful unspoilt paradise of flora, fauna and pristine, mirror like water.
In between paddling, stop for tea and coffee and then continue on to a hidden spot for a hearty barbeque lunch in the midst of the lush rainforest. After lunch you'll then have plenty of time to continue exploring before you finish the day with a cruise back to Noosa.
Hit the road again today and head back down south (past Brisbane where you might like to stop for lunch) to the beautiful Byron Bay. The journey should only take around three and a half hours and you'll be hugging the coast all the way, so keep your eyes peeled for any scenic photography stops.
Famed for its bohemian lifestyle and perfect surf breaks Byron is a real hub for tourists and Aussies alike. When you arrive, drop your bags at your hotel and then head out to explore the town centre to see for yourself why so many people fall in love with the culture here. For dinner, refer to your handy Dossier for restaurant recommendations and then let the night play out with some great food and even better wine.
Surfing is a solid staple of Aussie culture and riding the waves while down under is on most peoples 'do at least once' list. Tick it off yours today with a private surf lesson in one of the most renowned surf spots in the world.
With a private surf instructor to look after you you'll soon be hopping up on your board and riding into shore like a pro (at least that's the theory) and then it's all about honing your technique.
When the lesson is done, rent a board and stay out on the waves practising some more, or, head to one of the many cafes for a well-deserved lunch. The afternoon is then yours to spend on the beach.
As the light starts to fall, walk down the beach and then up the Cape Byron walking track to visit the most easterly point in Australia, before finishing up at the lighthouse for sunset.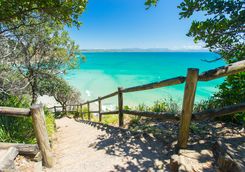 The views from the Byron lighthouse are just incredible, especially at sunset, and make sure you keep your eyes peeled for whales and dolphins in the sea below.

Day 13:

Dolphin Discovery
Your last full day in Australia (and of the honeymoon) calls for something special, which is where a dolphin spotting kayaking tour around Cape Byron comes in. But first, start your day with a leisurely brunch and a wander around the various boutique shops in town.
Come afternoon, head down to Clarks Beach and meet your guide and small group to start kayaking. The Cape Byron Marine Park is one of the best places to see dolphins in the world, with over 300 bottlenose dolphins calling this area home, and spotting them around your kayak is a totally surreal and amazing experience. During the tour you'll kayak around the reserve, learning about the aboriginal history, local wildlife and people as you go. There will also be a stop to rest your arms and enjoy afternoon tea on a deserted beach before you then head back to town.
Spend your last night of the honeymoon at one of Byron's many amazing restaurants - we will of course recommend our favourites for you - and then toast the end of a fantastic holiday and the start of your new married life.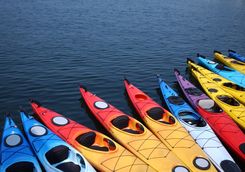 Unfortunately it's time to head back to the UK today. Start the journey by driving two hours to Brisbane airport, where you can catch an international flight. As with on the way, there are various places you might connect in on the way home, and the overall journey will take around 25 hours.
All of the holidays we create are completely tailor-made to you
This sample itinerary is intended to give you a flavour of what we can do
A Rough Idea of Price
While all of our holidays are completely tailor-made and prices will vary based on things like time of year and level of accommodation, we want to give you as good an idea of how much this itinerary will cost. The below prices are based on two people sharing.
This Itinerary
If you would like to book the itinerary mentioned above, with economy flights, during mid-season and staying in our preferred room category at our preferred hotels.
Bare Necessities
If you would like to pare back the above itinerary by travelling at non-peak times, staying in a standard room and removing some or all of the guided activities.
Bells & Whistles
If you are looking for something extra special, we can discuss with you upgrading your accommodation, flights or activities.
Jacqui is our expert for this itinerary and, as a seasoned traveller, has the inside track on the most memorable adventures.