Surfing is a solid staple of Aussie culture and riding the waves while down under is on most peoples 'do at least once' list. Tick it off yours today with a private surf lesson in one of the most renowned surf spots in the world.
With a private surf instructor to look after you you'll soon be hopping up on your board and riding into shore like a pro (at least that's the theory) and then it's all about honing your technique.
When the lesson is done, rent a board and stay out on the waves practising some more, or, head to one of the many cafes for a well-deserved lunch. The afternoon is then yours to spend on the beach.
As the light starts to fall, walk down the beach and then up the Cape Byron walking track to visit the most easterly point in Australia, before finishing up at the lighthouse for sunset.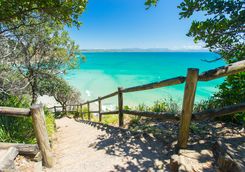 The views from the Byron lighthouse are just incredible, especially at sunset, and make sure you keep your eyes peeled for whales and dolphins in the sea below.