This morning, your tailor-made trip to Albania and Corfu continues with a scenic drive by 4x4 from Permet to Berat.
Drive over the mountains, dropping down to the Osumi Canyon with its dramatic rock formations and waterfalls, and stop at local's farmers houses en route to taste (and probably buy!) honey. Then, continue on your way to Berat, arriving in the early evening (the total drive time is roughly five hours) to check into your hotel for one night.
Berat is a well-preserved Ottoman city and one of the best examples of Ottoman architecture in the Balkans. After supper we recommend walking across the bridge for the views of the twinkling Ottoman houses on the hill side.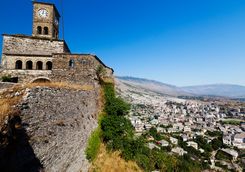 Ask your guide to take you to downtown Berat to join the nightly passeggiata, for which, it seems, the whole town turns out in its finest to stroll and gossip as the sun sets.