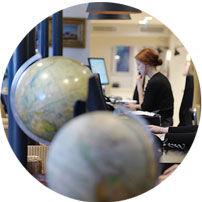 You'd think a country this size would have been on the travel map a long time ago, but due to a variety reasons Sudan was a no-go zone for many years. With the south now having seceded, and the government at least making some efforts to curry favour with the outside world, we are extremely excited about starting to offer Sudan holidays to what is a hugely interesting and culturally rich destination. Egypt has long been a favourite Original Travel destination, and we are delighted, finally, to be able to recommend visiting its southerly neighbour. We are now offering tailor made trips to Sudan for the first time,
designed to create itineraries taking in the country's many and varied highlights, from the ancient pyramid cities of Meroe and Karima to the dramatic cataracts of the Nile and the three deserts of Northern Sudan: the Bayuda desert, the Nubian desert and the Western Desert. Best of all, before word gets out, you are nigh on guaranteed to be the only visitors to some of the staggering desert sites, and that alone is worth the journey. This vast and mysterious country was home to the Nubians, the ancient Egyptians' sometime enemies, and one-time rulers, during the reign of the the so-called Black Pharaohs. This intense millennia long rivalry saw much death and destruction as power shifted north and south along the shores of the Nile, the river that provided the lifeblood for both civilisations, but also the building of some of antiquities finest cities and temples, and in Sudan you can guarantee you will be all but alone at even the best sites. And who knew there are more pyramids in Sudan than in Egypt?
Sudan Holiday Ideas
A few suggestions to get the holiday planning process started
Contact a specialist directly at + 44 (0) 20 3958 6120
Review
What our clients say about us
This is the first time we went on a trip with Original Travel, a specialist advisor who listens to our expectations, and really the feeling of being pampered from departure to arrival. The concierge service is so efficient that we quickly become addicted.
Sudan Guide
Practical advice, client testimonials and inspiration to help you prepare for your holiday
Contact one of our Sudan specialists