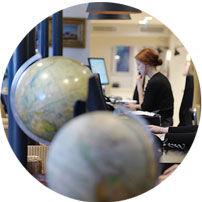 Over the past 18 months we've all come to understand what really matters. There are the profoundly important things like family, the small things like hugs, and the genuinely life affirming things like travel. Absence is making all our hearts grow fonder, and slowly but surely turning wanderlust into wandermust, but it's inevitable that travel will look and feel different on the other side. If we're entirely honest, in an era of overtourism and endless flight routes, that's no bad thing, and it's the reason that we're championing a new concept we call 'Travel Less, Travel Better'.
Travel Less, Travel Better Ideas
A few suggestions to get the holiday planning process started
Travel Less, Travel Better by country
A few of the benefits of travelling with us
Review
What our clients say about us
This is the first time we went on a trip with Original Travel, a specialist advisor who listens to our expectations, and really the feeling of being pampered from departure to arrival. The concierge service is so efficient that we quickly become addicted.
Contact one of our specialists