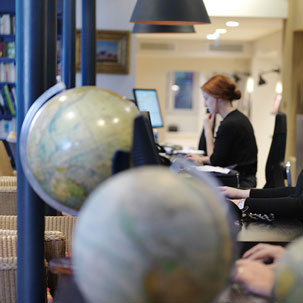 TANZANIA expert
Why do you love Tanzania so much?
The big open skies are endless, especially when out in the Serengeti. The sheer diversity of landscapes and wildlife is just phenomenal, the people are so friendly and proud to have you in their country and your guides love to teach you about their wildlife and their country as much as they like to enquire about where you come from. One time, my guide invited me back to his house to share a meal with his family at the end of our safari together. It was completely unplanned and it was the most amazing and humbling experience ever. They put on a spread of food, which must have been a week's worth of their food budget, in order to welcome me and show me their home. I made sure the guide got it back in a private tip afterwards, and some!
When did you first visit Tanzania and what was your first impression? 
My first trip to Tanzania was in October 2004 and I was immediately taken by the people, the wildlife and the immense beauty of this country. Back then, Tanzania was largely unknown in terms of specialist safari experiences (particularly when compared to my home country, South Africa) and the food served definitely had some room for improvement! Since then, I have been lucky enough to visit Tanzania, including the islands of Zanzibar and Mafia, eight times for a total of around 15 weeks. I tend to gravitate towards the quieter, more remote spots like East Serengeti, Rubondo Island, Ruaha National Park and Mafia Island.
What's been your most memorable experience in Tanzania? 
There are too many to count… seeing the Wildebeest Migration river crossing, walking safaris in the northern Serengeti, exploring the Eastern Serengeti around Gol Kopjies, chimp trekking on Rubondo Island, snorkelling with whale sharks on Mafia Island, visiting my guide's home and family at the end of a safari and standing on the slopes of Mount Kilimanjaro watching the sun rise.
Recommendations for Tanzania
What's the perfect souvenir to bring back from Tanzania? 
Some colorful Tingatinga artwork by a local artist.  
Is there somewhere you haven't had a chance to visit yet that you'd love to go?  
I'd love to visit the remote Katavi National Park in the far west of the country.
What's one place in Tanzania that you could go back to again and again? 
The Eastern Serengeti and Rubondo Island as a combination trip, perhaps with a visit to Zanzibar or Mafia Island for some diving. 
Is Tanzania somewhere to go to as a couple or with family? 
It is brilliant for families and those on first-time safaris as you get private safari vehicles when exploring the northern parks as part of a privately driven and guided overland safari. It works just as well for couples and honeymooners.