Itinerary Highlights
Splash around as a family in the cool waters of beautiful Lake Como, then take a boat trip to explore some of its islands and surrounding villages
Learn some mountaineering skills on the historic via ferrata climbing routes that criss-cross the Dolomites
Work up an appetite for lots of delicious local food while hiking and biking in the mountains
Contact one of our Italy specialists + 44 (0) 20 3958 6120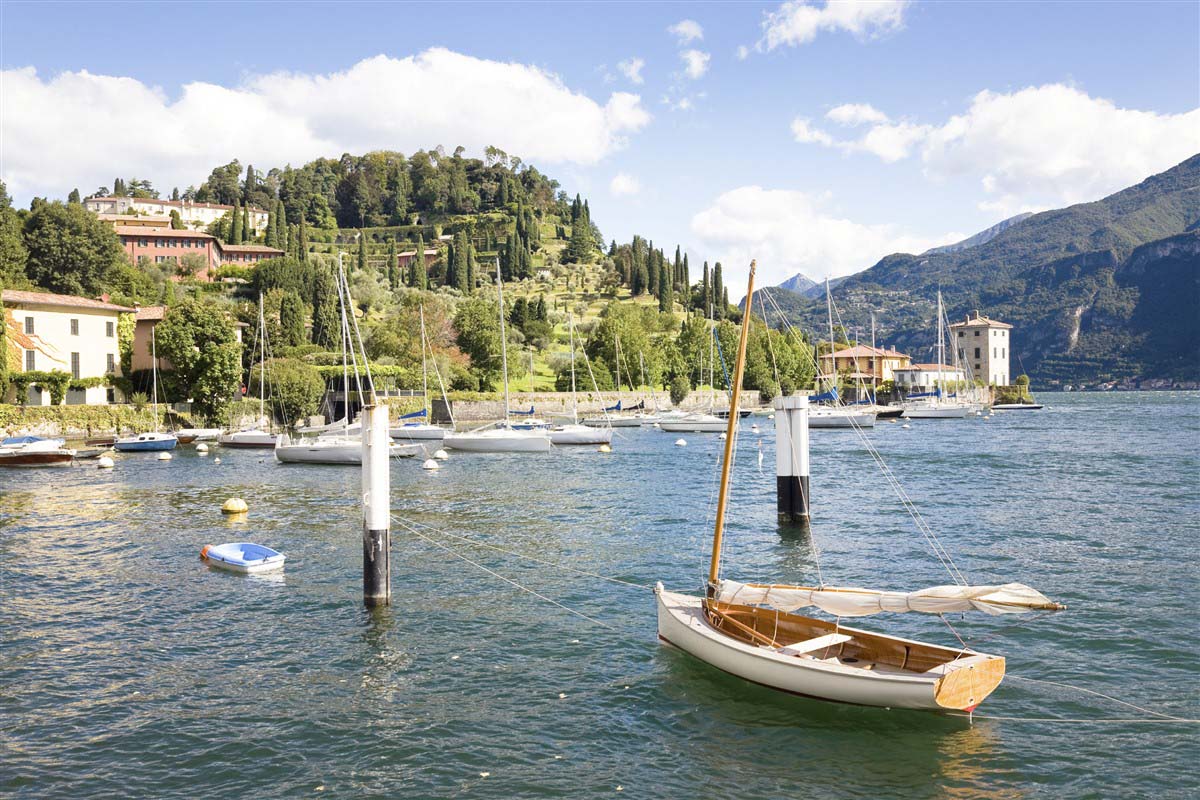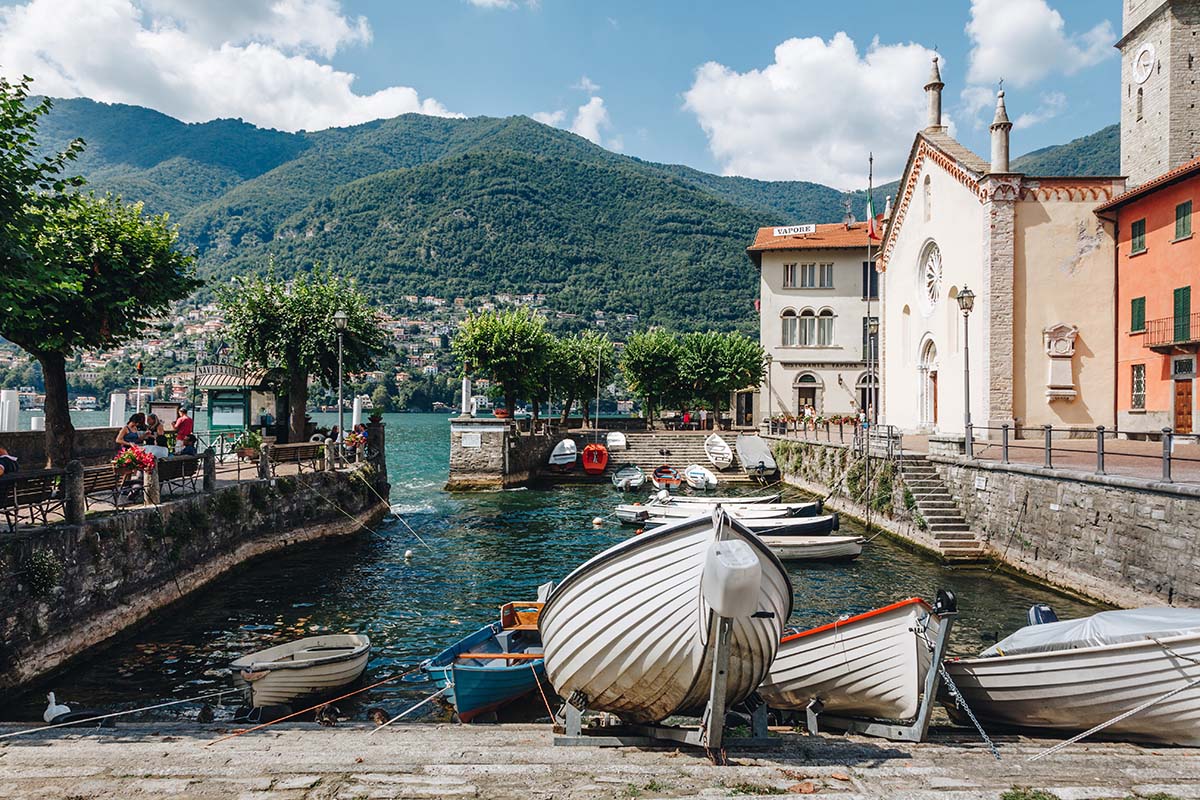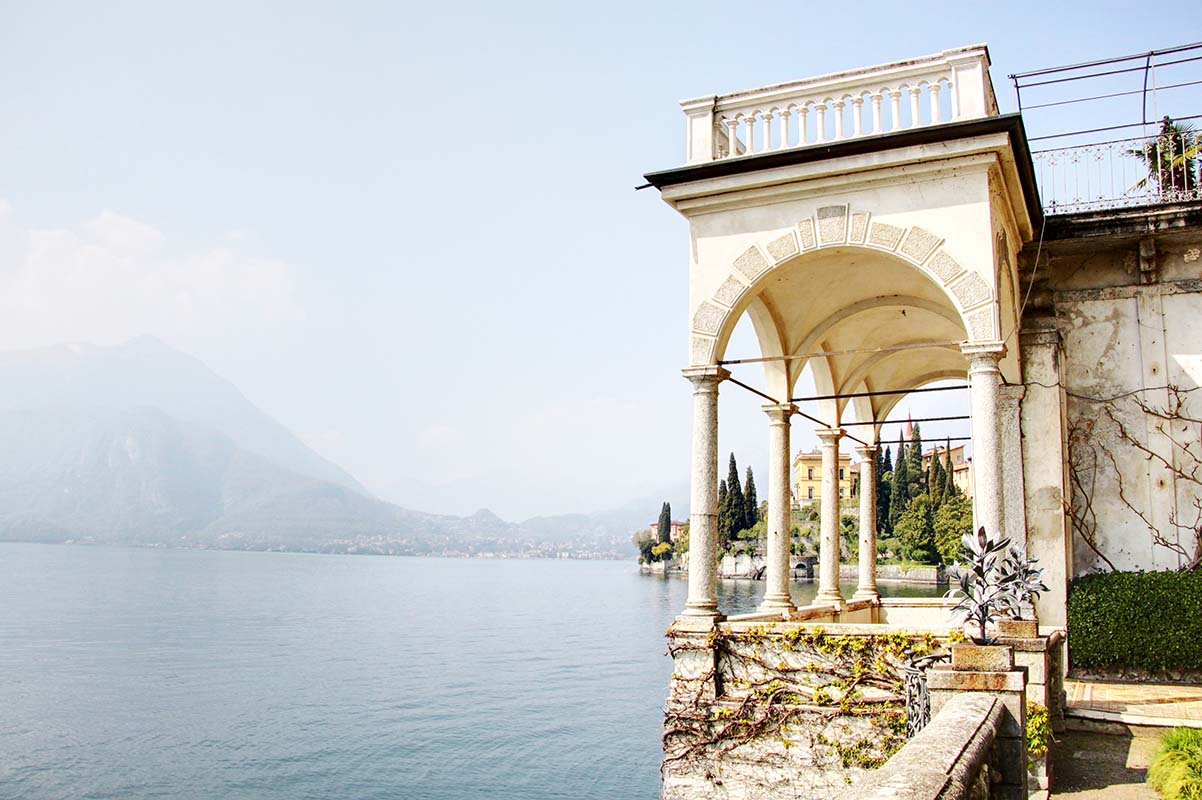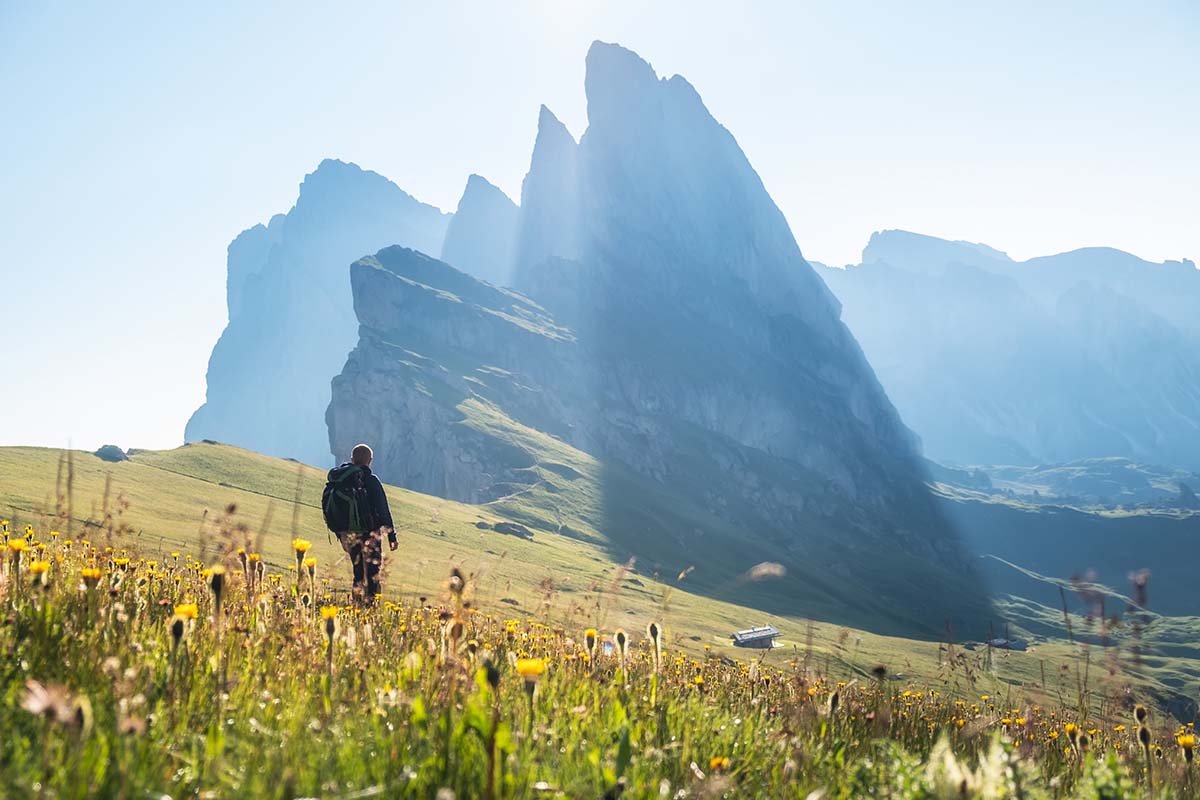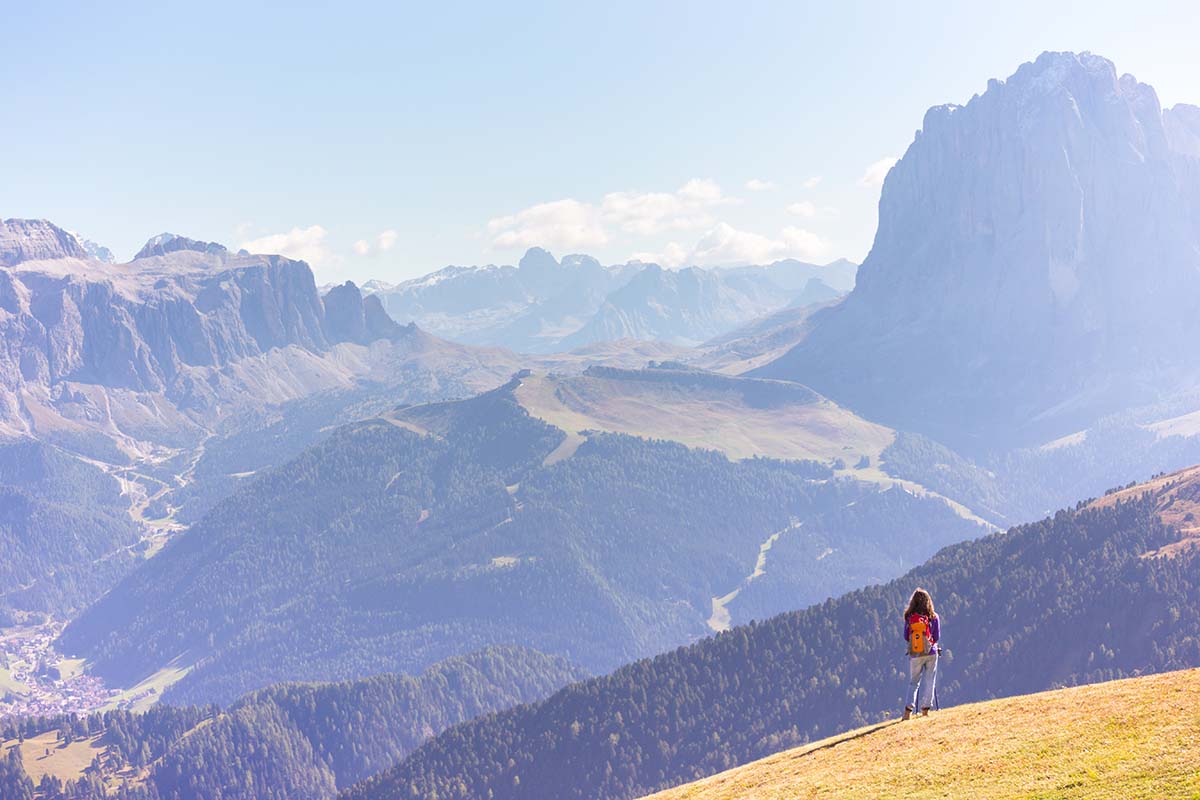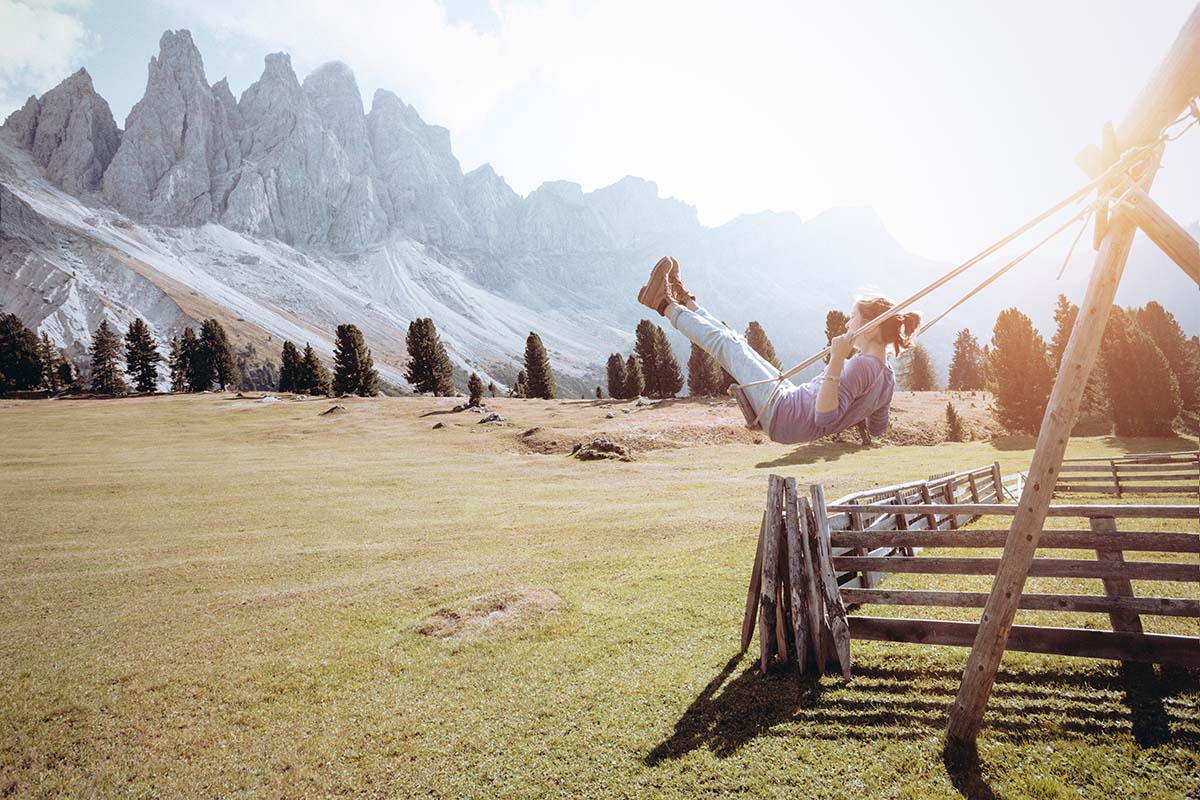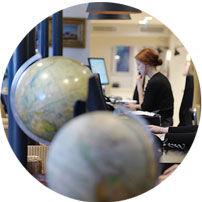 Say Buongiorno to Lake Como on this nine-day family trip to the Italian Lakes and Dolomites and learn why celebrities choose to buy holiday homes along this dramatic lakeside dotted with picturesque villages. Soak up the sun-bleached shores and explore nearby Bellagio, which is home to myriad family-friendly restaurants, before heading to the hills for a child-friendly hike in the Dolomites. Break up the day with a visit to the Galleria del Lagazuoi's open-air WWI museum carved into the mountains and stop at the top to admire the view. If the children are after a quicker pace, explore the region by bike. Pedal past San Cassiano towards Fornacia and soak in the views as the valley opens to reveal incredible alpine pastures all the way to the base of the Sass de Putia Mountain.
One thing is for sure, the children definitely won't forget this holiday.
Route
Everything is 100% tailored to you
DAY 1
The Adventure Begins
Head to the airport bright and early this morning to begin your family adventure to Italy, arguably the best of all family destinations. Your morning flight to Milan takes around two hours, so you'll land mid-morning in Italy. When you arrive, we will have arranged for your car to be waiting for you (with all relevant booster seats etc). Then, once everyone is piled in, the drive to Lake Como should take about an hour-and-a-half. When you arrive, head straight for lunch at your luxurious hotel restaurant, to enjoy your first glimpses of the lake and your first bites of Italian food - pizza anyone?!
The rest of the day is then yours to spend at leisure, while getting to know your new surroundings.
DAY 2
Lake Life on Lake Como
We have kept your first full day at the lakes fairly free to allow for some good old-fashioned swimming in the sunshine. Spend the morning splashing around at your lovely hotel while enjoying the dramatic lakeside views, complete with a mountainous backdrop and pretty villages dotted along the shores. If you have waterbabies for (elder) offspring, then enrol them in a waterskiing lesson on the lake - you can either join them or act as photographer from the boat. Have a family game of tennis - parents v kids or girls v boys, you decide! This afternoon you might then like to ask the hotel concierge for directions along one of the many walking trails in the area. Burn off some of the children's endless energy while enjoying the views and working up an appetite for dinner. Tonight you can choose to eat at your hotel or you might like to take the ferry over to Bellagio where there are plenty of family-friendly restaurants to choose from. Our clued-up Concierge will be able to recommend their favourite.
DAY 3
Boating on Lake Como
You have another relaxed morning to play with today. We're sure the children won't have tired of fun in the pool, so a few hours spent doing just that is our recommendation. This afternoon, after the usual delicious Italian lunch, head to the hotel lobby where the staff will lead you down to the jetty for a few hours on the water. Meet your captain who will then take you out onto Lake Como in the hotel's water limousine. The boat is a classic Italian Venetian style water limousine which makes for a comfortable and very cool way to experience the lake.
Your boat cruise will last for about four hours and during the afternoon you will visit Villa Balbianello, the small wooden island of Isola Comacina, the village of Bellagio, the botanic gardens at Villa Melzi, the fishing village of Pescallo and the town of Menaggio. If you want to pack in some more exploring, take the ferry to Varenna where you'll find abbeys and castles and can climb all the way to the top of the ancient fortress, Castel Vezio.
When you get back onto dry land, look over your photos and enjoy dinner.
DAY 4
Last Day in the Italian Lakes
Time flies when you're having fun, and somehow today is your last day at Lake Como. To switch things up a little we recommend getting away from the water and instead spending the morning exploring on mountain bikes. With a little pedal power, you'll be able to cover lots more ground, and the hotel will be able to recommend the best trail for your family abilities. Enjoy lunch either en route or back at your hotel and then reward your efforts with a cooling dip in the pool. You then have the afternoon free to pack in as much swimming or sunbathing as possible. Or you could plash out to make the most of your last day at the lake by booking a seaplane flight over the lake, followed by a gourmet picnic in a secluded spot. Or we could arrange a guided horse ride around Lake Como. For dinner we can suggest a lovely spot with views over the lake.
DAY 5
To the Dolomite Mountains
This morning, you will say goodbye to Lake Como and head into the Dolomites. The drive from your hotel, up into the mountains and then to your new base should take around five hours. To break up the journey you might like to stop at Lake Garda for lunch, which is a half-hour drive away, or even detour to Verona for a quick look around before heading north to the Dolomites. When you arrive at your hotel, check in and unpack before donning your walking boots and heading up in the nearby gondola lift. The staff at your hotel will provide a map and highlight the best trails, so we recommend taking their advice and perhaps following a short trail that will help you stretch your post-drive legs and work up an appetite in time for dinner.
DAY 6
Hiking And History in the Dolomites
This morning, your English-speaking mountain guide will meet you at your hotel to begin a full day of family-friendly Italian mountainous adventure, including five to six hours of actual hiking. To start the day, you will take a private transfer to Passo Falzarego, which is around 15-minutes away. From there the day can be tailored to your family's preferences and fitness levels, but for those who can handle a moderate challenge we suggest starting with a hike up to the Galleria del Lagazuoi. This is a fascinating open-air WWI museum carved into the mountains and you can still explore the tunnels soldiers used during the war, making it not only physically fun, but also educational for the children. At the end of the tunnels, you arrive at Rifugio Lagazuoi where you can stop for lunch and enjoy the wonderful 360° views. After refuelling, the descent begins as you head downhill to Rifugio Scotoni, passing by a beautiful little turquoise lake en route. Stop here for a drink to end the day and celebrate your achievements at Capanna Alpina, a restaurant just on the edge of the natural park with fantastic views. You will then be transferred back to your hotel in good time for a well-earned dinner.
DAY 7
Via Ferrata in the Dolomites
After breakfast today your guide will meet you at your hotel for another day spent exploring the mountains. If your stay in the Dolomites is over a Wednesday, visit the market in San Cassiano to sample traditional delicacies, shop for handmade Ladin products and listen to some live music. This time you'll be getting to grips with some mountain climbing on the region's historic via ferattas (literally: iron roads), something any adventurous children will love. Depending on your family abilities, (and the children's ages) your qualified guide will pick the best route for you. Rest assured whichever you opt for will provide a great opportunity to see the Dolomites from a different perspective usually reserved only for expert climbers and mountaineers. There is another history element to today too, as the via ferrata routes were constructed during WWI, when the Italian and Austro-Hungarian armies fought each other in the hostile landscape of the Dolomites. In order to move themselves and their equipment, soldiers had to fix iron ladders and wire cables to the rock, often under enemy fire. Today, many of these routes have been converted for recreational use and can be tackled by anyone interested in learning the basics of mountaineering.
After a full day of climbing we imagine you'll have worked up quite an appetite, thankfully a hearty and delicious Italian dinner will be waiting for you all on your return to your hotel. As will your bikes, which you'll need for tomorrow...
DAY 8
On Your Bikes in the Dolomites
To make the most of your last day of the family holiday we have arranged for your guide to join you again today for a full morning of mountain biking fun. Although there will be plenty of room for route alterations and stops along the way (or you could even hire electric bikes to make things easier), the overall ride should look something like the following. Start by biking to the Santa Croce Sanctuary at the base of the Sasso della Croce. From San Cassiano you will then take a wide gravel road along the river and up to the town of San Leonardo where you will continue towards Fornacia. The ride then continues through the incredible alpine pastures of Armentara, and to the church and sanctuary of Ospizio Santa Croce. Here you can enjoy a delicious lunch along with views of Puez-Odle Nature Park and the Sass de Putia spread out across the valley.
Back at your hotel, the rest of the day is yours to spend as you please. Either enjoying a walk from the top of the gondola or visiting the Moviment Park where there are all sorts of family activities on offer from archery to geocaching. If you are a horse-friendly family, perhaps opt for a morning horse ride instead of a bike ride
Today, after breakfast, you will pack up your hire car and say goodbye to the mountains as you head to Venice Marco Polo Airport, which should take around two-and-a-half-hours. Drop your car off and then head into the airport to check in for your afternoon flight back to the UK. The flight will take about two hours so you will land early this evening.
A Rough Idea of Price
Dependent on season, accommodation and activities
The estimated cost for this trip starts from £3,150 to £4,530 per person. The final cost of the trip depends on the way we tailor it especially for you. The final cost varies according to several factors, which include the level of service, length of trip and advance booking time. The exact price will be provided on your personalised quote. The average starting price for this trip is £3,625 per person.
A few of the benefits of travelling with us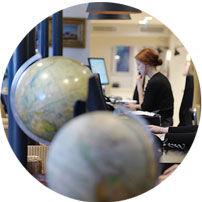 Get in touch
Our experts have the inside track on the destinations they sell and will tailor-make a holiday to your unique requirements.
Contact one of our Italy specialists