Itinerary Highlights
Enjoy your honeymoon or a couple's grand adventure travelling New Zealand from south to north
Enjoy the fantastic hospitality and comfort of New Zealand B&Bs and the wonderful cuisine
The itinerary includes a Milford Sound cruise, a trip to the Wai-O-Tapu geothermal park and wine tasting in the vineyards.
You'll have access to our additional services, including our local Concierge
Contact one of our New Zealand specialists + 44 (0) 20 3958 6120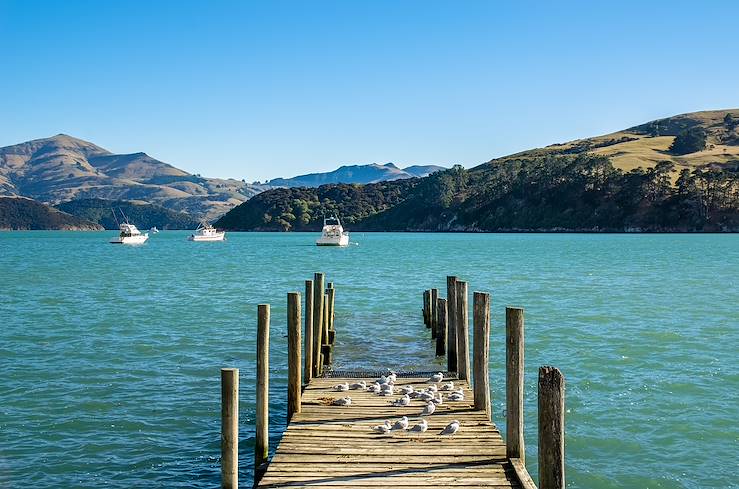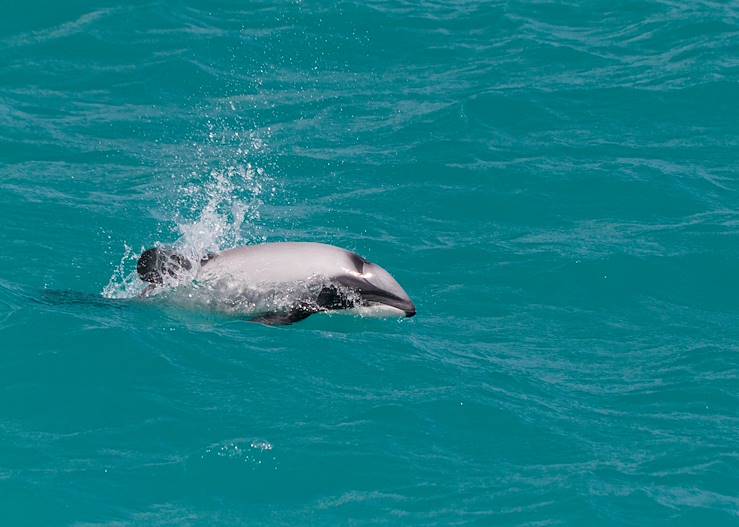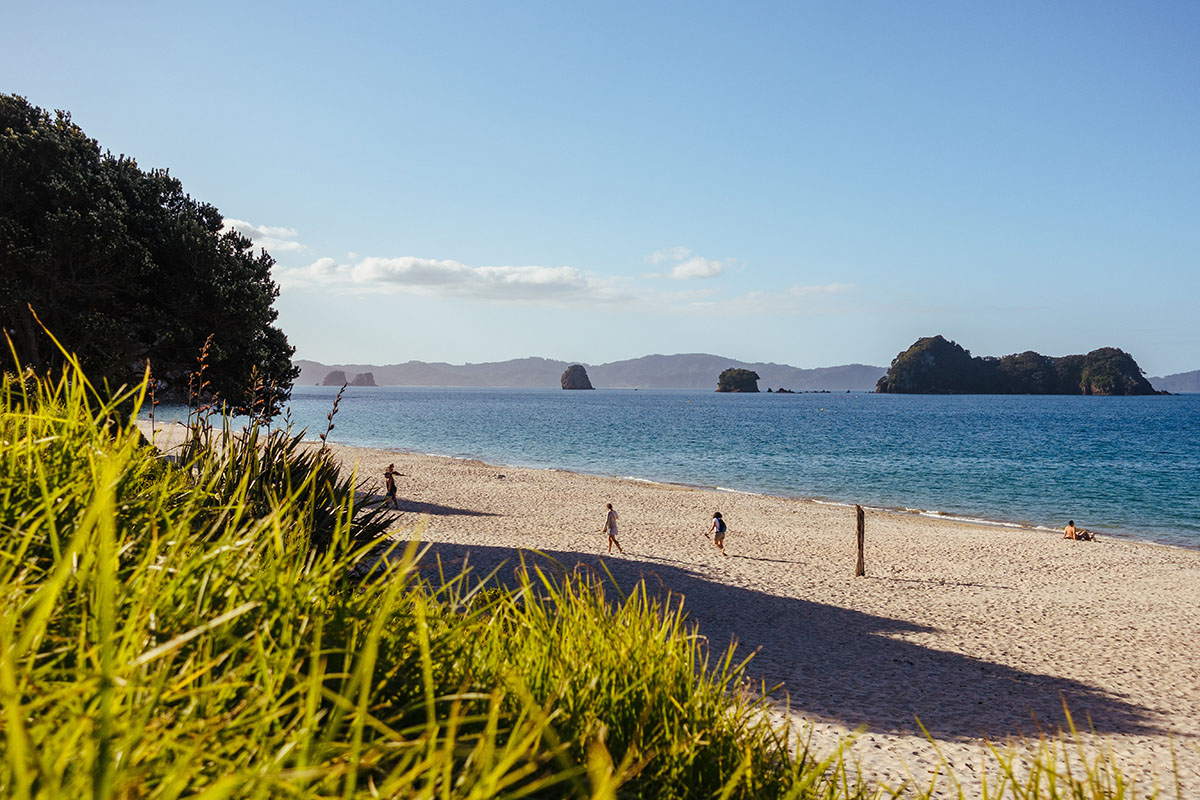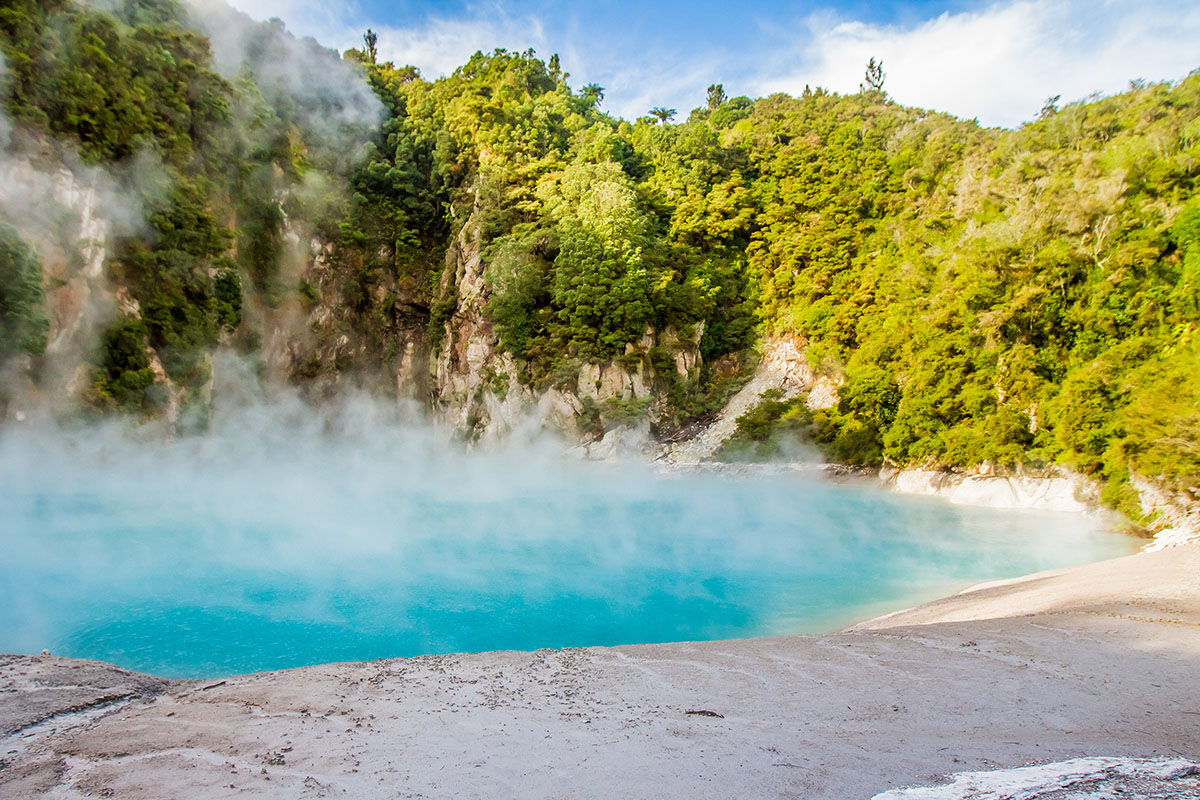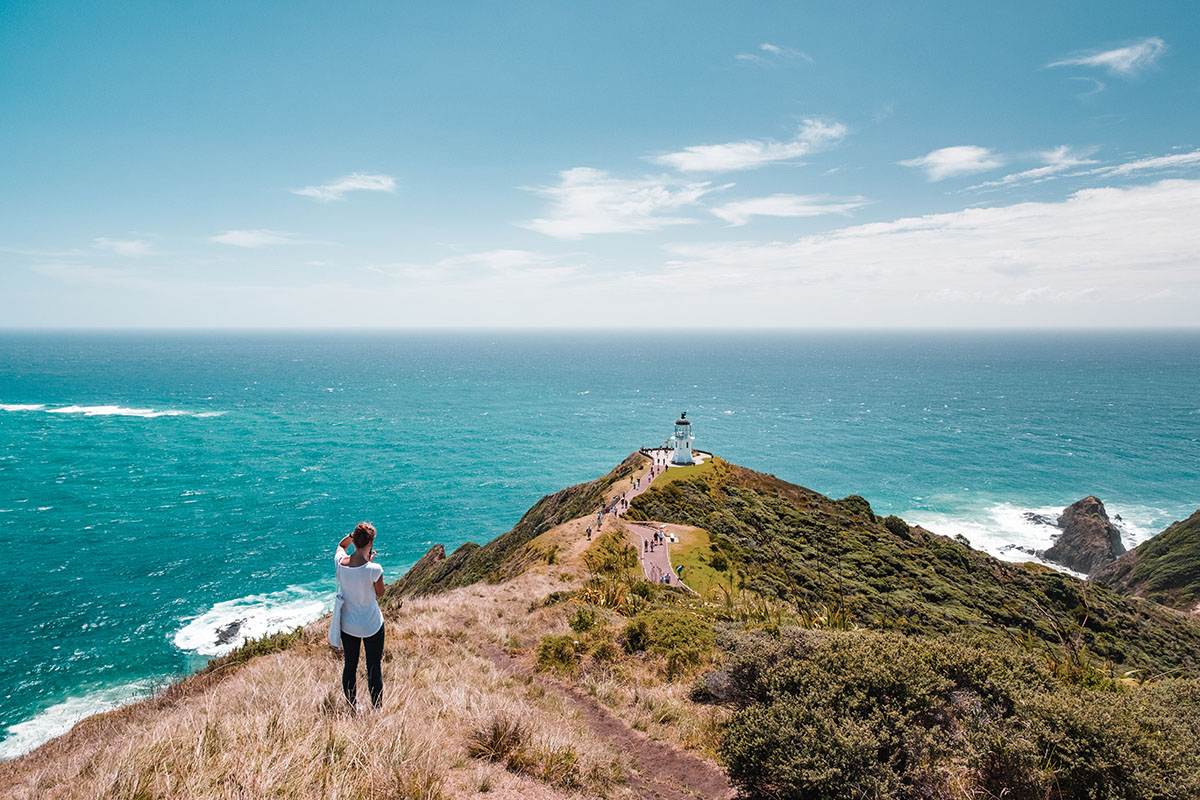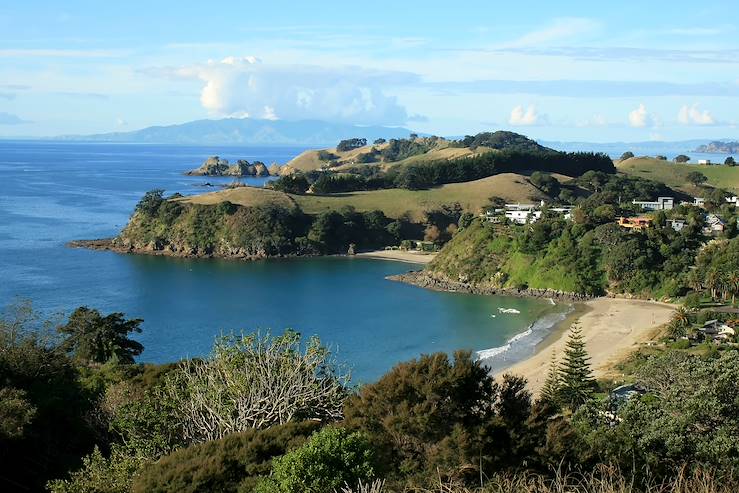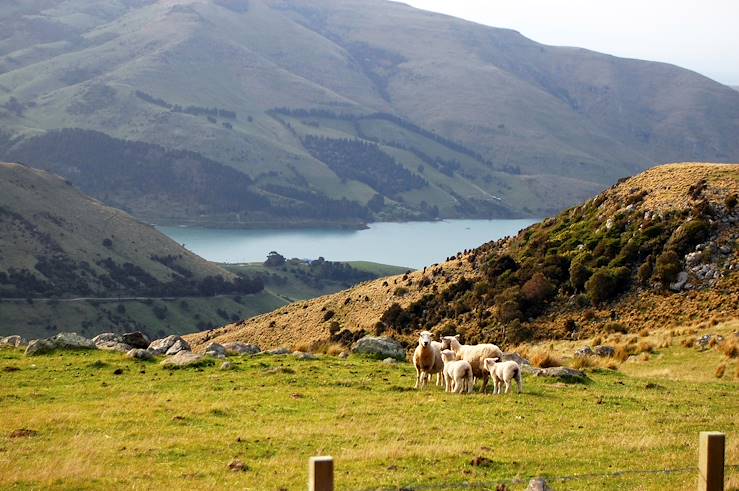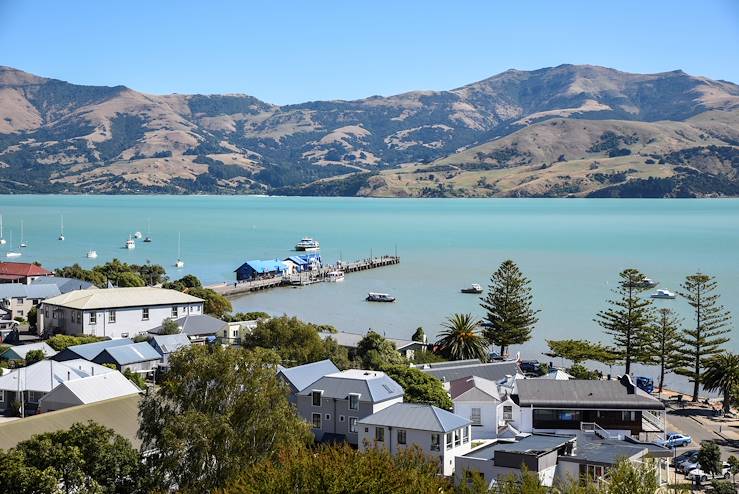 Together in New Zealand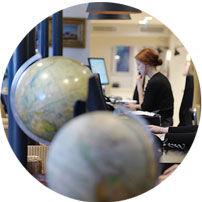 When you travel together, anything is possible. In New Zealand, you'll feel like you've reached the end of the world. It might be a long journey, but it's well worth it. Especially because we have some treats in store for you. Here's a summary of your trip. South Island:
Queenstown
,
Te Anau
,
Clyde
,
Twizel
,
Akaroa
,
Kaikoura
, and
Blenheim
. North Island:
Wellington
,
Whakapapa
,
Taupo
,
Rotorua
,
Waiheke
, and
Auckland
. On your journey you'll visit the fjords of Otago, the Banks peninsula and Akaroa, which has a slight French connection. You'll also go to Tongariro National Park,
whose volcanic landscape is listed as a UNESCO World Heritage site, the Bay of Plenty and Waiheke Island in the Hauraki Gulf, which regularly tops the world's best island destinations. Wellington and Auckland are two major cities that are moderate in size and live a modest lifestyle. Fantastic natural sites and good service on a daily basis come together to create an atmosphere that is perfect for couples who appreciate both the big and the little things in life. On top of this, you'll enjoy a cuisine that is full of panache and sophistication. New Zealand enjoys a strong dining culture and boasts a wide range of exquisite and intimate restaurants.


Your Trip
We've handpicked small, cosy hotels that are well-located and offer maximum privacy and comfort each night. Everywhere you go, there's amazing scenery, a great atmosphere and opportunities to explore, in addition to on-site facilities. You'll stay in a beautifully renovated gold-rush inspired hotel in Clyde, a hotel under the starry skies in Twizel, and a cottage in Waiheke, whose coast is spectacular. Apart from two boat trips, you'll travel mainly by car. Driving in New Zealand is easy. On your way, you'll be entertained by the varied scenery, which ensures that your journey will never seem boring. Your itinerary allows you to see the most striking parts of New Zealand: the sea, geothermal energy, thermal energy, vine-growing, cruises and wildlife. On your own, you'll discover many other things, in particular the wonderful cuisine. If, along the way, you have a last-minute desire or a slight setback, you can contact our local Concierge service.

Route
Everything is 100% tailored to you
DAYS 1 & 2
Flight to Queenstown
Arrival two days later.
Private transfer and two-night stay in the hills surrounding the city. With views of Lake Wakatipu and The Remarkables mountain range, you'll get to experience the great New Zealand landscape as soon as you arrive. The hotel is made up of small, modern, country-style buildings. In the living room, there's leather seating and a stone fireplace. Breakfast consists of organic food produced in New Zealand, and service is impeccable.
Queenstown is the number one city for adventures in New Zealand. Throughout the year, it offers the likes of skiing, snowboarding, mountain biking, rafting, hiking and fly fishing; or paragliding, parachuting and bungee jumping, if you want to see things from a different vantage point. Whatever you decide to do, the scenery will be breathtaking.
Included in the itinerary - Private hot pool with view The facility is located on the side of a cliff above the Shotover River canyon. The hot pools, which have a Japanese style, are filled with crystal-clear water where you can control the temperature. Your cabin offers complete privacy and views of the Shotover River. The retractable ceiling means you can change the setting depending on the weather.

DAY 5
Queenstown - Te Anau
Pick up your hire car and drive to Te Anau. Spend two nights inside New Zealand State Highway 94. The two buildings frame a neat garden. The rooms are cute, with cosy bedding, a fully equipped kitchenette and a terrace. Outside, there's a big jacuzzi. This hotel is perfectly suited to travellers - all the more so because as the muffins at breakfast are home-baked.
Included in the itinerary - Milford Sound Cruise, Fiordland National Park. Cruising on the fjord, with its steep, jagged walls that sometimes rise more than 3,500ft above the water, allows you to experience geology in all its glory. There are two spectacular waterfalls here: Lady Bowen Falls and Stirling Falls. Large dolphins play alongside the boat, and you'll see spot seals, rockhopper penguins and, sometimes, humpback or minke whales. The conditions in the fjord are perfect for black corals to grow below the surface of the water. The 5,520ft Mitre Peak, which is a particularly picturesque mountain, dominates everything around it.
Now head to Clyde. Spend the night in a historic building dating back to 1869 - the store and its outbuildings then supplied the men of the Otago Gold Rush. The shale walls, waxed wood and stone floors are reminiscent of heroic times and provide a sound framework for elegant small-town developments. The rooms are well-appointed, comfortable and cosy. The atmosphere flows through to the restaurant, which serves authentic, tasty local cuisine with good wines or beer from the estate's micro-brewery.
Drive to Twizel. Spend two nights a few miles north-west in a north-facing lodge, which overlooks the Southern Alps. A pond stretches in front of the house and adds to the serenity of the place. The rooms are bright, practical and comfortable. Its simple elegance allows guests to lose themselves in a state of dream-like relaxation. Breakfast lives up to national standards of excellence: lavish, fresh and home-made. Enjoy time to sit and think with a delicious glass of wine.
As in many parts of the south, you can walk, hike or ride here and take advantage of the water, such as Lake Ruataniwha, to sail, water ski or canoe. However, the sparsely populated Mackenzie Basin has a particular point of interest with its clear sky. The area is part of the Aoraki Mackenzie International Dark Sky Reserve. It's a good idea to take full advantage of the evenings here, since opportunities for a haze-free observation of the night sky are dwindling. The scope, harmony and surprisingly colourful landscapes of Pukaki Lake, with Mount Cook as its focal point, will astound you.
Head to Akaroa. Two-night stay between French Bay and Glen Bay. The clapboard cladding, box windows and awning showcase the house's Victorian roots. The garden is full of delights, from the fragrance of roses to the birdsong of New Zealand honeyeaters at dawn. The interior decor, which is in English style, will win you over with its romantic touches and antique furniture. Here, breakfast, which is served on floral porcelain, is all about the sweeter flavours. The rooms, of course, boast the same old-fashioned charm, which you can never get bored of.
Included in the itinerary - Little blue penguin watching. With a nature guide, you'll walk the coastal trail wearing a camouflage jacket. These little blue-feathered penguins scare easily and need to be approached with care. When they come back from catching their fish, they sit by the water's edge, before returning to the burrows where they nest at dusk. Through a pair of binoculars, you'll watch them swimming as a group. A few rare yellow-eyed penguins, which are larger than the little blue penguins and have a distinctive white band around their eyes, can still be seen in Flea Bay. Penguins are characteristic of New Zealand's wildlife.
Option - Kayak in Pohatu Marine Reserve.

Drive to Kaikoura. Spend the night at the foot of the Seaward Kaikouras, facing the Pacific Ocean. The lodge windows open out to the sea, offering a floor-to-ceiling view. The rooms are both simple and sophisticated: beautiful cotton bedding, Pendleton blankets, super comfortable pillows and rimu wood. Breakfast is served on site, and meals can be ordered for the evening; the delicious local cheeses are a highlight. It feels peaceful in the countryside, and the beach is just five minutes away.
In the area, you'll see fur seals, albatross, puffins and the New Zealand storm petrel. There's also an abundance of dolphins here, and Kaikoura is a great spot for sighting sperm whales.

DAY 13
Kaikoura - Blenheim
Now head to Blenheim. Spend the night in fashionable accommodation, surrounded by vineyards and modern buildings. The rooms are light, clean, and flawlessly designed - there's a kitchenette and minibar, which will tempt you with its array of regional produce. Your room opens out to the vineyard, and your private patio invites you to enjoy the peacefulness of your surroundings. A French chef is at the helm in the restaurant, making beautiful dishes with beautiful ingredients.
DAY 14
Blenheim - Picton - Wellington
Drive to Picton, then catch a ferry to Wellington. Spend the night in the city centre, in a modern hotel with a cool and comfortable Scandinavian-inspired design where the rooms boast clean lines. The restaurant serves healthy cuisine and the bar serves craft beers, which is only natural in a place like this. The stop for the famous funicular is very close by, which takes you to the hills of Kelburn, where you'll have a beautiful view of the city.
Included in the itinerary - Tour of Clos Henri vineyard. With a guide, you'll stop off and enjoy some wine-tasting at a vineyard that combines French wine-growing techniques with New Zealand terroir. Pinot noir and sauvignon blanc are showcased beautifully here. On the tour, you'll get an introduction to the wine life cycle, from soil to glass.
Option/b] - The National Museum and its exhibits.

DAY 15
Wellington - Whakapapa
Drive to Whakapapa. Spend two nights in a hotel that is a part of Tongariro National Park's history - it opened in 1929. Behind it lie the mountains, and in front is the sprawling green of a perfectly manicured golf course. The inside boasts grand classicism. It's communal areas are opulent, comfortable and well-balanced. The rooms and spa are in keeping with the style. One restaurant serves New Zealand cuisine, whilst the other serves small, international dishes to be eaten with your fingers. The bar serves bottles of lovely ale.
In order to preserve their sacred sites, the Maori people donated volcanic mountains Tongariro, Ruapehu and Ngauruhoe to the Crown to ensure that they would not be exploited. The park was established in 1887. Today, it's Middle Earth. At least, it has been since Peter Jackson filmed 'Lord of the Rings' there. There's an abundance of birdlife there, both common species and rare ones, such as the blue duck and the North Island brown kiwi. There are pristine landscapes all around. Tongariro Alpine Crossing, with its emerald lakes, has become a classic, as has the crater of Mount Ruapehu. There are carefully marked paths, suitable for any type of activity, from a simple walk to a long hike. Climbing, mountain biking, rafting, canoeing and flying are also options. In winter, you can ski on the slopes of Ruapehu.
Head to Taupo. Spend the night in a Mediterranean-style residence in a beautiful park. Behind the pristine white walls, at the end of terraces lie elegant, and impeccably-appointed suites with very stylish bathrooms. On top of that, it's eco-friendly. Outside there is a swimming pool for guests to relax. In addition to tennis, you can play bowls or croquet, an old national passion. The nearby farm provides breakfast with tasty organic produce.
Drive to Rotorua and spend the night in Tikitere. From your terrace, just beyond the flowerbed garden, you can see Lake Rotorua and Mokoia Island. The cladding and wood used throughout give the house a warm chalet feel. The outdoor barbecue offers plenty of opportunity to eat al fresco. The rooms are spacious, bright and boast a romantic countryside feel. You can also use the rejuvenating sauna.
Included in the itinerary - Ticket to Wai-O-Tapu Geothermal Park. With its neon and neutral-coloured lakes, creamy, rippling muds, geysers that erupt like clockwork, bubbling hot springs and fumaroles, the pathways around this large park offer visitors the effects of our Earth's chemistry and physics in all their splendour. It's only natural that your next stop is the shores of Lake Rotorua, where you'll go to the Polynesian Spa, with its hot pools and treatments provided by seasoned professionals.

Head to Auckland and return the hire car. Ferry to Waiheke. Spend two nights in Oneroa Bay, where your cottage is just a short walk from the beach. Your accommodation here embodies New Zealand's finest seaside tradition: pretty wooden houses, cool rooms, harmoniously blended colours, pleasant design, elegance, privacy and modern cuisine. The restaurant, which serves produce from the hotel's vegetable garden, mixes culinary know-how with a maze of flavours in a casual presentation. Naturally, fish and seafood have pride of place on the menu. You'll have the chance to enjoy the comprehensive spa, with its skilled staff and an excellent range of treatments.
Waiheke's scalloped coast is wonderfully wonky but adds to the character. Oneroa Beach is the main beach, and is very close to your hotel; families love the small Shelly Beach; and Onetangi Beach hosts horse races and sandcastle competitions. Activities favoured by the coastal conditions include kitesurfing, kayaking, paddleboarding and sailing. Vineyards and olive groves dominate inland. Here you'll cycle through the wonderful countryside. These lead not only to wineries and oil mills, but also to numerous art galleries.
DAY 21
Waiheke - Auckland
Ferry to Auckland. Private transfer and overnight stay in an elegant 100-year-old villa in the Mount Eden area, surrounded by trees, mountains ranges and meadows. The rooms evoke a past way of life but with modern facilities. The peaceful and cosy setting, where voile curtains temper the heat of the sun, is the perfect end to a long journey. Again, you'll enjoy the courtesy and professionalism of New Zealand hospitality and the national breakfasts, which you may long for when you return home.
DAY 22
Auckland - return flight
Transfer to the airport and return flight. Overnight flight, arriving the next day.
A la carte
Kayaking in the Pohatu Marine Reserve - Akaroa
You'll learn to kayak with an instructor and then paddle in the protected waters of the bay. On your trip you'll get close to large colonies of white-flippered and yellow-eyed penguins. Fur seals also use the reserve as a feeding ground, plus Hector's dolphins play in the water. When the inhabitants of the bay are out and about, you won't know where to look first.
Option - Half day


Full access to Te Papa Tongarewa - Wellington
The permanent exhibitions of New Zealand's national museum make up just 20% of what the museum has to offer. It's a real privilege to be able to access the exhibitions and see the highly valuable historical and anthropological artefacts on display. Your tour will take place before the museum opens to the public; conservation staff will take you around, highlighting the most remarkable artefacts and telling you all about them. You'll be taken on a fascinating journey through the country's history.
Option
A Rough Idea of Price
Dependent on season, accommodation and activities
The estimated cost for this trip is £7,400 to £8,300 per person. and the final cost of the trip depends on the way we tailor it especially for you. The final cost will vary according to several factors, including the level of service, length of trip and advance booking time. The exact price will be shown on your personalised quote. The average price for this trip is £7600 per person.
Flights to Queenstown and back from Auckland with a scheduled airline
Airline taxes and fuel surcharge
Private transfers
15-day hire of a small car in Queenstown
You'll have access to our additional services, including our local Concierge
Ferry from South Island to North Island, with access to the lounge
Ferry from Auckland to Waiheke
Two-night stay in Queenstown in a double room with breakfast
Hot tub with view
Two-night stay in Te Anau in a double room with breakfast
Milford Sound Cruise
Overnight stay in Clyde in a double room with breakfast
Two-night stay in Twizel in a double room with breakfast
Two-night stay in Akaroa in a double room with breakfast
See the resident little blue penguins with a guide
Overnight stay in Kaikoura in a double room with breakfast
Overnight stay in Blenheim in a double room, room only
Overnight stay in Wellington in a double room, room only
Tour of Clos Henri vineyard with a guide
Two-night stay in Whakapapa in a double room, room only
Overnight stay in Taupo in a double room with breakfast
Overnight stay in Rotorua in a double room with breakfast
Ticket to Wai-O-Tapu Geothermal Park; ticket to Polynesian Spa
Two-night stay in Waiheke in a double room with breakfast
Overnight stay in Auckland in a double room with breakfast
Our local Concierge service
A few of the benefits of travelling with us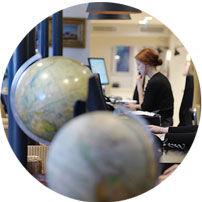 Get in touch
Our experts have the inside track on the destinations they sell and will tailor-make a holiday to your unique requirements.
Contact one of our New Zealand specialists