Itinerary Highlights
Enjoy a home cooked lunch with a local family in their home on the outskirts of Hanoi
Discover the Thai influenced culture present in the beautiful rural area of Mai Chau
Visit the UNESCO protected Trang An, otherwise known as 'Halong On Land'
Relax and soak up some sun on the beautiful beaches around Hoi An
Contact one of our Vietnam specialists + 44 (0) 20 3958 6120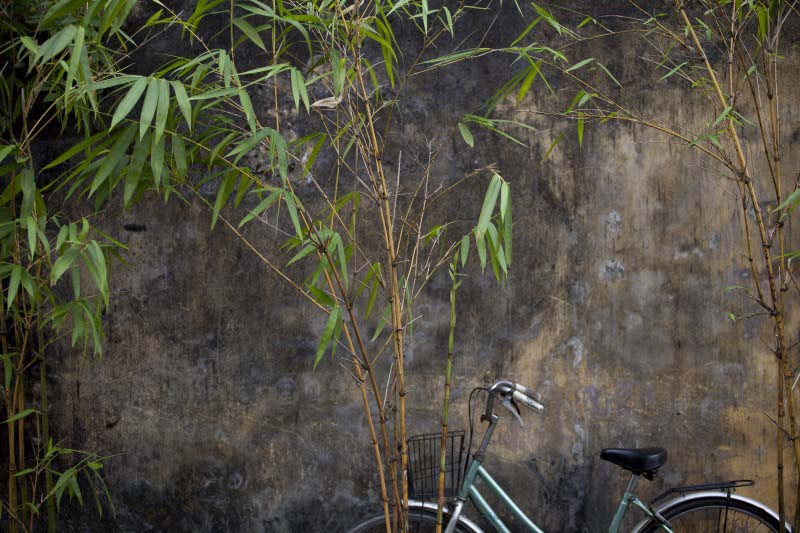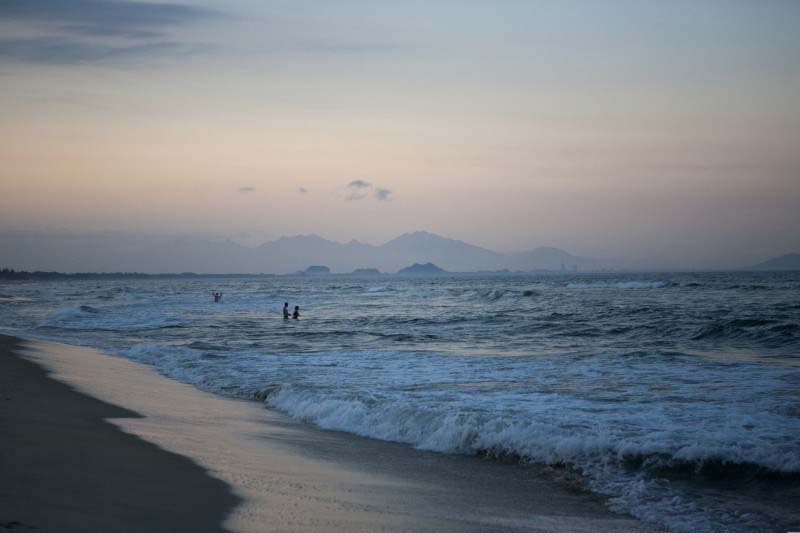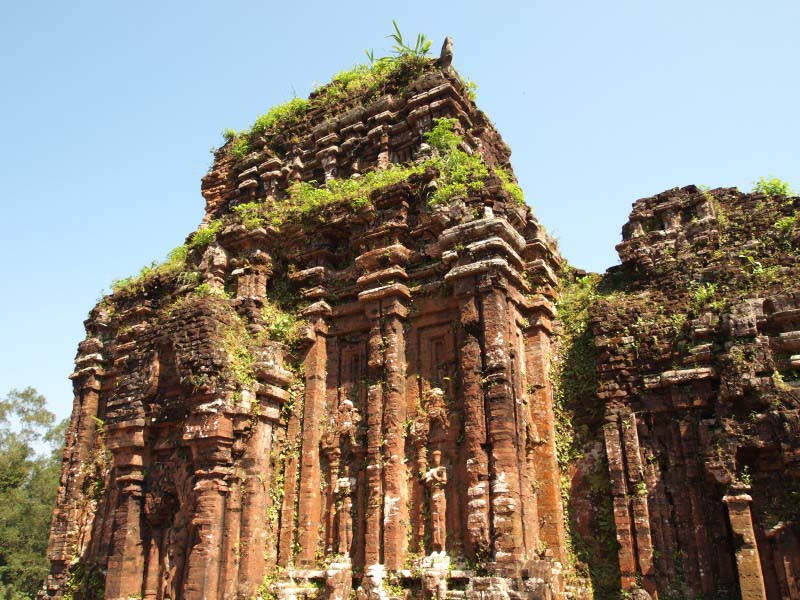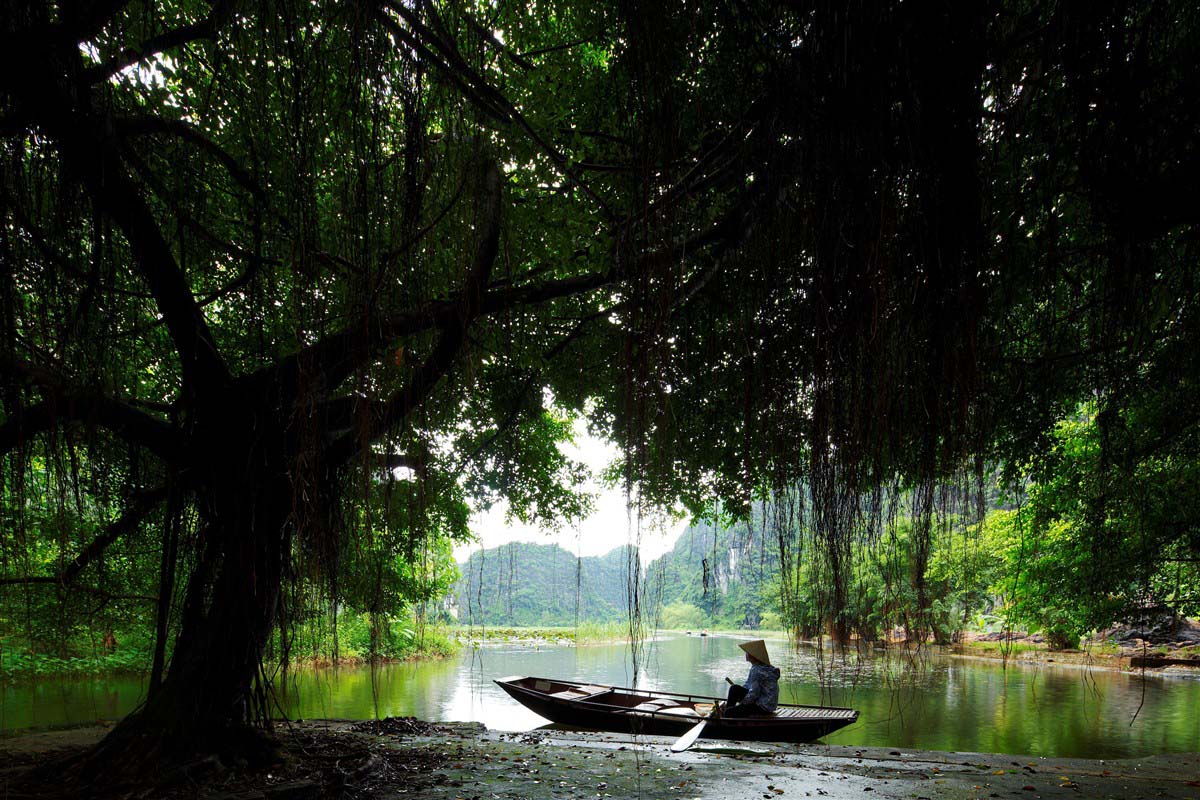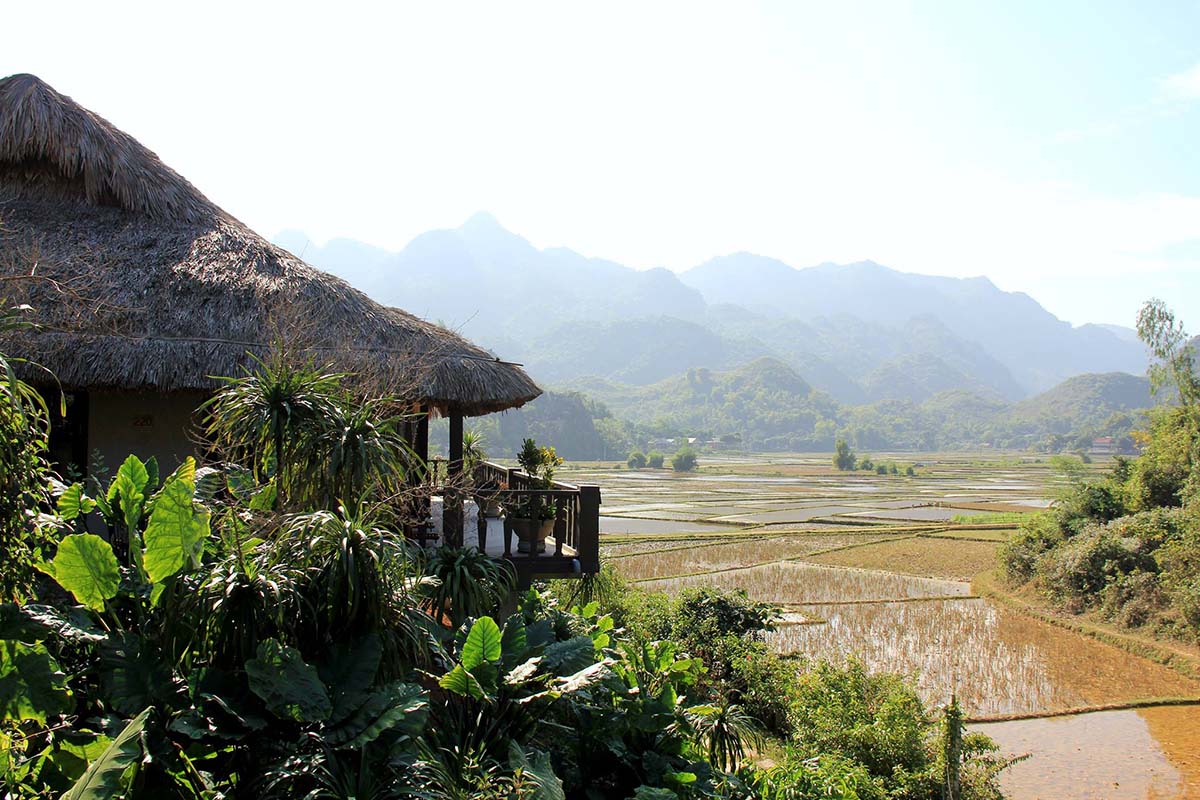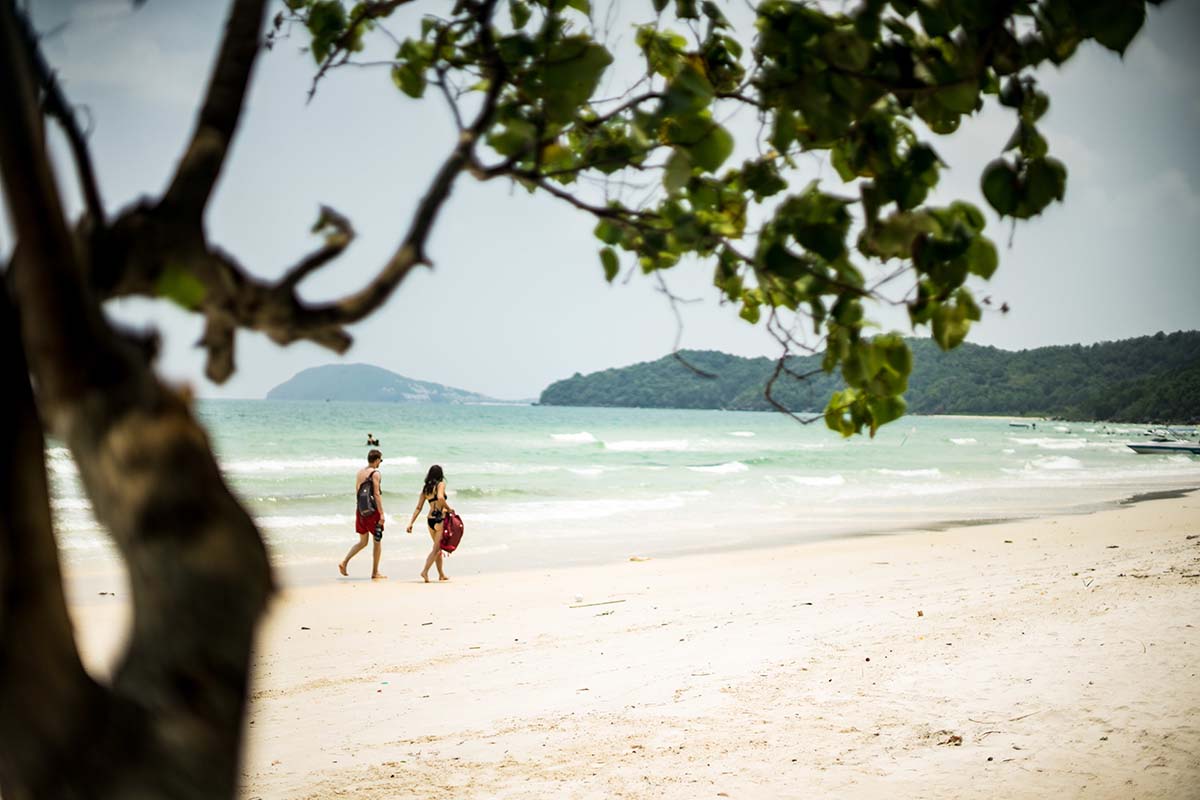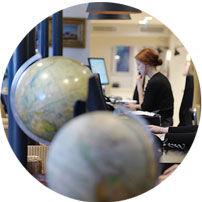 The north of Vietnam is home to some of its richest culture and lushest landscapes and has long been a highlight of many our trips. On this two-week adventure, focus solely on this northern area to get off the beaten track and see why Vietnam and the Vietnamese people are stealing so many hearts.
Route
Everything is 100% tailored to you
DAY 1
International Flight
Your adventure begins with a connecting international flight to Hanoi. There are several airlines to choose from and even occasional direct flight available, so we can find something to suit a range of budgets and preferences.
DAY 2
Arrive and Explore Hanoi
Landing in Hanoi airport this morning after your long journey you'll find a driver waiting with a sign bearing your name. Hop in the car and he will whisk you straight to your hotel. The journey should take around 40 minutes depending on the traffic conditions. Once checked in and refreshed, spend a few hours wandering to get your bearings and adjust to Vietnamese life. For dinner we have arranged that you are taken on a guided street food tour so that you get a real introduction to the fantastic Vietnamese cuisine.
Start by wandering along the Old Quarter's small lanes, where a multitude of vendors set up their stalls and stools along the roadside. Enjoy the sights and sounds of the city at night and then stop at one of Hanoi's best pho shops, where you'll have you first chance to sample this noodle broth, the delish national dish.
Move on with the tour to try banh cuon, steamed rice paper stuffed with pork and mushrooms, and nem chua ran, fried spring rolls, as well as several other dishes. Finish up the eating and the evening by tucking in to some grilled meats and vegetables, and then head to a traditional bia hoi (small shop selling draft beer) for a cold beer as you watch the locals doing the same.
Get off the beaten track and go beyond the ordinary tourist sites to discover the true heart of Hanoi today. Start the tour by heading out of town to a suburb in the south; this area is still undiscovered by tourists and is oozing with local culture and charm. Start with a visit to a small, typical market where you'll discover all manner of goodies. From here wander the very narrow alleyways on foot - a great way to explore and experience the sights, smells and sounds of daily life for Hanoian residents. Enjoy a coffee break next to a small lake, learning from your guide about daily life in the city and then continue wandering through hidden laneways, passing by a beautiful pagoda where monks often come to pray.
Next, you'll visit a typical Hanoian home for a home-cooked lunch and friendly chat with a welcoming local family. After lunch, continue walking through the labyrinth of streets up to a beautiful lake to discover what is perhaps Hanoi's quirkiest local market - rarely visited and something of a secret gem.
Then, having explored a truly different side of Hanoi, return to the hotel with time to relax before dinner in one of the fine restaurants we recommend in our detailed destination Dossier.
This morning you'll be met after breakfast to make the journey to Mai Chau, one of Vietnam's lesser known rural gems. The journey is around four hours south west so sit back and settle in to the comfortable car and take in the stunning scenery out of the window. Arriving in time for lunch you'll spend your first afternoon in Mai Chau relaxing and enjoying the tranquillity of the countryside after the hustle and bustle of Hanoi. Since the area is largely inhabited by ethnic Thais there is a really different side to the culture and food here so make the most of those influences as you meet the locals and tuck into your dinner.
DAY 5
Mai Chau Trekking and Villages
After breakfast this morning, spend some time exploring the centuries old Thai villages around your hotel with a guide. You'll then be led on a light trek of around two to four hours through Xa Linh and Pa Co, which is home of the Green Hmong hill tribe. A picnic lunch will be served on route to give you chance to stop and admire the scenery. In the afternoon, enjoy a leisurely walk to the Thai villages of Van Mai, Mai Hich, Cum and Xam Khoe before being transferred back to your hotel.
This evening you will get the chance to enjoy a traditional performance of music and dance at your hotel.
Start this morning with a leisurely bike ride to some more of the villages in Mai Chau Valley. As you start to tire, stop by the town's wet market to enjoy the local atmosphere and find somewhere to sit and enjoy lunch. Cycle back to your hotel after lunch and spend the afternoon dipping in and out of the pool or treating yourself to a massage in the peaceful surroundings. Come evening, enjoy the sunset over a drink or two in the restaurant and bar, which offer panoramic views of the rolling hills around you.
It's back on the road this morning as you're heading for Ninh Binh, another undiscovered rural gem in Vietnam's north. The journey is around three and a half hours but you'll be travelling through some seriously spectacular scenery so keep your eyes peeled. Upon arrival you'll want to tuck into a freshly prepared lunch and then might want to stretch your legs with a leisurely stroll to one of the nearby villages where you can learn to weave bamboo with the locals. For those that enjoy cooking there is also the opportunity to get involved with a hands-on cooking class.
After breakfast this morning you'll be transferred to the docking point to board a private sampan (flat-bottomed boat) which will take you to the UNESCO protected area of Trang An. Situated near Tam Coc, Trang An is a nature reserve similar to Tam Coc but much less visited. Limestone hills surround a peaceful river which passes through a series of caves, including one which takes 15 minutes to pass through in total darkness!
A designated 'eco-tourism' area, this is a region where the only interruptions are the sound of birds and the gentle dip of oars in the crystal clear river. As the boat gently slices through the water, notice the enormous limestone karsts jutting out from the green rice fields and experience what the locals call 'Halong on Land'.
Back at your hotel by the afternoon, enjoy relaxing by the pool or borrow some bicycles from the hotel and spend an hour or two exploring the fields and farms in the area.
This morning you'll leave the lush green of rural Vietnam behind in favour of the soft sands on the coast. To get there you'll first need to make the two-hour drive to Hanoi airport, and then catch a short flight to Da Nang. You'll be staying in one of our favourite beach properties just outside Hoi An, which is only 45 minutes south of Da Nang so the transfer at the other end of your flight should be nice and smooth.
When you arrive, drop your bags and head to the bar for a sundowner overlooking the East China Sea - bliss.
DAY 10
My Son and Hoi An Old Town
Feeling relaxed and ready for some activity again, spend today getting immersed in the rich history of Central Vietnam. Your tour will begin as you're picked up from your hotel to make the trip from Hoi An to My Son, a UNESCO World Heritage Site. Arriving at My Son, where dozens of ruins are scattered about the tranquil landscapes, you'll find yourself back in the lush countryside. Built during the era of the Champa Kingdom from the 4th to 13th centuries, many of the brick structures here are dedicated to Hindu gods or reflect Hindu mythology. Hear tales of the Champa Kingdom while exploring these atmospheric structures that have stood the test of time.
After this glimpse into Central Vietnam's ancient history, return to Hoi An. Take a break at a popular local restaurant to sample some of the dishes recommended by your guide before the afternoon is spent exploring Hoi An's old town on a guided walking tour. Despite the passing of 200 years and the ravages of weather and war, the centre of Hoi An remains much the same as it was in its heyday. This walking tour is the best way to see the wooden-fronted houses, the Japanese-covered Bridge, the colourful market and the many antique shops and galleries.
When the tour is finished you can either head back to your hotel for dinner or ask your guide to suggest somewhere in town for you to try a more authentic experience.
After a busy week or so of travelling and adventuring we thought you might be ready to spend a few days doing very little. Sit back on your sun lounger and admire the sea views with the sand between your toes and the sun on your face. In our opinion a good day or two here and there doing nothing but relaxing is essential, even for the busiest of folks, but, should you start to get itchy feet, rest assured the sleepy old town of Hoi An is a lovely place to explore. Barter for gifts in the markets, sunbathe on the beach, or enjoy a massage in your hotel spa.
DAY 13
Final Day in Vietnam
Spend the day at leisure, relaxing on the beach or by the pool. On your final evening, we'll arrange a sunset boat cruise down the Thu Bon River. As you cast off from the town centre, watch the UNESCO World Heritage protected ancient trading houses fade from view. The boat will then make its way north, entering smaller estuaries surrounded by leafy palm trees and dotted with quaint houses. Witness scenes of life on the river as local farmers return from the fields, their boats laden with vegetables, and school kids frolic on the riverbanks.
Pass by local fishermen, watching as they gracefully cast their massive nets for the evening's fresh catch. Then, for a closer look, climb into a small bamboo vessel known as a thung chai and paddle along the calm waters with them. The cruise comes to a close in the last light of day, so watch the sky turn brilliant shades of pink and orange as the sun sets over the river - a magical way to end the trip.
Sadly the time has come to leave Vietnam behind and head home. You'll be collected from your hotel to make the journey back to Da Nang airport where you can catch your flight which will take you back to the UK, connecting through a hub city in Southeast Asia en route, most likely flying overnight.
A Rough Idea of Price
Dependent on season, accommodation and activities
The estimated cost for this trip is £2,500 to £3,000 per person. The final cost of the trip depends on the way we tailor it especially for you. The final cost varies according to several factors, which include the level of service, length of trip and advance booking time. The exact price will be provided on your personalised quote. The average price for this trip is £2,500 per person.
A few of the benefits of travelling with us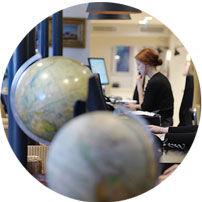 Get in touch
Our experts have the inside track on the destinations they sell and will tailor-make a holiday to your unique requirements.
Contact one of our Vietnam specialists